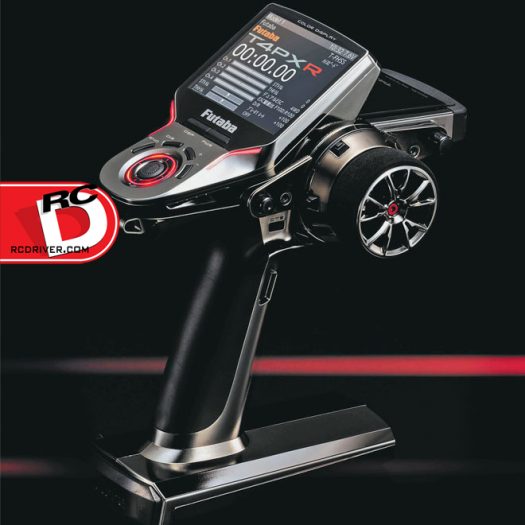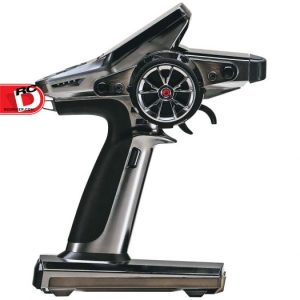 If ever there was a radio that could be considered a work of art, it's the 4PX-R. Futaba has taken the highly advanced 4PX surface system and encased the transmitter in a gleaming black chrome finish. That alone will really turn heads at the track, but it's what the 4PX-R can do that makes this system so special.
Telemetry functions lead the long list of high-end features, enabling drivers to access important performance data that can make the difference between winning and losing. A synthesized voice delivers the information through the built-in speaker or headphones (sold separately), and a large, assignable button on the bottom of the transmitter offers instant, hands-free access to key features.
Another unique 4PX-R advantage is the full-color TFT (Thin Film Transistor) display. It's easy to read in any light conditions, and the large, 3.5" (89 mm) LCD has intuitive menus and clearly labeled graphics. You have the freedom to use the 4PX-R with your favorite Futaba 2.4GHz receivers, thanks to compatibility with T-FHSS, S-FHSS and FASST protocols. Other outstanding highlights include durable potentiometers, multiple crawler functions, two trigger choices and a steering wheel with a drop-down option. Insert a micro memory card (sold separately) to update software and transfer models from one 4PX to another.
The list of features is seemingly limitless, but only a limited number of these extra-special radios will be produced.
Specifications:
Transmitter Current Drain: 300mA or less (with T-FHSS and vibration off and backlighting on) Receiver Dimensions: 1.4 x 0.9 x 0.3" (35.1 x 23.2 x 8.5 mm) Receiver Power Requirement: 4.8-7.4V Battery Receiver Frequency: 2.4GHz System: T-FHSS (auto-detection) Requirements: Servos of modeler's choice
Key Features:
LiFe battery and charger.
Metal throttle trigger.
10° angle adapter.
Carbon carrying handle.
LCD screen protector.
Black chrome transmitter.
Additional accessories.
30% faster and 0.5 oz (15 g) lighter than the 4PKS-R.
3.5" (89 mm) QVGA (Quarter Video Graphics Array) TFT (Thin Film Transistor) color LCD screen makes navigation and programming fast and simple.
Three grip choices (two are optional).
Durable, long-life wheel potentiometers.
Two durable, throttle trigger options with tension adjustments.
Large, assignable switch that can be touched by a driver's body is located on the bottom edge of the transmitter.
Low steering wheel position with drop-down option.
Steering wheel can be switched for left-handed drivers.
Trigger unit can be adjusted forward or backward by 7 mm.
Compatible with these T-FHSS, S-FHSS and FASST™ receivers: R304SB, R304SB-E, R614FS, R614FF-E, R2104GF, R204GF-E, R203GF and others as they are developed.
31 telemetry sensor slots available (sensors sold separately).
Synthesized voice for telemetry data.
Multiple crawler functions – including 4WS mixing and Dual ESC mixing.
Comfortable feel/balance.
Internal aluminum frame.
5 programmable mixes.
40-model memory.
Steering mixer.
Brake mixer.
Gyro mixer.
CPS (Channel Power Switch) mixer.
Tilt mixer.
Adjustable dual-compound steering wheel can be switched around for a different feel.
Multi-function jog switch.
Grip with built-in vibration.
Built-in S.Bus servo/Futaba ESC/telemetry sensor programmers.
Mechanical ATL.
32° and 34° wheel adapters.
"Telemetry Disabled" LED indicator.
Earphone jack.
Battery charging jack.
Built-in speaker.
Adjustable rotating antenna.
Compatible with 2S LiFe batteries, NiMHs, dry cells and other battery options. Lasts approximately 10 hours in T-FHSS mode and approximately 6 hours in FASST mode using a LiFe battery.
Micro memory card slot.
Free user-updateable software.
Push-button power switch with auto-off function.
Clock and voltage meter.
Neck strap holder.