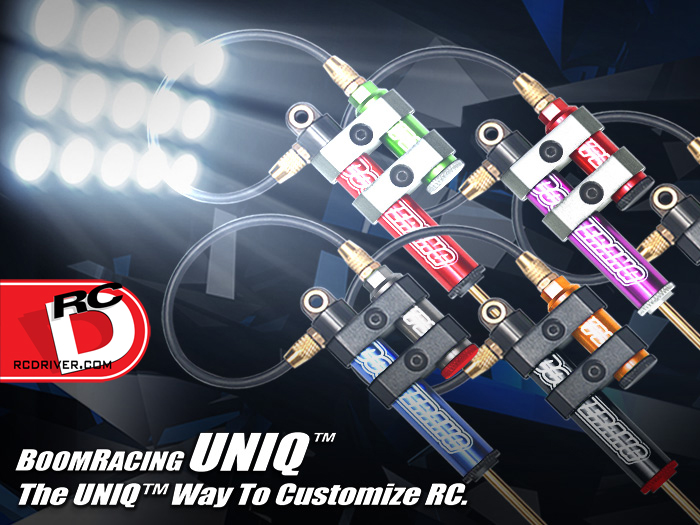 Boom Racing UNIQ™ is the new explosive way to customize your RC cars. Be unique by designing your own RC upgrades through multiple combinations of designs and styles. Boom Racing UNIQ™ is a platform to help you customize your own parts, in your own styles and color schemes for your RC cars. Now you can truly have a rig that is uniquely YOU. That's what Boom Racing UNIQ™ is. Make your ideas become a reality. Be UNIQ™.
Boom Racing UNIQ™ Boomerang™ Type G Shocks are the only shocks in the world that allows you to customize them to your liking. Any color scheme you'd love to rep on your car can be made with a few clicks of your mouse. Customize the length of your shocks, the colors of your shock reservoir, the main shock body, the bracket mounts, the shock caps, and the tool! With so many combinations to choose from, how can you say no?
Mixing innovation, functionality, and good looks results in our latest creation, the BOOMERANG TYPE G. With an incredibly scale look and a ton of customization opportunities, the BOOMERANG TYPE G will give your scale truck or crawler the performance and appearance needed to finish on top. Available in a variety of metallic colors, the BOOMERANG TYPE G is the shocks to buy if you're looking to stand out from the crowd and take the gold.
The BOOMERANG TYPE G looks and feels amazing, but as we know, things that look good in the industry tends to have less-than-stellar performances. The BOOMERANG TYPE G is the exception. Crafted in aluminum and made to look as scale as possible, the BOOMERANG TYPE G comes in a piggyback set-up with an oil reservoir that is fully functional. If you don't want it to sit together in the piggyback set-up, you can place the oil reservoir in another position on your car to give it that realistic look you deserve. The oil reservoir has its own spring unit within, and it comes with different springs so that you can see which fits you best. The unit also comes with decals for the shocks if you'd like to give it that extra hint of bling.
[OFFICIAL SHOCKS OF RECON G6]
Includes:
Aluminum Shock Reservoir x 2
Silver anodized aluminum piggyback bodies x 2
Shock springs (Soft / Medium / Hard) x 2 of Each
1mm Spacer x 8
2mm Nuts x 4
Aluminum Aeration Screws x 2
M3 x 25mm Buttonhead Screw x 4
Shock Shaft Adjustment Tool x 1
All necessary hardware to finish the shocks
Assembly instructions
Type G 110mm Specifications:
Length (Mounting hole to hole): 103mm
Shock Body Diameter: 45mm
Spring Diameter: 5mm
Spring Length: 45mm
Full Shaft Travel Range: 28mm
Shaft Diameter: 3mm
Type G 100mm Spec
Length (Mounting hole to hole): 97.5mmW
Shock Body Diameter: 10mmD
Spring Diameter: 5mmD
Spring Length: 45mmW
Full Shaft Travel Range: 28mmW
Shaft Diameter: 3mmD