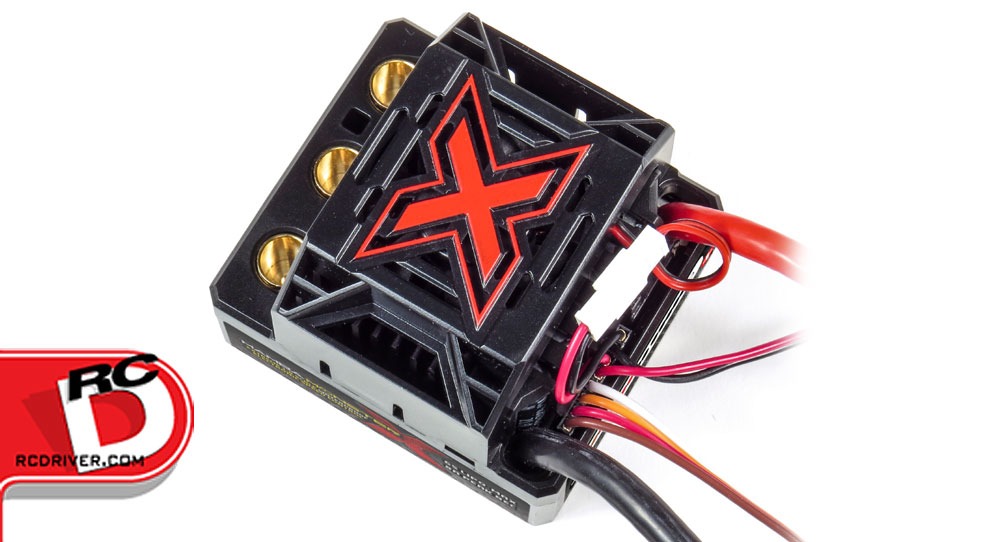 Castle Creations introduces the Mamba Monster X, the next gen 1/8 brushless ESC modeled after the Monster 2. This new ESC can handle more power, has a on-the-go programmable feature and can run either sensor or sensorless brushless motors.
Castle has installed a feature called the Auxiliary Wire that lets you fine-tune the performance of your Monster X right from the transmitter. The ESC also has Audible Alerts, a function that will notify drivers of possible issues out on the field.
Another cool feature is the Datalogging function, allowing drivers to capture and record performance data. Using Castle's Quick Connect Duo, you can analyze the data and make appropriate adjustments to maximize performance.
Specs
Input Voltage (# of cells and volts): 2S – 6S (25.2v max)
BEC Output Amperage: 8a peak, 4.5a continuous
BEC Voltage: Adjustable; 5.5v, 6.0v, 7.5v and 8.0v
Size: 5.3×4.9cm
Weight (with wires): 111.1g
Connector Type: 6.5mm motor bullets
Cooling Fan: 30mm
Mamba Monster X ESC Features
Sensor Support: Yes
Data Logging Function: Yet
AUX Wire Function: Yes, programmable
Castle Link Tuning: Yes (free Castle Link Coupon included)
Audible Error Codes: Yes
Waterproof: Yes
This should be a fantastic addition to the Castle lineup – I'm going to have to get one for my rock racer!
010-0145-00 Castle Creations Mamba Monster X 1/8 Power System

[source: www.castlecreations.com]