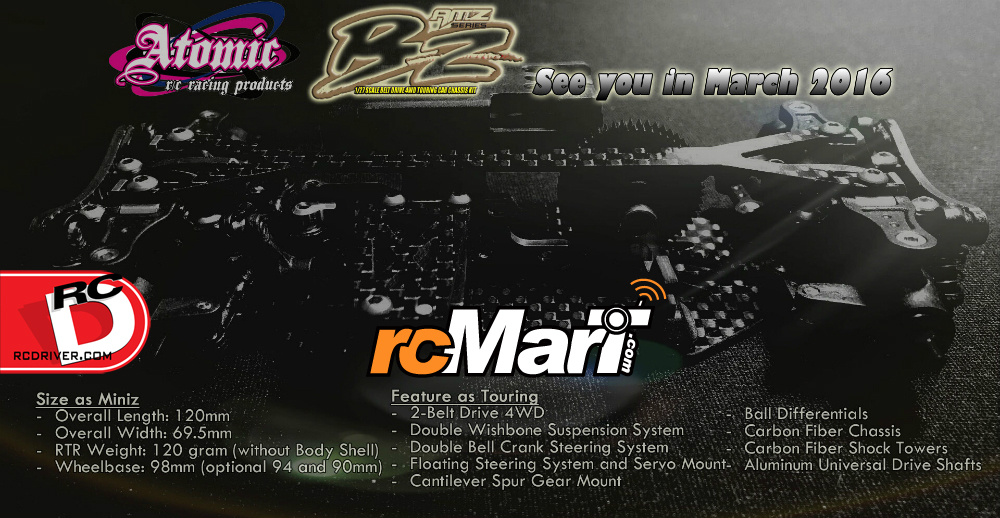 Coming soon from at rcMart from Atomic R/C Products, is their brand new BZ platform. Which is a 1/27 belt driven competitor to Kyosho's popular Mini-z Series.
Here are some bits of information currently released to us, expect to see it hitting shelves around the Mid of March!
We believe this will fall under the AMZ  series, in the 1/27 AWD class.
Specifications
–          Overall Length: 120mm
–          Overall Width: 69.5mm
–          RTR Weight: approx. 120 gram (without Body Shell)
–          Wheelbase: 98mm (optional 94 and 90mm)
Features:
–          2-Belt Drive 4WD
–          Double Wishbone Suspension System
–          Double Bell Crank Steering System
–          Floating Steering System and Servo Mount
–          Cantilever Spur Gear Mount
–          Ball Differentials
–          Graphite Chassis and Upper Deck
–          Graphite Shock Towers
–          Aluminum Universal Drive Shafts