Optimus for the Rest of us!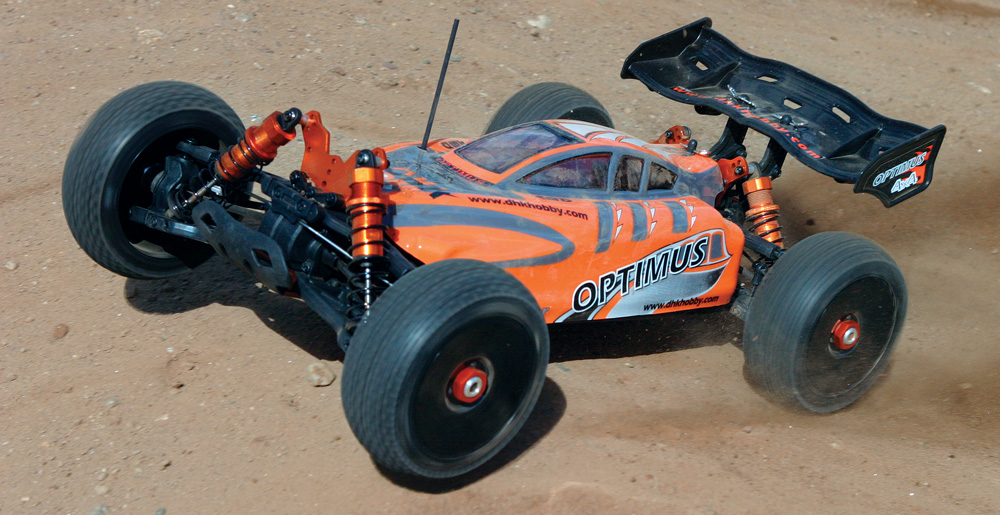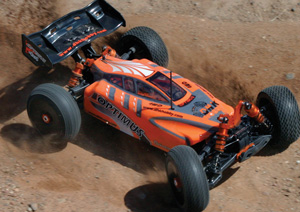 Words: Matt Maziarz
Photos: Greg Vogel
DHK looks to bring electric 1/8-scale to the masses with the new RTR DHK Optimus buggy. A complete package with a 3S 3200mAh LiPo battery pack, high-powered brushless motor and speed control combo, 2.4GHz radio system and AC balance charger leaves little left to purchase for first time RC'ers. And, all for less than the cost of many 1/8 rollers! Newbies to LiPos fear not, DHK does and excellent job of educating new drivers through the easy to understand manual.
AT A GLANCE
WHO MAKES IT: DHK
WHO IT'S FOR: Beginner to intermediate
HOW MUCH: $379.99
BUILD TYPE: RTR
PROS
• Complete RTR package right down to the Lipo and Charger
• High-power brushless motor system
• Economically priced
• Durable
CONS
• Local parts support may be scarce
REVIEWER'S OPINION
Do you want to get into RC? Are you dead-set on a 1/8-scale buggy, but you don't have a G note (or more!) to blow? Look no further than the DHK Optimus
. Will it win tons of ROAR and IFMAR titles? Well, that's up to the driver. What it will most certainly do is make it easier for more folks to experience the handling and performance that makes the 1/8-scale buggy class so popular.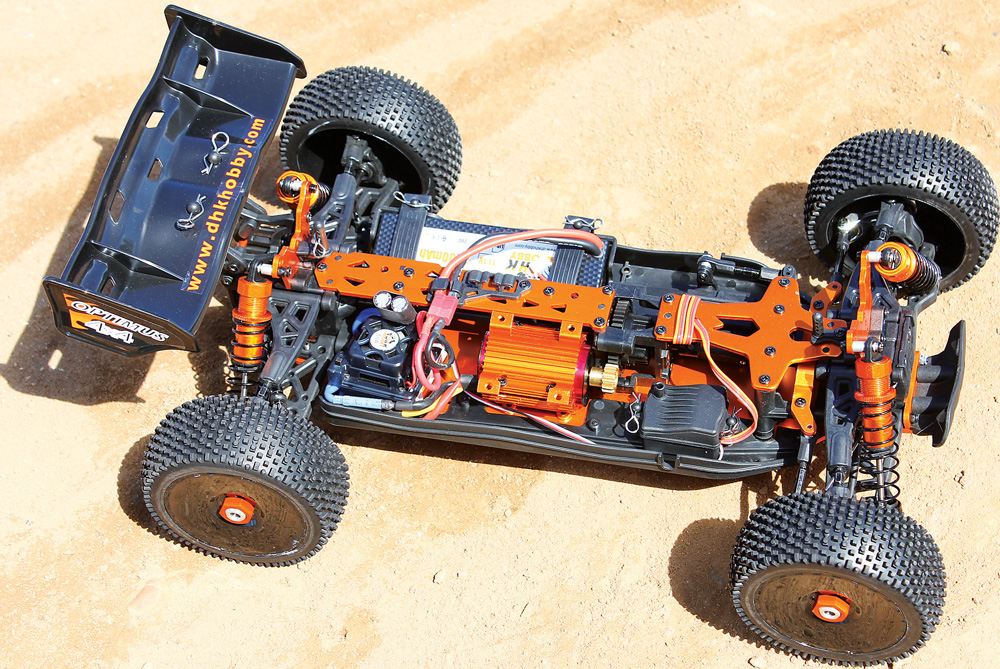 FACTS
• RTR package minus 4 "AAs" for the transmitter. Just charge up the included 3S LiPo and you're ready to rip! DHK does a nice job in the manual department as well, clearly illustrating tuning options and parts lists. Newcomers to the RC world who choose the Optimus as their first hobby-grade vehicle will be pleasantly surprised with the ease of use and fool-proof features of the charging system as well.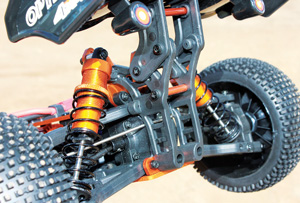 • Such a modestly priced vehicle wouldn't normally offer much in the way of tuning options but DHK packed plenty of features into this one. It has features that would normally be found solely on vehicles and setups that are anywhere from two to five times the price. The ESC has plenty of settings that the user can customize with ease and DHK even offers a second manual specifically for this purpose, complete with programming instructions and wiring diagram. There is also an optional program card available.
• The Optimus has a lot of things going for it. Starting with the drivetrain, the heavy duty differentials are set up so the buggy lays down the power in a way it's easy for anyone to drive. Steel dogbones are used to send power to the wheels. Wrapped around the stealthy black wheels are a medium-compound rubber pin tire that will work on most surfaces such as grass, hard or packed dirt and even gravel. The steering is a dual crank set-up and all of the tie-rods are adjustable throughout. I really liked the little details spread out on the car, the bigger than normal 1/8 bumper, closed receiver box, chassis dust-guard side-plates and double-deck wing with faux thrusters on the bottom; neat.
• Goodies! The Optimus comes loaded with sway bars, bearings, threaded alloy shocks, motor heatsink with a mount for an optional fan, all kinds of shiny orange bits and pieces, LiPo with charger and a 2.4GHz radio system. Anyone who has shopped around for 1/8-scale hardware knows the cost of these things. DHK does a marvelous job of packing so many features into an RTR that costs less than some 1/8 powerplants!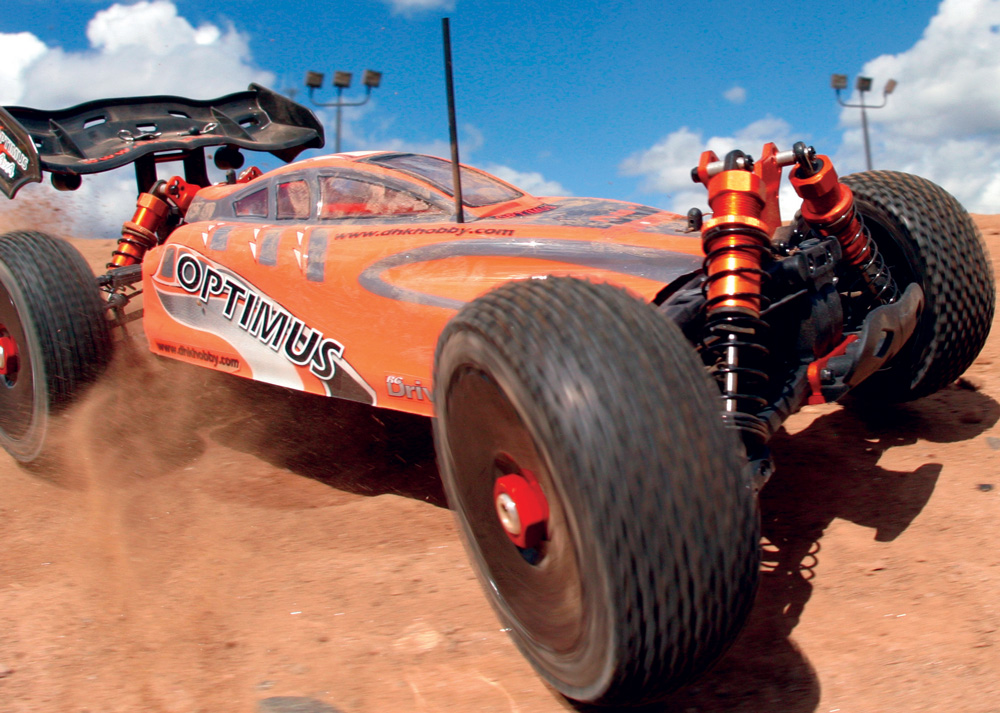 BEHIND THE WHEEL
STEERING: Fair
The servo is a bit on the slow side, but I'll take slow steering any day if the vehicle comes with a LiPo and charger! To be honest, I was pretty heavy on the throttle and did not attempt any suspension changes in order to augment the steering, but I am sure all but the most discriminating RC'ers will find the stock setup more than sufficient for backyard and parking lot battles. To make a kit affordable you have to leave room for upgrades.
ACCELERATION: Very Good
The combination of the high rpm motor and low gearing offers a great "off-the-line" feel. Yeah, I know, most 1/8 guys run on 4S or more, but we all know that a first timer armed with a 14.8V rocket ship isn't necessarily a good idea. The ESC (though only rated at 60 amps) is capable of running on 4S, so after a bit of practice, there is no reason why this buggy shouldn't be able to keep up with all but the fastest of electric 1/8 scalers.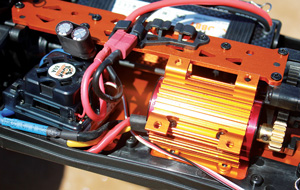 BRAKING: Good
Sensorless power systems are not generally known for their braking prowess. There is plenty of power to stop the buggy with authority, but the curve of the brakes is not as smooth as I am used to. After a bit of tweaking with the brake settings on the ESC, things were notably improved. Out of the box, power slides and chassis roll are obligatory and that is, after all, what most bashers and weekend warriors are after anyway!
SUSPENSION: Very Good
The shocks on the Optimus worked very well throughout our tests and kept the buggy planted in all, but the hairiest of cornering situations. Threaded pre-load collars allow for on-the-fly ride height adjustments. The oil seemed a bit light for my taste, but I normally run somewhere between peanut butter and silly putty in my shocks. The geometry of the car's suspension works very well. There is virtually no bump steer at any angle and the camber travel is right where it should be.
DURABILITY: Excellent
No damage to report. The modest speeds of the included 3S lends itself to the buggy's ability to shrug off parts damage, but I don't forsee any issues if you bump up the power either. Snagging some extra parts upon purchasing the buggy would not be a bad idea as local parts support could be an issue if you are on of those "I'm not going home 'til it's broke" drivers.

THE LAST WORD
RTR 1/8-scale for less than 400 bucks and all you need is four fresh "AA"s for the transmitter—sounds like a steal to me! This package is clearly aimed at newcomers to the RC world as is evident in the glossary of terms in the manual and the completeness of the entire package. The Optimus will open the 1/8-scale door to many people who might have thought that this scale was beyond their budget. Kudos to DHK for putting together such an easy-to-use package with great performance and exceptional durability that provides a true 1/8-scale experience.
LINKS
HRP