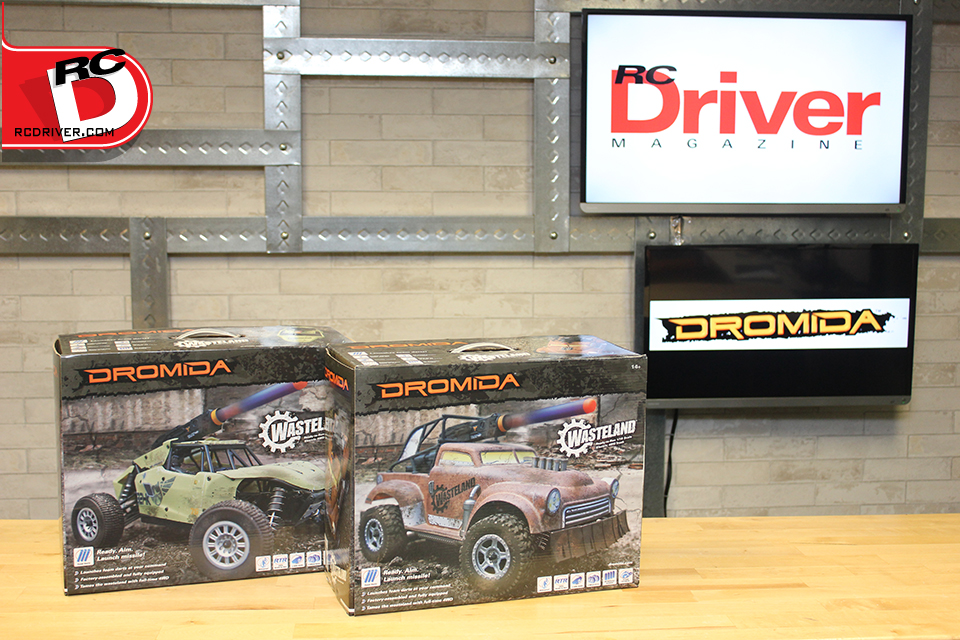 W
hen it comes to delivering a variety of big fun on a small scale, Dromida has been dishing out the goods with their 4.18 series of vehicles in brushed and brushless motor form. They have added to their offerings, this time with a twist, a pair of wild looking RC machines called Wasteland and their rugged looks are not the only thing that is attracting attention from RC funseekers. The Wasteland buggy and truck are fitted with spring loaded foam dart launchers that can be shot up to thirty feet with just the push of the button on the radio. We've just received these wild foam missile machines and have them on the RC Driver Reveal Workbench for some unboxing impressions.
FACTS
Manufacturer: Dromida
Distributed By: Hobbico
Product: 1/18 Wasteland Buggy & Truck
Class: 1/18 4WD Off-Road Vehicle
Power system: Electric/ Brushed
Kit type: RTR
What's in the box: Assembled vehicle with motor and electronics installed, 2-channel 2.4gHz radio, misc shock clips, AA batteries, 7.2V NiMh battery, universal wall charger, painted body, foam dart gun with extra darts and manual.
Needed to complete: A target and a place to conquer
Who it's for: Beginner and up
Part Number: DIDC0061, DIDC0060
Price: $139.99
FIRST IMPRESSIONS
It's fairly obvious to RC fanatics who know the details of every chassis they see that the Wasteland machines are based on the 4.18 brushed motor line of Dromida cars. And that is a good thing. These 4wd vehicles have independent suspension with oil filled shocks, ball bearings in the driveline, sport level electronics with fun power and durable plastics. There are some subtle changes under the hood and of course the bodies that make them their own series of vehicles.
First the three-in-one receiver/ESC/servo unit has a third channel for operating a servo to actuate the missile launcher on top of the truck and buggy. The bodies are much different than we've seen before. The buggy has a roll cage with screw on lexan panels that are painted on the outside for a cool flat finish. The cage protects the buggy and the launcher from harm still making these machines excellent in the durability department. The truck too has a flat finish but in brown camo with bolt on accessories like hood stacks, mufflers and roll bar. Protecting the front of the buggy is an aluminum skid bumper while the truck has a gnarly metal looking plow bumper in the front with bars in the rear.
Missile launch control comes from a spring loaded launcher mechanism unique to each the truck and buggy. You have to manually pull back the launch arm till it clicks, load the dart and hit the button on the radio to launch once your target is in range. Two additional darts are supplied so you can drive the Wasteland back to you for a reload.
WRAP-UP
So far we really like what these new Wasteland machines have to offer. They are based on the Dromida 4.18 which we are already a fan of. Add in the cool metal warrior looks of the bodies and this amps up the fun factor for young drivers. What tops it off is the missile launcher and it firing off a foam dart that packs a punch. Editor Matt Maziarz was not expecting such an impact when we fired a missile at his leg…"Dude!" Sure, it's a little on the toyish side with the darts, but it adds an element of additional fun to an exciting off-road hobby grade RC car.