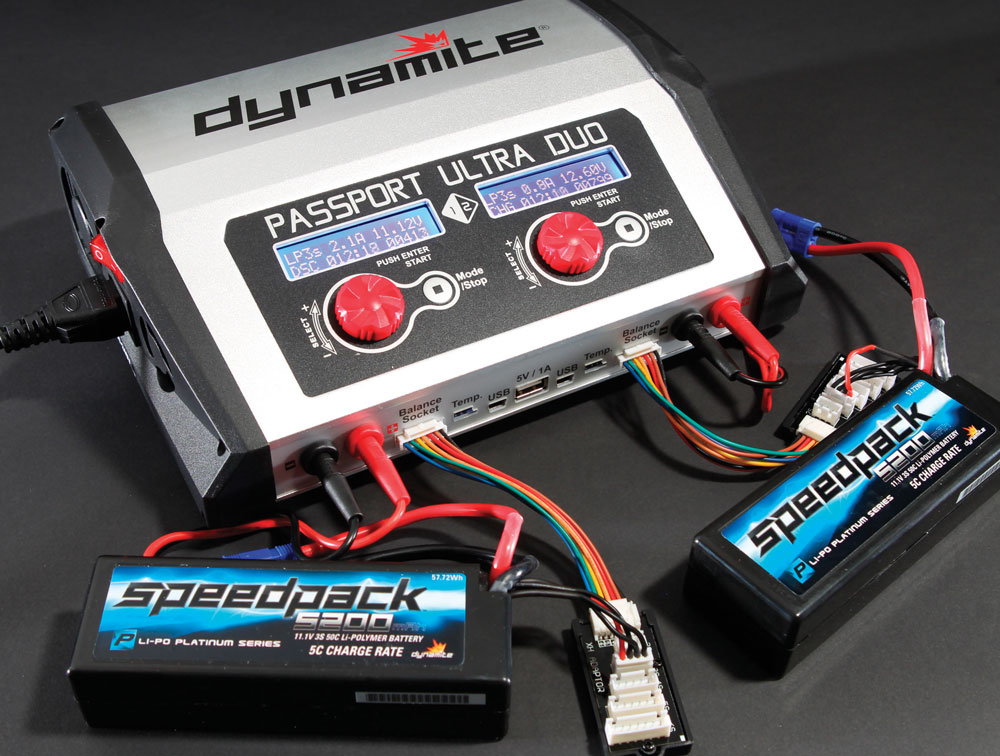 By Dean Berry
The vast majority of people that I know have more than one radio controlled vehicle. Those that do have one vehicle have several packs for their ride too. Because of this, charging one lonely pack at a time just won't cut it and lugging multiple chargers (and sometimes power supplies) to the track is just a hassle. Dynamite realized this and has released the Passport Duo 400W Dual Charger. Different than other dual output chargers, it has an internal 500W power supply, meaning you can charge two separate packs at up to 10.0A at the same time! If that has not grabbed your attention keep reading for the rest of the details.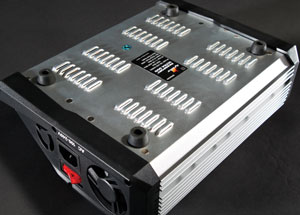 THE GOODS
In this day and age a charger must be versatile and the Dynamite Passport Duo 400W Dual Charger is that and then some. It has the capability of charging NiCd and NiMH packs up to 15 cells in size. While most people don't have a 15 cell NiMH pack, people with ready-to-run vehicles do have 6- or 7-cell packs that fall into this category. Also, the Dynamite Passport Duo 400W Dual Charger can charge every variety of lithium based pack; from popular LiPo packs to LiFe and Li-Ion packs, it can charge these packs that racers use up to 6S in size! With the growing popularity of electric 1/8-scale vehicles and 1/5-scale electric conversions that require more than one LiPo battery and 4S and 6S packs, the Passport Duo 400W Dual Charger is perhaps the ideal choice. Additionally, it can charge Pb (lead acid) batteries that are sometimes used in starter boxes. Finally, and perhaps one of my favorite features, the Passport Duo 400W Dual Charger has a 5V/1A USB output that is perfect for powering up iPods, iPhones and a wide variety of other smartphones on the market.
WHAT WE LIKED:
• Can charge two LiPo packs, up to 6S in
size at up to 10A at the same time
• I can charge my iPhone with it
• The lithium balancers are on external
boards
• Can charge just about anything
• Easy to read blue backlight screen
• Straight forward menus
• Sturdy design
• Multiple internal cooling fansWHAT COULD BE IMPROVED:
• Would like to see it include a few other
charging leads or alligator clips
Now that you know what the Passport Duo 400W Dual Charger from Dynamite can charge, I'm sure you want to know some of its charging options. When charging lithium based packs the Passport Duo 400W Dual Charger utilizes the constant current/constant voltage methodology. This will prevent the batteries from being overcharged for added safety and battery longevity. Additionally, it can charge two packs, up to 6S in size, at 10.0A. This is very helpful as this can greatly reduce charge times of high-capacity, multi-cell packs. The Passport Duo 400W Dual Charger also comes with two external JST-XH balancing boards. Charging in balancing mode ensures that each cell of the pack has equal voltage. This increases battery performance and improves longevity. Progress of each cell during charging can be monitored with the built in lithium battery meter. Since the balancing boards are external they can be removed when charging non lithium passed packs or can be changed when charging packs that use different balancing connectors. Moving over to NiMH and NiCd packs, the Passport Duo 400W Dual Charger utilized a peak detection mode that shuts off once the battery reaches capacity. Additionally, it can be programmed to perform a re-peak charge following the initial peak charge. This is done to improve battery performance and to make sure the pack reached capacity during the initial peak charge.
Want to see more product reviews? Get RC Driver Magazine! Subscribe Now!
Just because this is a charger, the Passport Duo 400W Dual has a few more features to offer. It can discharge packs at up to 5.0A, it can cycle packs and has a battery storage mode. Battery storage mode is useful for people who race different vehicles as the seasons change. For example, in New England people often race outdoor off road in the summer months. As the weather turns cooler some of these people turn to indoor on road racing. Since some of these vehicles use different batteries, utilizing the battery storage charge option will ensure each pack is ready to go as the race seasons change.
The Passport Duo 400W Dual Charger has a host of safety features too. Should a battery pack accidentally be plugged in backwards there is reverse polarity protection. There is also short circuit protection, over current protection and low input voltage protection and over temperature protection (when used with the optional temperature sensor). To keep all the internal components of the Passport Duo 400W Dual Charger from overheating, it is equipped with cooling fans.

Okay, you know all about the charging, discharging and safety features but how easy is the Passport Duo 400W Dual Charger to use? In a word, VERY. If you can navigate a smartphone you can use this charger. To start, there are two backlit blue LCD screens, one for each charging output, that are very easy to read. Menus on these screens are simple to navigate using the jog/dial button and mode/stop button.
THE LAST WORD
Changers sure have evolved over time. I started out over 20-years ago using a 15-minute "peak" charger and now, I have the all-encompassing Passport Duo 400W Dual Charger. It is more capable than any two chargers I currently use, and takes up less room than any two. Being able to charge any battery on the market makes it versatile as it can work with RTR packs that beginners use and high cell, high-capacity packs that racers and hardcore bashers use. If you are in the market for a new charger, spend the few extra bucks that the Dynamite Passport Duo 400W Dual AC/DC Charger will cost you. It is the most complete dual charger on the market.
LINK
Dynamite dynamiterc.com, (800) 338-4639