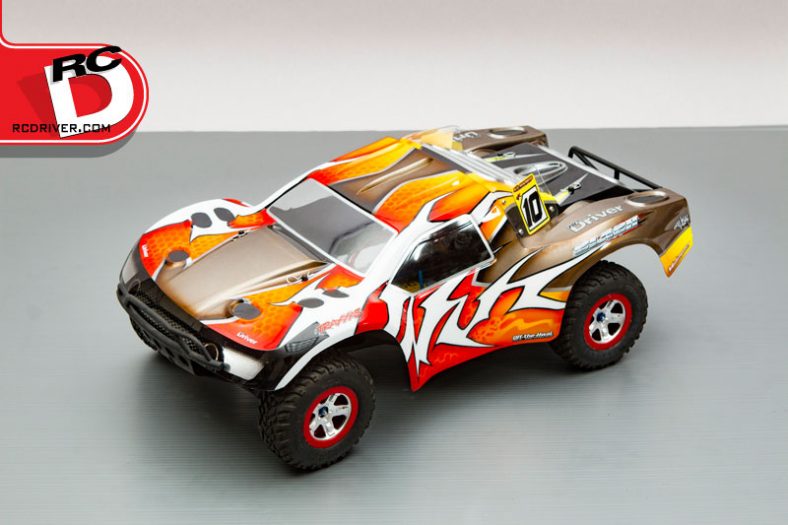 There have been countless versions of the 2wd and 4wd Slash aimed at different segments of the market.  After what seemed like an eternity Traxxas recently released a brushless version of the 2wd Slash that featured a cool LCG (low center of gravity).  Still, compared to some versions of the 4wd Slash something was missing.  Sure, this new 2wd Slash with the LCG chassis, TSM (Traxxas Stability Management), OBA (On Board Audio) and powerful Velineon brushless system was cool but where was the neat aluminum bling like in the Platinum and Ultimate versions of the Slash 4×4?  Well, I am here to present you with my take on a self-made Ultimate Edition of the 2wd Slash.
PARTS USED
Traxxas blue anodized steering blocks (3636A, $35.00)
Traxxas blue anodized rear stub axle carriers (3652A, $35.00)
Traxxas blue anodized 30-degree caster blocks/c-hubs (3632A, $24.00)
Traxxas blue anodized camber links/turnbuckles (3741A, $22.00)
Traxxas blue anodized toe links/turnbuckles (3139A, $12.00)
Traxxas S1 tires & rims (5873R (rear),   5875A (front), $28.00 per pair)
Traxxas blue anodized 4mm flanged locking nuts (1747R, $7.50)
Traxxas Big Bore Aluminum Shock Set (5862, $70.00)
Parma Speedflo 2.0 Body (1243L, $41.99)
THE BUILD
It was a given the moment that I got started that aluminum knuckles, front c-hubs, and rear hubs were a must have as they are also used on the Ultimate Edition of the Slash 4×4.  While several manufacturers make their own aluminum versions of these parts I decided to go with the blue anodized bits that Traxxas makes.  These parts look great, fit perfectly, are super tough and just made perfect sense as I was going for an Ultimate Edition look.  In addition to the knuckles and hubs I went with blue anodized turnbuckles through my soon to be Traxxas Slash 2wd Ultimate Edition.   While not used on Platinum and Ultimate Editions of the Slash 4×4, these turnbuckles look sharp in blue and match the other blue bits.
Ok, with bling and durability issues sorted out it's time to make the truck handle a bit better.  First up was a new set of tires.  Keeping with the Ultimate Edition theme I went with S1, soft compound tires pre-mounted on Traxxas wheels.   The tires/rims do not look all that different than the stock units but being soft compound the tires provide a bit more traction.  I held the tires in place with Traxxas blue anodized 4mm flanged locking nuts.  I upgraded the suspension too with a set of Traxxas Big Bore shocks.  They replace the stock plastic bodies units and feature hard-anodized aluminum bodies, PTFE-coating for smooth operation, and titanium nitride coated shafts that resist scratches.   

With everything under the hood sorted out it was time for a new, high performance, body.  The Parma Speedflo 2.0 body was an ideal choice as it looks great and has areas strategically located throughout the body that can be cutout to help improve airflow to help prevent the kite or parachute effect that can happen when jumping.  I sent the body to local artist Chris Hwalek of Off-The-Hwal Grafix for some paint work.  When returned I was completely blown away by his clean lines and use of deep, almost 3D like, colors.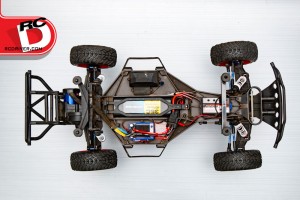 With the truck done I headed out for some fun – not to race or anything, just banging around my local park.  While the truck was not any quicker, it was much smoother and handled considerably better.  The soft compound tires had nice traction and the suspension work quite well absorbing bums ruts and make-shift jumps.  I did tag a curb or 2 while out having fun but as expected nothing came back damaged. 
In the end these hop-ups look great, add another level of durability to an already tough truck, add traction, and enable the suspension to work better. I am very happy with my self-made Ultimate Edition of the 2wd Slash and can't wait to use it more!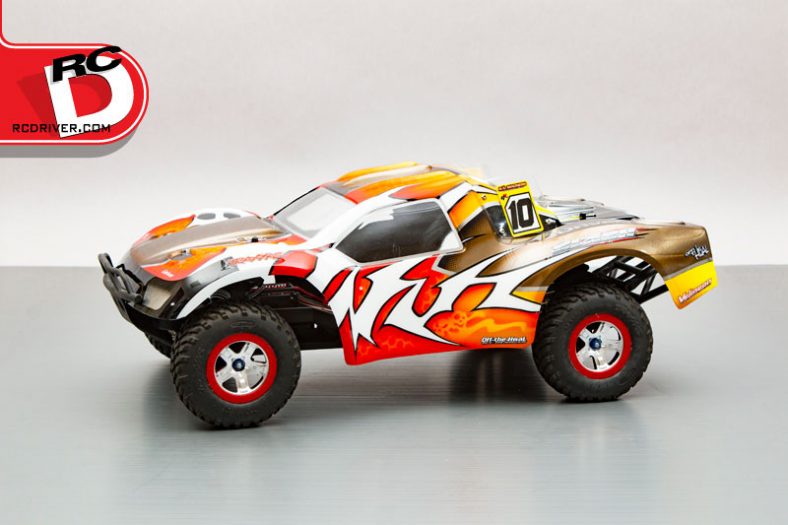 LINKS
Traxxas, www.traxxas.com
Parma, www.parmapse.com
Off The Hwal Grafix, www.offthehwal.com