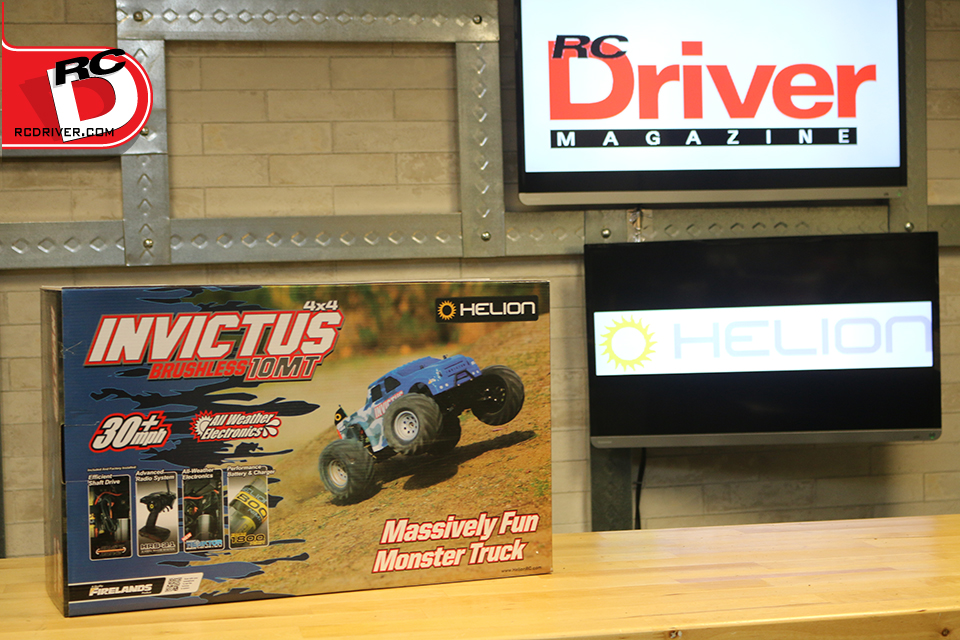 H
elion's Invictus 10MT is a potent 1/10-scale 4×4 monster truck and now a new version of this beast is available. The new Invictus 10MT has a number of upgrades, including the new 3s LiPo-compatible Reaktor 50A ESC and 4 Pole 3000Kv brushless system; upgraded servo saver and high-current HCT plugs. For drivers looking to tackle harsh off-road terrain and hit the skies with major air time, the Helion Invictus 10MT looks like an awesome truck to have. Check out our unboxing photos of this machine and some additional details.
FACTS
Manufacturer: Helion
Distributed By: Firelands
Product: Invictus 10MT Brushless 4×4
Class: 1/10 4WD Monster Truck
Power system: Brushless system
Kit type: RTR
What's in the box: Assembled truck motor and electronics installed, 2-channel radio, 9.6V NiMh battery, misc tools, charger, painted body and manual.
Needed to complete: 4 AA Batteries
Who it's for: Entry level and up
Part Number: HLNA0570
Price: $309.99
INITIAL IMPRESSIONS
So the Invictus 10MT looks like a cool robust truck. It arrives tightly packed in its box with the suspension zip-tied down to fit in the box and the body is covered in plastic so you get to be the first to scratch it. The truck maintains its high ground clearance chassis design for all-terrain versatility, independent suspension with oil filled shocks and 12mm wheel hexes so you can use optional wheels from other vehicle brands.
When we popped the prepainted body off, instantly saw the new Reaktor 50A ESC and 4 Pole 3000Kv Brushless system. The ESC is 3s LiPo compatible and all weather capable so needless to say we're amped this electronics package will suit any bashers needs.
According to Helion, the truck has a updated more robust shaft based 4-wheel drive and updated chassis plate for easier spur gear changes and since we did manage to crunch a spur on our first gen Invictus, we're happy to see maintenance is easier.
The steering system gets a revised servo saver with a waterproof 6kg high torque servo to push the wheels and get this monster turned when you command it to. A high power 1800mAh NiMh 9.6v 8-Cell hump battery with HCT Plugs is included and was a bit of a shocker. You don't typically see an 8-cell hump pack in a car, but it's a nice pack to get you going with a power punch for excitement. What type of power punch you ask? Helion claims a class leading top speed, topping 30mph.
WRAP-UP
We liked Helion's Invictus 10MT before and, well, we still like it now. Just more thanks to several key updates. We're looking forward to hitting the dirt, mud, grass, rocks and whatever other gnarly terrain we can find with this truck. It's going to be a fun test session and we're looking forward to telling you all about our experience in an upcoming issue of RC Driver Magazine.