The Easy Drift Option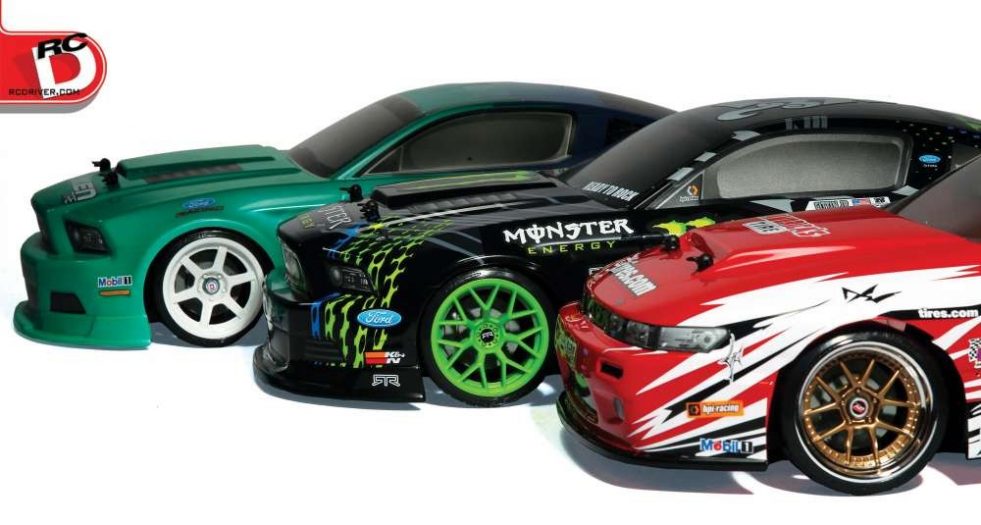 Photos: Walter Sidas
From RC Driver Issue: 135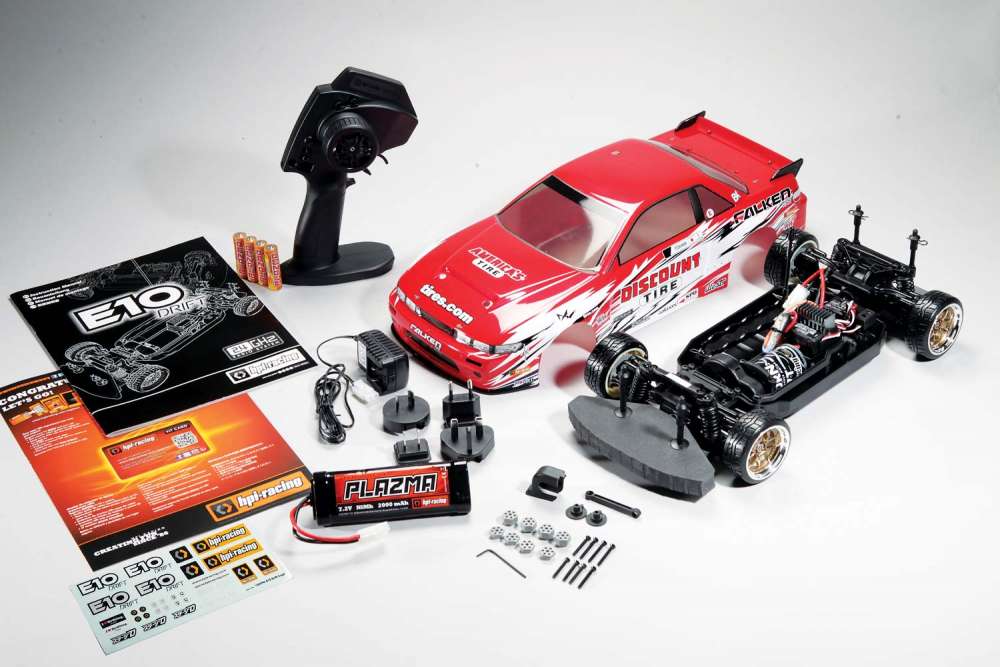 The E10 drift is an absolute complete package, meaning everything you could possibly need to get going minus a parking lot is included in the kit. The assembled car has electronics installed with the body pre-painted and mounted. Batteries are included for the radio and car plus a charger with adapters to use the charger with any type of U.S. or overseas plug. Decals, parts to convert the E10 to rear motor and instructions are also included.
The drifting scene doesn't always get the upfront glamor in the RC industry, but the fact of the matter is that the drivers and modelers behind these cars should get credit for being some of the most creative and talented drivers in the hobby. RC drifters build wild machines with chassis and body modeling that will have those who appreciate detail staring awe. Getting to a drift master level doesn't happen overnight and if this segment interests you, you need to start somewhere. HPI offers a number of entry-level cars in all types of RC segments and the drift scene is one. HPI's E10 series are a great start with their simple suspension designs, all-wheel drive drivelines, race-like rims with treaded plastic tires and some cool, licensed drift bodies that you may have seen on the full-scale Formula Drift circuit. The RC Driver crew has been looking to get back to the basics with equally matched cars that would allow skill to prevail when we are tracking cars against each other and we decided the E10 drift series would be the perfect car to make it happen. Check out our experience behind the wheel of these HPI drift replicas.
HPI E10 DRIFT LINE
THE E10
HPI's E10 is designed to be a budget platform, getting you onto the road for a minimal investment. The kit comes with the ready-to-run car, assembled with electronics installed, body painted and declared and all the support gear, like batteries and charger, so you don't have to worry about buying anything else.
The car is primarily made up of compos- ite plastic parts. The tub style chassis is molded with webbing to give it strength and the battery compartment on the right side is set up to hold a variety of styles of batteries. The motor is mounted toward the front to get weight over the front wheels. The rear is now a bit lighter to swing around in the cor- ners. What some don't know about the E10 platform is that the driveline can be rear- ranged for a rear motor mount set-up for those who want to change up the platform to a touring car.
The suspension consists of a double wishbone arm with kingpin pivot balls to attach to the steering knuckles and hubs. For damping, each corner gets a sprung friction style shock with the shock mount- ing in fixed positions both in the front and rear. The inner pivot points are part of the gearboxes and the parts hinge on steel hinge pins. There are no frills to the sus- pension, just use it as it is which on this level of car and its intended driving pur- pose is just fine. The hubs have mounting points for faux brake calipers and brake discs are a part of the wheel hex so the brake system looks very scale and adds to the cool factor of the finished ride.
In the drivetrain you'll see plastic splined center shafts sending power from the center spur to the front and rear gear differentials. The dogbanes and drive yokes are also plastic to keep costs down, but they do have some heft to them in case you bulk up the power a bit.
The electronics package starts with a Saturn 27T brushed motor controlled by HPI's SC-15WP speed control. A standard steering servo attaches to the simple bell crank steering via a long plastic link that extends past the motor since the servo is placed mid-ship. Controlling the car is an HPI 2.4GHz radio system with TF-11 desig- nation. This is an absolute basic radio with simple trim, reverse and steering dual rate features. The radio is kind of small but it gets you going worry and trouble free. Finally let's talk styling; the E10 Drift comes in a variety of cool, drift-ready finish- es. We grabbed the Falken/ Discount Tire car with its officially licensed logos, Nissan S13 body style and graphics of driver Dai Yoshihara's 2012 car. This highly recogniz- able car has great detail and comes factory finished as you see it. Our other two drift subjects are 2013 Ford Mustang replicas from the Formula Drift circuit, one of which is Vaughn Gittin Jr.'s Monster Energy Nitto Tire car with bright green graphics and wheels. The other Mustang is Justin Pawlak's 2013 Falken Tire machine with sig- nature Falken paint scheme. These Fords are designed to scale and their paint schemes are perfect with licensed logos. The best part is that they come out of the box just as you see them with no extra work needed. They look good from the start.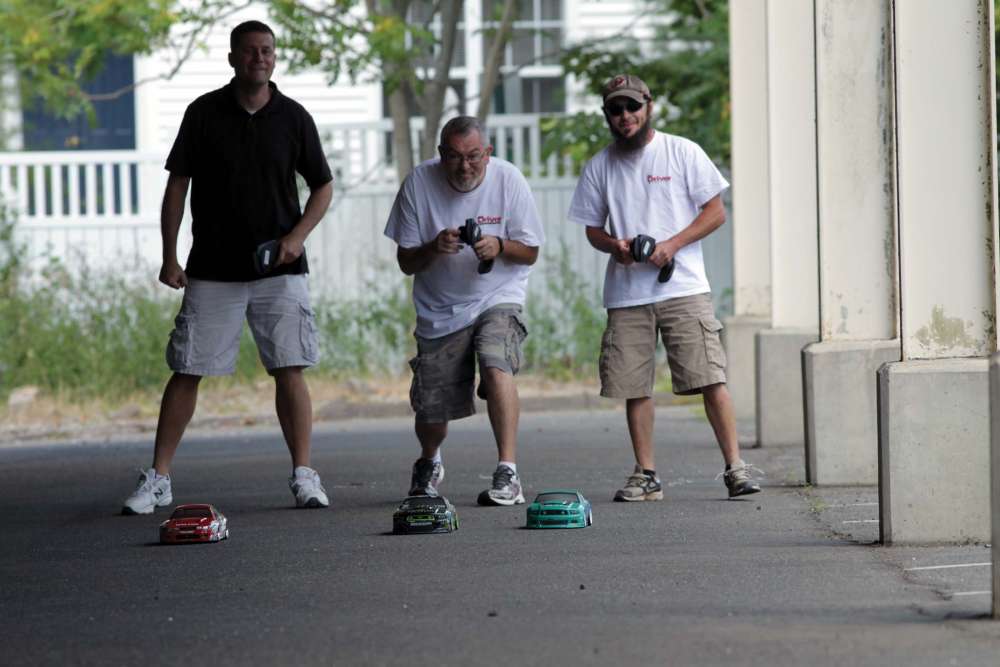 THE DRIVE
The first big draw for us to the E10 offerings from HPI was their complete ready-to-run package with painted and detailed bodies. The drift world is full of detail-oriented modelers building well-crafted machines, from the chassis set-up to the bodywork, but we were looking for instant professional looking satisfaction and the E10's certainly deliver. Their brushed motor and speed con- trol coupled with a 2.4GHz radio will keep the playing field level as we head to our courses for challenging sideways action. The only modification we allowed in our inter- nav office battle was to swap out the includ- ed NiMh battery pack for a LiPo battery also selected from HPI's accessory offerings.
Our drift arena was set; actually it's the parking garage outside of our offices. We had pillars to drift around, ramps from one level to another, curbs to slide around and plenty of hard walls to get up close and personal with. With the stage set, we started easily by drifting around a curb that transitioned to a down ramp in the garage. We took off and as we entered the corner, our drift action looked more like demolition with cars hitting and spinning every which way without one car actually making it around the corner. What you see on YouTube where guys drift within inch- es of each other isn't as easy as it looks. We tried over and over, using different throttle and steering inputs to get our cars synced with each other and sliding around the corner with style rather than smash- ing. It actually took us around a full bat- very pack to get in the groove with drifting the E10. But after that pack our driving was looking better and the fun and laughs were set aside for some intense concentraion on maneuvering the cars.
We then set up three Monster Energy Drink cans along the wall. Tony has a bit of an addiction to Monster so there were plen- ty of cans around the office. The challenge was to slide the rear of the cars around and try to knock over all three cans without clip- ping the wall. Let's just say the majority of attempts to knock over the cans didn't end well. The cans were knocked over but the rear of the cars also smacked the wall, caus- ing the cars to spin around and around. Luckily the E10's were tough and there wasn't any breakage, only some really scratched up bodies.
Another challenge we had fun practicing was sliding in sequence around the large pillars of the garage. We started on one end of the garage and began sliding in and out of the poles as close as we could hang together, but the farther our cars got away from us, depth perception became the challenge and a few cars went head first into the pillars rather than around. When we were able to sync up our driving, the cars weav- ing in and out looked very cool. We dreamed up plenty of challenges, even slid- ing cars down the ramps leading up to the front of our office building. You just have to get as creative with your driving challenges as you do with driving or even working on the car itself. Drifting proved once again to be an awesome RC driving experience and HPI's E10's were a simple and effective way to get into RC drifting.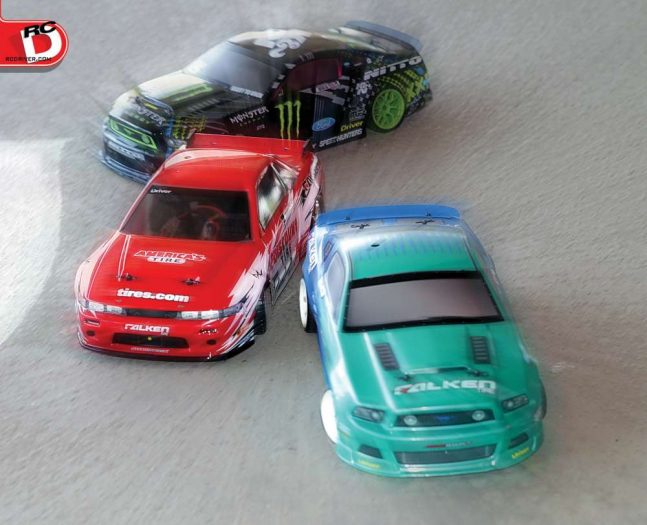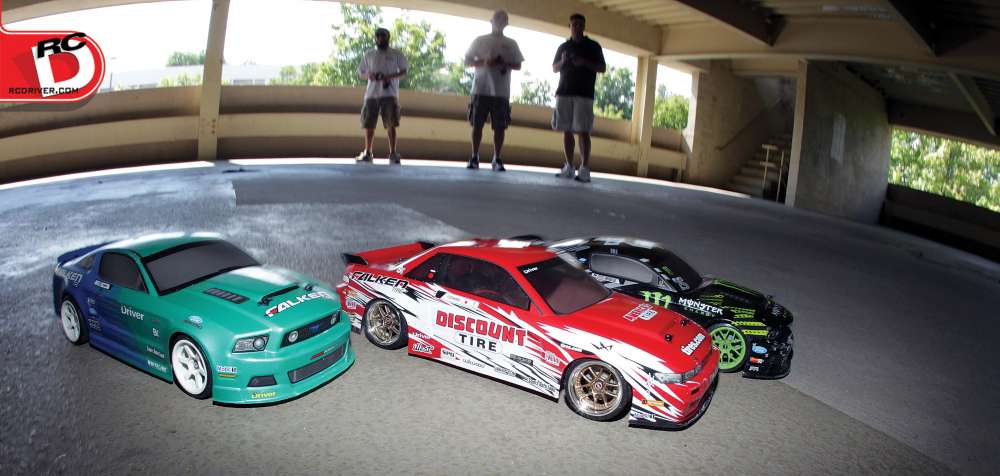 WRAP-UP
For some, drifting might seem like a clum- sy touring car sliding around a makeshift course but drifting is probably one of the most difficult segments in RC to master. Driving a drift car correctly requires preci- sion skill to throttle and steer the car around obstacles, hit apex points and chal- lenge how far you can push the car's lim- its without crashing. Drifting will actually improve car control skill if you are looking to shahttp://rcdriver.com/wp-admin/post-new.phprpen your driving ability in any other RC segment. So with that said, many might be looking for a drift car to get and see if it will work for them and that is where the HPI E10 comes in. It will help anybody get into RC, have fun, hone their skills and all with little work because of HPI's great RTR package offerings with very cool licensed drift replicas.
Link
HPI Racing hpiracing.com, 949-753-1099