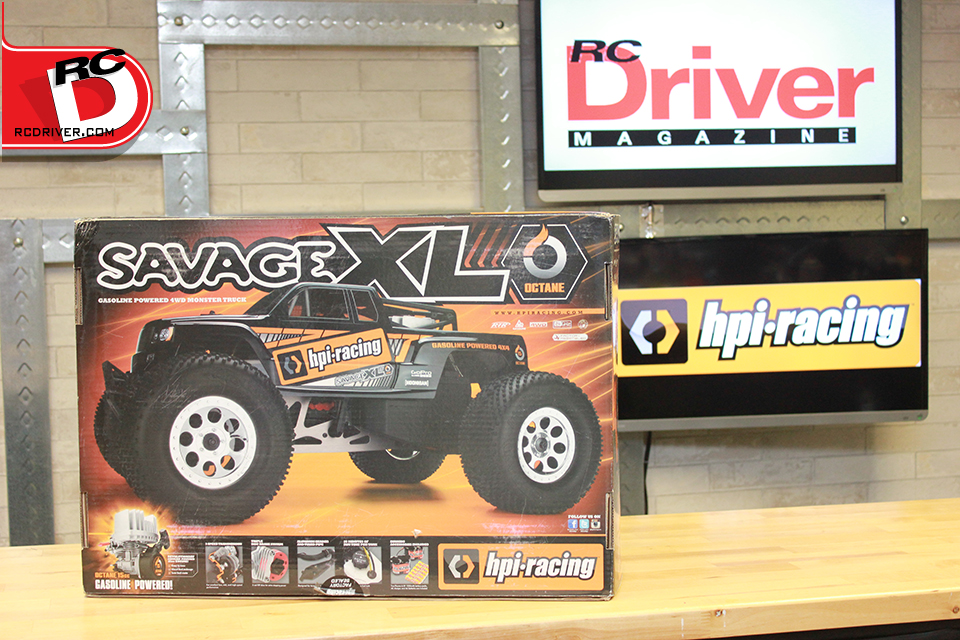 L
ook what has finally hit our workbench! The
HPI Savage Octane
1/8-scale gas powered Monster Truck is hitting hobby shop shelves as you read this and of course, we're going to take a closer look at what this highly anticipated release has to offer.
First up, the box is big, heavy and detailed with HPI's cool graphics and features callouts all over the sides. You should have no problem hunting this down at your local hobby shop, that is, if they have any left. We popped the box top and found the truck well-packed; not like it really mattered, because it was just a few hours away from getting thrashed outdoors. Also in the box, besides the built and decaled truck, is the 2.4GHz TF-20 radio with "AA" batteries, some tools, a parts bag and 2-stroke oil. The 5-cell packs for the receiver and ignition with charger are also included. All you need to pick up, besides this kit, is a fuel container and gasoline.
The first thing that will grab your attention is the GT15C  2.7hp 15cc engine. It's huge. No really, it looks massive even in this XL based 1/8-scale truck. It takes up a large portion of the bed of the GTXL body and the pipe on the side will make you a grin. Just sitting here, this truck is a showpiece that people will want to talk about. Other cool features are the signature HPI graphics, engine cage, forward 300cc fuel tank, Terra-Pin tires and lots of anodized aluminum. But enough with the chit-chat, lets look at some detailed photos with our thoughts.
FACTS
Manufacturer: HPI Racing
Product: Savage XL Octane
Class: 1/8-Scale 4WD off-road monster truck
Power system: Gasoline engine
Kit type: RTR
What's in the box: Assembled truck with painted body, gas engine and electronics installed, 2-channel radio, four "AA" batteries, bag of spares, pre-mix oil, receiver battery, ignition battery, charger and manuals
Needed to complete: Gasoline, gas can and gas transfer bottle
Who it's for: Any RC enthusiast
Part Number: 109073
Price: $869.99
LINK
HPI Racing