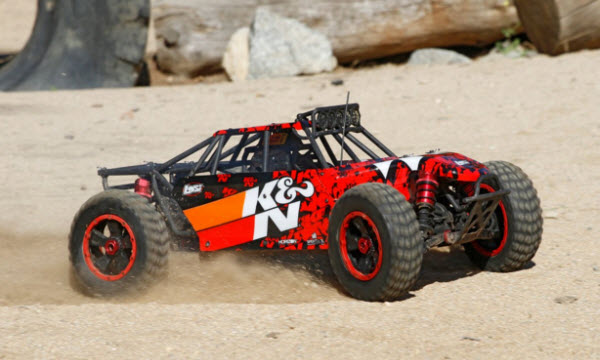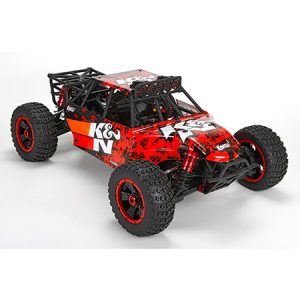 This edition of the Losi Desert Buggy XL comes with an officially licensed K&N body on the outside and genuine K&N air filter inside. The Desert Buggy XL was designed to withstand the rigors of intense off-road driving with a terrain-killing 4WD drivetrain, injection molded roll cage, and 4mm aluminum chassis. Under the hood drivers will find a 23cc gasoline engine that delivers over 40 minutes of relentless action on a full tank.  It has a 4mm thick chassis, Spektrum radio system, 740CC tank, 24mm hex wheel adapters and much more.
Features
K&N is recognized as a world leader in filter technology. Instant credibility in the motorsports world.
Genuine K&N Air Filter, Increased air flow for increased engine performance.
Established and proven DBXL Chassis. Affordable, durable large scale vehicle.
4wd performance and drivabitlity.
23cc Gasoline Engine. Easy to use, reliable, upgradeable.
Roll Cage protects chassis and can be removed by taking of only 10 body clips.
24mm Hex Standard Hex size in 1/5th scale vehicles. Allows for use of multiple tire and wheel combinations.
Sealed differentials last longer and provide endless tuning options.