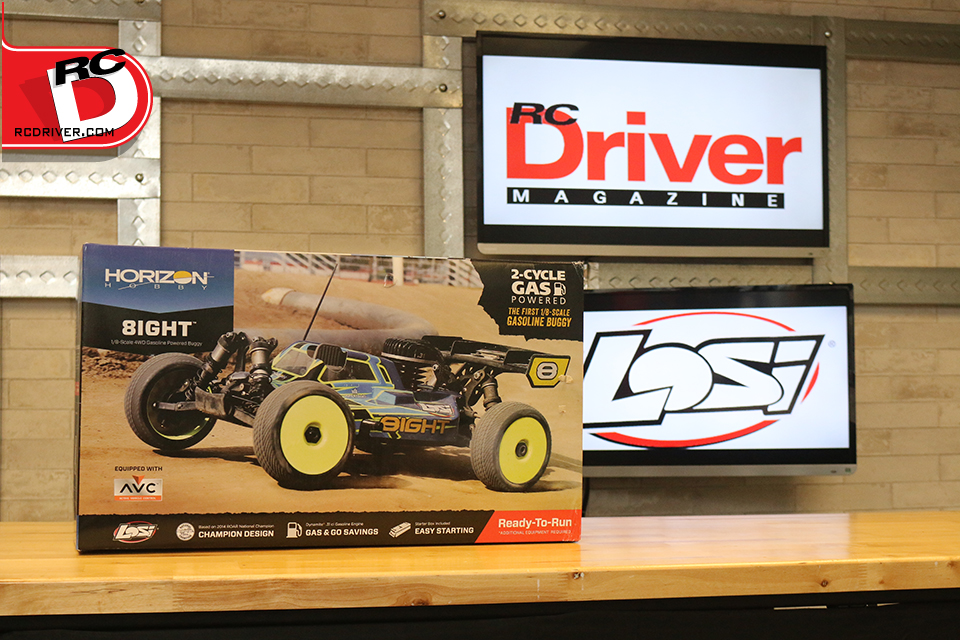 Last week we tore into two major gasoline engine powered vehicle releases from Losi, the 8IGHT-T RTR 1/8 4WD Gas Truggy with AVC and the 5IVE MINI WRC. Now we have the Losi 8IGHT RTR Gas Buggy and we've unboxed it on the RC Driver Reveal workbench so you can see what this kit has to offer.
FACTS
Manufacturer: Losi
Distributed By: Horizon Hobby
Product: 8IGHT RTR 1/8 4WD Gas Buggy with AVC
Class: 1/8 Buggy
Power system: Gasoline Engine
Kit type: RTR
What's in the box: Assembled truck engine and electronics installed, 2-channel radio, LiPo battery, 4 "AA" batteries, misc tools, 2-stroke mix oil, painted body and manual.
Needed to complete: LiPo Charger, start box batteries, gas can and pump gas
Who it's for: Intermediate to advanced truck enthusiasts
Part Number: LOS04000
Price: $839.99
INITIAL IMPRESSIONS
When you start pulling all of the included items out of the box, you see why this buggy comes at the price it does. In the box, you get a well assembled buggy with a Dynamite .31cc gasoline engine installed. The 8IGHT platform this particular kit repesents features the most up to date suspension geometry  and design, but with RTR components to keep the costs down like stamped aluminum hinge pin plates, dogbone shafts in the rear, composite shock caps, stamped shock towers and a standard plate chassis. The variation of parts doesn't diminish performance for the intended user of this machine who is the basher and not the racer. To further assist the backyard basher running this machine, Losi has installed a Spektrum radio system equipped with their AVC. Active Vehicle Control helps with stability and control and allows bashers to feel more confident behind the wheel. We've seen some gripes from drivers online saying AVC is not legal in this buggy for racing, but again, this isn't intended as a racing buggy and to our knowledge there hasn't been a gasoline 1/8 buggy race scheduled or held yet. But if it does happen in the future, you can turn off the AVC function if your track requires.
The kit comes with a starter box, 2-stroke oil, a LiPo receiver battery, some basic tools and instruction manual as well. The tires on the buggy look great for bashing use and the body has some killer graphics complete with decals already adhered. All you need to do is put the wing decals on, install the wing, charge and install the batteries, mix your fuel and fire this bad boy up for some fun.
WRAP-UP
Wow, Losi has some pretty impressive offerings for easy to use 1/8 vehicles. We love the looks of this new 8IGHT Gas Buggy and can't wait to hit the dirt to see how it sounds and performs. Our only wish for this kit would be to include the wings wickerbill that isn't included and isn't available separately, but its not going to make much of a difference for the driver buying this for pure fun. Watch for a full review of the 8IGHT RTR 1/8 4WD Gas Buggy with AVC in an upcoming issue of RC Driver Magazine.