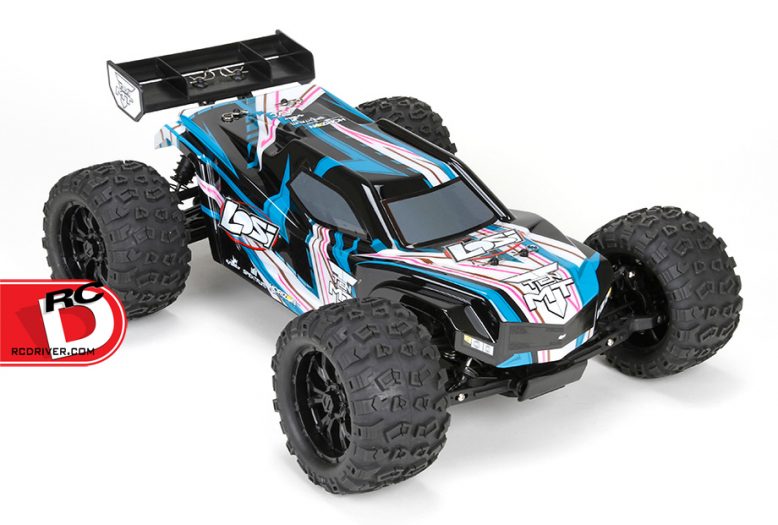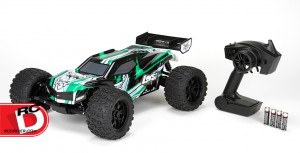 The Losi® TEN‐MT RTR was built to deliver ruthless speed, vicious performance and to withstand the tribulations of nearly any environment, no matter how harsh. Under the hood, a 4WD drivetrain based on the TEN‐SCTE 2.0 enables awe-inspiring off-road agility while waterproof electronics keep the TEN‐MT going regardless of conditions. Featuring a Dynamite® Fuze™ 3800Kv brushless motor and 130A ESC, the TEN‐MT comes ready to harness the power of a 3S LiPo battery for pulse-pounding ballistic speeds of 50+ MPH. Best of all, the TEN MT comes with AVC® technology equipped so you can always drive with nothing held back.
Design Based On TEN-SCTE 2.0
The Losi® TEN-MT features a design based on the race proven TEN-SCTE 2.0 platform. This heritage puts the TEN-MT years ahead of competitors with proven performance and rock-solid durability.
Rugged 4WD Drivetrain
Just like the massive monster trucks that inspired it, the TEN-MT features a rugged 4WD drivetrain that ruthlessly delivers premium power whenever you want to rip apart the landscape.
Dynamite® Fuze™ 3800Kv Brushless Motor
The TEN-MT includes a 3800Kv brushless motor that is capable of delivering ballistic speeds of 50+ MPH on a 3S LiPo battery.
Dynamite® Fuze™ 130A ESC
In order to deliver the most intense speeds possible, a 130A ESC comes equipped to deliver pulse-pounding velocity of up to 3S of LiPo battery power.
Durable Reinforced Plastic Chassis
To help withstand the trials and tribulations of off-road driving, the TEN-MT was built on a durable reinforced plastic chassis with bottom load battery compartment.
Waterproof Electronics
All electronics built into the TEN-MT are waterproof including the receiver, steering servo, motor, and ESC.
That means not even Mother Nature or a few puddles can stand between you and achieving the ballistic speeds you crave.
12mm Race Inspired Shocks
The TEN-MT comes ready to absorb nearly any terrain put in its path with 12mm race inspired oil-filled shocks.
Realistic Monster Truck Tyres and Wheels
Equipped for maximum traction, the TEN-MT comes with Monster Truck inspired tyres that feature a 14mm hex.
High Strength Drive Axles and Drive Shaft
The TEN-MT features high strength drive shaft and drive axles that can withstand the repeated torture of this 4WD ballistic powerhouse.
Aggressive Monster Truck Styling
The TEN-MT stands out even while blurring past at 50+ MPH with an aggressive trim-scheme available in blue or green.