Fun, Controllable Power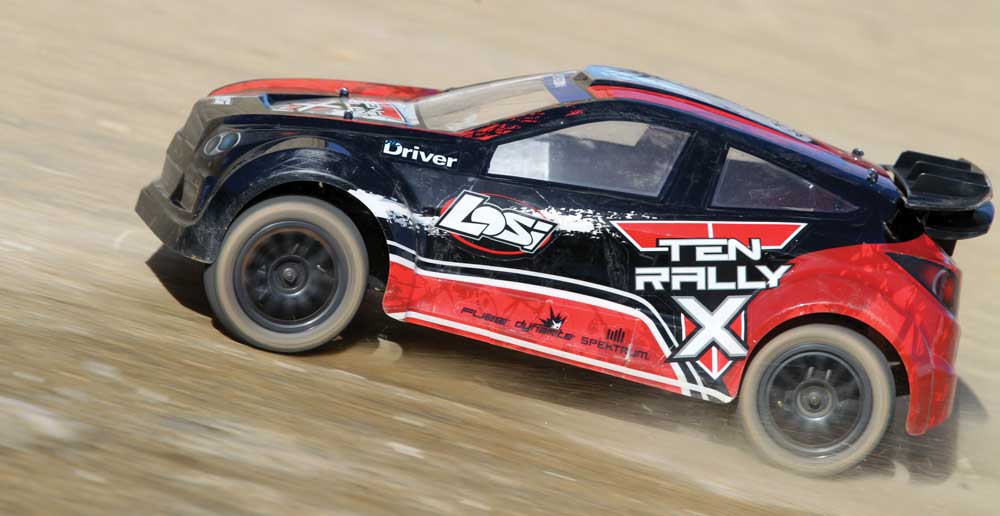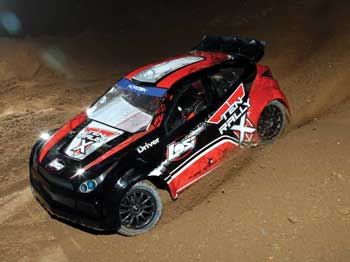 It goes without saying that everyone from newbies to the most experienced racer wants cool-looking vehicle with raw, over-the-top power. Unfortunately, this can often come at a steep price and these super-powerful vehicles can be difficult for the newbie to control. That is until now. Fresh from the minds of the people over at Horizon Hobby comes the new Losi TEN Rally X, a high competition-level rally car that is ready to tame on-road and off-road surfaces. What makes the TEN Rally X so special is the new Spektrum radio system that it comes equipped with. Known as Active Vehicle Control (AVC), it makes this über-cool and powerful rally car so easy to drive that even the newest and youngest of enthusiasts will be grabbing for the transmitter.
AT A GLANCE
WHO MAKES IT: Losi
WHO IT'S FOR: Everyone
PART NUMBER: LOS03000
HOW MUCH: $519.99
BUILD TYPE: RTR
PROS
• Built of a solid Losi TEN platform
• Extremely tough durable
• Spektrum's Active Vehicle Control makes it oh-so-easy to drive
• Waterproof electronics package
• Fantastic all-around tires work exceptionally well everywhere
• Rear spoiler on the body helps create down-force to increase traction
CONS
• I'd like to see a quicker steering servo with more torque
AUTHOR'S OPINION
I have to admit that I was more than a bit curious when I first read about the Active Vehicle Control that the TEN Rally X comes equipped with. After having had a chance to drive one over and over I can say, without hesitation, AVC is the real deal. The combination of the well-proven TEN chassis platform and AVC makes the TEN Rally X perhaps the easiest and most fun car to drive in my fleet of vehicles.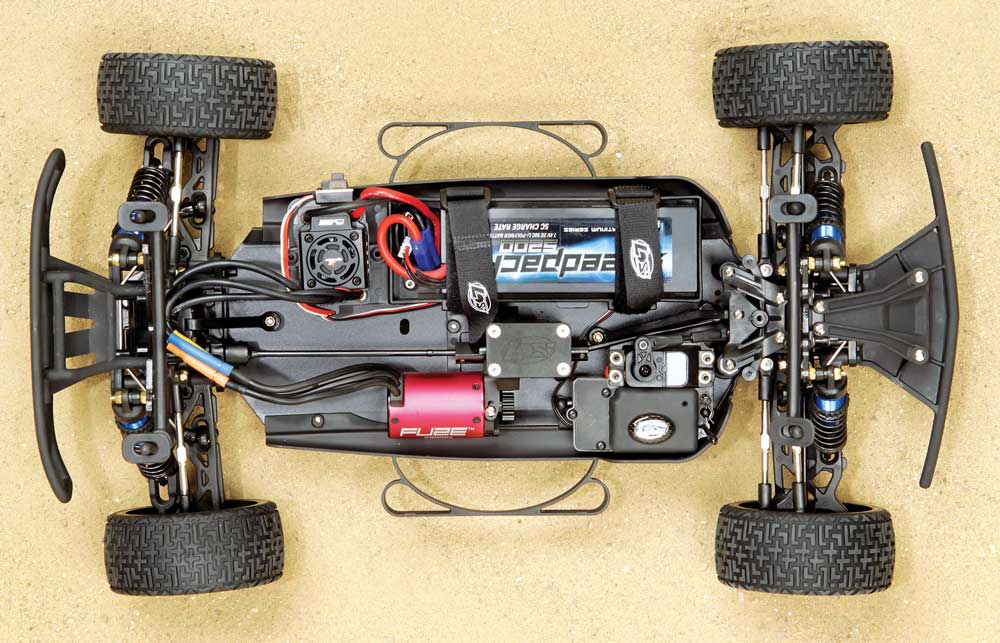 FACTS
• The foundation of the TEN Rally X is the 2.5mm-thick aluminum chassis. It is exceptionally durable, has front and rear chassis braces to help minimize flex and has mud guards on either side to help keep dirt and debris out. To help maintain a good balance from left to right, the motor is offset to the right hand side of the chassis, with the battery to the left. Speaking of the battery area, it can be adjusted to be moved toward the front, rear or a central position to tune weight distribution.
• To help the Rally X tame tough terrain, threaded big bore shocks are found on all four corners. These blue-anodized shocks have boots that keep dirt and debris away from the shafts to help prolong their life and keep the shock oil cleaner for longer. Front and rear shock towers are made from stamped aluminum that will hold their form in almost any collision and have plenty of tuning positions to dial the Rally X into any track condition. I really like the inclusion of front and rear sway bars in the Rally X as they help reduce body roll when cornering hard.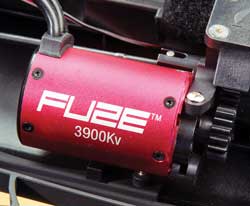 • A waterproof high-torque steering servo connects to a dual bellcrank style steering rack. This is a near bulletproof steering system and is more than up to the task of pushing the wheels from side to side. The servo has decent torque at 70 oz. and is waterproof, and while it is not the fastest waterproof servo I've seen, it is still sufficient.
• I have been a huge fan of the drivetrain on the TEN platform ever since I got my hands on the SCTe. The front, center and rear differentials on the Rally X are of the fluid-filled gear variety and can be easily tuned if need be with thinner or thicker differential fluid. CV-style joints are used at all four wheels as well as at the front and rear gearboxes to efficiently distribute power throughout the drivetrain. A nifty gear cover protects the spur gear that is part of the center differential from loose wiring and larger debris.
• Being read to run (RTR), the Rally X comes loaded with an electronics package featuring a Dynamite power system, and Spektrum radio system. A 4-pole, 3900Kv Dynamite motor has more than enough rip to spin the tires and is fast enough to please new users as well as seasoned veterans. The 130A ESC is fully programmable, so it can be tuned to the track or driver's preference. Better yet, it is 3S LiPo compatible so should 2S not be fast enough for you, grab a 11.1V 3S pack and be ready for near 50 mph. The steering servo has 70 oz. of torque and a .16 sec transition time. The DX2E transmitter has a great feel in hand, has all the basic adjustments you might need and has an AVC adjustment knob where the dual rate adjustment knob is found on other controllers.
• What good is a solid vehicle if it does not look great, right? The Rally X looks fantastic with its sharp pre-painted paint scheme and incorporated rear spoiler. Losi gave the Rally X its freshly designed rims and tires that not only look the part of a rally car, they perform great almost anywhere. The electronics are well laid out so even a newbie can easily swap out the servo or speed control if they need to.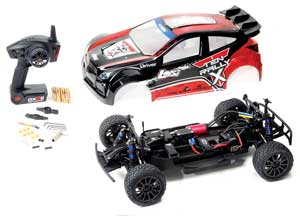 TOOLS & ACCESSORIES INCLUDED
• 4 "AA" batteries for the transmitter
• Wheel wrench
• Bind plug
• .050 in., 1/16 in., 5/64 in. and 3/32 in. Hex "L" wrenches
• Shock bottom wrench
• Turnbuckle/shock top wrench
ITEMS NEEDED
• 2S LiPo battery pack with EC3 type connector
• Compatible LiPo battery changer
ITEMS USED
• Dynamite Speedpack
• Dynamite Passport Duo 400W AC/DC Charger, DYN4300, $269.99
HOP-UPS WE RECOMMEND
• MIP Pro4mance Chassis and Tuning package, 12200, $275. If you are thinking of racing, the MIP Pro4mance Chassis and Tuning package has just about everything you need to take the Rally X to the next level. An entirely new chassis, shock towers and much more are included to completely reinvent the TEN platform.
• TLR Tuning Kit, TLR0901, $49.99. If you are on a budget and are still looking to give the Rally X a performance boost, the TLR Tuning kit includes new shock towers, aluminum rear hubs, aluminum shock tops and more.
• 4mm Aluminum Serrated Lock Nuts, LOSB3993, $7.99. These 4mm serrated lock nuts are considerably less likely to loosen up over the units they replace. This will prevent the hex in the rims from wearing out prematurely or worse, a wheel from coming off during a race.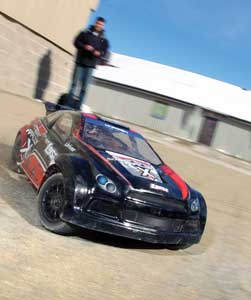 BEHIND THE WHEEL
STEERING – Neutral
Driving the Rally X with the AVC on takes some getting used to. When driving hard into corners on a loose surface, I expected the car to have a push like any other vehicle would. That said, when the car started to get loose and drift just a bit, the AVC would kick in and correct the steering and the Rally X would remain on course. I turned the AVC all the way down by using the dual rate adjustment knob on the Spektrum transmitter and tried to drive the same lines on the loose surfaces and the Rally X would either push a great deal or even spin out. For me, this showed the immediate value of the AVC system.
ACCELERATION – Excellent
The Dynamite power plant that the Rally X employs has outstanding top end and torque. When grabbing full throttle on a high traction surface, like carpet or asphalt, the Rally X took off like a rocket and was at full speed in a flash. On a loose surface, like dirt or a stone dust parking lot, as the Rally X would start to drift under hard acceleration the AVC would kick in and either slow the car down or correct the steering to help remain on course.
BRAKING – Excellent
The Rally X has a strong linear brake. When applied hard it can lock the brakes to help it avoid an obstacle. I would sometimes hit the brake hard to try and slide the Rally X around a corner but the AVC would kick in and either countersteer or adjust the Rally X throttle as if I wanted to take a tight line around the corner. Simply turning the AVC down or off allowed me to slide through corners like I wanted. The Dynamite ESC has good low and mid-range brakes so just a tap of the brakes will slow the Rally X down to help navigate tight sections of track.
SUSPENSION – Excellent
Based off of the successful TEN STCe platform, the Rally X has a good amount of suspension travel and the perfect combination of oil and springs that enabled it to navigate both smooth and rough track sections with ease. The included roll bars help the Rally X in transitioning from corner to corner with little to no body roll. The only issue is that the front of the body will sometime scrub the ground in rougher spots as it comes close to the surface.
JUMPING – Excellent
The TEN Rally X seems made to sail over small to medium sized jumps without a problem. The only issue, and a minor one at that, is when it comes to sailing over larger jumps and obstacles. When that happens, the front of the body and bumper often scrub on the face of the jump on approach and upon landing. When jumping, it is easy to adjust the attitude of the Rally X in the air by applying throttle or brake, but this will not always correct the car quickly enough for a smooth big air landing. That said, if the car is completely out of shape when jumping a giant obstacle, the AVC will kick in and do what it takes to level the car out.
DURABILITY – Excellent
Like the other vehicles that I have owned that use the Losi TEN platform, the Rally X is bulletproof. I had a blast running it for at least a dozen battery packs and during that time, not a thing broke or showed signs of gross wear. Combine the durable design with the AVC that helps in avoiding driver error accidents, and the TEN Rally X should need little care.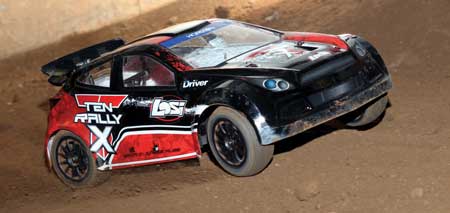 SPEKTRUM'S ACTIVE VEHICLE CONTROL (AVC)
So you think you have lightning fast reflexes? Well, the Active Vehicle Control (AVC) system that the people at Spektrum have developed can make a whopping 180 throttle and steering corrections every second. Not even Data, the android from Star Trek – The Next Generation, could keep up with that. So, how does it do that? Well, as John Adams from Spektrum put it, AVC is an electronic stabilization system that makes high-powered vehicles that easier to drive. How exactly does it do that? There are several different functions built into the Spektrum SRS4200 receiver. One of them, known as Heading Hold, helps the Rally X maintain its direction, or heading, and this is helpful when accelerating on loose, low traction surfaces where a vehicle might drift. This feature will also work when the Rally X is getting squirrely over a jump and the wheels will turn in the air as needed to correct the vehicle heading. Another feature of AVC is Throttle Management and it works in conjunction with Heading Hold. This feature monitors the throttle of the vehicle and automatically adjusts to help maintain control.
While new users might want to use the Rally X with the AVC turned all the way up, more experienced drivers may want the response turned down or off. This adjustment is done with ease using the adjustment knob on the included DX2E transmitter. If you decide to upgrade transmitters, the SRS4200 AVC receiver is fully compatible with all Spektrum transmitters. With other 2-channel radios, the AVC is not adjustable and is set to 50 percent. When used with a 3-channel Spektrum, Heading Hold and Throttle Management are adjusted together. When used with a 4-channel radio, like the DX4S and DX4R Pro transmitters, Heading Hold and Throttle Management can be adjusted independently.
Now, before you run out and purchase a Spektrum SRS4200 receiver please note – at the present time, it is only intended to be used with the Losi TEN Rally X and Vaterra Halix. So, if you try to put it in another vehicle, the results may not be the same even if you recalibrate it. So here's what you need to do to install it in your car; simply purchase the SRS4210 receiver and an AVC compatible Spektrum transmitter, install and enjoy the drive. Also, most tracks will not allow racer to use AVC. That said, if you do wind up racing a vehicle that has AVC built in, it can be turned off and put into a blink-type mode to easily let tech inspectors know it is completely turned off.
SPECS & TUNING OPTIONS DIMENSIONS
LENGTH: 21.26 in. (540mm)
WIDTH: 11.65 in. (296mm)
WHEELBASE: 13.15 in. (334mm)
HEIGHT: 7.08 in. (180mm)
BODY, WHEELS AND TIRES
BODY: Pre-painted rally style body with plastic spoiler
WHEELS: Multi-spoke
WHEEL ADAPTER TYPE: 12mm hex
TIRES: All-terrain treaded with inserts
SUSPENSION
TYPE: 4-wheel independent
SHOCK POSITIONS: (F) 3-tower, 3-arm, (R) 4-tower, 2-arm
CAMBER: Adjustable turnbuckles
ROLL: Two positions on the front shock tower
WHEELBASE: Fixed
RIDE HEIGHT: Threaded shocks and droop screws
MISC: NA
STEERING
TYPE: Dual bellcrank
TOE: Adjustable turnbuckles
CHASSIS
TYPE: Flat
MATERIAL: Aluminum
THICKNESS: 2.5mm
DRIVETRAIN
TYPE: 4WD
TRANSMISSION: Front, center and rear differentials
DIFFERENTIAL: Fluid filled gear
CLUTCH TYPE: NA
GEAR RATIO: Optional pinion gears
BEARINGS: Full set of shielded

WRAP UP
Technology has been making life easier and easier for a long time now. The Active Vehicle Control system used in the Losi TEN Rally X makes it so easy to drive that beginners will have no problem controlling the massive amount of power generated under the hood by the Dynamite power system. What I like even better is that once a new driver is feeling confident in their skills to turn the AVC response down, and eventually completely off, so they can take full control of the Rally X. While the expression is a bit cliché, the future in now and in the radio controlled world it looks a great deal like the Losi TEN Rally X with Spektrum's AVC.
LINKS
Dynamite dynamiterc.com, 888-959-2306
Losi losi.com, 877-504-0233
Spektrum .com, 800-338-4639