Compact Power House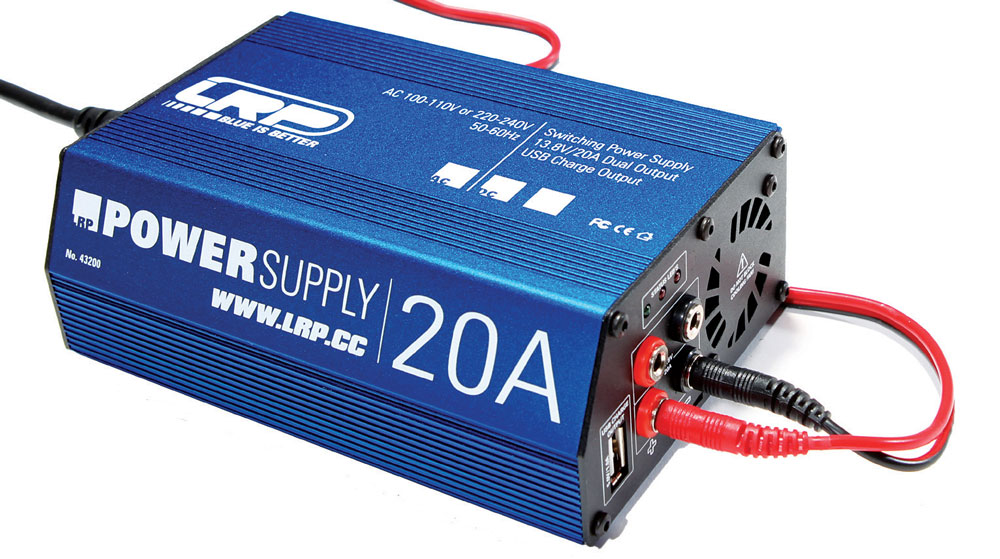 Words: Paul Onorato
Photos: Walter Sidas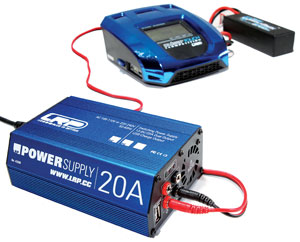 SPECS
DIMENSIONS (LWH): 6x4x2.25 in. (154x102x57mm)
WEIGHT: 1 lb., 12 oz. (795g)
INPUT VOLTAGE: 100-110 or 220-240V AC
OUTPUT VOLTAGE: 13.8V
OUTPUT CURRENT: 20A
USB CHARGE OUTPUT: 5V/1A
PRICE: $139.99
KEY FEATURES
> Compact and lightweight design
> 20A/13.8V output power with dual output sockets
> Integrated cooling fan
> Multi-Protection System with status LEDs
> USB charge input
> On/off switch
The power supply is that component that rarely gets much attention yet is the essential device to power our multi-chemistry battery chargers, lights and other pit gadgets. With that being said, LRP did not take that same viewpoint when they designed the new Competition 20A Power Supply. LRP made sure to create a high-quality power supply that was not only powerful, but also compact, lightweight and equipped with some clever features.
First off, the Competition 20A Power Supply pumps out an output power of 20A/13.8V so it can simultaneously juice multiple chargers through its dual 4mm standard output sockets. This is definitely a nice feature, but what makes this power supply stand out from others is its super compact size and light weight. This makes it perfect for bringing with you to the track where it won't weigh down your hauler bag or take up too much space on your pit table. It is also equipped with a USB charge port for electronic devices like phones and MP3 players.
I set up the power supply to feed juice to two multi-chemistry chargers while I got battery packs ready for a day of vehicle testing. It takes up very little space on my bench and operated flawlessly. I like that LRP gave the Competition 20A Power Supply an on/off switch instead of the less convenient method of plugging and unplugging the cord whenever you need to use it. Three LEDs are located on the same side as the output connectors, one green and two red, indicating the unit's status. This is part of LRP's Multi-Protection System to guard against short-circuit, overload, over-voltage and overheating—our power supply stayed within the green during testing. There is an integrated cooling fan that automatically kicks on to keep the operating temperature in check. It actually took a little while before it needed to switch on. And unlike other power supplies, this fan did not sound like a turbine jet engine and was relatively quiet. The case did become warm to the touch during the long charging session, which is expected since the blue-anodized case also acts as a heatsink.
The Competition 20A Power Supply maintains the standard of high-quality that LRP is known for. It might be compact, but it is built to perform and will be the power supply I reach for when at the track or in the workshop.
LINK
LRP, lrp-americastore.com