From RC Driver Issue: 135
Words  by Dean Berry
Photos Walter Sidas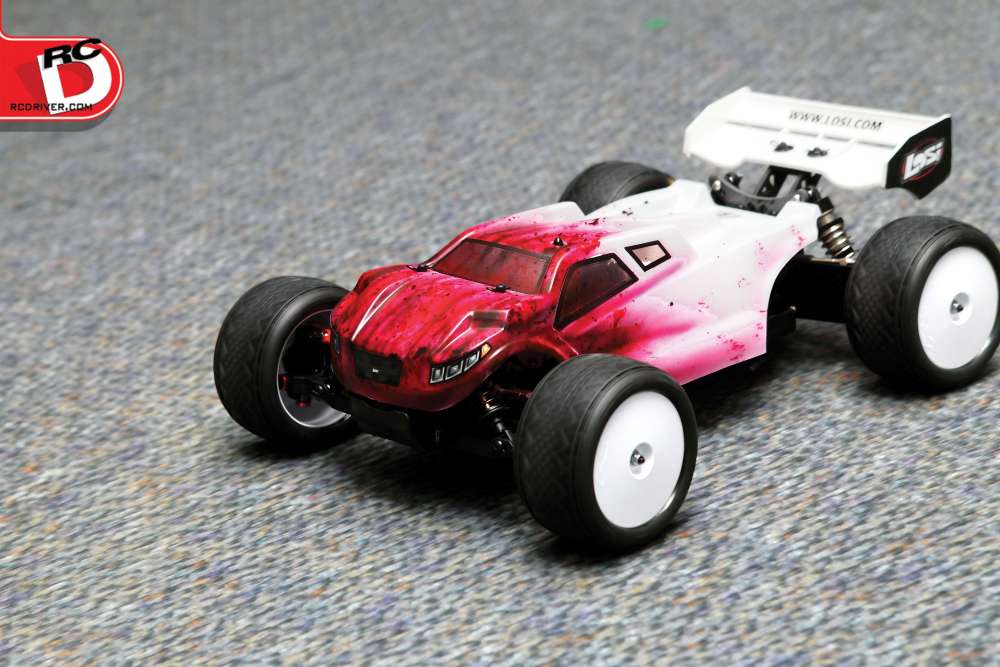 I've always been a fan of smaller vehicles. They tend to cost less than larger vehicles, have a tendency to to be a great value, are often loaded with performance features found in much more expensive vehicles, and can be easily hopped up and customized. The Mini 8IGHT-T Truggy from Losi is one of those vehicles that really fits this bill and as usual, I just had to load it up and turn it into a full blown race machine with just a touch of uniqueness complements of Bradley Fine Line Design.
PARTS LIST
• Castle Creations Sidewinder 3 ESC (010-0115-00, $79.99)
• Caste Creations CM26-4600 4600Kv Brushless Motor ($25.00)
• Dynamite 1400mAh, 3S, 11.1V 30C LiPo Battery Pack (DYN1477, $39.99)
• Xtreme Racing Carbon Fiber Battery Strap (10845, $9.99)
• Xtreme Racing 3mm Thick Carbon Fiber Front Shock Tower (10847,$14.99)
• Xtreme Racing 3mm Thick Carbon Fiber Rear Shock Tower (10848, $14.99)
• Xtreme Racing Carbon Fiber Wheel Guards (10849, $14.99)
• Losi Hard Anodized Threaded Rear Shock Bodies (LOSB1941, $10.99)
• Losi Hard Anodized Threaded Front Shock Bodies (LOSB1940, $10.99)
• Losi TiNi Coated Rear Shock Shafts (LOSB1939, $6.99)
• Losi TiNi Coated Front Shock Shafts (LOSB1938, $6.99)
• Losi Lightweight Differential Outdrive Set (LOSB1926, $15.99)
• Losi Lightweight Center Outdrive Set (LOSB1920, $9.99)
• Losi Aluminum Rear Suspension Mount Set (LOSB1899, $24.69)
• Losi Aluminum Front Suspension Mount Set (LOSB1885, $24.69)
• Losi Aluminum Front Carrier Set (LOSB1878, $32.29)
• Losi Aluminum Front Spindle Set (LOSB1879, $29.44)
• Losi Aluminum Servo Mounts (LOSB1870, $13.99)
• Losi Rear CV Drive Set (LOS312001, $23.74)
• Losi Front CV Drive Set (LOS312000, $23.74)
• Losi Mini 8ight-T Clear Body (LOS210001, $29.44)
• Pro-Line Suburbs VTR 2.4" X2 Compound Tires (8232-002, $24.95)
• Pro-Line Velocity VTR 2.4" Rear Wheels (2749-01, $7.95)
• Savox SH-1250MG Steering Servo (SAVSH1250MG, $64.99)
• Robinson Racing Steel Spur Gear (9058, $20.69)
• Ofna Hi-Down Force Mini Wing (40909, $9.99)
THE REBUILD
When a small vehicle runs on big tires an area you may need to address is the steering, specifically, the steering servo. To help snap the 1/10 sized tires on the Mini 8IGHT-T I went with a Savox SH-1250MG steering servo. Not only is it faster with more torque, it sports metal gears, making it super durable. One area on the Mini 8IGHT-T that I felt needed the most attention was the stock ball cups on the front end. Quite simply, they popped off much too easily. Changing them was not a difficult task and I had a great many spares in my parts box. Luckily I still had some leftover red ball cups from an old school Matt Francis edition XXX-T stadium truck. Not only are they eye-catching in red, they are a direct fit! Moving to the ends of the beefy suspension arms, the stock carriers and spindles were well worn from hours of good use. I opted here for the aluminum replacement units from Losi as they are tough, less likely to develop wear, and look sharp anodized in gun metal. To add some more eye catching fun I used red conical seat type washers and counter sunk screws when installing the new front carriers and spindles.
Time to work on the suspension. The stock shocks had seen better days and while a simple rebuild would have done the trick I opted for a complete overhaul. On both the front and rear I went with new hard anodized and threaded shock bodies and TiNi coated shock shafts. The new shock bodies will help the shocks run smoother over a longer period of time and the new shafts are less likely to wear and scratch so I won't have to rebuild the shocks as often. When it was time to install the new shocks I noticed the front tower had a slight bend to it so I had to put reassembly on hold and I called up my connection at Xtreme Racing. A few days later a package filled with all of their carbon goodies showed up at my door and I went back to my rebuild. While it was only the front tower that needed replacing I received a 3mm thick front and rear tower from Xtreme Racing so both wound up on my revived Mini 8IGHT-T. The last bit of suspension work was reserved for the front and rear suspension mounts. The rear was worn because it was the original piece while the front was still tight, only because I had replaced it earlier due to breakage. The solution was the aluminum mounts from Losi. It goes without saying that they are tougher than the stock units, but additionally, they feature inserts that allow for the adjustment of toe in the front and rear as well as caster in just the front.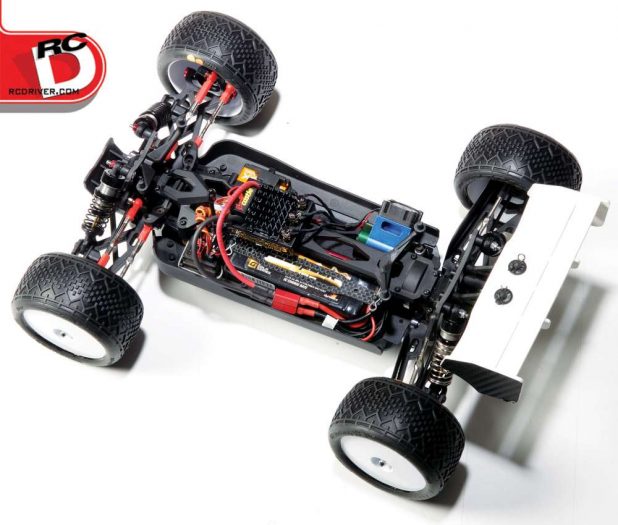 Next I moved on to the drivetrain. The real area of concern to me here was the stock plastic spur gear as I had already gone through three of the stock plastic units. The solution was a machined steel spur gear from Robinson Racing. I can now run my Mini 8IGHT-T as hard as I want and not worry about the stock gear stripping on me. I also installed lightweight center and differential outdrives. The stock units had just a little play and still had plenty of hours of life left in them, but these units are fresh, tight, and being lightened will give a tiny boost in acceleration. When installing the lightweight diff outdrives I completely rebuilt the diffs and was able to reuse all the stock components as they were in superb condition. My final piece of drivetrain work was the installation of front and rear CV style driveshafts. The new CV style shafts are super strong and since they have a CD joint they run extremely smooth. While not a real drivetrain update, on final reassembly I installed more of the goodies sent by Xtreme Racing by way of thin carbon fiber rear mud guards.
Time for a power upgrade. I set the stock motor aside for a larger, just slightly more powerful CM36-4600 4600Kv motor from Castle Creations. While it is only 100Kv more powerful than the stock engine it has a larger diameter, resulting in more torque. I also went with a Castle Creations Sidewinder 3 ESC. It is waterproof and has limitless adjustments via the Castle Link. As for a new battery, I went completely overkill with a 1400mAh, 11.1 volt, 3S LiPo pack from Dynamite. To hold the pack in place I went with my final goodie from Xtreme Racing, a carbon fiber battery strap.
The stock tires had seen a great deal of use on dirt, carpet and asphalt and were completely bald. For a fresh set of shoes I looked to Pro-Line and went Velocity VTR 2.4-inch rims with Suburbs VTR 2.4-inch tires in X2 compound mounted to them. Additionally, the stock body and wing had seen better days. I sent a new clear body off to Bradley Fine Line Design and told Bradley to work some magic. When the body returned I was elated as it looked like something that had been on a hunting expedition, sporting a fantastic blood splatter type look! (Editors note: He was elated? We think Dean has issues!) Finally, as for a new wing, I went with a Hi-Down Force Mini Wing in white from Ofna. I like this wing because it is just a bit larger than the stock wing and the white color matched the body and rims.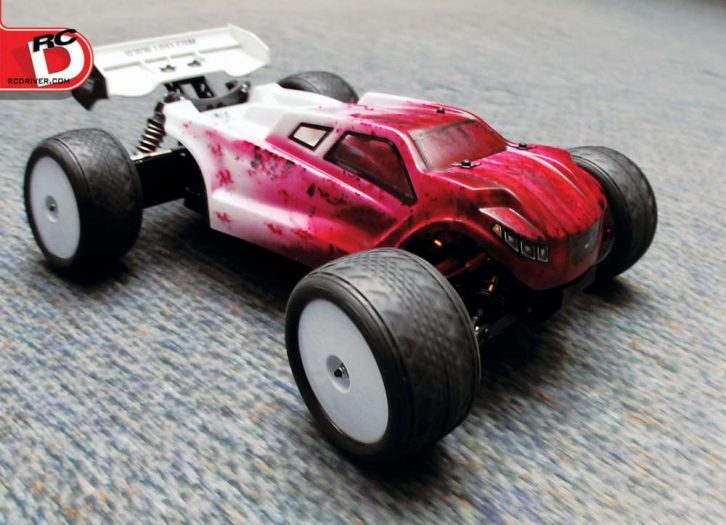 HITTING THE TRACK
With a new body, wing, tires and wheels my blood splattered Mini 8IGHT-T looked too good to get dirty. Still, I had to give it a test run so I headed for the indoor off road carpet track at R/C Madness in Enfield, Connecticut. The track is used mostly by 1/10-scale vehicles so it was going to be a great test for the capabilities of the Mini 8IGHT-T. In preparation for running on high traction carpet I turned the AVC on the transmitter all the way down before I hit the track. Once there I took a few slow laps to get a feel for the Mini 8IGHT-T, rolling over many of the jumps and only going about half throttle down the long straightaway. One thing I immediately noticed was that my Mini 8IGHT-T was a bit louder. While not a bad thing, this was caused by the new steel Robinson Racing spur gear and since I knew it would not strip out like the stock plastic one it was something I could clearly live with. With a few clean laps under my belt I pulled the throttle all the way back as I hit the straightaway. In doing so the front wheels pulled right up off the ground by about an inch until I let off the throttle just a touch. To say it was quick was just a mild understatement! Through the infield there was the Mini 8IGHT-T exhibited a small push, actually making it rather easy to drive. This was mostly likely caused by the medium compound Suburbs, lacking any major pin type tread and resulting in just a bit of slip and slide. I really liked this as it gave the feel of running on dirt. Jumping the Mini 8ight-T was a dream as it took to the air perfectly level over each and every jump and I could change its attitude easily, pulling the nose up with just a blip of throttle and then bringing it down with a tap on the brake.
When the Dynamite battery pack started to feel soft I headed for the pits and made two minor setup changes. First, I backed off the slipper by 1/8 of a turn to help smooth out the throttle response when I got on the throttle hard at the top of the straightaway. The other change was the application of some traction compound to the tires to eliminate a bit of the sliding and make the Mini 8IGHT-T corner a bit tighter. With the battery pack fully charged again I headed out and there was an immediate difference! I could just mash on the throttle and the Mini 8IGHT-T took off down the straight without issue. As for cornering, it felt glued to the track, so much so that I traction rolled a few times (don't worry, the blood splatter body is OK) before I got the feel for the steering. The final result was very low lap times and a super durable Mini 8IGHT-T.
CONCLUSION
The Mini 8IGHT platform was an imme- diate favorite of mine when released so I knew the Mini 8IGHT-T would also rate high. Now that I have had it on a track for several hours, gone through it from bumper to bumper and have brought it to the next level I couldn't be happier with it. Now, something like a 2.0 version of its former self, my tougher, faster, and blood splattered Mini 8IGHT-T is ready to terrorize the track yet again.
LINKS
Bradley Fine Line Design, www.facebook.com/pages/Bradley-Fine-Line-Design/236047929753912
Castle Creations, www.castlecreations.com
Dynamite, www.dynamiterc.com
Losi, www.losi.com
Pro-Line, www.prolineracing.com
Savox, www.savoxusa.com
Xtreme Racing, www.xtremercracing.com