The All-In-One-Hauler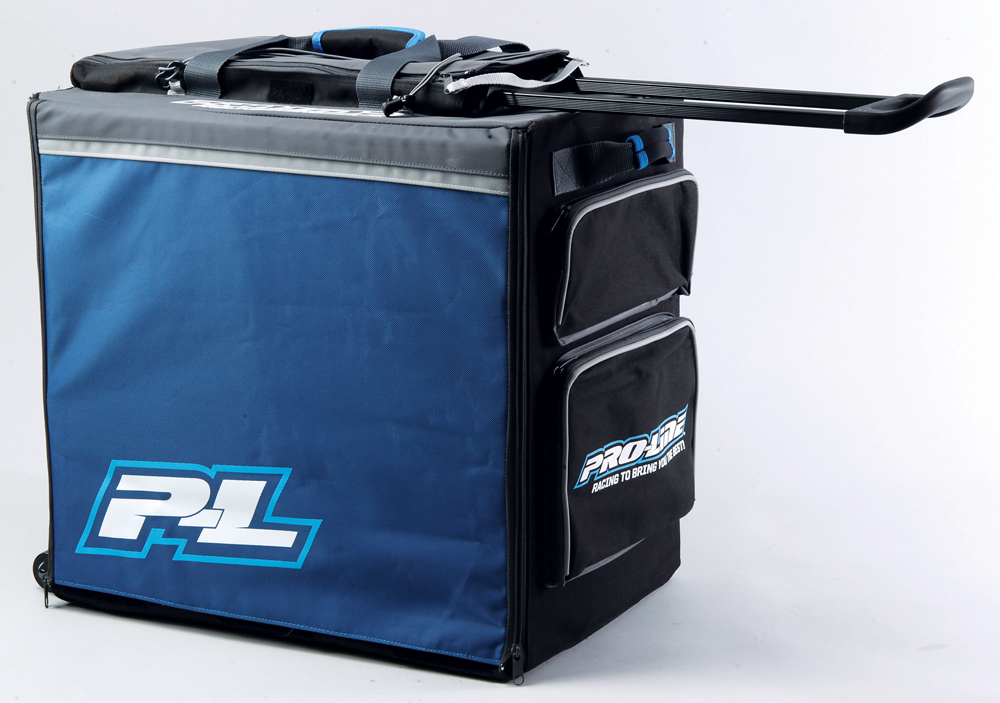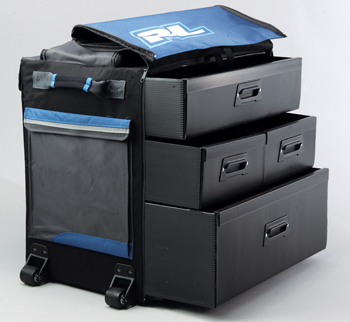 The act of gear transportation has become quite an art form. It takes months, if not years, of slowly organizing your equipment to fit your most needed parts into your boxes, the boxes into the bags and the bags into the car! Then there are your tires, tools, charger…and don't forget the actual cars themselves! What you need is a cool hauler, something that organizes a ton of gear inside, has wheels for easy transportation and fits in the back of your Honda Civic. Well look no further boys and girls, because Pro-Line has the product for you!
THE GOODS
Check out their new Race Hauler bag, a compact carrier that is easy to transport, has enough space for all your gear and even has a place for your vehicle. Giving it a quick look, the bag features four easy access, internal drawers (one large – 20 x 8 x 12.5 in., one medium – 20 x 5 x 12.5 in. and two small – 10 x 5 x 12.5 in.) that slide out and allow you to get to your larger items. Multiple zippered pouches are on each end of the bag, as well as a large pouch on the back, and a smart zippered tool pouch is on top. A telescoping handle feeds from the top and allows you to tilt the bag up on its casters for maximum mobility. The top also has a pair of bungee straps for securing any open wheel car (short course, buggy, truggy, stadium truck, etc).

THE WORKS
This all sounds great, but what can it hold? To answer that question, we decided to take it with us on a nitro car photo shoot. Inside, we were able to fit our radio, charger, paper towels, tire washing tub, starter box, motor spray, diff and shock fluids, spare parts, spare electronics and a couple of sets of tires. The outside pouches were stuffed with tire glue and bands, camber and ride height gauges, tire balancer and putty, gloves, power strip, hat and even a soft pit mat. Tools went on top as did our photo shoot car. The only thing we couldn't fit was a gallon of fuel; however, we did have ideas on how to attach that to the outside of the bag.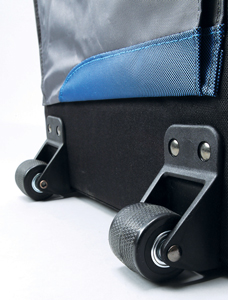 On our trek from the car to the pits, I noticed that the bag kept hitting the back of my feet as I walked. The handle does seem a bit short, but since my walk was all of about 45 seconds, I'm completely O.K. with this minor detail. We set up shop, dug through the bag multiple times to get tools and parts and generally loved how compact and easy to use it was. Greg and I both appreciated that the tool carrier was on top.
WRAP UP
I've always been one that likes to pack in larger boxes simply because I'm afraid of leaving something behind. I've changed that, however, and will be packing all my gear in the Proline Hauler Bag from this point on…that is, after I get all of Greg's nitro stuff out!
LINKS
Pro-Line prolineracing.com, (800) 899-RACE (7223)