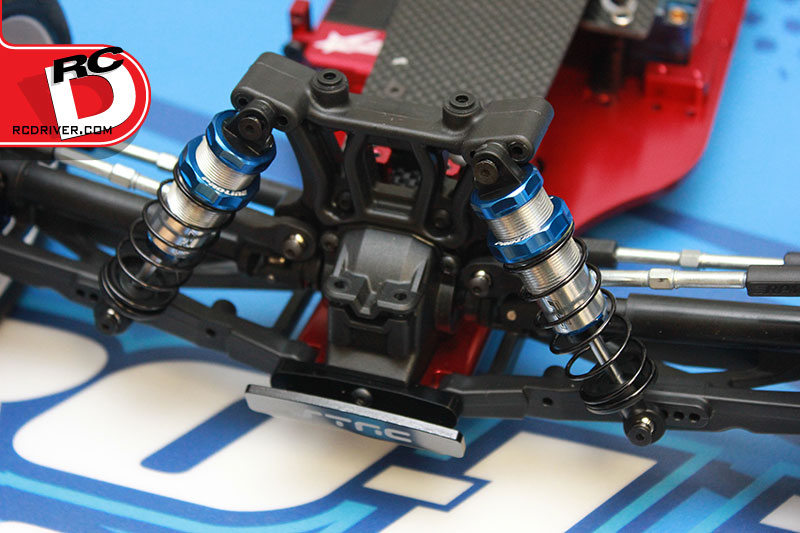 It was late in the summer when I attended the 2013 RCM Short Course Nationals in Enfield, Connecticut, and pitted behind me was Gerardo Gonzalez of Pro-Line Racing. Gerardo always has some pretty trick rides to run and this year he was sporting the Pro-2, which I was also racing. His truck, however, looked a little different than my box stock truck and the glaring difference was a full set of beautiful aluminum body, blue-capped shocks. As I went in for a closer look I was told the shocks were still under wraps and a few weeks later, Pro-Line's Pro-Spec shocks were released. After watching Gerardo's truck run and driving it seconds after driving mine during practice, I knew the Pro-Spec shocks were something I needed to get my hands on.
AT A GLANCE
WHO MAKES IT: Pro-Line
WHAT IS IT: Pro-Spec Shock Set
WHAT DOES IT DO: Aftermarket replacement option
PART NUMBER: 6308-00 (F), 6308-01 (R)
PRICE: $54.99
INCLUDES: Bodies, caps, cartridges, shafts, seals, shock plastics and springs (all components to build two shocks per kit)
REQUIRES: Oil, O-ring lube (optional)
BUILD DIFFICULTY: Easy
TIME TO ASSEMBLE: 15 minutes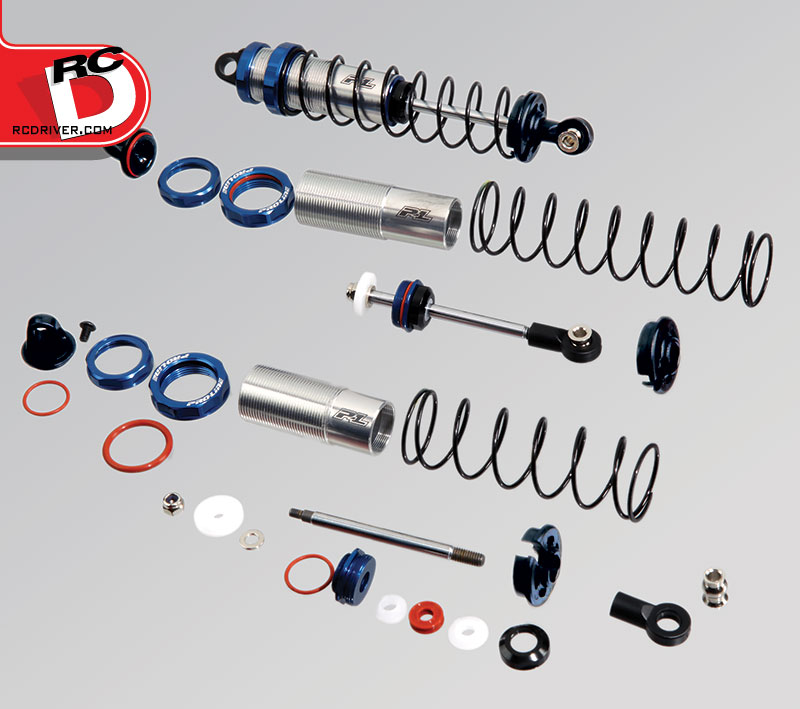 THE GOODS
The Pro-Spec shocks were designed and manufactured in-house at Pro-Line so the quality could be closely monitored. When you receive the shocks, they are well-packaged so components aren't rubbing up against each other in transport and once you unload the package, you'll see why your money was well spent on these dampers.
The 12mm aluminum body is masterfully machined with an ultra-smooth finish inside and precision threads on the outside for finite adjustments to the preload collar. The features don't end there for the bodies or the collars. The PL logo is etched into the shock bodies and Pro-Line is laser-etched into the blue anodized collars. Moving down to the business side of the shock body, PL went with an X-ring style seal that gives two oil seal points against the shock shaft with one ring versus the standard two O-ring setup used on many other shocks. This setup takes up less real estate and reduces friction. The X-ring and a smooth Delrin guide sit in a machined aluminum cartridge capped with a black anodized aluminum cap. The cartridge assembly with O-ring seal screws into the finely threaded body and supplied tools assure that the fit is tight. The 3.5mm thick hard chrome-plated shaft is the next part of the shock assembly to hone in on and its pure size screams durability. To further prevent failure, the piston is held onto the shaft with a retaining nut. The piston itself is also Delrin plastic and comes in 1.4, 1.6 and 1.8, along with a blank piston in case you want to drill your own holes. Capping off the shock is a cool short cap consisting of a plastic shock mount boss, where the top sealing O-ring sits in a channel and slides into the shock rather than the sketchy pinch O-ring seal many others use. An aluminum ring secures the top boss in place. A bleeder screw screws into the cap/boss after the shock is bled for a perfect emulsion setup. Finally, accessories for the shock set include molded plastic shock perches, shock ends and limiters for those who want to tune shock droop. Several upper and lower pivot ball-styles are included for these universal fit shocks.
THE WORKS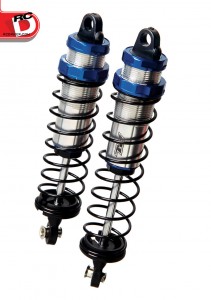 Assembling the shocks is fairly easy and if you've ever built a shock before, you can probably build this without the instructions, but I suggest checking out the included paperwork for the first build. I assembled all four shocks for my Pro-Line Pro-2 and hit up Gerardo for his setup- Front: 45wt oil, 1mm limiter, 1.6 piston, purple springs, Rear: 35wt oil, 2mm limiter, 1.6 limiter, red springs. Since the temps had dropped slightly from when I was testing to when I received the setup tips, I did drop my oil weights by only half-weights of what is listed. With the shocks mounted up on my Pro-2, I hit up our test site, Wolcott Hobby & Raceway, for some racing. A few packs into testing and I could already tell that these shocks were much more consistent than the stock shocks. When hitting a rut going into a turn, it didn't feel like the truck wanted to drop out with the Pro-Spec shocks. Over the rough bumps, the truck kept a more stable attitude and didn't kick out. But the most noticeable difference was that the truck had a much smoother landing off the jumps and less of the nose/chassis slap it randomly exhibited with the stock shocks. Now don't get me wrong, the Pro-2 Power-Stroke shock is a good universal shock for racers to bashers, which is what the Pro-2 itself spans. But the Pro-Spec shock gave that full true competition feel and performance that racers expect when aiming to lay down fast lap times.
WRAP UP
Pro-Line is on the move and what they are producing beyond tires and bodies needs to be taken into account by racers looking for that extra advantage. The new Pro-Spec shocks are pure quality and backed up with precision performance. They are produced at the right price point to compete with other high-end shocks on the market and with their universal fit and optional tuning springs, I'm sure they will be outfitting all types of trucks driven by all levels of drivers on track all over the country. Pro-Line is nailing the accessory upgrades and these shocks are certain to win them more awards.
LINK
Pro-Line, prolineracing.com