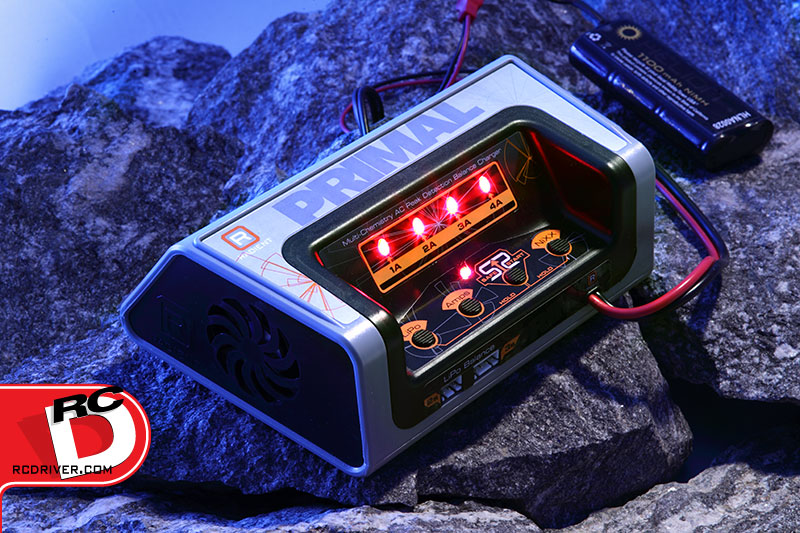 S
o let's say you're new to the world of RC and you're in need of a nice new charger to go with your shiny new ride or you're the lucky recipient of a new or used RC vehicle that either has no charger or is limited to a trickle type charger. To complicate matters even worse is that you currently have only NiCD (Nickel Cadmium) or NiMH (Nickel-Metal Hydride) batteries, yet you know that LiPos are in your very near future. Here's what you have to do; wade through literally hundreds of possible chargers from dozens of manufacturers which can range in price anywhere from thirty bucks to upwards of $400! Or maybe not, thanks to the
Radient Primal charger
available exclusively from HobbyTown USA. Let's face it, no one wants to go slow and no one wants to wait for batteries to charge. Couple that with the fact that a good Lithium Polymer pack costs about the same as a good NiMH pack and any new RC enthusiast is going to be hankering for LiPo power sooner rather than later. Traditionally, the biggest common factor preventing people from switching from Nickel to Lithium cells has always been the cost of the charger. At 40 bucks street price, the Primal is among the most economical multi-chemistry chargers available.
THE GOODS
Never before has there been such a modestly priced charger that is capable of handling NiCD, NiMH, and LiPo cells with AC power and a balancer! The unit itself is small in size, but big on features. A vented case with a large internal fan and an AC cord bundler on the bottom of the unit were the first things that caught my eye. The charge plug is a Molex style and an adapter for mini packs is included. If your vehicle runs Deans, Traxxas or some other sort of plug, rest assured, there is an adapter out there for you. The charge features of the unit consist of either NiXX (Radient's moniker for Nickel-based batteries) or LiPo cell selection, an amp selector for charge rates of 1-4 amps and a start button. There are also balance taps for 2S and 3S JST/Align style plugs.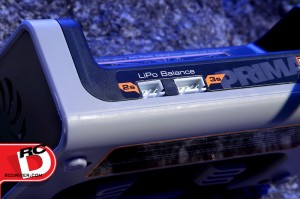 During our charging sessions with the Primal, the unit performed flawlessly with each type of battery we charged. The fan is whisper quiet and works efficiently as the charger stayed nice and cool after charging several different packs, one after another.
The instructions are a bit ambiguous, but there is a "shortcut" set of instructions printed right on the bottom of the charger! Simply plug your battery into the corresponding plugs, select the amp rating at which you'd like to charge your pack and hold the start button simultaneously with the button for whichever type of battery you might be charging for three seconds and off it goes. Green light means the pack is full and ready to rip.
THE WORKS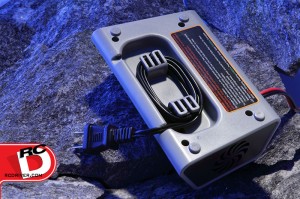 I found the basic charger easy to use and had no problems recommending it to anyone who saw me use this at the track or to buddies at bashing sessions. I really like how small the unit is and how it can easily be stored in my big pit roller after wrapping up the cord into the built-in holder. Now I have room for an extra set of tires! My mini gripe about the charger is that it comes with just a Tamiya-style and Mini adapter, but I primarily use Deans and I know a lot of guys have TRX plugs, so to see them included with this charger would be great. Until then I just picked up a Deans plug for three bucks and was ready to rock on after a quick plug solder job.
WRAP UP
In a day and age where the common consensus is to make everything bigger and better with more bells and whistles, it's nice to see such a simple unit, packed full of features and all at such a low, low price! The bottom line is, if you're in the market for a budget minded multi-chemistry AC charger, look no further, the Primal has everything you're looking for and then some.
VITAL STATS
MANUFACTURER: Radient
PRODUCT: Primal AC Multi-Chemistry Peak Detection Balance Charger
PART NUMBER: RDNA000
PRICE: From $44.99
COMPATIBLE CELL TYPES: 1-7 Cell NiMH/Cd type batteries
Offers balance/peak detection charging for 2-3 Cell LiPo batteries
CHARGE RATE:
NiMH: 1-7 Cell Charge up to 4A
LiPo: 2 Cell charge up to 4A, 3 Cell charge up to 3A
Status: LED charge and current select indicators
Input power: AC only 100-240v, 50-60Hz
Current drain for balance port: 200mAh
WHAT WE LIKED:
Can charge LiPo, NiCd and NiMH packs
Balance ports are built into the face
Compact size easy to transport and stow
Easy to set
WHAT COULD BE IMPROVED:
Include a variety of popular battery plugs
LINKS
Radient, distributed by HobbyTown USA, RadientRC.com, HobbyTownUSA.com