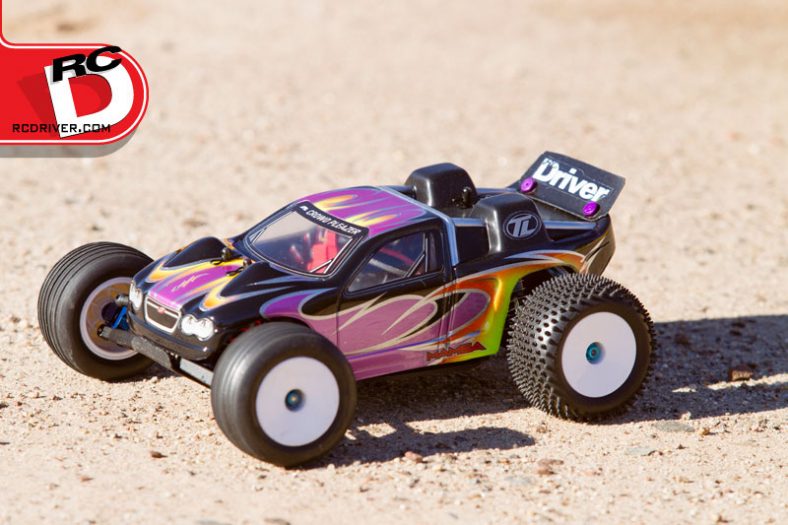 I went back to college in early 2002 and with all the work involved I took my first, and only, break from the radio controlled scene.  Busy as a bee with my nose buried in books, months went by and I never even picked up a transmitter.  Then, in late 2003, a vehicle was released that would draw me back into the hobby for good, the Losi Mini T.  This miniature 1/18 rtr version of the successful XXX-T stadium truck was priced right at just $199.99 and all that was needed to go out and have hours of fun were batteries for the transmitter and either 4 AA batteries for the truck or, more popularly used, a 6-Cell 2/3A NiMH battery pack.  Sure, it came with friction shocks and a 1-piece receiver/esc unit, but this truck was so popular it sparked the beginning of the mini craze that is carried on today by vehicles like the Mini 8IGHT, Mini Rally and Mini Desert Truck.  Feeling nostalgic dug out my old, nearly stock Mini T, and decided to give it an update from bumper to bumper.
Parts Used
Castle Creations
Mamba Micro X with 5300kV 4-Pole Motor – 010-0147-02
Titanium Nitride Hinge Pin Set – DYN8023
Flanged 3mm Lock Nuts – DYN8552
Front/Rear Graphite Lower Suspension Plates – MT-001
Aluminum Front Suspension Mount – MT-002
Aluminum Steering Blocks – MT-004
Graphite Steering Servo Mount – MT-007
Aluminum Rear Hub Carriers – MT-008
Aluminum Heatsink Motor Plate – MT-012
Graphite Rear Shock Tower – MT-014
Aluminum Rear Suspension Mount – MT-016
Graphite Chassis Conversion Kit – MT-019
Graphite Bulkhead Stiffener – MT-032
Dual Disk Slipper Clutch – LOSB1131
Ball Differential with Outdrives – LOSB1125
CV Driveshaft Set – LOSB1240
Aluminum Shock Set – LOSB1110
Mini T Crowd Pleazer Clear Body – 3172-00
Other Items Used –
Miscellaneous Mini Titanium Turnbuckles and Ball Cups
Before I began the update phase I took my old little truck and tore completely down.  Boy oh boy was this truck worn and tired!  With everything apart and laid out I decided to do away with the stock plastic chassis in favor of a graphite chassis from 3Racing.  This double deck style chassis looks super cool, it very rigid, and allows batteries of varying types and sizes to be used.  Starting up front I Went with a new aluminum suspension block, aluminum c-hubs and steering knuckles.  These parts are all look great being anodized in blue, have a super tight tolerance so there is minimal slop, and are tough, very tough.  I stayed with the Losi oil-filled shocks that I installed on the truck nearly 10-years-ago but disassembled them, gave them a thorough cleaning and installed fresh oil.  Several of the stock turnbuckles, that are nothing more than thin threaded rod, were bent as the ball cups had plenty of slop.  Remembering back to when I used the truck, I recalled that these ball cups had a tendency of popping off all too easily.  Because of all of this I went new with titanium turnbuckles and fresh ball cups.  The last new piece of hardware up front was a graphite bulkhead stiffener from 3Racing.  The stock plastic upper and lower bulkheads have a tendency of failing in a hard head on collision and this part helps eliminate such failures.
Moving to the backend of the Mini T, I replaced the stock motor plate, hubs, suspension block and shock tower with upgrades from 3Racing.  The suspension block and hubs, similar to that on the front end, in that they look great being anodized in blue, have a super tight tolerance so there is minimal slop, and are tough.  The heatsink motor plate us specially made with ridges to increase surface area to aid in cooling and the new shock tower is cool with a tough aluminum lower portion and cool with a graphite upper portion.  Updating the drivetrain was a must as the stock spur and gear diff were completely worn out and one of the dogbones was bent.  Starting inside the transmission I went with a ball differential from Losi because it is smooth, adjustable and has replicable outdrives.  Up top I went with a new dual disk slipper clutch as it uses a new spur gear and has more surface area making the slipper action smoother.  The last drivetrain update was a set of CV style driveshafts from Losi.  They operate more efficiently than the stock dogbone set-up that comes stock with the Mini T and should a ball cup pop off there is nothing to lose.
When I put this Mini T into storage brushless power systems were just starting to overrun brushed power plants.  As such, I felt it necessary to pull the brushed motor and esc and replace them with a brand new Castle Creations Mamba Micro X esc and 5300kV 0808 4-pole brushless motor.  This smooth and powerful esc is waterproof, fully programmable via the Castle Link and free downloadable software, and can be adjusted on the fly on most any 3-channel radio system thanks to the aux wire that plugs into the receiver.  The can of the motor is anodized in typical Castle Creations green and has silver machined ridges to help with heat dispensation and being a 4-pole motor has a massive amount of torque.
Finally I replaced the trashed stock rtr body with a Pro-Line Crowd Pleazer body that was custom painted by the one and only Bradley Farmer of Bradley Fine Line Design.
Out For Some Fun –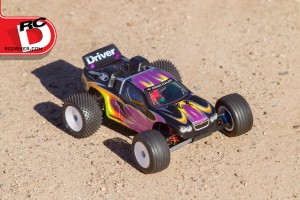 Ok, I'll admit it, with all the shiny new aluminum and carbon fiber bits and fresh body from Bradley Fine Line Design I really did not want to get my refreshed Mini T dirty but I felt it was necessary.  I headed to a nice little baseball diamond at a local part and with a fresh charged LiPo pack I had at it.  On pulling the throttle back the front wheels on the truck pulled up off the ground and the Mini T held a wheelie for at least 10-15 feet before I let off the throttle and settle the truck down.  It was obvious that I had set the Dual Disk Slipper Clutch too tight so I reached in to my travel bag of tools and loosened it about ¼ a turn.  This did the trick and when I pulled the throttle back now the Mini T took off like a shot with the front end lifting up for just a quick second leaving a rooster trail in its tracks.  The truck was not only VERY fast, but with the slipper set properly, and the new Castle Creations Mamba Micro X esc, very smooth.  It cornered exceptionally well with a great deal of steering and it never felt like it would traction roll even if pushing hard.  One area that did need some attention though was the suspension set-up.  Areas that were rougher than others tended to make the Mini T bounce around more than I would have liked.  I do think that some thicker shock oil would really help alleviate this.
Wrap Up –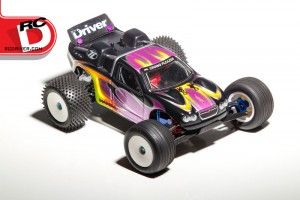 This project made me remember why the Mini T was one of the most popular trucks around for a few years.  Being small it can be used when space is sparse, there are plenty of option parts, it cost less than bigger vehicles, and most importantly, it is fun to drive.  While this truck is going to be cleaned thoroughly and be added to my fleet of shelf-queen vehicles, it makes me want to pull out a few of my other 1/18 vehicles for a refresh.