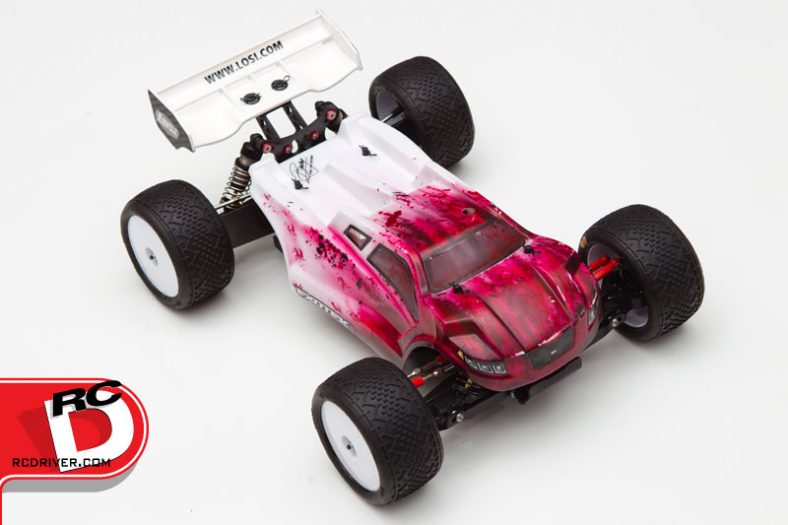 A short while back I completely decked out my awesome little Losi Mini 8IGHT-T for an issue of RC Driver magazine.  I absolutely love this little truggy because of its size, many features, and that it can be easily hopped-up.  Well, as soon as initial article went to print a new batch of item that I just had to have were made available.  So, check out my replay with even more cool option parts on the Losi Mini 8IGHT-T.
Item Used –
Castle Creations
Mamba Micro X ESC ($78.46, 010-0147-00)
Mamba X Series Sensor Harness ($7.64, 011-0108-00)
Exotek Racing
Mini 8IGHT-T Carbon Fiber Top Plate Set ($38.95, 1469)
Mini 8IGHT-T Clamping Alloy Hex ($13.95, 1522)
Mini 8IGHT-T Steering Rack ($16.65, $1468)
Leopard Hobby
LBPS2838 4-Pole 5600kV Sensored Brushless Motor ($79.99)
MaxAmps
1850mAh 2S LiPo Battery Pack with Battery Tray ($49.98)
What's New?
Let's start with the hardware updates from Exotek.  First is the awesome red anodized aluminum steering rack.  Being aluminum it is tougher and has less slop than the stock plastic unit that it replaces.  In addition, it flips the ball mounts vertically to help prevent ball cup pop-offs in a hard collision.  It also allows for easy Ackerman changes by adding shims of your choice under the ball stud.
I also just had the have the Exotek Carbon Fiber top plate.  It is direct replacement for the plastic unit and is made from 2.25mm thick extra heavy duty carbon fiber.  It is, as you might expect, very rigid so it helps reduce chassis flex and will help prevent bent center drive shafts should your Mini 8IGHT-T be in a hard crash.  To add some sweet style, a bolt on 6061 alloy gear cap anodized in red is included.  Remember, though, if you get the top plate you have to also upgrade to the Exotek steering rack as it is not compatible with the stock plastic steering rack.
The last Exotek goodie is a set of red anodized aluminum 12mm hex wheel adapters.  Precision machined, they look cool (although you'll only really see them when the wheels are off), and being clamping in style, they will stay put and help the wheels run wobble free.  Remember, they are sold in pairs so you will need 2 packages to change over your entire truck.
After a very long wait the brushless gurus over at Castle Creations released a new micro specific sensored brushless speed control.  Yes, you read that right, this new esc, the Mamba Micro X as it is called, car run sensored micro sized brushless motors.  Additionally, this loaded esc is waterproof, has a tiny footprint, is fully programmable, and can be adjusted on the fly when using a 3-channel radio and plugging in the aux wire.  While is can run sensored motors please note, you'll need to purchase the sensor wire harness as it is not included.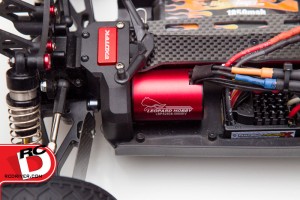 With the new Mamba Micro X esc I had to find a sensored mini sized motor for the Mini 8IGHT-T.  This was much easier said than done.  After hours (ok, what felt like hours) of scouring the internet I happened upon SmartTeknik out of Sweden.  They sell and distribute Leopard 4-pole, 380 sized sensored motors in 4500kV and 5600kV varieties.  After a few emails back and forth I had one of these cool little motors headed my way for some fun. Please note – This motor is a tad too large to fit the Mini 8IGHT-T so I had to use a rotary Dremel type tool to grind a small amount of material away from under where the motor site to allow for proper clearance.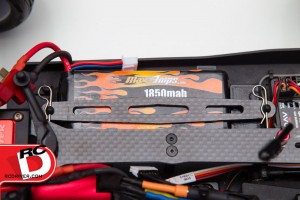 The final update was a new 1850mAh, 2S, 7.4V LiPo battery pack from the battery experts at MaxAmps.  This pack is a slightly different size that most packs intended for the Mini 8IGHT-T so MaxAmps also offers a neat little 3D printed battery tray to help it fit like a glove.
Out For Some Fun
After taking a few hours to charge 1850mAh MaxAmps battery and install the new parts I was ready to have some fun with my revised Mini 8IGHT-T.  Immediately I noticed how smooth the power response was.  Sure, it was smooth before, but the sensored Mamba Micro X esc and Leopard motor are incredibly smooth.  This was even more so true when taking off from a dead stop and at low speeds.  Top speed was also much improved thanks to the complete esc, motor and battery upgrade.  When I quickly pulled the throttle back the front wheels pulled off the ground and the rear wing at times acted as a wheelie bar!   What I also liked was how efficient the Castle esc and Leopard motor operated.  Even after 10 or so minutes of use both were just warm.
Not only was the Mini 8IGHT-T faster with a smoother throttle response, it also handled much better.  Steering response was much crisper and I was able to enter and exit corners more aggressively thanks to the new steering rack.  It also was able to take to rougher terrain better than before.  I attribute this in part to the new stiffer top plate that helped the suspension work better.
Wrap It Up
While I only made a few changes to a truck that had previously been completely revamped, the improvements speed and handling were phenomenal.  My Losi  Mini 8IGHT-T is now as equipped, if not more equipped, than most 1:8 electric truggies currently available.  With all I've done to this truck already there is not much left for me to do to other than use it for hours and hours of fun.