A basher truck pros would run!
2Wd 1/10 Electric Monster Truck
From RC Driver Issue: 135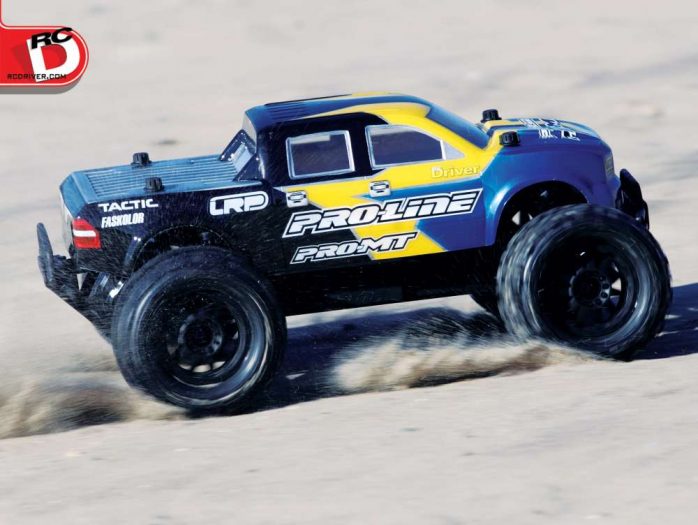 Words: Greg Vogel
Photos: Walter Sidas
Pro-Line Racing's PRO-MT has earned RC Driver's first ever Top Product Certification. We felt that the PRO-MT excels in all areas of testing, quality and value for its class. Congratulations to Pro-Line for delivering an outstanding product to RC enthusiasts.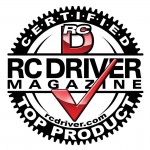 Pro-Line pretty much shocked the RC community when they released the PRO-2 Short Course truck. This RC accessory giant made the leap into offering car kits and the PRO-2 is a pretty impressive machine for those who want the best of all worlds in a short course truck; bashing and racing. Then Pro-Line stepped it up again by offering a buggy version of the PRO-2 and now a third machine off the PRO platform has been released and this one is sure to be a favorite among those who want pure quality in the bashing world. We have the PRO-MT 2WD 1/10 electric monster truck in our hands and since I'm a huge fan of 2WD trucks for bashing, I grabbed this truck to see if it would meet my high expectations. If you have your eye on the PRO-MT, you'll want to see what's inside this truck.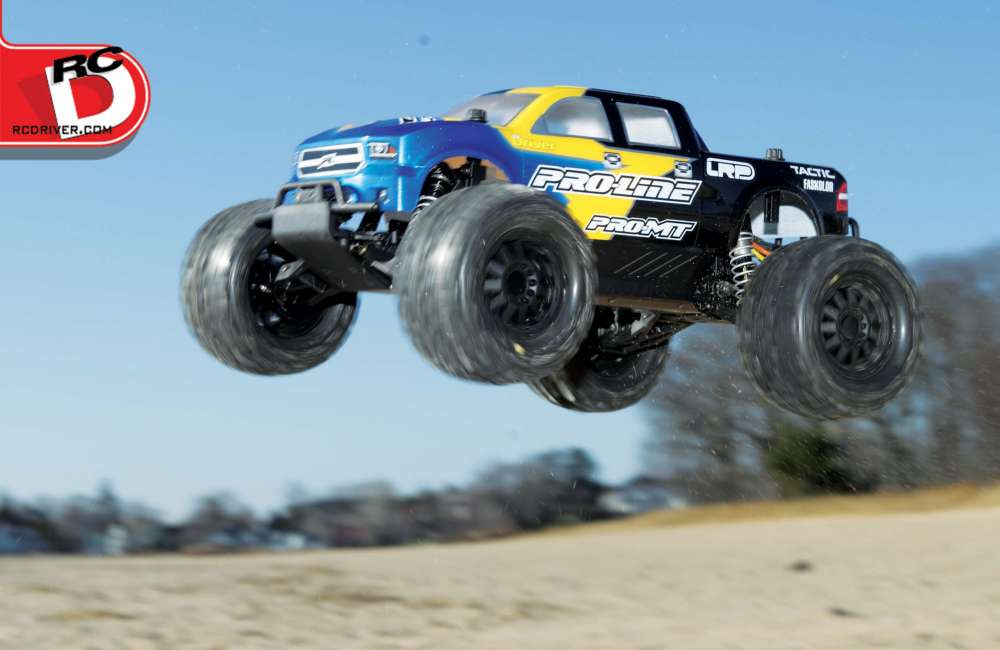 AT A GLANCE
WHO MAKES IT: Pro-Line Racing
WHO IT'S FOR: Any driver who wants a pro level basher
PART NUMBER: 4003-00
HOW MUCH: $389.99
BUILD TYPE: Semi-Kit
PROS
• Robust suspension components
• Rugged drivetrain and driveshafts
• Awesome body shell
• Aggressive premounted Trencher tires
• Flat out delivers on the action
CONS
• Would like to see a 32-Pitch spur included

REVIEWER'S OPINION
Pro-Line has been pumping out exciting releases and the PRO-MT is not only exciting, but delivers on excitement on many levels. The PRO-MT's design is very cool with its aggressive body and tire combo, the chassis is solid and the suspension is so plush yet rugged. The action the truck delivers is intense and durable to boot. The price may make some hesitate, but what you are getting here is a pro level basher, not a low price point machine that will cost you more to bring it up to the level of a PRO-MT
ITEMS USED
• LRP 5700mAh Competition LiPo battery, 430206, This battery is probably a little overkill for this truck, but it will certainly deliver the power to the brushless system. This pack will help pull wheelies all day long.
• LRP Spin Pro ESC, 80250, The Spin can handle 2 to 4S LiPo and down to a 5.5T brushless motor. The ESC is easy to use and comes
with a cooling fan. Since this is a quality truck, a quality BL system from LRP was the perfect equipment to drop in.
• Tactic TSX57 Servo, TACM0257, Tactic servos have delivered on performance and at a great price, so this was mounted up to the truck's aluminum posts. This servo has lots of torque and metal gears.
ADDITIONAL ITEMS USED
• Robinson Racing Pinion
• Duratrax Onyx 235 Charger
• Parma Faskolor Paint
HOP-UPS WE RECOMMEND
• Pro-Line Aluminum Rear Hub Carriers, 6264-00, If your jumping ability is less than stellar, then you're probably going to send the truck tumbling. Hub carriers have been known to break in crashes, so an upgrade to aluminum hubs might be a good move.
• Axial Aluminum Servo Horn, AX30836, The kit does not come with a servo horn and the horn included with servos is typically flimsy. Axial's dual clamping aluminum servo horn is super strong and won't strip the splines in hard crashes.
• Robinson Racing Pinion Pack, 1050 or 1055, Robinson offers 48-pitch pinion starter six packs so you can get several gears to play with gear ratios at a great savings.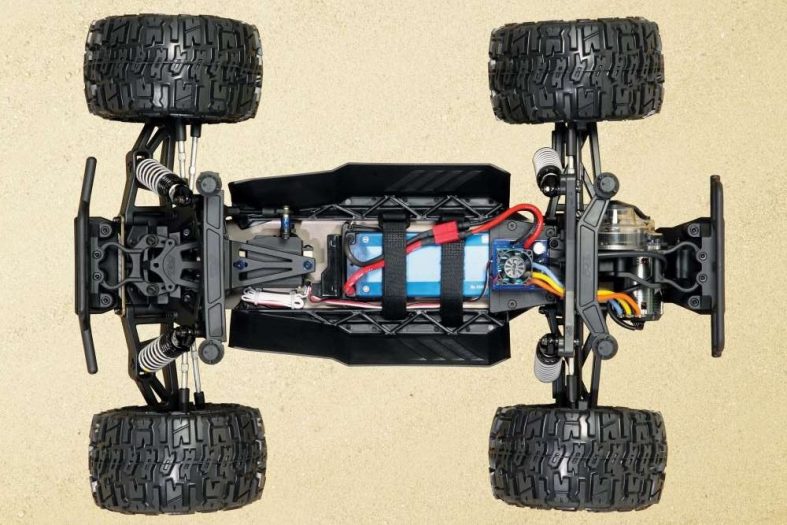 FEATURE BREAKDOWN
The chassis on the PRO-MT is all new to this truck and not picked up from Pro-Line's other vehicle
offerings. The length of the aluminum plate puts the length of this truck right in check with dimensions of the 2WD monster truck class. The aluminum plate is hard anodized and milled to accept foam pads under the battery. New tall wall side guards are added to the frame to prevent debris from kicking up into the chassis and electronic area and also help give the truck a finished look. Two Velcro battery straps slip through the webbing on the sideguards to secure the battery which makes battery swaps simple. The speed control mounts to the upper rear deck and the steering servo
mounts to two aluminum bosses under the composite plastic upper deck.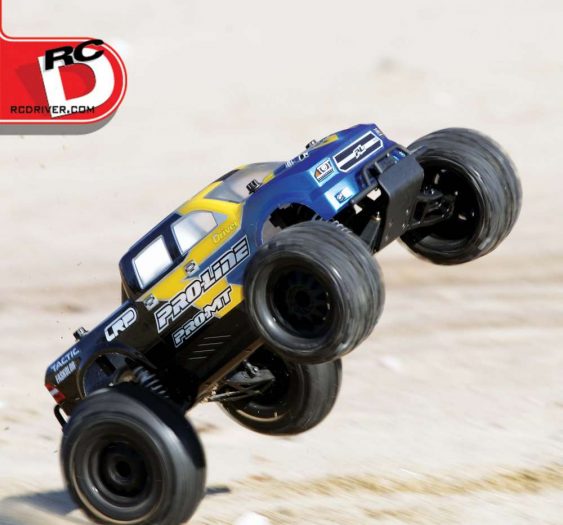 For the suspension, Pro-Line equipped the MT with their tried and true ProTrac suspension kit in both the front and rear. This wide arm suspension setup handles the rough terrain well and has been used on other vehicles of racing caliber. The long robust arms mate up with aluminum caster blocks in the front and thick steering knuckles with arms that capture the steering rod ends. The steering rods and camber links are thick steel adjustable units with heavy duty rod ends and lightweight aluminum pivot balls, race like, but still strong. ProTrac wide shock towers in the front and rear support the PowerStroke shocks. If you are not familiar with the PowerStrokes, you need to be, they have aluminum bodies with threaded collars and dual rate springs with thick shafts that not only offer a plush feel, but are very durable. Huge rear hubs support the driveshafts and an adjustable camber link out back has several mounting options to alter roll.
Pro-Line equipped the PRO-MT with their dual crank steering assembly with built-in servo saver. The cranks are ball bearing supported and the saver arms sit on an aluminum tube with an aluminum nut to compress the spring. A composite link connects the cranks and a tie-rod is included to connect to the The driveline consists of PL's Performance HD transmission. The tranny is filled with steel gears to hold up to serious power from 3S LiPo users. The differential is oil filled and can be tuned with different oils, more pro level features in this fun truck. But the details don't stop there, a dual pad slipper helps lay down the power while protecting the transmission and the motor bolts to a milled aluminum motor plate. The tranny is assembled which is a nice feature. Then power goes to the wheels via heavy-duty splined slider shafts with CV joints on each end. These burley axles are awesome and even feature steel rings over the cross pins for extra security. Finally the 12mm wheel hexes on the truck are clamping aluminum which is a nice feature that is usually an option on other trucks.
On to the cool details that Pro-Line is known so well for, the body, wheels and tires, starting with the new Sentinel body that PL developed for this truck. The body is specifically designed for bashing as it is molded in extra thick GE Lexan. The body is also shaped with an aggressive look and the bed has been shaped for better durability. It flat out looks hot and Larry G's paintwork from Kustom RC Graphics really looks awesome on our test machine. The wheels are Pro-Line F11 wheels wrapped in Trencher tires. They look awesome and are a great choice for an all-terrain tire; I can't see recommending a tire upgrade any time soon with this package.
Now this is a kit, well a semi-kit. Some components are built and there is some assembly required. When you open the box, you'll find the chassis center section assembled with assembled transmission bolted on. There will be two packages of assembled shocks and the tires come glued to the rims. The rest of the assembly seems to flow nicely with Pro-Line's detailed instruction manual. Find our build photos of the PRO-MT here: http://rcdriver.com/pro-line-racing- pro-mt/. You will need to pick up all the electronics of your choice. Since this is what I'm calling a pro level truck, I decided to install several pro level electronics. For the ESC, motor and battery, I turned to LRP and installed a Spin Pro Brushless system with 10.5T X20 motor and power comes from an LRP 5700mAh Competition LiPo pack. Tactic equipment finished out the truck with a TSX57 Digital Metal gear servo and a Tactic TTX300 radio.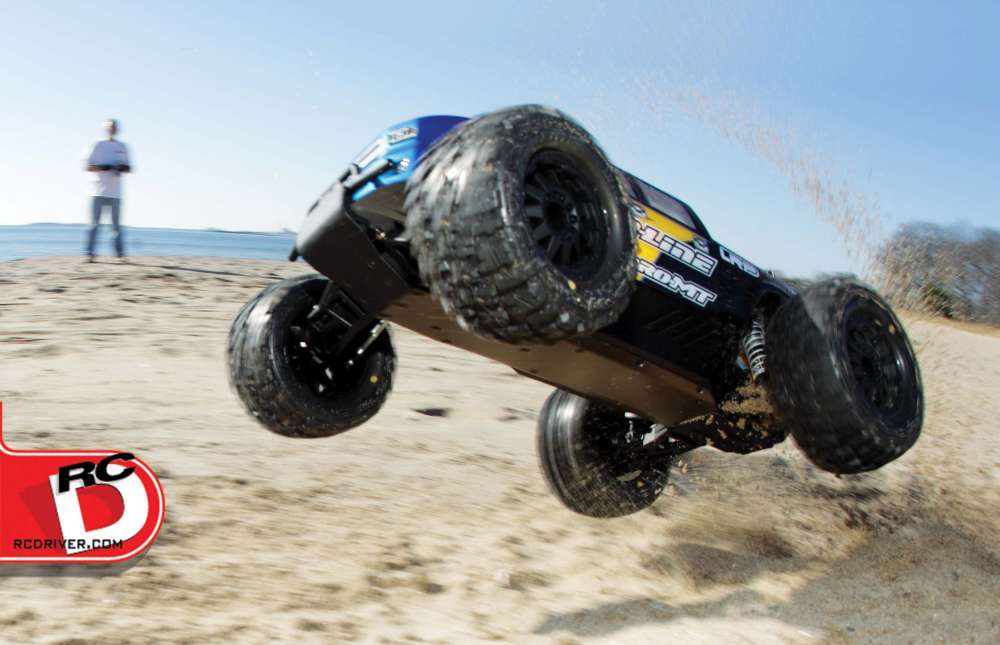 ON THE TRACK 
This truck required a certain type of play space in my mind and our local BMX track was that specific location. Huge hills, big jumps, step-up and the massive jump they call "The Waterfall" would really put the PRO-MT to the test and so our photographer and I headed off for some pro level action.
Before hitting the track, I charged the pack, set the radio, the ESC and everything seemed fine. But when I hit the throttle for the first time at the track, the PRO-MT took off at full throttle and I uttered those three little words that make me cringe "It's not mine." The tires were growing, it was headed toward a wood fence and sure enough the truck hit the 4×4 post, bounced into the air with a few tumbles and landed on its lid. A quick sprint over and I unplugged the battery and then surveyed the damage. None! This truck is tough!
With a harsh durability test right off the bat, I swapped the radio out and headed back out to play. This time under my control, I was ripping speed runs up and down the parking lot at the track. The truck had so much power and bite from the big rubber lug Trencher tires, it was ripping wheelies
when I wanted to. Dirt was flying off the rear tires, spraying off the fronts in the turns, the excitement is all there with the PRO-MT.
In the turns, the truck does have some lean, but it holds its ground and doesn't over roll thanks to the long suspension arms and progressive springs on the shocks. The truck was handling more like a racer than other MT's that have roll and flip tendencies or push like a plow.
But the lighter side of my bash session was over and it was time to go hit the big jumps on the bike track. With the PRO-MT at the top of the starting hill, I pulled full throttle and headed down hill at the first step-up jump. The MT hit the face and just glided right up to the next level with a slight nose up attitude. The truck landed plush and with total control. I sped down to the table top and this time the truck sailed with a level attitude and landed with the rear wheels rolling down the lander, it was so cool. Then in twenty feet or so was a double jump where the MT just sailed right over once again. Perfect landings each time, I didn't have to over- correct the truck with throttle or brake, the drive was simple.
I can't tell you how many times I hit every jump on the track, I did try them all, but what I can say is that there were very few I wrecked on. The MT handles awesome, it's certainly durable and there was plenty of power with the electronics I chose so I could rip wheelies whenever. The PRO-MT handled just like it name states; pro.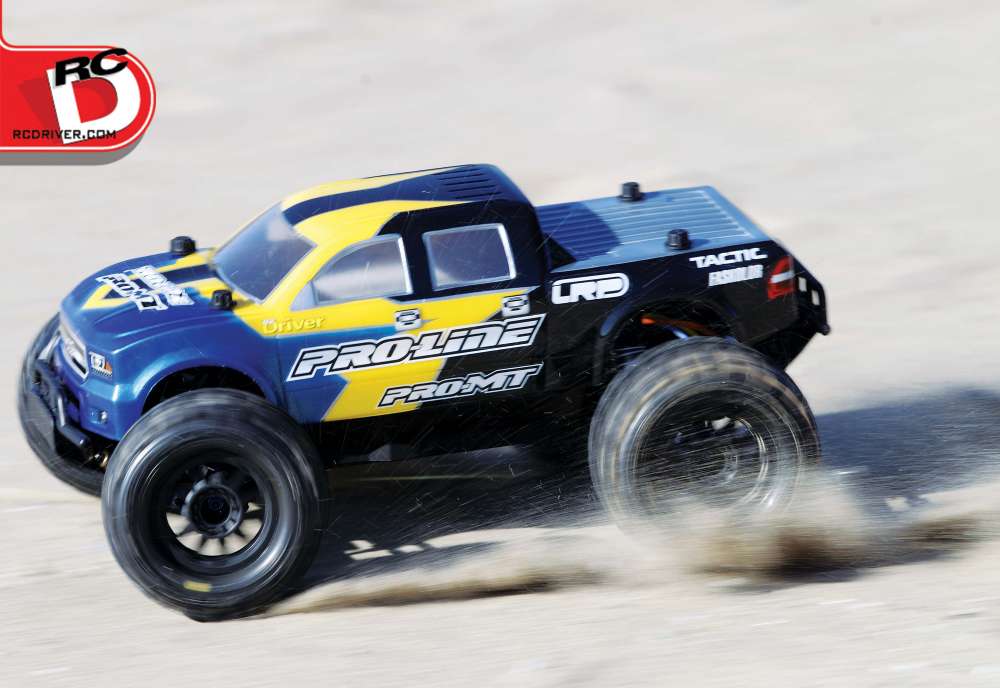 SPECS AND TUNING OPTIONS
DIMENSIONS
LENGTH: 18.0 in. (457mm)
WIDTH: 14.0 in. (355mm)
WHEELBASE: 11.2 in. (284mm)
WEIGHT: 4.1lbs. (1.86kg)
BODY, WHEELS AND TIRES
BODY: Sentinel thick Lexan flatbed truck
WHEELS: F11 black spoke style
WHEEL ADAPTER TYPE: 12mm
TIRES: Trencher large rubber lug
SUSPENSION
TYPE: Lower H-arm
SHOCK POSITIONS: F- 2 Tower/ 2 Arm, R- 2 Tower/ 4 Arm
CAMBER: Adjustable Links
ROLL: Multiple tower and hub positions
WHEELBASE: Fixed
RIDE HEIGHT: Adjustable preload
STEERING
TYPE: Dual crank with saver
TOE: Adjustable turnbuckles
MISC.: Adjustable servo saver
CHASSIS
TYPE: Plate
MATERIAL: 7075 Aluminum
THICKNESS: 3mm
DRIVETRAIN
TYPE: 2WD
TRANSMISSION: 3-gear
DIFFERENTIAL: Gear differential
GEAR RATIO: Optional pinion
BEARINGS: Metal shielded ball bearings
CLUTCH TYPE: Dual pad slipper
RATING TALLY
Opinion: 10
Performance – Acceleration: 10
Performance – Steering: 9
Performance – Handling: 10
Performance – Durability: 10
Feature Breakdown: 10
Overall Value: 9
WRAP UP
The Pro-Line Racing PRO-MT build was awesome and quick. All the parts are top quality and what came prebuilt from the factory was perfect. While building the kit, all that came to mind is that this is truly a high quality kit. The design work is top notch, the right materials are used in the right places, there are plenty of parts that are typically bought as aftermarket that are stock on the PRO-MT. Then as if the look and feel of the truck weren't enough, the PRO-MT backed it all up with excellent handling and fully delivered on the action this racer who likes to bash was looking for. If you were thinking about building a 2WD MT from the ground up, skip the hassle and go with a PRO-MT.
LINKS
Axial Racing, axialracing.com, (949) 600-8642
Kustom RC Graphics, kustomrcgraphics.com
LRP, distributed by Team Associated, teamassociated.com, (714) 850-9342
Pro-Line Racing, prolineracing.com, (909) 849-9781
Robinson Racing Products, robinsonracing.com, (209) 966-2465
Tactic tacticrc.com, (217) 398-3630