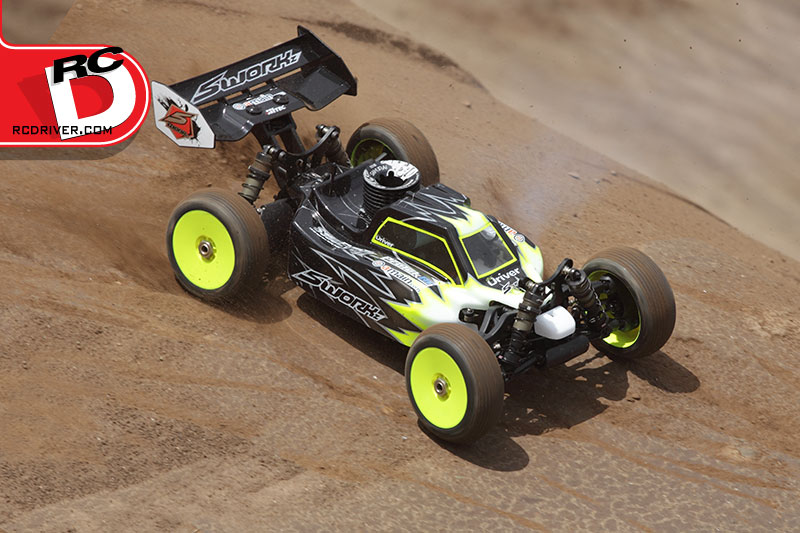 W
e've given you details to look out for on the build and we've run down the details of the
SWorkz S350 Evo II
over the past three days and now it's time to see how this competition buggy performs on the track. We set up camp at Wolcott Hobby and Raceway to test the new Evo II. On-hand we had all of ProTek RC's support equipment to make testing easier. The buggy was set up on a ProTek starter box and their engine heater was also used to get the engine temps up before starting. Once the engine was fired up and tuned, I spent the next hour running the buggy hard and that was just the start of the test. Here's what went down.
PERFORMANCE
ACCELERATION/ BRAKING- Wolcott's track can groove up so the AKA Typo's would be a good qualifying tire, but since testing was on an off day and the track had some loam on it I instantly noticed too much wheel spin on acceleration so I switched to an AKA Impact. The blocky Impact tread would provide better grip. Now with the traction bumped up, I could see that the Evo II has awesome bite and forward acceleration. The red shoe clutch setup with 1.0 springs gives the buggy a lot of snap out of the corners and on the straight the buggy plants itself and flat-out hauls. Under braking, those Professional pads and discs work hard to slow up the EII. I set up the buggy with more rear brake bias to pivot the buggy around corners; it squared up well and provides a smooth range of braking that ran consistently over the length of testing.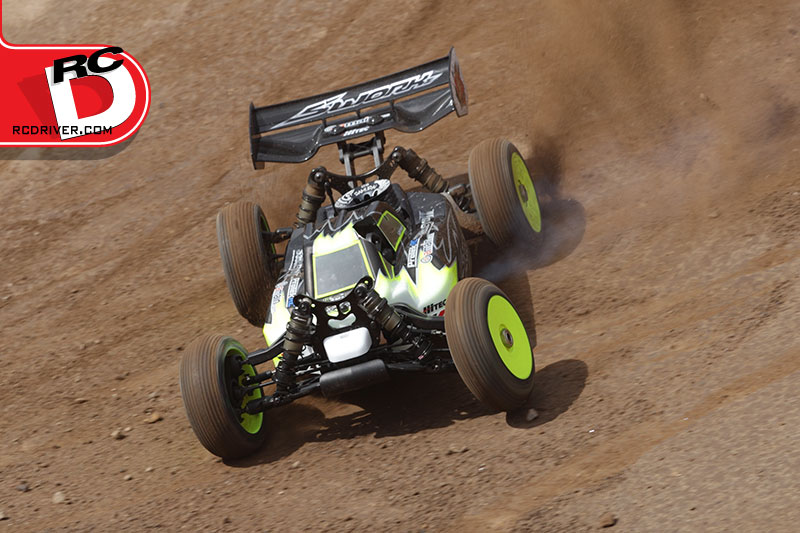 STEERING- There is a lot of physical steering throw on the Evo II and that translates into excellent cornering on the track. When blasting the buggy through the corners on power, the feel is just on point with the right amount of rotation, pull and bite. Off power the buggy just darts around the corner as the front wheels plant themselves and carve the turn. I am impressed with how the ProTek servo just muscles the steering and holds the wheels cranked even through some nasty terrain.
JUMPING/ HANDLING- There is a serious nature to driving a race buggy like this on the track, you concentrate on laying down fast laps, but somewhere deep inside when driving this buggy, I was truly having fun with what it could do and that's what racing is about. This buggy loves to take to the air off of jumps and its in-air maneuverability is exceptional. A few key wheel flicks would help set the car up for a smooth landing, positioned for the turn or jump coming up. There were several times I overshot landings and flat-landed the buggy and instead of a slap and bounce, the buggy plants itself and is in full settled mode, ready to keep going. This smooth suspension feel translated right over to the rough sections of the track. A few blown out areas were not a challenge for the buggy, bucking through the rough was minimal and it didn't veer and cause me to fight the wheel for control. When I race 1/8-scale buggy, I tend to favor heavier buggies for more nimble performance, but this lightweight machine impressed me with how stable it was on all areas of our test track. SWorkz did it right.
DURABILITY- After hours of testing, I went through some clutch shoes, air filters, several sets of tires and lots of fuel. As far as breakage, there was none to report that took us off the track, but I was able to bend a front driveshaft. I straightened it out on a vice and was able to continue testing and have a replacement on order already. I did inspect the buggy for wear and there were minimal signs of wear on the outdrives and driveshaft pins. The chassis also looked like it wasn't wearing as fast as some other vehicles I've driven. There were no gouges on the droop screw chassis tabs and the brakes were still in great condition. I am going to have to hit the bench and adjust gear lash in the diffs, but other than that, the buggy held up to our harsh track testing.
PROS & CONS
+ Quality materials used throughout
+ Shocks are ultra smooth and consistent on the track
+ Included aluminum must-haves like A/C pivot blocks, servo saver arm and throttle support.
+ Angled engine transfers weight towards the CG
+ Lightweight driveline
-Few hardware issues during build
-Parts may not be available at most tracks
WRAP-UP
SWorkz has a real focus on racing and the S350 Evo II has everything I would expect to see in a 2015 competition race buggy. Hard anodized chassis plate with narrow rear for flex, large 16mm bore shocks, weight forward electronics tray and a slew of aluminum parts for better durability in the key areas where you would expect to see them. The Evo II turns all that and more into an incredible handling race machine that I was able to put anywhere I wanted to on the track and in the air over jumps. SWorkz obviously has a mission to win as a manufacturer and provides racing platforms to give you the tools to win, too. Make sure to check out Day 5 of the Sworkz S350 Evo II for the action video.
Follow the entire SWorkz S350 Evo II Series
• Day 1: SWorkz S350 Evo II Pro Buggy – The Build
• Day 2: SWorkz S350 Evo II Pro Buggy – The Details
• Day 3: SWorkz S350 Evo II Pro Buggy – The Facts
• Day 4: SWorkz S350 Evo II Pro Buggy – The Performance
• Day 5: SWorkz S350 Evo II Pro Buggy – The Video