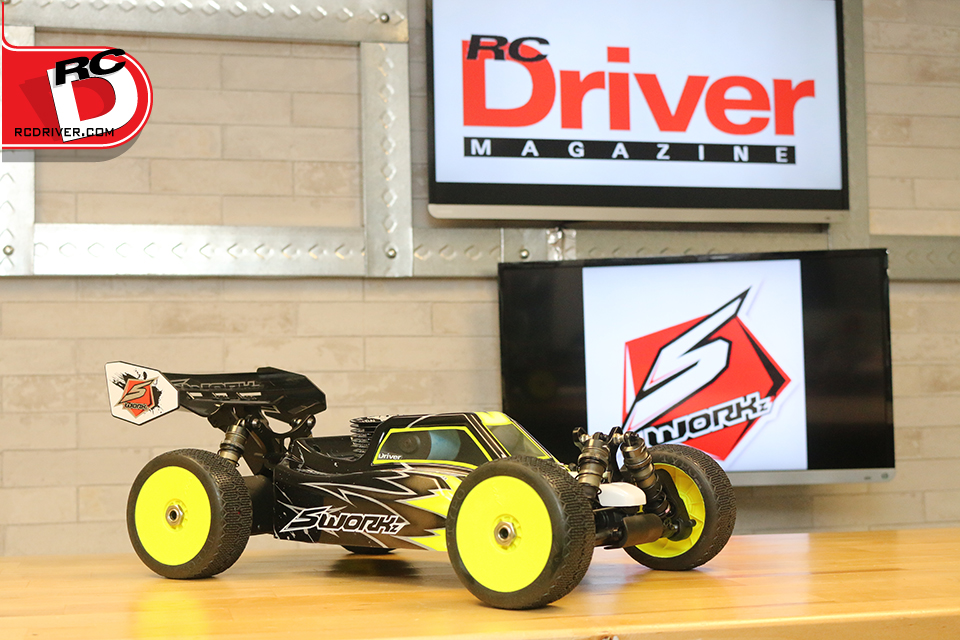 D
eveloping a new car brand is not an easy thing to do now a days, but one company seems to be having an easy time at gaining respect in the racing community and that company is
SWorkz
. SWorkz has been around for several years with quality products and designs and have obtained World Champion driver Atsushi Hara to wheel their extensive line of race vehicles. This combination has piqued the interest of many racers, yours truly included, to try what SWorkz has to offer. Last year I built and ran the
S350 BE1 EVO Pro USA Edition
E-Buggy. The build was a little difficult but the performance was amazing. Now I have the opportunity to build and test the SWorkz S350 EVO II Pro 1/8 Off-Road Nitro Buggy available from
Amain.com
. During the build I grabbed a bunch of photos so you can see what's inside the competition level 1/8 nitro kit for day one of the SWorkz S350 EVO II Pro Buggy
RC Driver Vehicle Week
.
BUILD NOTES
This kit goes together fairly well. I didn't encounter "the hunt" for parts like I did on the BE1 kit I assembled last year. However this kit still does have some hardware issues.
• The first was on step 18, the 3x15mm swaybarlink retaining screw seemed to be too short, a 3x18mm screw would be better here.
• On step 19, the manual suggests to use two 3x16mm flat head screws to secure the brace mount to the gearcase. These screws are too long so I found some 3x10mm screws to use instead.
• Next on step 26, it shows to use a button head screw to secure the upper link to the hub, but if you read the text below it says cap head, it is in fact a cap head provided in the kit.
• On step 28 it shows the diff support assembly and you need to use parts from Bag F and M1, but you'll find the top diff support plate in bag M2.
• Then here's just a heads up for the turnbuckles, make sure you have a good 5.5mm open end wrench on hand for making turnbuckle adjustments.
• On step 39, make certain to use thread lock compound on the throttle bellcrank screw and post as well as tighten it down as much as possible. If you only tighten this screw up snug, it may loosen later.
• Another heads up, there are two different size engine mounts to the engine leans toward the center, make sure you install the mounts correctly.
 WRAP-UP
There is plenty to like on the SWorkz S350 EVO II Pro for the competition racer. Plenty of tuning adjustments, lots of quality parts and excellent design. Things that really stood out on the kit were the angled engine mounts, quality clutch set-up, the cool red coated brake plates, aluminum servo saver arm, aluminum pivot blocks and lightweight outdrives. Like most competition kits, you'll need to supply the running gear. We turned to Amain.com for their Samurai engine and pipe and ProTek RC for the servos, switch, battery and receiver. The wheels and tires are AKA and the killer paint scheme was sprayed by Kustom RC Graphics.
Follow the entire SWorkz S350 Evo II Series
• Day 1: SWorkz S350 Evo II Pro Buggy – The Build
• Day 2: SWorkz S350 Evo II Pro Buggy – The Details
• Day 3: SWorkz S350 Evo II Pro Buggy – The Facts
• Day 4: SWorkz S350 Evo II Pro Buggy – The Performance
• Day 5: SWorkz S350 Evo II Pro Buggy – The Video