Continuing the Dominance?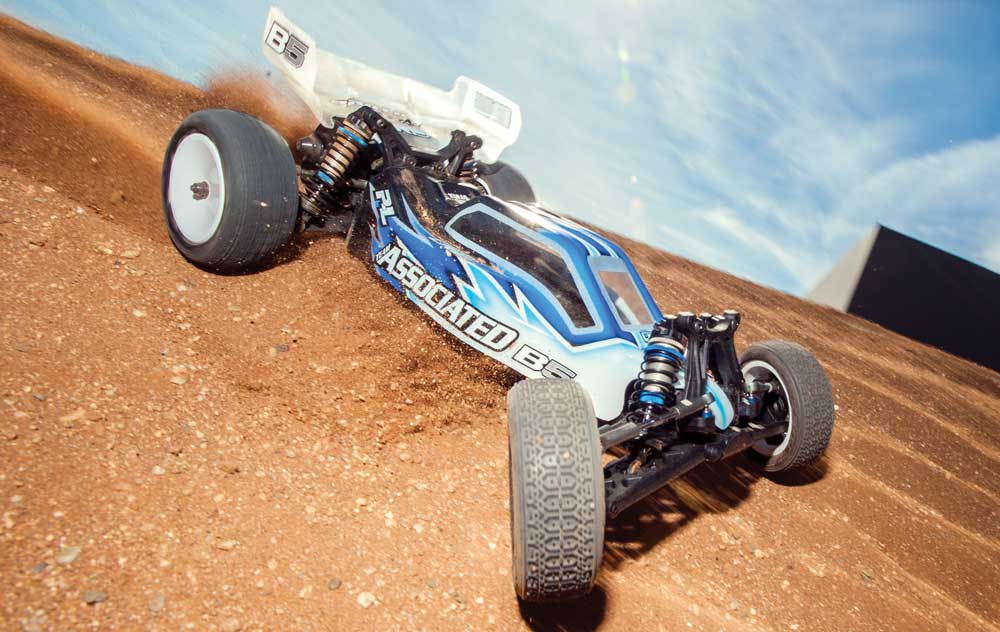 Words: Carl Hyndman
Photos: Carl Hyndman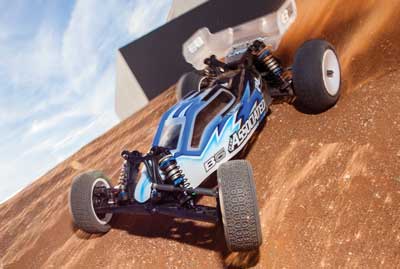 Today's tracks are faster, have more traction and incorporate features that are technically harder than anything we saw a decade ago. Considering that the winningest 2WD buggy in history has been around that long, it should be no surprise that it was time for a change as well. This new platform promises to go beyond what you might expect with changes in geometry, durability and ease of use. Surprisingly, it bucks the trend and is introduced as a rear-motor only layout, with its sister model, the B5M (mid-motor) scheduled for release shortly after. Since the 2WD buggy has long been one of my favorite classes to drive, I was chomping at the bit. Let's see what all the hype is about. Strap in a mod motor and let her hunt. Oh yeah!
AT A GLANCE
WHO MAKES IT: Team Associated
WHO IT'S FOR: Intermediate to advanced drivers
PART NUMBER: 90001
HOW MUCH: $239.97
BUILD TYPE: Kit
PROS
• Highly tunable
• Aggressive steering
• Metric hardware
• Durable for a race buggy
• Stable
• Great support and parts availability
• Attention to detail
• Big bore shocks
CONS
• Not convertible to mid-motor without a lot of parts
• Rear-motor buggies seeing less use at high level
AUTHOR'S OPINION
A worthy successor to the B4 platform with every detail addressed. Even the universally used metric hardware has been incorporated and proven race geometry and ease of use implemented. Along with lethal handling, the buggy has been improved for durability with great materials to achieve great fit and finish. LiPo power and brushless technology is its heartbeat and it's committed to this system.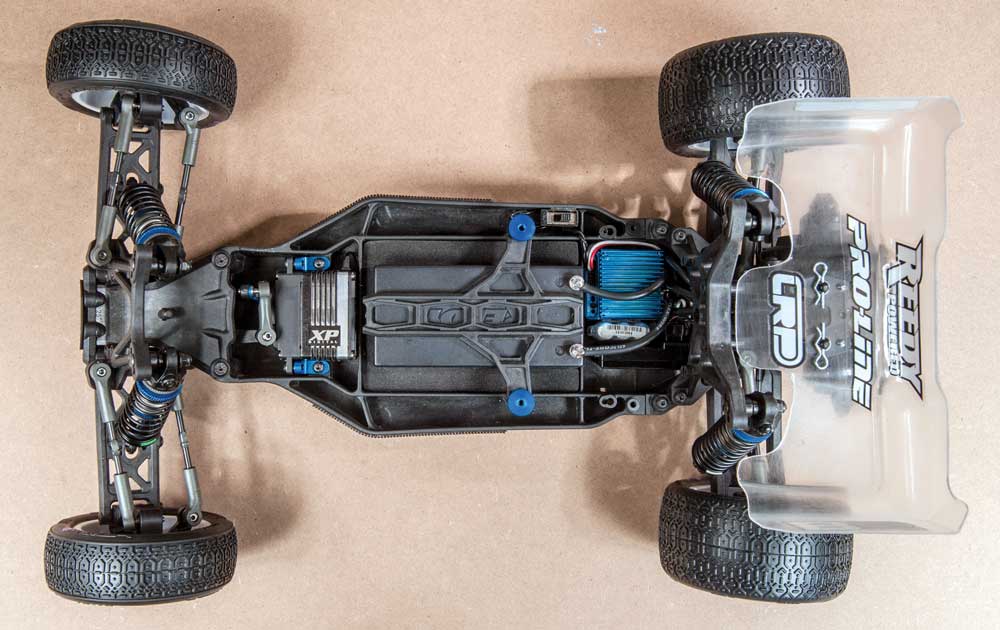 FACTS
Chassis- The B5 opted for a molded composite plastic chassis and it is narrow. This goes against the current trend of aluminum and plastic side guards, but is still credible and depending on whom you ask, better. Taking advantage of our modern electronics and their small footprint, the chassis gives you great handling, but limits your choices (a little). Shorty packs and saddle-pack sized LiPos only. So users of full-size packs need to take note and forget about running those old 6-cell sub-C packs, this is for modern racing. This shouldn't be too much of an issue for most, since this is where the industry seems to be going. I like that the kit also includes foam spacers for those running shorty packs and this just shows another attention to detail. The new plastic Team Associated switched to seems like a big improvement and shows better performance and durability.
Suspension- The suspension components have been updated and include the smooth big bores shocks. Tuning the suspension is vastly improved, with options everywhere. Droop is still performed by use of shims and it works great for the task, and building the shocks is fairly easy and buttery smooth.
Steering- Steering is fairly aggressive and can also be tuned to your tastes and track conditions. Ackermann is easily changed by using shims under balls studs on the steering rack and the axles can be adjusted in one-degree increments by changing out inserts. Front toe is easy by just changing the lengths of the links.
Drivetrain- Pretty basic here. A proven 3-gear transmission with ball diff. Of course it has been updated and now includes the metric system. On the outside, CVAs drive the wheels, and slide on steel outdrives.
Running Gear- Not included
Finishing touches- The kit comes with a nice clear body and wing. Keeping up with modern racing, it features a cab-forward styling and high-downforce wing. With such a nice body, I had to have the guys at Fatty Grafx paint it up (see contact info below). They are one of the leaders among the painters out there and can get the job done impressively. Most of all, they can be counted on. For racers, that's one of the most important elements. Nice airbrush work always compliments the body and I sure couldn't do it with a rattle can. Now I have a pro-level scheme to match the buggy's fierce nature. I may not have the skills to win, but my buggy doesn't know that.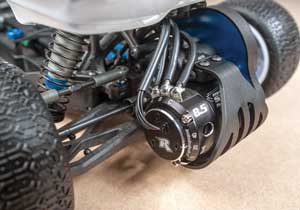 TOOLS INCLUDED
• 4-way wrench
• L wrenches
• Turnbuckle tool
ITEMS NEEDED
• Motor
• Radio transmitter and receiver
• Tires and inserts
• ESC
• Servo
• LiPo battery- shorty or saddle-pack size
ITEMS USED
• LRP Flow Works Team Brushless Speed Control with New Firmware version 3.8, Part Number 80970, $199.99. I was able to get the newest LRP Flow with their new Firmware 3.8 version installed. This may seem like no big deal, but for people who prize "feel" and control, having the proper software is probably more important than new hardware. This specific version of software was used to win the IFMAR 4WD World Championship in Steven Hartson's buggy in Chico, California, in 2013. Since then the software has been refined even further with the team driver's feedback during that World Championship and is now being released to the public. The Flow is suitable for both on and off-road and can be used with stock and modified motors. On the track I instantly felt what all the hype was about. The car seemed to go around the track by itself, so I was able to concentrate on my lines and buggy setup without any concern for throttle and brake management. Even installed inside with the buggy with no fan, and no vents in the body, the ESC ran cool and delivered consistently great performance.
Power was strong, but very controllable and with this software I can hook it up to a PC and control even the finest details. At first I thought all those details might be overwhelming, but after a few tweaks I was able to navigate and understand without any trouble. Boost turbo, auto brake, cutoff voltage, boost timing, torque timing, feel, etc. are all there and adjustable in small increments. For those a bit intimidated, there are default settings that are clearly marked to fall back on. Finally, I like the fact that even with all the features and power, the Flow takes up a small footprint in my buggy where space is a premium. Oh yeah, this is what keeps the heart of my buggy ticking strong. Lance Armstrong had to dope; this will win the races clean. That's right, it's ROAR, BRCA and IFMAR legal and has a blinky mode to let everyone know if you race stock.
• Reedy Sonic Mach 2 8.5T, Part Number 236, $89.99. This is the newest generation Reedy Sonic motor with small improvements on an already solid series. The motor has plenty of power to light up the tires and clear even the biggest jumps on the track. It has loads of power, but it is controllable with a power band that is consistent and smooth. Timing is easily changed and the solder tabs make installation easy. Throughout the course of testing, it delivered the same power and stayed relatively cool. It is ROAR, EFRA and IFMAR legal for racing and with optional rotors can be tuned ever further.
• Team Associated DS1313 High Performance Digital Servo w/Heatsink, Part Number 29166, $74.99. This is a perfect servo for the B5 buggy. Its not the fastest out there, but if you have ever driven a buggy, that is a good thing. Fast to stay in control, but not too quick where everything feels twitchy. On the track, the torque was strong and durable since the buggy doesn't use any sort of servo saver, and with the heat sink kept delivering precision even when I was practicing and lost track of time.
• Futaba 4PLS 4-channel 2.4GHz T-FHSS Telemetry Radio System w/R304SB receiver, Part Number FUTK1410, $249.99. A solid radio and receiver combo for my buggy. All the main features are there and easily accessible. It does lack a few of the features of its more expensive brothers, but at this price it is tough to beat. It can monitor telemetry, has wheel/trigger tension adjustment, and can store 40 models, and the list goes on. For racers who want to watch their wallet without sacrificing any of the main features needed for top-level racing, this is a system worth taking a look at.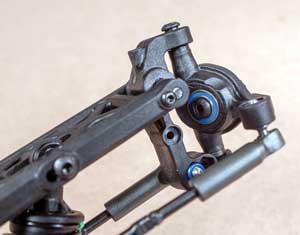 ADDITIONAL ITEMS USED
• Reedy 2S Hard Case LiPo 65C 7.4V 4100 mAh Shorty, Part Number 602, $89.99. This is a great pack for racers who still want power, but like the ability to tune with battery placement. Its small footprint and light weight is something that can be felt on the track, and of course it is ROAR legal.
• 22-tooth Precision Machined 48-pitch pinion gear, Part Number 8259, $6.00.
• Pro-Line ION 2.2" 2WD MC (clay) Off-road Buggy Front Tires, Part Number 8224-17, $15.26.
• Pro-Line ION 2.2" 2WD MC (clay) Off-road Buggy Rear Tires, Part Number 8222-17, $16.11.
HOP-UPS WE RECOMMEND
• Team Associated Factory Team 12mm Big Bore Front Soft Spring Set, Part Number 91341, $13.99. This set of springs is perfect for racers looking to fine-tune the handling of their buggy. Sure the kit springs are fine, but if you are serious about your setup and want the ability to tune to track conditions, this is a perfect set.
• Team Associated Factory Team 12mm Big Bore Rear Spring Set, Part Number 91344, $13.99. Like the front springs, this set is a must for tuners.
• Schelle Nova Slipper Clutch, Part Number 1300, $28.00. Helps improve consistency and feel with brushless motors. Easily tunable for track conditions and driver's style.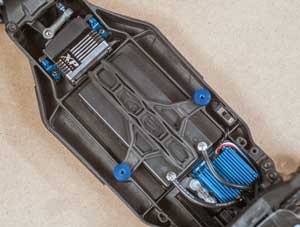 BEHIND THE WHEEL
For testing I was back at OCRC in Huntington Beach, California. This is my home track, so I am very familiar with the dirt and its characteristics. I was also fortunate enough to run on the same layout that was used for the latest Reedy Race of Champions. As you can imagine, it is designed for mod buggy racing and has a mix of high-speed turns and big jumps, along with some key features to test throttle control and your buggy's setup. At first view the layout looks fairly easy, but after a few laps it becomes evident that putting down fast times is much harder than expected. It's deceiving and a true test. Traction is always great, and at times approaches the need to run slicks, but instead is controlled to meet the needs of most racers with low tire wear.
When I first hit the track, I had mixed emotions. I have a long and passionate relationship with my B4.2 and its predecessors and this buggy was going to have a hard time living up to my expectations. Immediately, I felt the key areas the engineers addressed. The buggy still had it's aggressive steering, but it was noticeably tamer. Before, in order to achieve fast lap times, it was better to take it a notch down and let the B4 race at 90 percent to achieve fast times, but the B5 can be pushed hard and still feel confident. Recently I've been testing a lot of mid-motor buggies, and the mid-corner speed is always a compromise somewhere else, but this rear motor buggy is splitting that gap. It doesn't really feel like rear motor buggies of old, but falls somewhere in between with handling characteristics usually seen in one or the other, but never both. Next was its flight through the air. I was expecting the same old white-knuckle experience, but was introduced to what everyone has been buzzing about. This buggy jumps rock solid. Throttle input is met with positive feedback and stays flat when needed. Oh, and I ran it with box stock setup, and with the numerous changes I can make to it, I'm confident it could be taken even further.
STEERING – Neutral
Each turn on the track gave the buggy something different to deal with and the B5 attacked them aggressively. Surprisingly the rear motor location wasn't as much of an issue as I thought it would be. Corner speed was impressive and the buggy pulled from the front end hard. Maybe not quite as fast as a well set up mid-motor buggy in and out of the corner, but not far off and easier to drive. This is a big leap from the older B4 and something that I was surprised to see. Along with this was a secure feeling, unlike the twitchiness I had seen in the older model.
ACCELERATION – Excellent
Pulling the throttle launched the car out of a very short area, and at times lifted the wheels up. If you weren't completely squared up, you did run the risk of spinning out, but this is a common trait in 2WD buggies and at times can help the buggy get around a turn a bit quicker. However, over a few battery packs, I did notice that my acceleration wasn't as consistent as I was hoping. At first I attributed this to the changing conditions of the track, but this tends to be pretty good and what I experienced wasn't within that norm. I played with the slipper a bit, but I just couldn't seem to settle it down. Otherwise the buggy pulled hard on take-offs and out of turns and helped to really put down some good traction and this resulted in solid lap times.
BRAKING – Excellent
Remember we are driving a 2WD buggy here, but up against others on the market, this buggy rises to the top. Push on the brakes and the buggy responds with great feedback without it going in to doughnuts. Of course you will have to set up your radio and ESC correctly, but this is where the B5 can make up some time on others. This is also where the rear motor helped it out. Unlike mid-motor buggies, the rear could be thrown in a slide with ease and was useful in helping it negotiate in and out of tight corners quickly.
SUSPENSION – Excellent
Combined with the emulsion-style big bore shocks, the suspension is truly an upgrade. It has just the right amount of plushness, but still delivers the feedback needed for proper driver input. The kit includes various styles of pistons and this makes tuning easy, but keep an eye on the flashing. A good sharp hobby knife and you'll be in business.
JUMPING – Excellent
This is where the big improvements to the platform become very evident. Jumping is now a pleasure and something avoided on the old platform. It hits the jumps square and flies true. Transmitter inputs help guide it even further, and if you need the buggy to whip or sail on a different line, it does that with ease. Landing is much better as well. Combined with the new suspension, the buggy soaks up the harsh landings and gets going again quick. It's all about the lap times, and fast guys know that a buggy able to deal with critical areas means consistently fast laps and solid runs.
DURABILITY – Excellent
I couldn't find a critical area on the buggy. Now granted this is a race buggy, and performance and durability always seem to be a lesson in compromising, but this buggy might be helping to change our standards. It seems that all the high stress areas have been beefed up and the new materials are a step in the right direction. Going metric has also helped. Hardware and items like ball studs are now beefier and can take some pretty good licks. The one small area I was concerned with (okay I'm splitting hairs here) is the rear toe and hingepin inner blocks. These can take some big abuse, but mine held up fine and Team Associated is already offering anodized aluminum parts as aftermarket upgrades in this area. However, I think these parts are more for the bling factor than actual function since the kit ones seem to do a pretty good job themselves. So unless you plan to run on a track with big dimensions and hit stationary objects at full throttle, I doubt you'll have too many issues.

SPECS & TUNING OPTIONS DIMENSIONS
LENGTH: 15.16 in. (385mm)
WIDTH: varies
WHEELBASE: 11.06 in. (281mm)
WEIGHT: varies
BODY, WHEELS AND TIRES
BODY: Clear w/window masks by Pro-Line
WHEELS: White Dish
WHEEL ADAPTER TYPE: 12mm hex
TIRES: Not included
SUSPENSION
TYPE: 4-wheel independent
SHOCK POSITIONS: (F) 2-tower, 2-arm, (R) 3-tower, 2-arm
CAMBER: Adjustable turnbuckles
ROLL: Adjustable ball heights
WHEELBASE: Adjustable shims
RIDE HEIGHT: Threaded shock bodies
MISC: Adjustable anti-squat with rear blocks, various kickup plates with different degrees, rear inner toe blocks in degree increments, trailing front axle degree changes with inserts
STEERING
TYPE: Dual bellcrank
TOE: Adjustable turnbuckles
CHASSIS
TYPE: Molded tub
MATERIAL: Composite plastic
THICKNESS: NA
DRIVETRAIN
TYPE: 2WD
TRANSMISSION: 3-gear rear-mounted
DIFFERENTIAL: Ball diff
CLUTCH TYPE: Adjustable slipper
GEAR RATIO: Optional pinion gears (2.6:1 internal)
BEARINGS: Full set of rubber shielded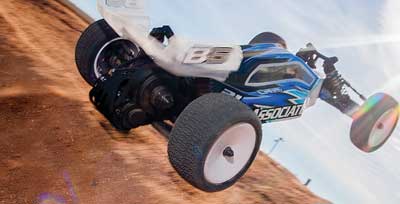 WRAP UP
Changing the most successful buggy platform in racing can be quite a daunting task, but it seems like Team Associated has done their homework. They addressed the key issues that were considered a weakness in the B4 series and took it a step further. Oh, the family tree is still there, but this is the next generation and it takes advantage of today's modern power. If you liked the B4, you'll love the B5 and even those who had issues with some of the traits of the B4 can now take a new look. Yes, this is a rear-motor buggy, and can't be configured for mid-motor without a lot of parts and purchases, but it is definitely doing a good job of blurring the lines.
LINKS
Fatty Grafx fattygrafx.com, bradbertrand@fattygrafx.com
Futaba, futaba-rc.com, (217) 398-8970
LRP, lrp-america.com, (949) 276-6060
Pro-Line, prolineracing.com, (800) 899-7223
Reedy, reedypower.com, (949) 544-7500
Schelle Racing Innovations, schelleracing.com, (714) 444-2906
Team Associated, rc10.com, (949) 544-7500