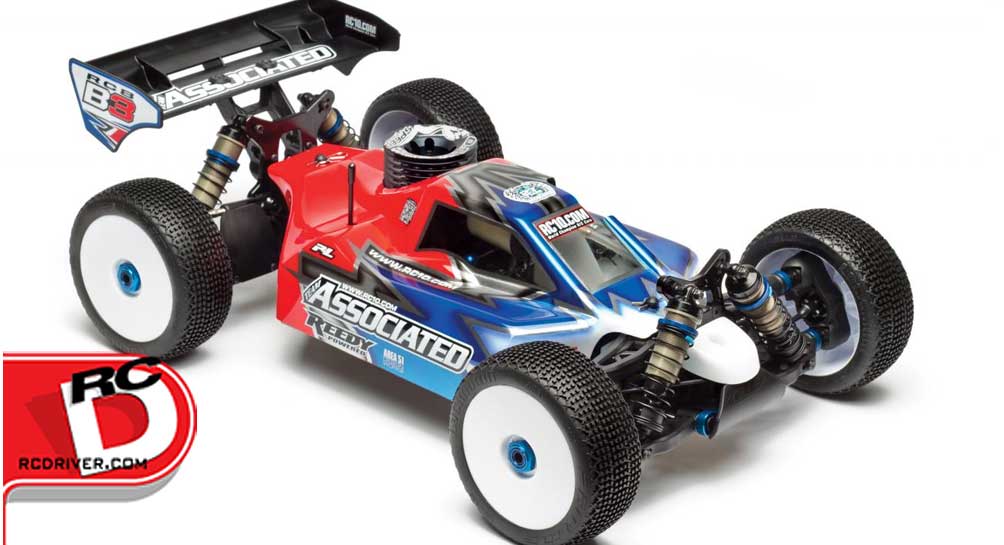 Team Associated has released the news on their new 1/8 scale Nitro buggy, the RC8B3. This buggy is all new from the ground up, something hardcore AE supporters have been looking for!
There are a slew of new features, including:
• Front suspension features pillow-ball uprights for increased adjustability and improved durability
• Lightweight ring gears and optimized precision ball bearing sizing reduces drivetrain rotational mass for improved acceleration and fuel economy
• Gearboxes feature a 3.38:1 internal gear ratio with fast access differentials for quick removal, tuning and maintenance
• Six universal drive shafts for efficient drivetrain power delivery and ease of maintenance
• Braking system features bonded pads and machined steel rotors for maximum braking force and reduced fade
• 7075-T6 aluminum 16mm Big Bore threaded shocks with TiN coated 3.5mm shafts, larger diameter precision springs, and optimized bladders for more precise volume compensation
• 7075-T6 aluminum shock towers front and rear feature finely tuned shock mounting and upper arm positions
• Refined suspension geometry with lower hinge pin inserts for quick and easy roll center adjustments
• Lightweight one-piece wing mounts feature height and forward positioning adjustment for more precise handling
• Carbon fiber radio tray with sealed receiver box keeps dirt and debris from receiver
• Large capacity fuel tank with floating clunk filter and optimized internal baffles keep fuel flowing in the most extreme conditions
• Pro-Line RC8B3 clear body and Team Associated molded wing included
Specs:
Length: 488mm (19.21in)
Width: varies
Wheelbase: 327.5mm (12.89in)
Weight: varies
Internal Gear Ratio: 3.38:1
This kit will be available in June/2015.
80914 – RC8B3 Team Kit
Link: www.rc10.com