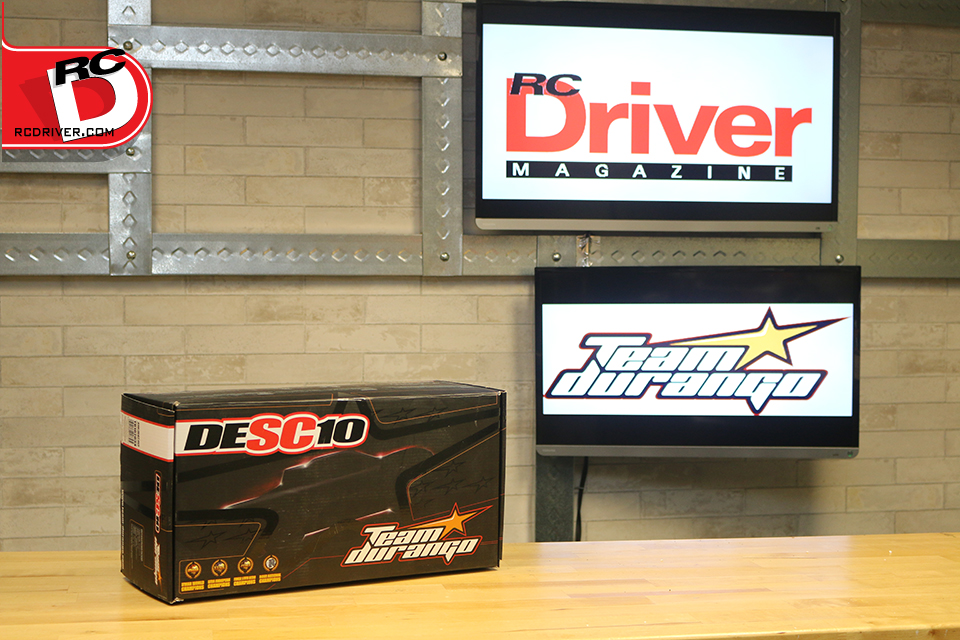 T
he new
Team Durango
kits are making their way hobby shop shelves and we have one of the first DESC10 short course truck kits available. All eyes are certainly on Team Durango right now as they've taken a new approach as far as a RC racing company goes by primarily focusing on the "club racer" and using factory support to assist the majority of racers rather than funding a big pro team. We think the approach is interesting as well as the approach they've taken with their new line of vehicles. Their kits like the DESC10 shown here share many of the same parts, in fact a lot of the parts on this truck interchange with their 1/8 buggy line, the DEX8 and DNX8. Sounds interesting right? Lots of exciting stuff happening with Team Durango, now let's dip into this kit with a bunch of unboxing photos.
FACTS
Manufacturer: Team Durango
Distributed By: Hobbico
Product: DESC10
Class: 1/10 4WD Short Course
Power system: Electric/ Not Included
Kit type: Partially Assembled Kit
What's in the box: Kit parts with some major components partially assembled, decals, manual.
Needed to complete: Transmitter, motor, ESC, receiver, servo, body, AA batteries, LiPo Battery, charger, wheels, tires, assembly tools, oils, thread lock and 2-sided tape.
Who it's for: Intermediate to Pro
Part Number: TD102034
Price: $449.99
INITIAL IMPRESSIONS
First off, nice work on the boxing TD! Yes we usually just toss the box right out, but the kit is neatly packed with a display box on top, and several other boxes inside the main box to transport the kit parts. Inside you'll also find a well detailed instruction manual for the kit, some decals and support sheet that leads you to a Team Durango site to assist you with the build.
Now as we started to pull parts out of the box we immediately noticed that many of the components are assembled, meaning this is a partially assembled kit. Shocks, differentials, steering knuckles, tie-rods, the battery tray and many other parts have been partially assembled meaning less build time on your bench. By Team Durango partially assembling this kit, we're also thinking this is a kit that should be highly recommended to drivers transitioning from a RTR to the kit car racing world. It will give first time builders a taste of assembling a kit without worrying about building an entire kit correctly; Team Durango took care of assembling many important parts for you.
The parts are neatly packed in bags with supporting hardware nearby for easy build steps. All of the bags are numbered so you can match them up to the manuals step you are working on. All great stuff going on here! The parts quality looks excellent, etched logos and identifiers on parts like the chassis, shocks and axles.
So the majority of the kit looks great, but we did see a few things that we wish Team Durango included; wheels and a body. We understand that this is being pitched as a racing kit and that racers want to pick their body wheels and tires. The body we can ehhhh… let slide and tires; we're fine there too with their absence in order to keep cost down and allow us to get what we need. But we need to talk wheels. The DESC10 uses 17mm hex SC wheels. Not sure if you know this but there isn't a massive selection of 17mm hex 1/10 SC wheels. TD doesn't even suggest a wheel to use anywhere on their site or instructions from what we could see. There are plenty of 12mm hex SC wheels because they are standard, but 17mm, well you might not find them easily at a local shop. In fact we need some for our kit and after striking out on a wheel purchase after visiting four local shops, we're going to have to place an order online for some ARRMA Senton wheels or DE Racing wheels. TD one set of wheels included in the kit would have been nice to get DESC10 owners going, just saying.
WRAP-UP
So far we love the looks of the Team Durango DESC10 kit; it appears that the quality and design for a competitive racing machine is all there. Don't let our wheel rant scare you, using 17mm hex wheels is actually a good idea because you know the larger hex area will handle whatever power system you want to drop in there whether it's a racing system or high powered system for all out hardcore bashing. We're excited with Team Durango's new direction; now it's on to the build!