Ready to Lay Down the Win!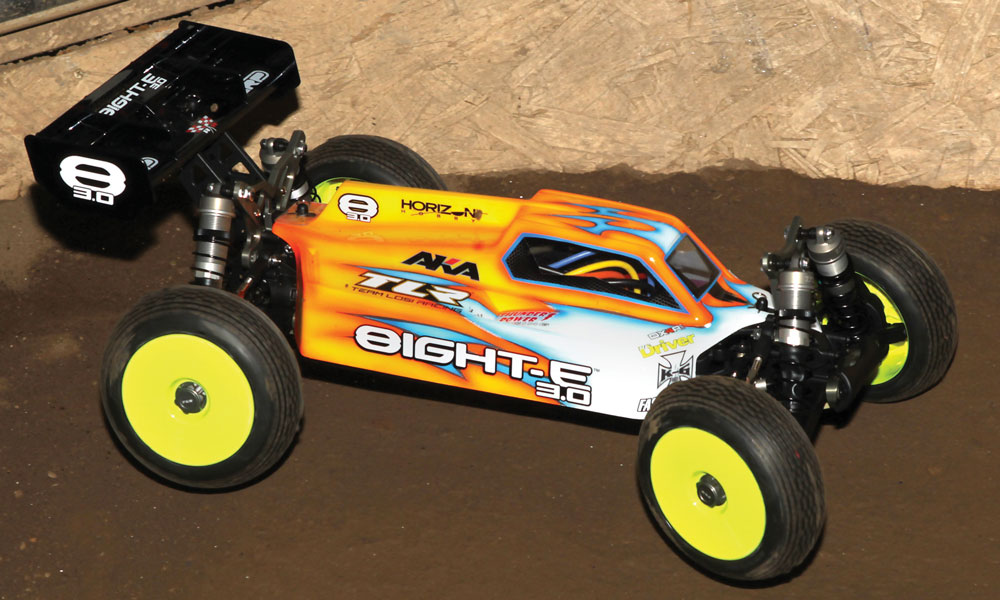 Words: Greg Vogel
Photos: Walter Sidas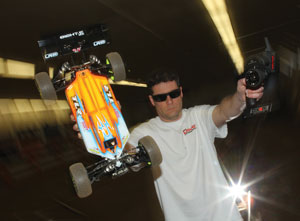 It was probably less than a minute after the 8IGHT 3.0 Nitro Buggy was released that electric power junkies were wondering if and when an E-3.0 would hit the shelves. Some wondered if it would be a conversion again or would Team Losi Racing go the route of their popular and newly-released TEN SCTE 2.0 with an all-electric specific kit. TLR is apparently done with conversions because the 8IGHT-E 3.0 is here and it's all electric and ready for all the racing you can throw at it. TLR has already won a national title and racers all over are having to make hard decisions to let go of last year's race buggy. Will you need to sell off the old and go new? Read on to see what the 8IGHT-E 3.0 has to offer.
AT A GLANCE
WHO MAKES IT: Team Losi Racing
WHO IT'S FOR: Intermediate to experienced
HOW MUCH: $580
BUILD TYPE: Kit
PROS
• Smooth build with high quality parts
• Almost totally redesigned compared to predecessor makes it worth the cash
• Great handling characteristics should make anyone look good on the race track
• This is not a conversion, it's built from the ground up as an E-Buggy
CONS
• Ball ends were very tight and needed to be compressed with pliers to eliminate suspension bind
REVIEWER'S OPINION
The TLR team has another impressive pure racing vehicle in their stable and its no wonder Dakotah Phend brought home a national title so close to its release. The buggy simply looks great on the bench and makes you look even better on the track. The quality of parts and inclusion of parts that were hop-ups on the previous model make this kit worth the money so don't bother to convert if you are an established 8IGHT-E 2.0 owner.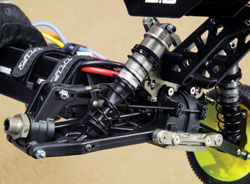 FACTS
• There's no skimping here. TLR went right for a 4mm thick aluminum platform for the 8E3 that is symmetrical and heavily milled to reduce its weight. The chassis is also hard-anodized to reduce wear while giving it that classic TLR foundation styling. Narrow debris guards screw into place with countersunk screws from the top into threaded holes on the chassis, which cuts down on having to use retaining nuts and their weight. New chassis braces accommodate the changes to the chassis and its optimized layout. Similar to the sideguards, the battery case screws down to the chassis from the top. The battery set-up, with its Velcro straps and foam cushion pads on the chassis to support the battery, looks similar to the set-up on the TEN SCTE 2.0. Like the SCTE 2.0, the ESC mounts to the chassis with two-sided tape, right to the aluminum. Across from the ESC are the rest of the radio electronics, which can be set-up like you see in our photos, with the steering servo in a mount and a receiver box to protect the receiver and transponder. You can also install a simple servo mount that has a flat panel on the side that you stick the receiver and transponder to, saving a little weight. While talking about reducing weight, let's also talk about adding weight where it counts. There are two countersunk screw openings in the front of the chassis under the steering, that screws and a "cover" currently occupy. If you purchase the optional weight, you can add it to the front of the buggy for more weight on the front wheels for better cornering. The servo saver steering cranks are like its predecessor with the exception of the drag link bar now riding on ball bearings.
• The suspension is similar to the 8IGHT 3.0, which was revised for its release. The new suspension features revised arms front and rear with button head droop screws resting against the chassis. The spindles and 15-degree caster blocks were also reworked for less driveshaft plunge so there is less wear and bind on the outdrives, which lets the suspension cycle easier for better handling. The new caster blocks also help in the handing department through bumps while providing more responsive steering. The only items that went unchanged from the previous 8IGHT were the rear hubs and camber links which means that yes, TLR has new hinge pins that are Titanium Carbo Nitride coated…sounds fancy. Where the change from the nitro buggy comes in is the towers. At first glance the E towers look like the nitro towers with an "E" etched in them, but on closer inspection, the E front tower has three upper shock mounting holes compared to two holes on the nitro buggy. The third hole is an additional inner shock mounting hole. The rear tower looks the same up top, but instead of just three inner camber link mounting options, the E tower has five to alter roll characteristics. As for the shocks, these oil hogs are the large 16mm bore shocks with fancy coated shafts and tapered springs that allow better clearance to the arm during droop.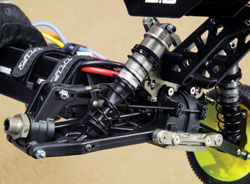 • For the drivetrain, let's talk from the center out. A black anodized-aluminum motor mount features a slide motor mount set-up to adjust gear mesh with just one screw to fiddle with. The sealed center diff uses a plastic spur which keeps things quiet, but what's cool is that TLR included the HD lightweight outdrives to reduce rotating mass and lessen wear; the front and rear have similar features but with steel ring gears. Connecting the diffs are dogbones and lightweight outdrives. The dogbones are less likely to wear and bind as the CV joints did over time. Steel CV driveshafts send power out to the 17mm aluminum wheel hexes that use cap style nuts to secure the wheels. Other notables in the drive are full sealed bearings and TLR includes the aluminum bearing inserts to support the rear diff.
• TLR engineers went to work when they created the body and it's evident they chose function over fashion. The forward cab has a blunt windshield to give more front-end downforce and plant the front wheels. Moving to the center, you'll see the center fin that acts as a dam when cornering, much like a sprint car. The side pods are rather boxy to give you room for most electronics underneath and dips can be cut open to improve airflow to toasty running gear. Larry G over at Kustom RC Graphics laid down the sick paintwork on our test rig. The wing has been fitted with a wicker-bill as another aid to maximize downforce, and spacers are included for extending the spacing of the wing from the tower. A decal sheet with stylish TLR 8IGHT logos are included so you can represent.
• Like other TLR kits, this machine will have to be built up from a nice organized system of bags, numbered labels and a detailed instruction manual that will guide you through the build like you were a pro. The kit includes two full sets of rims, one in white and the other bright yellow. Another neat item to finally call out is the center diff wire guide that captures the ESC and neatly runs them over the hungry diff gear teeth.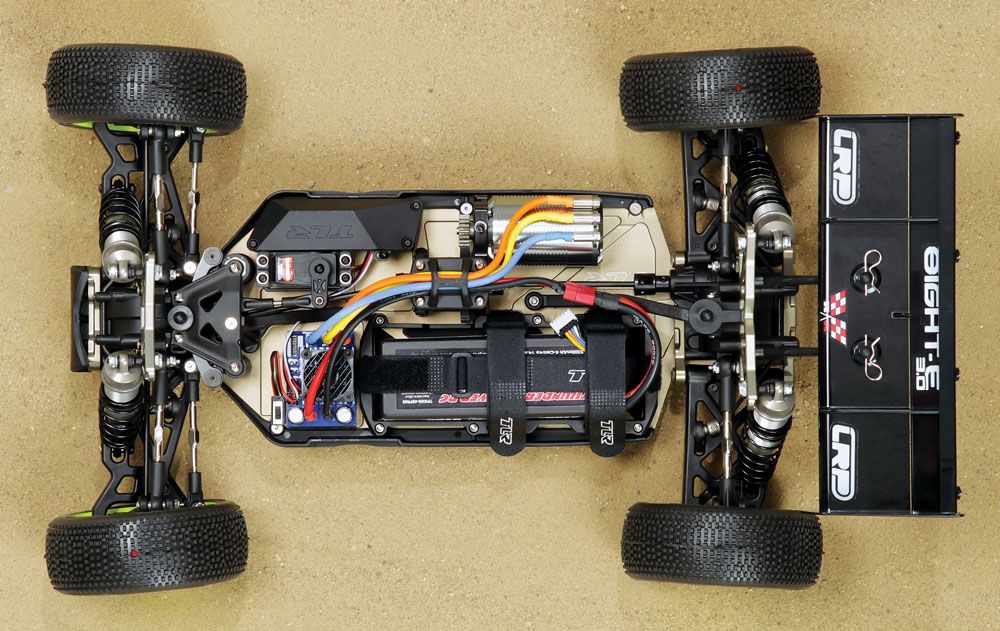 ITEMS USED
• LRP iX8 Electronic Speed Control/Dynamic 8 2000Kv brushless motor Combo – 80788.
This combo, although very user friendly with its solderless connections, is an all race system. The iX8 has a number of racer profiles in it or it can be tuned to the feel you need. The system features internal temp checks and can handle all the way up to 6S.
• Spektrum S6090 Servo – SPMSS6090.
The S6090 is a high-voltage, high-speed servo that is the choice for many racers. It's all-metal drivetrain handles stress, but you'll be more amazed with its incredibly fast speed.
• Spektrum DX4R Pro 2.4GHz Pro radio system – SPM4100.
The newest flagship radio for Spektrum is loaded with features and memory; you can store up to 50 models. The radio has an ultra responsive feel, plenty of tuning options and they can all be tweaked on the large back-lit screen.
ADDITIONAL ITEMS USED
• Thunder Power 5300mAh 4S 14.8V G6 Pro Race 65C LiPo-THP53004SP65D
• AKA Racing 1/8 Buggy Impact Soft Tire
• Robinson Racing 15T pinion-8715
RECOMMENDED HOP-UPS
• Aluminum Servo Horn and Servo Saver Top – The kit comes with a plastic servo horn and top servo crank arm. We didn't have any problems with these parts on our test buggy, but encountered issues with breaking on previous models after hard hits. Upgrading to the aluminum horn and saver top is a good safety measure to finish the race. Part Number: LOSA99030 & TLR244021
• Ride Height Gauge – Precision set-up is critical on this buggy, because just being a few millimeters off on set-up can cause handling issues. If you have a competition buggy like this, you need a ride height gauge. Always check ride height after tire swaps and suspension changes. Part Number: LOSA99173
• Camber Gauge – Like ride height, camber is very important to handling. The eyeball method won't cut it for a competition buggy, so do yourself a favor and pick up a camber gauge to dial in those minute degree changes. Part Number: LOSA99172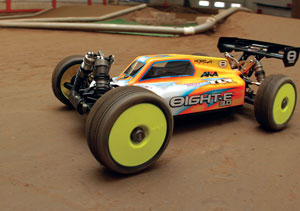 BEHIND THE WHEEL
STEERING: Neutral
Testing took place at Wolcott Hobby & Raceway's indoor track located in Waterbury, CT; we get free reign of the place on closed days for nonstop testing. The indoor track is smaller than most outdoor 1/8 race venues, but the 8E3 had no issues in the steering department. After photos, I swapped tires to AKA soft wishbones soaked in Hy-Traction Juice for grip. With the grip figured out, the steering on the new E-Buggy is incredibly responsive and dives hard into corners as you roll off the throttle to maintain bite on the tighter turns. I found that with each lap, I was adding more and more power on larger, sweeping turns to see how far I could push the buggy. Most impressive was rolling on power out of the corners; the rear would rotate around and lock the buggy in and accelerate with control.
ACCELERATION/BRAKING: Excellent
Before running, I had swept the track for a true prepped track test and I could tell this buggy was locking in on the surface from the sound of the tires on the blue-gray clay surface. The buggy track straight on launches and climbs fast to top speed, or what I could handle indoors. When checking up to brake, the buggy maintains its composure, unlike other models I've tried that veer off slightly in one direction or another from momentum and diffing. The LRP iX8 provided plenty of power and consistent operation and complimented the 8IGHT's ability to handle lots of throttle.
SUSPENSION/JUMPING: Excellent
On the bench, the suspension drop and squish test yielded puzzling results. The suspension, more noticeably the front end, felt really "dead" and the rebound didn't seem there. Several people checked it out and felt it just didn't seem right. It turns out the ball ends on all of the upper camber links were ridiculously tight, causing the suspension to bind and hindering rebound. I took a pair of pliers and squished the ball ends, which freed them up and made the suspension feel much better. Out on the track, the 8E3 was locked in and it was amazing how solid the handling felt. The buggy didn't exhibit excessive rolls and it settled in when landing a few of the jumps too short. Over the larger jumps, the buggy drops with a nice plush feel and overall the handling is nimble, which will make intermediate to pro drivers confident when wheeling it. The TLR staff needs an award for a great box stock set-up.
DURABILITY: Very Good
One would think that on a smaller indoor track, durability testing wouldn't come into play at slightly slower speeds. Tell that to the plywood walls and pipes nailed down to extremely hard-packed clay. I only encountered the straightaway wall once, but the pipes that made up the chicane were not as nice and kept getting in my way. There were some pretty hard shots to the front suspension, but there was no damage. At full rip, the 8IGHT-E 3.0 stayed together.

SPECS & TUNING OPTIONS DIMENSIONS
LENGTH: 19.6 in. (497mm)
WIDTH: 12.1 in. (308mm)
WHEELBASE: 12.7-12.9 in. (323-327mm)
WEIGHT: NA
BODY, WHEELS AND TIRES
BODY: Clear cab forward with aero-dam
WHEELS: Dome-style w/17mm hex (2 sets included)
WHEEL ADAPTER TYPE: 17mm hex
TIRES: Not included
SUSPENSION
TYPE: Independent lower arm w/adjustable upper link
SHOCKS: Threaded aluminum/oil filled coil-over
SHOCK POSITIONS: (F) 3-tower, 2-arm, (R) 3-tower, 2-arm
CAMBER: Adjustable turnbuckles
ROLL: Adjustable positions on tower and hubs
WHEELBASE: Adjustable shims
RIDE HEIGHT: Threaded collars on the shocks
MISC: Anti-squat, anti-dive and toe
STEERING
TYPE: Dual bellcrank w/ adjustable saver
TOE: Adjustable turnbuckles
CHASSIS
TYPE: Milled plate
MATERIAL: Aluminum
THICKNESS: 4mm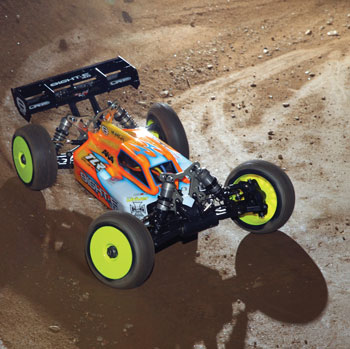 DRIVETRAIN
TYPE: AWD
DIFFERENTIALS: Oil-filled gear diffs
BEARINGS: Shielded ball bearings
DRIVESHAFTS: Steel CV universal
TRANSMISSION: Center dogbones
CLUTCH TYPE: None
GEAR RATIO: Optional pinion and spur gears
WRAP UP
A lot on the 8IGHT-E 3.0 has changed in comparison to the 2.0, so for those of you looking to buy parts to convert, you probably want to pass along your 2.0 to a worthy basher buyer and grab a 3.0 for the latest and greatest competition machine. TLR packed this kit with lots of features and I'm excited to see its electric-specific platform. The technology, quality and sought-after components included with this kit makes it a must-have for any TLR fan and racer looking for a full on racing buggy.
LINKS
LRP lrp-america.com, (949) 276-6060
Robinson Racing robinsonracing.com, (559) 692-2465
Spektrum spektrumrc.com, (800) 338-4639
Team Losi Racing tlracing.com, (877) 504-0233
Thunder Power thunderpowerrc.com