Serving Up Some Action in Snow!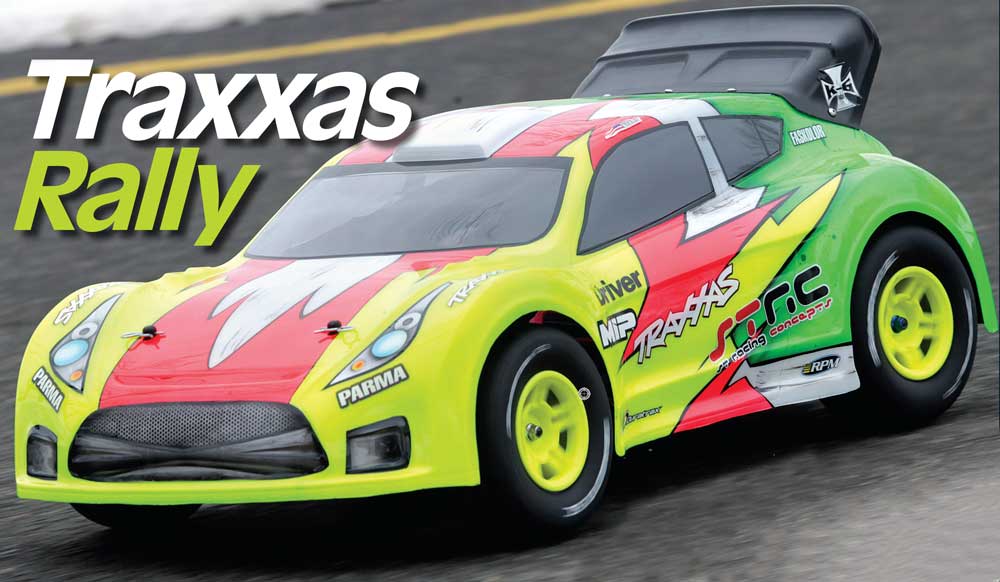 Words: Dean Berry
You have to give it to Traxxas, when they design a platform they know how to use it and use it well, across a wide variety of vehicles. Take the Slash 4X4 for example. Since its release they have made several versions, including a version with a low center of gravity chassis (LCG). Additionally, the Stampede 4×4 and the Rally can find their heritage in the Slash 4X4. Speaking of the Traxxas Rally, it is by far my favorite vehicle to use this well designed 4WD chassis. First and foremost, it looks great with a slick, rally car inspired shell. Second, it performs great and has plenty of standard features. Still, I could not leave it alone and just had to completely deck the Rally I reviewed a while back and transform it into a mean rally machine.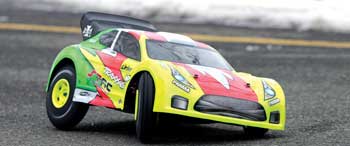 PARTS LIST
Traxxas
• 6061-T6 Blue Aluminum Anodized Caster Blocks—6832X
• 6061-T6 Blue Aluminum Anodized Steering Blocks—6837X
• 6061-T6 Blue Aluminum Anodized Rear Stub Axle Carriers—1952X
• Sway Bar Kit—6898
• GTR Long Threaded Big Bore Shocks with Titanium Nitride Shafts—7461X
STRC
• Lightweight Graphite Electronics Mounting Plate—ST6877CF
• Gun Metal CNC Machined Aluminum Rear Shock Tower—ST6830GM
• Gun Metal CNC Machined Aluminum Front Shock Tower—ST6839GM
• Gun Metal CNC Machined Aluminum Multi- Piece Steering Bellcrank—ST6845GM
• Gun Metal Lightweight Aluminum Center Driveshaft—ST6855GM
• Gun Metal Machined Aluminum Finned Heatsink Aluminum Motor Plate—ST7490GM
Duratrax
• Onyx 4550kV Brushless System—DTXC3174
• SC Wheel Yellow—DTXC3824
• Bandito SC On-Road Tire—DTXC3798
Robinson Racing
• Slipper Unit GEN3 54T—785413T Pinion—8713
VG Racing
• Chassis Brace—VGR_LCG_Chassis_Brace_Slash
TheToyz
• Gun Metal Motor Heatsink/Fan
MIP
• X-Duty Rear CVD Kit with Keyed Axles—10130
• X-Duty Front CVD Kit with Keyed Axles—10132
RPM
• Front/Rear A-Arms—80702
Parma
• Rally Xtreme Body—1239
New Wave
• 7600mAh 75C LiPo Battery Pack—NEW76002S45C
THE BUILD
My Rally was over a year old and had been very well loved. The body had seen better days, the shocks were leaking, and it was plenty dirty. Because of this I felt it best to tear the entire car down to the chassis, clean it, and reassemble with a plethora of new parts that I had picked out. One of the first things I decided the Rally needed was a new set of shocks. Again, the stock shocks were leaking, the shafts were deeply scratched and one shaft was even slightly bent. I looked to Traxxas for their replacements and went with a set of GTR Threaded Big Bore Shocks with Titanium Nitride Shafts. These units are ultra-plush, easily adjusted withthe threaded bodies, and the titanium nitride shafts are less likely to scratch. Also from Traxxas I went with blue anodized aluminum steering blocks, caster blocks and rear hub carriers. I could have reinstalled the stock plastic pieces but they were well worn and had developed a great deal of slop. I wound up bolting the aluminum goodies to fresh and durable RPM arms front and rear. The final Traxxas part I went with was a set of sway bars. The Rally has quite a bit of roll and my hope was that installing sway bars on the front and rear would cut this down.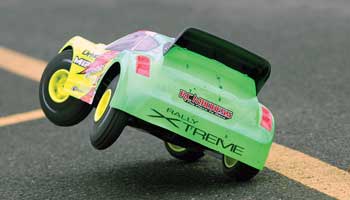 You didn't think that was all I was going to do, did you? The stock shock towers were set aside for some cool gun metal anodized aluminum towers from STRC. These towers not only look great, they are considerably more rigid than the stock parts. The stock center drive shaft was still 100 percent fully functional but it had plenty of scratches on it so it was replaced with a new metal anodized piece also from STRC. Other parts from STRC that made their way onto my revived Rally were the steering bell crank set to help eliminate slop, heatsink motor plate to keep the motor operating cool and graphite ESC mounting plate. I also added a chassis brace from industry newcomer, Axxis R/C. The brace is made from billet aluminum and featured a lightweight carbon fiber rod that helps prevent chassis flex. Additionally, a foam block slides over the carbon fiber rod and acts as a body saver, helping the body keep its shape in rollovers.
I'm sure you already figured out that my Rally was also going to see an electronics upgrade. I gave the transpant honors to Duratrax with their Onyx Brushless ESC and motor. This is a major upgrade in speed, torque and efficiency! I wanted to make sure the motor remained as cool as could be so I also installed a clip-on gun metal heat sink with fan from TheToyz. To complement the new Duratrax electronics I also grabbed a New Wave 7600mAh 75C Dual Output LiPo battery pack. With the stock plastic driveshafts completely spent, and the massive power plant upgrade, I installed MIP X-Duty CVDs Kit with Keyed Axles all the way around on the Rally. While I did consider lighter aluminum units from MIP I felt these would be best as they are more durable and will last longer. The final bulk-up was to the gears; I installed a Robinson Racing Gen 3 slipper with steel spur that mates up to a Robinson 14T .8mod pinion.
The old blue pre-painted Traxxas Rally body was cracked, split and quite simply was no longer fit for use. The solution was easy, a Rally Xtreme Body from the folks over at Parma. The Rally Xtreme has sharp lines, sections designed to be cut out for venting, and a sweet rear spoiler. As for paint, Larry over at Kustom Graphics took the lead and laid down a bright, flashy scheme that is very eye catching. For traction, I turned to Duratrax for their Bandito Street SC tires which I mounted up on yellow Duratrax SC rims.
TIME FOR SOME FUN
Now complete, the Traxxas Rally almost looked too good to use… Almost! After I charged the New Wave LiPo pack I headed for the street to try out the new power system. When I pulled the throttle back the Rally took off like it was being chased by a rabid animal! To say it was fast would be a bit of an understatement. After a few passes up and down the street to dial in the steering and get the general feel for the vehicle I headed for a loose, rather beaten up, stone dust parking lot to test the suspension, cornering and power sliding ability. As I am sure you know, rally cars are intended to power slide through corners. What does this mean? It means using the throttle and brake as well as the steering to rip around corners. This is one of the things that has drawn me to rally cars in the first place and why Traxxas gave the Rally the replica BF Goodrich tire package, because of their ability to break free. Let's get back to the test drive. I set out a few small orange cones to create a quick makeshift track and had at it. Over the rougher and completely un-groomed areas the Rally was considerably smoother than when it was in its stock form. The GTR shocks smoothed out the terrain, allowing the tires to keep contact with the ground much more consistently, making for more top speed and more fun! I took the corners slow, trying to navigate around them with just the steering for a few laps. While the Rally was able to still do this, it was not all that much fun and I had to really get off the throttle. I next decided to drive the track "rally style," going as fast as possible and sliding through corners. Headed into a corner I kept on the throttle and when the back end started to break away, I would counter steer out of the slide and drift through the corner. Not only is this fun, it was actually faster than trying to stick the corner.
WRAP UP
Box stock, the Traxxas Rally is fun to drive, so much fun that mine needed, and received, a bumper to bumper overhaul. Between the new shocks, aluminum bits, and electronics package, my Rally was more than completely rejuvenated, it was reinvented. It was smoother, faster, more powerful, and with the Rally Xtreme Body it looked even better. Rally racers, bashers and all around fans who love what Traxxas has done with this platform and are looking to take it to the next level should check out a few, or all of these hop-ups when looking to improve their ride as they no doubt make for considerably more fun.
LINKS
Duratrax duratrax.com
MIP miponline.com
Parma parmapse.com
Robinson Racing robinsonracing.com
STRC teamstrc.com
Team New Wave (Distributed by R/C Madness), rcmadness.com
Traxxas traxxas.com
TheToyz thetoyz.com
VG Racing vgracing.com