Built For Rompin' and Racin'!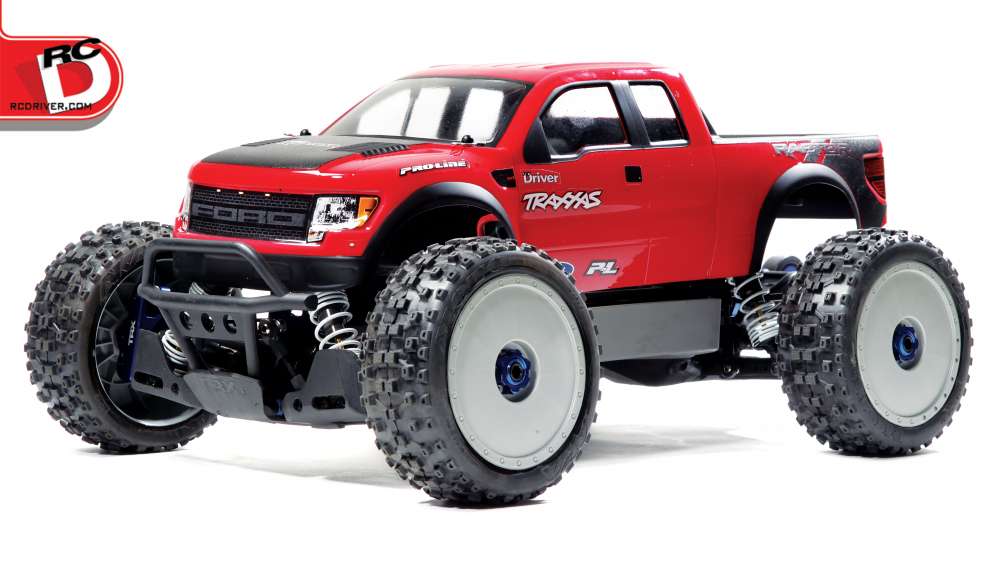 Some vehicles lend themselves to versatility. The Traxxas Stampede 4X4 for example; it is durable, quick, and with the number of option parts available for it there are many ways to customize it and make it your own. After watching some videos online of trucks performing wild stunts at high speeds, I decided I wanted my own high-performance, monster style truck to go anywhere and do anything. My truck had to have power, handling and durability so I think I've ferreted out the right parts to give me the ultimate fun truck I'm looking for and something you'll be very interested in. I've dubbed the project the Stampede 4X4 Tr-uggy for its truck look with buggy wheels; check it out.
THE BUILD
My goal with this project , if you have not already guessed, was to make a truck designed to pull some crazy wheelies or the other extreme handle on a track. So the first thing I looked to do was throw some massive power behind it. For this I looked to a Team Tekin RX8 Gen2 speed control and Pro4 4600Kv motor. The RX8 Gen 2 can take the abuse of 6S LiPo and since I was only planning to use a 3S LiPo I knew it was more than up to the task. I also really like that it can be custom programmed with the Tekin Hotwire. The Pro4 4600Kv motor is not designed to be used on 3S LiPo so if you are going to do this, beware! That said, this motor is plenty powerful, durable and an all-around performer. The stock servo was replaced in favor of a 1256TG servo from Savox. It is quicker and has more torque. Lastly I picked up a Team New Wave 4100mAh, 40C 3S hard case LiPo battery pack. New Wave packs perform exception- ally well and have a great price point.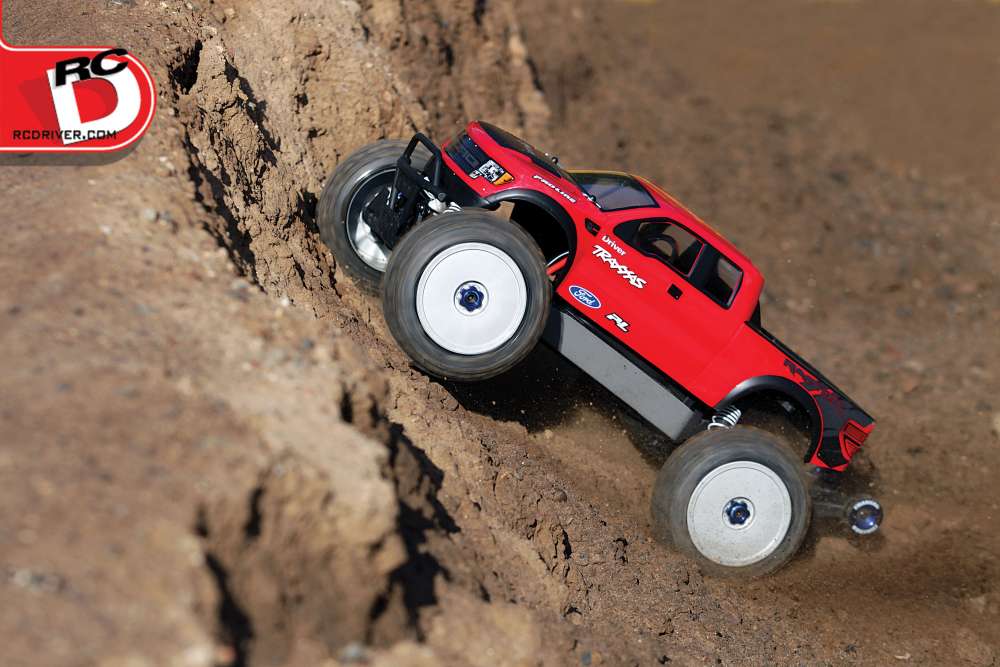 Since I was making this the 4-Pede ridiculously fast I knew I needed to beef it up substantially. I swapped out a handful of the stock plastic components for Traxxas after- market goodies including front C-hubs, knuckles, front and rear shock towers, hard anodized big bore shocks, a wheelie bar, motor mount, motor plate and sway bars just to name a few. On the back end I also beefed up the drive train a bit by adding the tough XO-1 driveshaft set and matching rear hubs. I went with the XO-1 driveshafts only in the rear because of the massive amount of power I was going to put through the truck and, being a wheelie machine; the rear drive- shafts would be seeing the majority of abuse.
Time for some shoes! Ok, I wanted this to be a truck, but I also wanted the look and feel of an angry off-road racer. Because of this I felt 1/8-scale off road buggy tires and wheels would be best. No, they are not scale, but they sure do look cool! I felt the best all- around tire to accomplish this was the AKA Moto tires on DE Racing wheels. Since the wheels I went with featured 17mm hex adapters I also had to make the appropriate changes to the truck and had to pick up two different sets of adapters. One was for the rear where I used the XO-1 driveshafts and the other for the front where I kept the stock driveshafts.
THE DRIVE
Time for some fun! I charged up the 4100mAh, 3S New Wave LiPo battery pack and headed for the end of my street where there is a nice quiet cul-de-sac, the perfect location for testing out the Tr-uggy Pede. Just a blip of the throttle would immediately pull the front wheels off the ground so I immediately knew I was in for some fun! Because of this I started with the wheelie bar as far down as it could go to prevent the trick from pulling the front wheels of the ground while I got the feel for it. After a few quick passes I raised the bar up one setting at a time, taking passes up and down the street to find the sweet spot in the throttle so I could pull the front wheels up off the ground at will. This was very fun! Eventually I had the setting as high as it would go and was able to wheelie the truck all the way down the street. Unfortunately it flipped on a pothole at the end of the road and I had to take a long walk to set it back on its wheels. With the battery starting to run low and the motor getting hot, I headed home for a quick inspection and charged up a much milder 5200mAh, 50C 2S New Wave LiPo battery pack. Inspection revealed no damage whatsoever and once the pack was charged I headed out for some more fun. Back on the street with the 2S pack the Tr-uggy Pede was much more controllable. Sure, it was not as aggressive when I pulled back the throttle, but it was more manageable and I was still able to rip some long wheelies way down the street.
PARTS USED
TRAXXAS
• Stampede 4X4 VXL (6708, $419.97) http://amzn.to/2nKXLoT
• Blue Anodized Motor Plate (6890X, $13.69)
• Blue Anodized Motor Mount (6860R, $36.99)
• Blue Anodized Bearing Adapter (6893X, $5.00)
• Blue Anodized Front Shock Tower (6839X, $24.99)
• Blue Anodized Rear Shock Tower (6838X, $24.99)
• XO-1 Rear Hubs / Axle Carriers (6455, $29.99)
• XO-1 Rear Driveshaft Set (6452, $33.99)
• Big Bore Shock Set (5562, $55.99)
• Wheelie Bar (3678, $14.99)
• Blue Aluminum Wheelie Bar Wheels (5186A, $18.19) • Blue Anodized 17mm Hub Set (6856X, $34.99)
• XO-1 17mm Hubs (6469, $17.99)
• Blue Anodized Steering Blocks (6837X, $26.99)
• Blue Anodized C-Hubs (6832X, $38.99)
• Sway Bar Kit (6898, $22.29)
TEKIN
• RX8 Gen 2 ESC (TT2301, $204.99)
• Pro4 4600Kv Motor (TT2500, $149.97)
NEW WAVE
• 3S, 11.1V 4100mAh, 40C LiPo Battery Pack ($59.99) SAVOX
• 1258TG Servo (SAVSC1258TG $70.99) AKA
• Moto Medium Tire w/ Inserts (14010MR, $25.99) DE RACING
• Burrego 8 Buggy Wheel (DER-BB-8W, $17.99)
PRO-LINE RACING
• Pre-Painted/Pre-Cut Ford F-150 Raptor SVT Clear Body (3348-15, $71.95)
ROBINSON RACING
• 54T Hardened Steel Spur (7954, $19.50)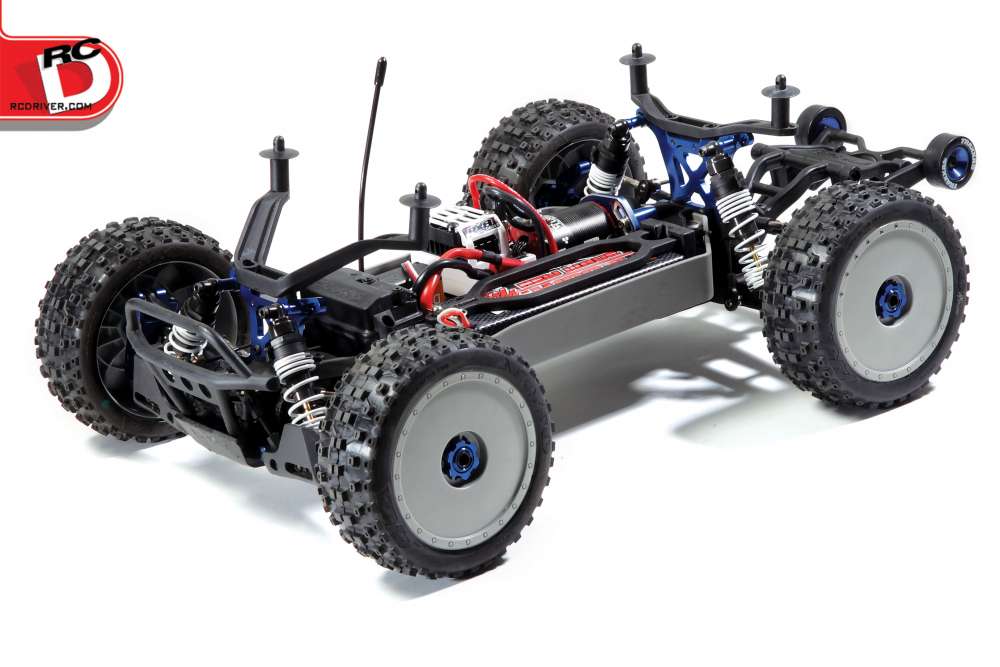 WRAP-UP
The Traxxas Stampede 4X4 is one fun truck in its stock form and is even better when customized into whatever you can dream up. My newest toy, the Stampede 4X4 Tr-uggy is ideal for ripping wheelies and making the jaws of onlookers drop when they see how fast and how much fun it is. I don't think I'm done with this project yet as I see a few more areas I'd like to improve. Check rcdriver.com for possible updates and future issues of RC Driver magazine and our special issues, you never know what we will do next!
Photos: Walter Sidas
LINKS
AKA raceaka.com, 951-677-2500
DE Racing deracing.net, 760-505-1956
New Wave rcmadness.com
Pro-Line Racing prolineracing.com, 909-922-9311
Robinson Racing robinsonracing.com
Savox savoxusa.com 800-622-7223
Tekin teamtekin.com
Traxxas, traxxas.com, 888-872-9927