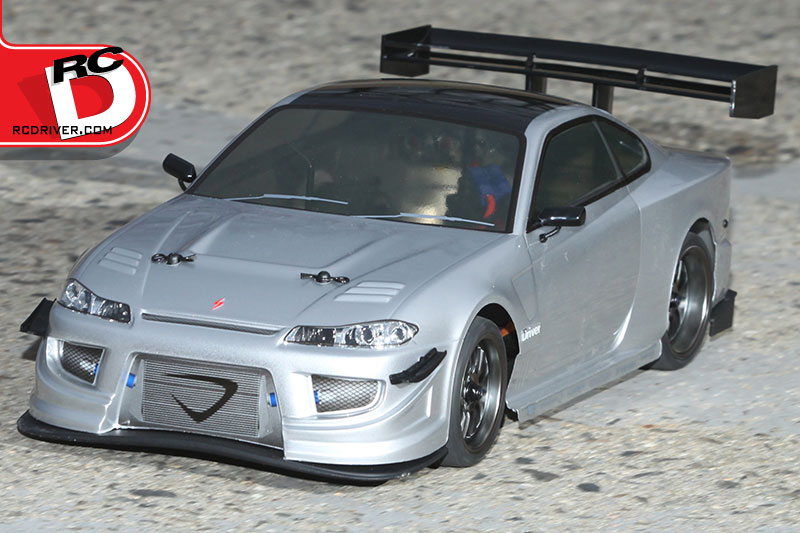 The Nissan Silvia was possibly one of Japan's finest tuner vehicles available stateside throughout the '90s and a dominant force on the circuit. The last variant of the Nissan Silvia sadly wasn't available in the states, and that is a shame as it was easily the best model yet. This version featured the classic Nissan turbo 2.0 engine, pumping out some serious power in a great handling chassis. It is rare we see such vehicles modeled from non-Japanese companies, and a pleasant surprise from Vaterra is their recent release of the Nissan Silvia S15 1/10 RTR electric touring car using their V100-C shaft driven on-road chassis. This RTR features a fully licensed Nissan body, along with top notch electronics and everything you need to get the car from the box to the road. Being a giant Nissan fan and seeing how this is probably the closest thing to an S15 that I will ever get, I could not wait to start testing the Vaterra out.
AT A GLANCE
WHO MAKES IT: Vaterra
WHO IT'S FOR: Beginner on-road drivers
PART NUMBER: VTR03008
HOW MUCH: $199.99
BUILD TYPE: RTR
PROS & CONS
+ Fully licensed Nissan S15 body looks lifelike
+ Spektrum radio gear is top-notch
+ Nothing required, ready to go straight from the box
+ Very durable V-100 chassis suitable for all skill levels
+ Waterproof electronics insure the accidental puddle splash does not fry the gear
+ Smooth, stable driving experience
+ Very detailed manual
– Included brushed setup may not be fast enough for expert drivers
Author's Opinion:
Vaterra has really put together the perfect, all-inclusive package for an introduction to the on-road side of our hobby. The Nissan S15 body looks fantastic and really draws a crowd when out cruising the streets. If you get creative with the camera, it is hard to tell whether the Vaterra is real or not! The included Spektrum electronics and forgiving, durable chassis mean this Vaterra V-100 chassis will last no matter what you throw at it.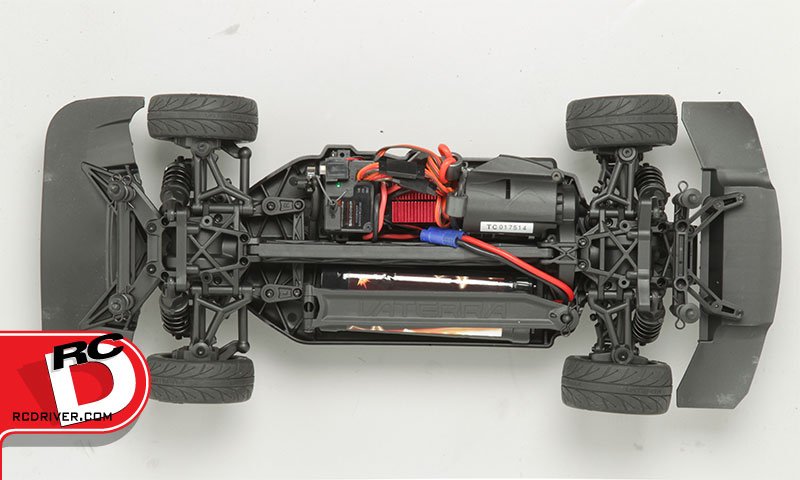 FEATURE BREAKDOWN
– The Nissan S15 body sits on Vaterra's V-100 chassis which was built with durability and stability in mind. It is a very interesting semi-tub chassis with design features like molded-in diffusers that sit flush with the body and a dust cover for the spur gear. Everything is molded in thick plastic with just the right amount of flex and bracing, the upper brace looks similar to a construction girder.  Everything is cleverly placed to make maintenance a breeze, right down to the battery mounting mechanics; the hold-down bar has a hinge that flips up for the battery swap. The battery area is also quite large so it can fit a variety of packs (aside from the included 1800 mAh NiMH pack)
– The V-100 chassis has a typical double wishbone setup, with friction shocks all around. While oil-filled shocks would have been preferred, the stock set is very smooth and does a surprisingly good job of handling suspension duties.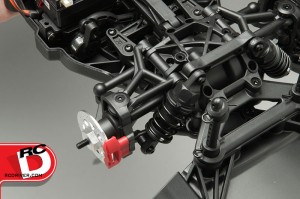 As you can see in the photos, all of the tuning ability is limited on this chassis to aid the beginning driver; the only tweak the user can make is the positioning of the rear shocks. Optional springs are available from Horizon Hobby for the user to further customize their vehicle.
– The Vaterra has a dual bellcrank steering setup with an impressive waterproof digital servo. The servo saver is non-adjustable, but is very strong, so there is no compromise between durability and steering response. All of the steering links, unfortunately, are also non-adjustable; however, the V-100 chassis is set up to be very neutral so most hobbyists will be happy with the out-of-the-box setup for bashing around.
– The V-100 chassis is a four-wheel, shaft-driven vehicle. The plastic center shaft is capable of handling the included power system; however, if you are upgrading to a brushless set in the future, I would recommend Vaterra's aluminum option. An added bonus is the sealed differentials which can be tuned with various silicon oils, something not commonly found on other models in this class. The tires and wheels look ultra-realistic with Vaterra S compound treads and a multi-spoke wheel setup. I particularly appreciate Vaterra's attention to scale detail with the red calipers and drilled rotors similar to those you would see on a full-scale tuned street machine.
– Vaterra is known for including high quality RTR gear in their kits, and any of the V100 chassis vehicles exemplifies this high standard. The RTR review model we received was equipped with a Spektrum 2.4GHz radio setup with a DX2E transmitter and a waterproof SR200WP receiver. A 15-turn brushed Dynamite motor is controlled with a Tazer 12T capable waterproof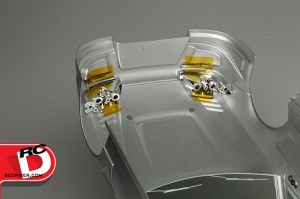 brushed ESC. As for the battery, an 1800 mAh 7.2V NiMH pack is included with a suitable 2A battery charger which will charge the battery in less than an hour. What is even more impressive to me than the electronics is the incredible Nissan S15 body shell. The body includes light buckets for mounting LED lights (since writing this review I have mounded a spare kit laying around and it looks killer). The body looks like a fully modified tuner vehicle you might see out on the streets of Tokyo and everyone I show off this model to is definitely impressed. The body also includes a removable wing and front dive plates. It is also worth noting that the body is very thick and painted, rather than the cheap vinyl print that other RTR kits may include.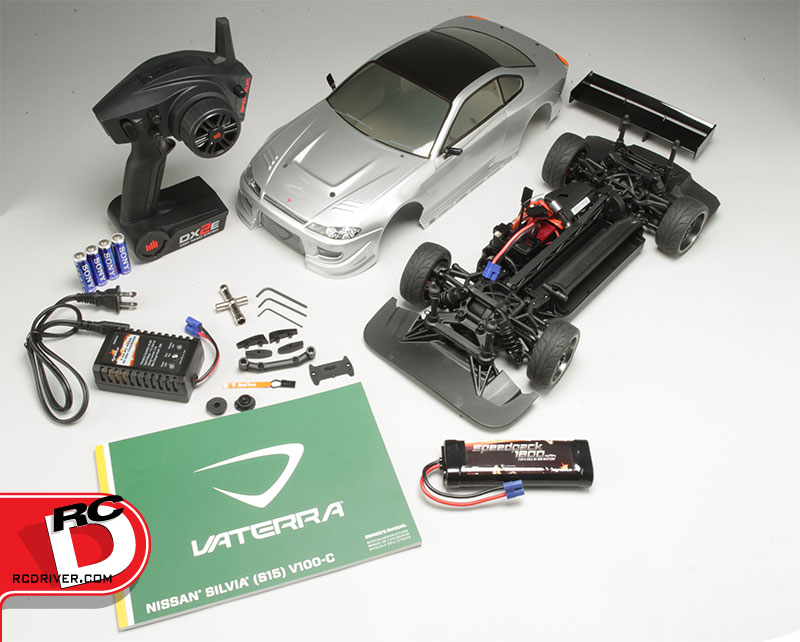 ITEMS NEEDED
– Nothing!
HOP-UPS WE RECOMMEND
– Adjustable Camber Upper Suspension Arm Set, VTR334016, $22.79. The stock V100 chassis is limited in its tuning capability and this adjustable arm set allows for adjustments of the camber angle for fine tuning the handling of the car.
– Dynamite 7.4V 4000mAh 2S 20C LiPo Hardcase, DYN9001EC, $29.99, The stock 1800mAh NiMH battery gives decent runtime, but this Dynamite LiPo pack will deliver almost 3X the runtime and works well the included LiPo compatible ESC.
TOOLS & ACCESSORIES INCLUDED
+ 4-way wrench (4.5mm, 5.5mm, 7mm)
+ L wrenches (1.5mm, 2mm, 2.5mm)
+ Dynamite 2A NiMH AC charger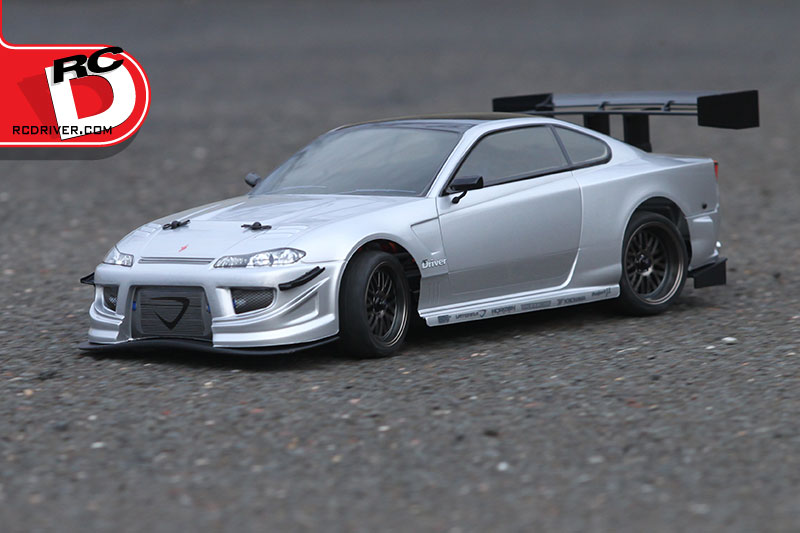 OUT TO PLAY
The Vaterra V100 chassis is more of a beginner's design than an all-out racer, so I felt the proper place to run it is where most people will be, on unprepared paved surfaces. My testing area featured plenty of room; however, it was slightly uneven, which enabled me to test the Nissan S15 in a more extreme setting.
The first thing I noticed is how low the model sat on the pavement. It really gave it that slammed look, but I was slightly concerned about how the small cracks and bumps would damage the car. Thankfully the V100 chassis is as durable as it looks, and the front and rear diffusers soaked up any contact with the pavement. It did prove to be a minor annoyance, though, to hear the chassis scraping the ground on hard turns or with any imperfection on the surface. After a while I got used to the noise and, after running the model for a pack, I inspected the bottom of the chassis and it did not look like much wear had occurred at all.
The power plant provided enough power for a beginner to have fun and not get into too much trouble. I have to admit I was slightly disappointed that I could not manage to get the car to drift with the stock 15T motor, but this also may be a testament to the sticky tires. The power also seemed to "ramp" up, like a sort of throttle curve to ease into the power, but I could not find anything in the manual to indicate this. After a while I was cruising mostly at full throttle unless I was making a sharp turn. I think a LiPo battery would really wake this car up once the user gets tired of the stock power setup (the brushed ESC also has a programmable LiPo cutoff) and the speed control can handle down to 12-turn motors for an added speed boost.
Handling-wise I was pretty darn impressed with how the car turns with just friction coil-over shocks. The car definitely had a pretty conservative tune―the Vaterra inherently wanted to understeer on and off the gas. This makes the vehicle easier to handle for newbies and makes for more consistent time trials on makeshift tracks. When driving over uneven surfaces, the suspension can get unsettled, but the car tends to settle down quickly. The V100 chassis is a bit of a heavyweight compared to other on-roads, but I found this only added to the stability of the vehicle.
Even though I have driven much more advanced on-road cars, one factor that I have not experienced in any of these models is how good the S15 Silvia looked while cruising down the street. I even went ahead and installed an extra LED light set I had lying around to add to the realistic feel. The stock speed made for a more realistic driving experience, instead of some hyper fast 100 mph setup, it is nice to just slow down and drive sometimes.
SPECS & TUNING OPTIONS
DIMENSIONS
Length: 14.85 in. (371mm)
Width: 7.76 in. (194mm)
Wheelbase: 10.25 in. (256mm)
Weight: 3 lbs. 14 oz. (1.8Kg)
Body, wheels and tires
Body: Pre-painted and cut Nissan Silvia S15 body
Wheels: 2.16 in (54mm) diameter, multi-spoke wheels
Wheel adapter type: 12mm hex
Tires: Vaterra S compound treads
Suspension
Type: 4-wheel independent
Shock positions: (F) 1-tower, 1-arm, (R) 3-tower, 1-arm
Camber:  Fixed
Roll: NA
Wheelbase: Fixed
Ride height: Fixed
Steering
Type: Dual bellcrank
Toe: Fixed
Chassis
Type: Semi-tub
Material: Plastic
Thickness: 2.3mm
Drivetrain
Type: 4WD
Transmission: 3-gear rear-mounted
Differential: Sealed bevel gear
Clutch Type: NA
Gear ratio: 2.66:1 (optional pinion gears available)
Bearings: Complete drivetrain
RATING TALLY
Opinion: 7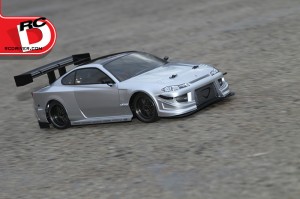 Performance – Acceleration: 3
Performance – Steering: 7
Performance – Handling: 7
Performance – Durability: 10
Feature Breakdown: 8
Overall Value: 7
THE LAST WORD
The Vaterra V100 chassis is perfect for beginners looking to experience the on-road side of our hobby. The chassis is super durable and can handle any bumps and crashes that it may experience and the waterproof electronics add to the vehicle's durability. Spektrum radio gear is always a nice bonus; they are always super reliable and should last the lifetime of the vehicle. This car also lends itself well to future upgrades, the drivetrain seems to be built with brushless motors in mind and this model uses modern sealed gear differentials to cut down on maintenance. The name of the game here is looks, and the licensed Nissan S15 model is a superb recreation of one of Japan's finest tuner vehicles.
WORDS: Mark Ronge     PHOTOS BY: Walter Sidas
LINKS
Dynamite, dynamiterc.com, (800) 338-4639
Spektrum, spektrumrc.com, (800) 338-4639
Vaterra, vaterrarc.com, (800) 338-4639