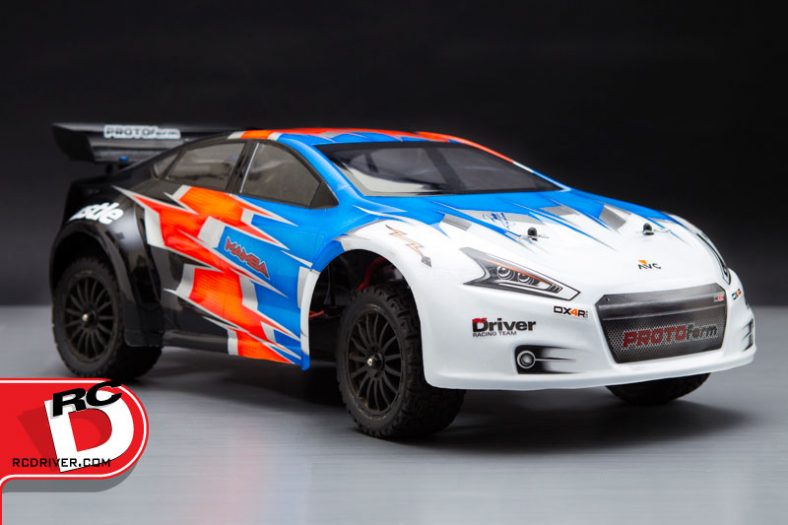 A while back our fearless leader, Executive Editor Greg V, did a cool Jallopy Traxxas Slash project that I really liked.   He took a bunch of different parts that were hanging around the RC Driver office and built a piecemeal Slash.  I like the concept so much I decided to apply it to my Vaterra Ford Fiesta Rockstar RallyCross.  With just the items in my basement spare parts pile, and a new body, I gave this cool vehicle some much needed new life.
Items Used
Castle Creations Mamba Max Pro
Castle Creations 1410 3800kV Brushless Motor
Castle Creations 10A BEC
Castle Creations Fan Shroud for 36mm Motors
Castle Creations Cap Pack
PROTOform PFRX Rally Body painted by Bradley Fine Line Design
Losi TEN Series Shocks
Misc Traxxas Slash Turnbuckles and other Turnbuckles
First up was a new set of shocks.  I had several shock bodies and other parts hanging around from when I upgraded the stock units from my Losi Rally Car.  With some mixing and matching different shafts and bodies I was able to get four blue aluminum bodied big bore shocks built to replace the small bore plastic bodies shocks that came stock on the Vaterra Rally Car.
Next was a turnbuckle upgrade.  I had several turnbuckles from different Slash projects hanging around as well as trunbuckles from other projects.  They were ideal for replacing the stock fixed plastic turnbuckles that come standard on the Vaterra Rally Car.
Digging through my box of spare servos I came across a Spektrum S6000 Digital Sport Servo.  This servo is quicker, and has more torque than the standard servo.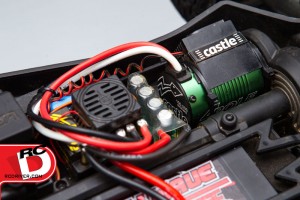 Now it was time for some big upgrades; the entire power system.  I took out the stock motor and esc in favor of a Castle Creations system that I had.  I went with a Mamba Max Pro esc, 1410 3800kV 4-pole brushless motor and 36mm Cooling Fan Shroud to start.  This potent combination has massive power and I like that the esc is fully programmable.  In addition I installed a Castle Creations 10-amp BEC to better power the Spektrum steering servo and a Cap Pack to help improve start-up power.  The last power system upgrade was a cool 3S, 11.1V 4100mAh LiPo battery pack.
With all of these new/used items installed on the Vaterra Rally Car chassis I needed a new look too.  I went to my local hobby shop, R/C Madness in Enfield, CT, and picked up a PROTOform PFRX Rally Body and sent if off to one of the best painters around, Bradley Farmer of Bradley Fine Line Design.  I could go on and on about how great the body came out but I'll let you check out the pics to see for yourself.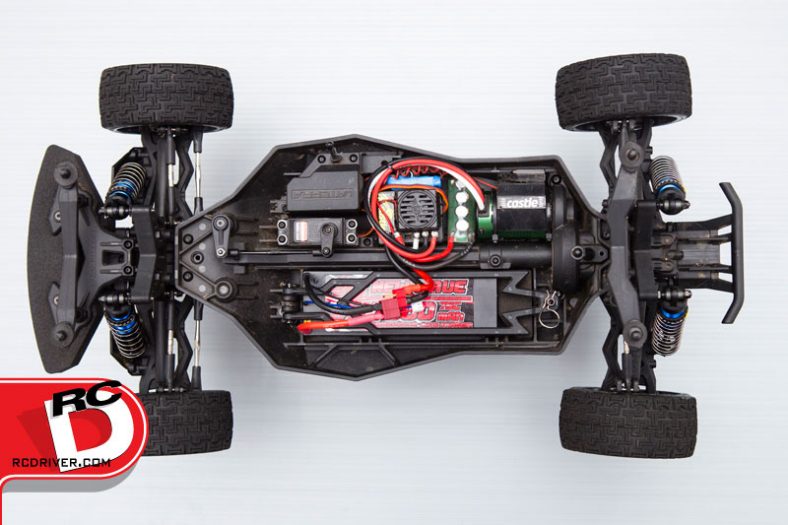 With everything done I headed to the street for some fun.  It was immediately evident that there was much more power than before.  Sure, the motor and esc had much to do with this but the new 3S New Wave battery pack was mostly responsible.  The suspension worked much better as the car was smoother over bumps and jumps and it cornered very consistently too.
All in all the spare parts pile worked wonders on the Vaterra Rally Car and it is now a shining example of how to rejuvenate a vehicle by using items you already have to help save a few bucks.