Adventure On The Rocks!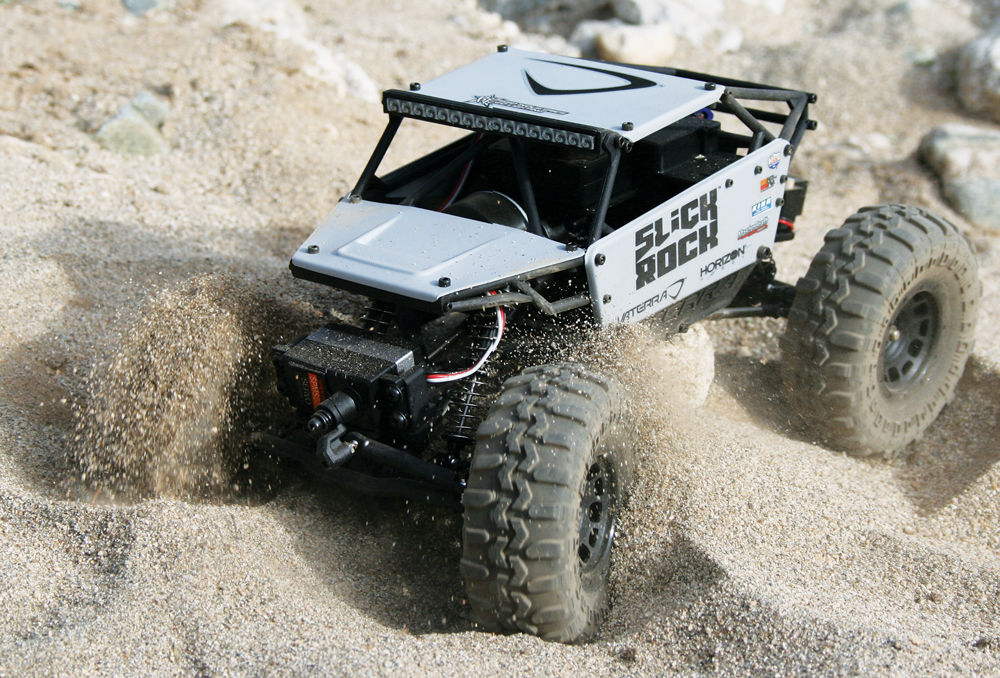 Words: David Harrington
Photos: Walter Sidas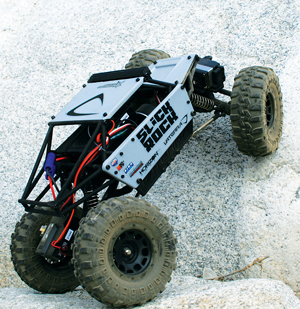 Imagine yourself strapped into a custom built rock buggy. You are surrounded by a steel cage that you welded together yourself in your garage. Five hundred horses are rumbling under the hood. You are entering a creek bed, and as you approach the first rock, you peg the throttle. The deafening roar of the open exhaust rattles your chest. The rubber of the massive 55-inch tires emits a wailing squeal as the tires grasp for traction on the rocks' surface. When they start to roll over the rocks your sight is pointed at the sky. With only blue sky in your vision you lean out the side to make sure your tires are lining up. You work the throttle and steering, trying to gain momentum over the rocks, and then, success as you launch over the top of the rocks. Now imagine that kind of excitement shrunk down to 1/18-scale, and now you have the Slick Rock. Vaterra is all about bringing real life adventures to the world of RC, and the Slick Rock is their latest release that addresses the mini crawler niche. The mini class is still really popular in my area, and after watching them run I've been interested in a mini crawler. I can't wait to dig in and see what this one is all about.
AT A GLANCE
WHO MAKES IT: Vaterra
WHO IT'S FOR: Beginner to intermediate drivers
PART NUMBER: VTR01003
HOW MUCH: $249
BUILD TYPE: RTR
PROS
• I love the look of the cage chassis
• Waterproof electronics
• Steel lockers front center and rear
• Oversized 1/10-scale servo
• All inclusive package
• Capable performance
• Existing aftermarket support
CONS
• I'd prefer the ESC have more drag brake
• There are a lot of great-looking scale details but I wish a little more thought was put into hiding the wires and electronics. For example there is plenty of room next to the transmission where the receiver could have been tucked away, making room for an interior with a driver's head, to go with that nice looking gas tank styled battery cover.
AUTHOR'S OPINION
How do I rate an RC like this? It has some nice scale features, but falls just short of a true scaler. The ESC sitt ing out on the rear deck and the 1/10-scale servo make me think comp crawler, but the crawlers they run in competition are so super modifi ed, no crawler is really a true out-of-box comp crawler. This one, however, does have all the potential to become one. I think it is important to look at the whole package and how it applies to the fi rst time owners it is oriented towards, and in that respect this is an outstanding package. The complete all-inclusive package, and a great looking and awesome performing crawler make this a superb package for someone starting out.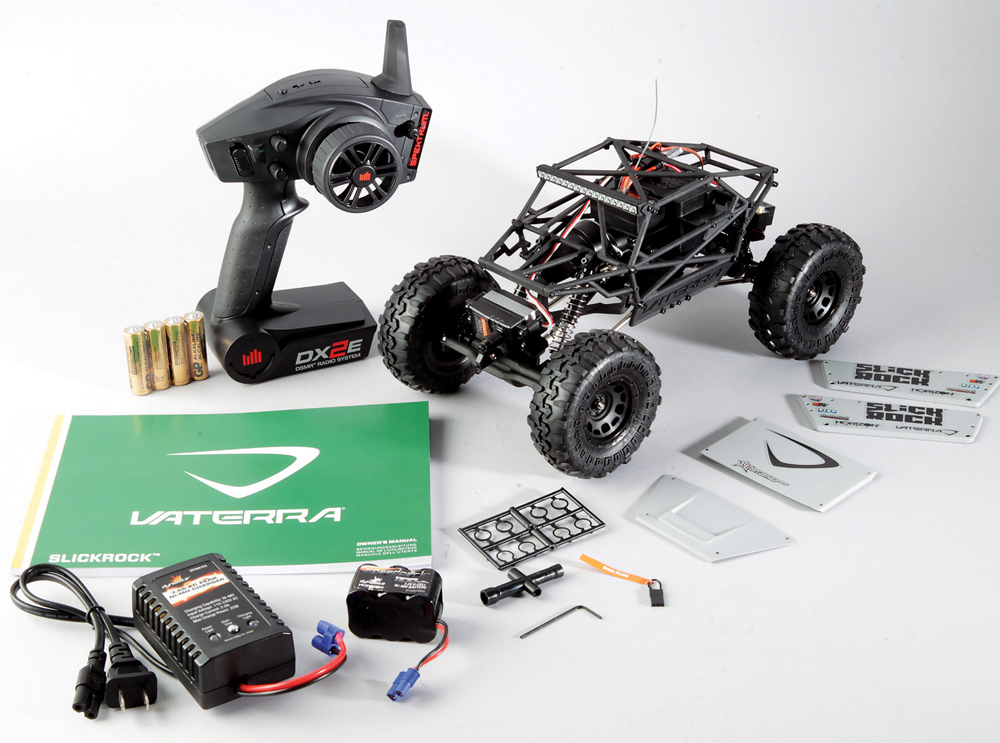 FACTS
• I find it interesting how people will speculate about a new product based off of pictures. When Vaterra released the Slick Rock they played off of that and released a darkly lit picture of just a single tire. It wasn't long before people were posting on forums trying to guess what it could be. Then Vaterra leaked another picture, this one dark and blurry, of a caged rock crawler and a lit up light bar staring you down. Shortly after that, measurements were taken and it was determined that this was a mini crawler, and there was speculation that this may be a Losi Mini Crawler re-release. Horizon Hobby representative, Richard Trujillo, chimed in and confirmed that the Slick Rock is based off the MRC platform, but by moving it to the Vaterra lineup they had the budget to add numerous improvements. This is good to know because there is already good aftermarket support for the MRC, but I feel the Slick Rock is unique enough that I will be reviewing it based on its own merits. Brian Miller from Vaterra also checked in with some information, and I give props to these guys for getting in there and dealing directly with the public, because I know comments on forums can be brutal!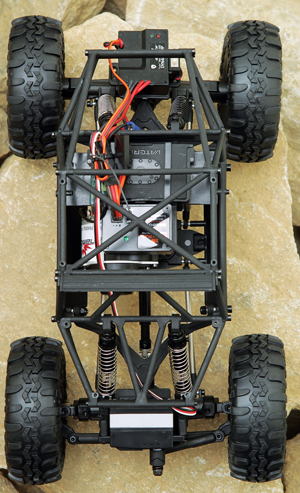 • One of the standout features of the Slick Rock is the molded plastic frame that resembles the tube frames of full-scale rock buggies. Vaterra uses a fairly stiff composite for their plastics, but because the bars of the cage are relatively thin, there is just enough fl ex and it sure proves itself durable. There is a skid plate on the bott om that the lower links hang off of and the transmission bolts up to. The upper links and shocks are mounted to the cage. The receiver is mounted to a tray on top of the receiver, and the batt ery sits just behind that in a box with a snazzy slide cover that is molded to look like a fuel cell.
• The suspension uses steel turnbuckle-style lower links. The upper linkage utilizes a three-point style plastic Y-plate, which has proven itself eff ective, but I really would prefer to see a four-link setup. The shocks have plastic bodies, which are molded out of a soft er, more slippery plastic than the chassis. Vaterra was thoughtful enough to put a stiff er spring in the left rear corner to help control torque twist, but I do think the oil in the shocks is way too light, as the chassis seemed too eager to rock side-to-side. The suspension has quite a bit of articulation; I'm estimating about 80 degrees. In my experience that is too much for the best all-around performance, but it is easier to limit the shocks than it is to try to get articulation back.
• The drivetrain uses a three-gear center transmission. The diff erentials are locked up with metal lockers in the front, center and rear. The center driveshaft s use steel universals on the ends for durability, and the ends are att ached to plastic sliders for smooth articulations. Steel dogbones are used in the steering.
• The Dynamite ESC and motor package has good bott om end grunt for precise control on the rocks. The motor is a 380-size motor. The ESC is waterproof, so the occasional stream crossing will be no problem. I do wish the ESC had more of a drag brake eff ect, but I advanced the thrott le trim on the radio until the ESC just started to beep, and then backed it off a click, and that seemed to help me hold my position on the rocks when doing vertical forward climbing.
• The included Dynamite 1100mAh six-cell NiMH batt ery is a compact batt ery, similar in dimensions to a receiver hump pack. In a rock crawler, particularly a mini crawler, you don't need much capacity and I was running the Slick Rock for over a half hour. While I noticed a drop in performance, I think it had more to give. Since I don't think I drained my batt ery all the way, the included two amp fast charger charged my batt ery in about 20 minutes.
• The Spektrum radio package is a nice inclusion in a ready-to-run package. The DX2E radio has just the basic features but it has the quality feel and reliability of a Spektrum. I would, however, prefer a foam grip on the steering wheel rather than the plastic one. The receiver is waterproof and what's nice for me is I can bind it right up and add it to the model memory of my trusty old DX3S. The Spectrum servo is a 1/10-scale, but it has a shorty case to clear the frame as the suspensions fl exes. In a mini crawler it is more than adequate, and did an excellent job on the rocks.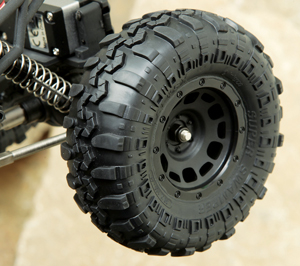 TOOLS & ACCESSORIES INCLUDED
• 4-way wrench
• 1.5mm hex wrench
• Preload clips
ITEMS NEEDED
• Nothing. Everything is included.
HOP-UPS WE RECOMMEND
• LED Light Bar Insert, VTR310000, $15.99.
Use this to make the light bar functional.
• Aluminum shock set, 313001, $37.99.
The aluminum bodies and titanium nitride coated shock shaft will be much longer wearing, smoother, and more durable than the stock shocks. The threaded bodies will give you precise preload adjustments at a twist.
• 12mm aluminum wheel hexes, 312010, $14.99.
These will help prevent you from stripping a hex should the wheel start to come loose. It happens.
• 30 degree high clearance links, 314005, $11.99.
These will improve the break over angle to help prevent getting high centered.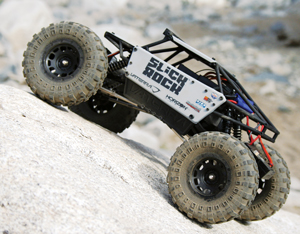 ON THE ROCKS
We all have those days when we don't want to get out of bed. I have several rock crawlers but the reason I was interested in the Slick Rock was because of its mini size and the ability to run around the house. So for my first test I just threw some pillows out on my bed. I made a staircase out of three of the pillows, then I put a fourth pillow nearby to make my canyon. The first thing I always look for in a crawler is the creepy crawly torque. While at first I felt I had to lean into the throttle a bit to get it going, I will say that after I ran a couple of packs through it, it really loosened up and gained that low end grunt to inch up obstacles. Once it was up on my makeshift staircase I saw that it got a fairly steep angle considering there is no weight added to the wheels or axles. Coming back down it felt really balanced. I think having the ESC in the rear really helps, but the stiffer spring in the corner will kick you if you come down at the wrong angle. Turning through the canyon I saw it had quite bit of articulation, perhaps too much as the front wheels were starting to grab the chassis when at full lock. I would like to see a little more steering for maneuvering in tight spaces. I will definitely be looking into a set of universal drive shafts for the front end to maximize the steering. When I was backing up to get it turned around I accidentally backed up too far and it started to fall off the bed. I got on the throttle and tried to save it and it hung on by is two front wheels for a while. I thought I was going to save it, but it ended up flipping backward onto the floor. Talk about a cliff hanger! Falling a couple feet on carpet is nothing to the Slick Rock. It will just shrug it right off. To get some testing in the real world, I took it to the track with me where we have a pile of river rocks that we like to play on with our crawlers between the racing action. The condition on these rocks is less than ideal, and many crawlers, especially scalers, struggle on it. The Slick Rock actually did very well. Its smaller size let me pick paths I wouldn't have taken before, and it seemed really capable, despite having no real setup done to it. The tires are a little hard and had trouble grabbing on smoother rocks, but if they caught an edge for the tread to grab, then they hooked up good. My friends Adam and Rob have owned one of everything and they are extremely critical of new cars. I gave them a go at it, and they were very impressed with its performance. I got distracted talking about it, and after a while Rob says, "I better give this back before I break it!" The fact it lasted that long with Rob behind the wheel is a testament to its durability!
SPECS & TUNING OPTIONS
DIMENSIONS
LENGTH: 12 in. (304.8mm)
WIDTH: 7 in. (177.8mm)
WHEELBASE: 8.5 in. (215.9mm)
WEIGHT: 2.04 lbs. (926g)
BODY, WHEELS AND TIRES
BODY: Cage frame
WHEELS: Standard 1.9
WHEEL ADAPTER TYPE: 12mm hex
TIRES: Licensed Interco Super Swampers
SUSPENSION
TYPE: Straight axle, 3-link
SHOCK POSITIONS: NA
CAMBER: NA
ROLL: NA
WHEELBASE: Lower turnbuckles
RIDE HEIGHT: Preload clips
MISC: NA
STEERING
TYPE: Direct drive w/ servo saver
TOE: NA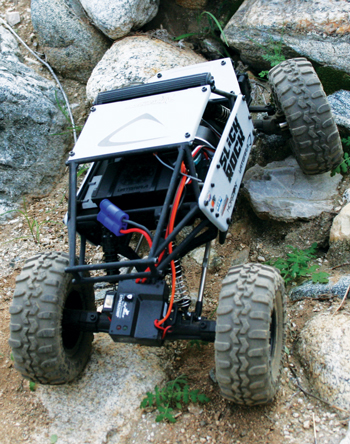 CHASSIS
TYPE: Molded tube frame
MATERIAL: Composite plastic
THICKNESS: Various
DRIVETRAIN
TYPE: 4WD
TRANSMISSION: 3-gear center-mounted
DIFFERENTIAL: Locked
CLUTCH TYPE: Adjustable slipper
GEAR RATIO: Optional pinion gears
BEARINGS: Full set of shielded
WRAP UP
Mini crawlers are great fun around the house, but I was really surprised at how well it did outside in the real world. Some obstacles are too large for the smaller crawler, but its smaller size is also an advantage, allowing it to find paths a larger crawler might get hung up on. Overall, out of box performance is really good. Many ready-to-run RCs are not exactly that. Oft en you'll find you need to buy a battery or charger separate, and everybody expects to have to buy the "AA"s. Not with Vaterra RCs! Even the "AA"s are included! With everything combined together, this is a great package for someone starting out. Just walk in, pick it up and you'll be at home crawling in no time!
LINKS
Vaterra, vaterrarc.com