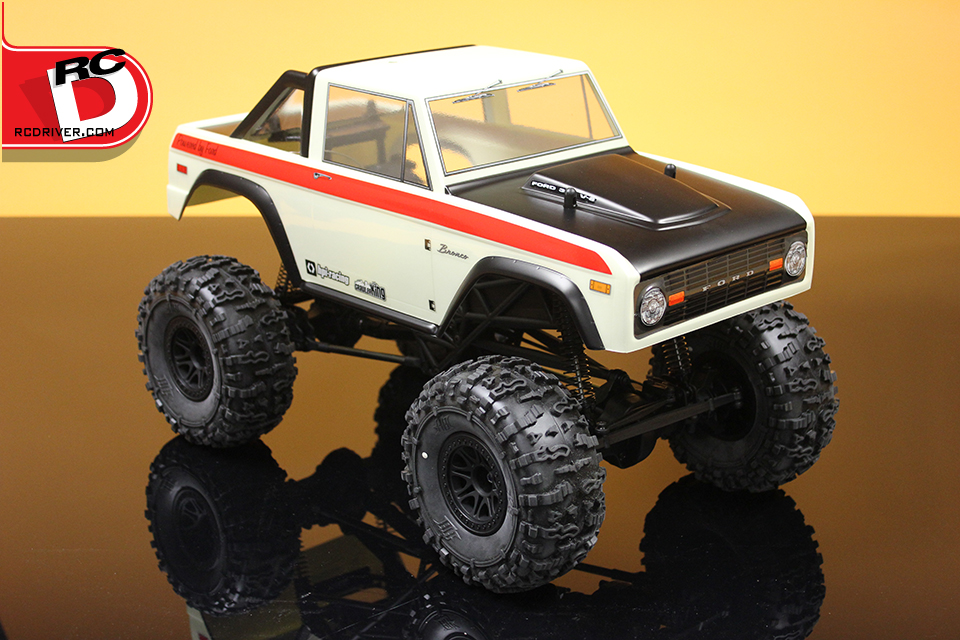 T
he new Crawler King has arrived on the RC Driver Reveal bench and we've torn into the box to give it our unboxing treatment.  The Crawler King is a completely ready to run machine with everything you need to get it going right in the box, all the way down to the AA batteries for the radio, a wall charger and 2000mAh 7.2V NiMh battery. The 2.4gHz radio features basic trims and controls the installed electronics that consists of a receiver in the weather proof radio box, weatherproof SF-10W steering servo, 35SC-WP speed control and 55T closed can motor. The rig has a cool twin vertical plate frame with narrow stance to support the electronics and forward mounted battery. Straight axle's front and rear give the truck a rugged look and have plenty of bracing to support the aluminum lower links and long travel oil filled shocks. The transmission is located in the center with top mount motor on an aluminum motor plate. Telescoping universal shafts send power to the front and rear axles. HB's popular Rover tires are mounted on stylish 8-spoke rims and the truck is topped off with a painted and decaled Ford Bronco body.
FACTS
Manufacturer: HPI
Distributed By: Hobbico
Product: Crawler King
Class: 1/10 Crawler
Power system: Brushed electric
Kit type: RTR
What's in the box: Assembled truck with motor and electronics installed, 2-channel radio, NiMh battery, 4 "AA" batteries, misc tools, charger, painted body and manual.
Needed to complete: Additional batteries for extended play suggested
Who it's for: Beginner to experienced crawlers
Part Number: 113225
Price: $289.99

INITIAL IMPRESSIONS
Well at first, we weren't sure what to think about the tall ladder frame of this vehicle, we were hoping for more of a scale frame design, but once we pulled the truck from the box and started checking it out, the more we liked what HPI did with the Crawler King. The truck has long travel suspension which will allow this truck with cool scale Bronco looks to tackle much rougher terrain the most scale style trucks. We like that HPI includes the HB Rover tires, no need to upgrade here and we like the tough aluminum lower links. The steering set-up is, well interesting since the servo is mounted in the rear of the truck and multiple cranks are used to get the wheels turned; we'll see how it does on the rocks during our testing. The electronics package is weatherproof which scores more points with us and the body mounts are adjustable to fit optional bodies. In the end of our inspection, we like what HPI has delivered here and it all looks like it will deliver the entertainment RC enthusiasts are looking for. Make certain you follow RC Driver for the full review on the HPI Crawler King.