Locked, Loaded and Ready to Rock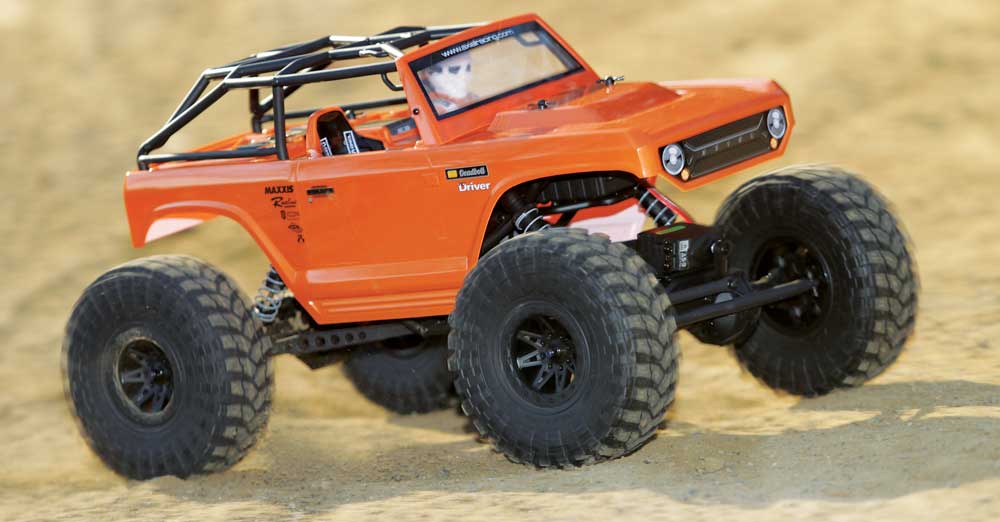 Words: David Harrington
Photos: Walter Sidas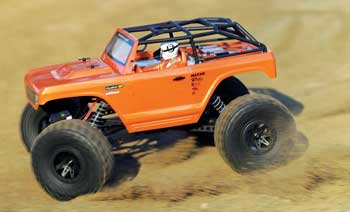 The rock crawler world has always been divided into two distinct segments, the scalers and the competition rigs. Many of the elements that make a crawler look true to scale detract from performance, and on the flip side, full on comp rigs look more like some kind of moon buggy than anything in the real world. Many people are torn when trying to decide what direction they want to go when making their first purchase. I've always set out to build a scaler, but once I get it out on the rocks, I find myself sacrificing scale in order to get more performance. Recently, I had just finished editing a video of the weekend's crawling adventures. I logged onto YouTube and saw Greg Vogel standing next to what appeared to be a new off-roader. After watching the video, I knew I had to have this. Based off the versatile AX10 chassis, the same platform that brought crawling to masses, the Deadbolt has a cool new scale body, and tires that really caught my eye. Let's see what this can do!
AT A GLANCE
WHO MAKES IT: Axial
WHO IT'S FOR: Beginner to intermediate drivers
PART NO.: AX90033
HOW MUCH: $329
BUILD TYPE: RTR
PROS
+ Scale body, wheel, and tire package
+ Molded-in driver, with three helmet options
+ Super durable and capable
+ Superb ESC is programmable with Castle Link
+ Numerous battery mount options
+ The venerable AR60 OCP axles
+ High torque servo
CONS
– The body has such good looks; I'd like to see more of a scale chassis under it
– The motor lacks the bottom end grunt needed for creepy crawling
AUTHOR'S OPINION
This is a great starting place for any first time driver, or younger drivers looking to get into crawling. It's fast enough to be fun for anyone, super durable, looks cool, and with a plethora of hop ups available, both from Axial and the aft ermarket, it has the potential to grow with the owner in any direction they want to take it. I'm particularly happy Axial chose to mold a driver into the interior.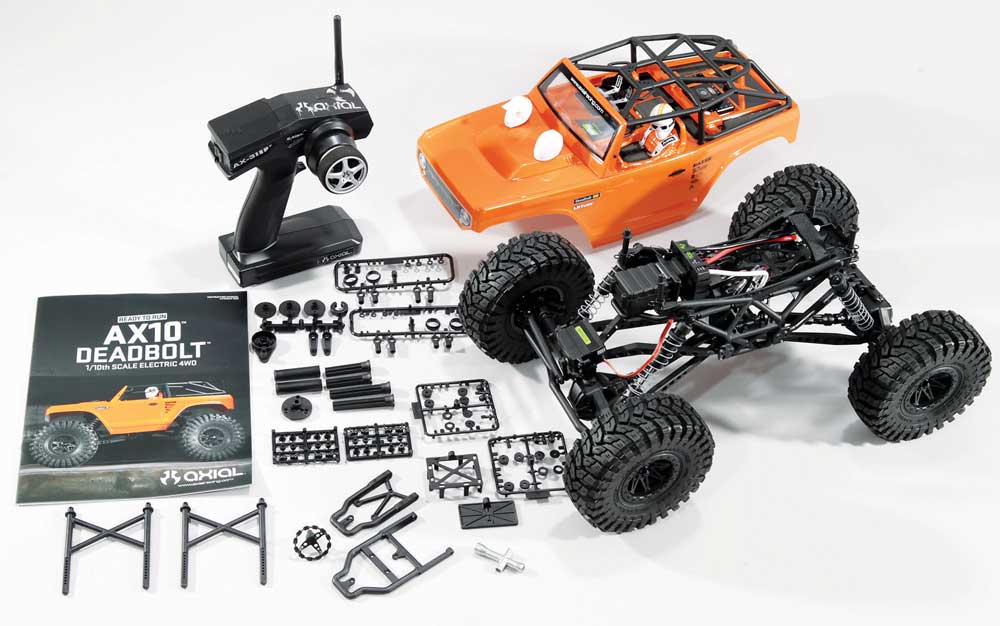 FACTS
• The chassis is based off the original AX10 design, but it should be noted that the Deadbolt shares most of its parts with the AX10 Ridgecrest, not the AX10 Scorpion. That will save some confusion when requesting parts from the dealer. The original AX10 side plates have been replaced with plastic ones that are molded to look like a tube chassis that looks more realistic. The sides sandwich all the components in between and have several mounting holes for the suspension to hang off of. There are four battery mounting options, depending on what size battery you're using, and how you want to mount it. The plastic sides are very flexible which not only aids in durability, but lets it twist up when bound up in a hole, and helps it pop out.
• In a crawling, straight axles are expected because they allow the articulation required for running on extremely uneven surfaces. The shocks are long travel and allow for about six inches of articulation, which is the perfect middle ground so that you have enough to keep all four wheels on the ground most of the time, but much not so much that your wheels are falling in holes and getting bound up. It uses a four-link set up which is preferred to reduce axle steer and torque twist. The geometry has been optimized for the proper anti-squat and roll characteristics.
• The steering servo is a high torque unit that provides plenty of torque to turn the big tires. You won't really need to upgrade to a more powerful servo until you start adding weight to the wheels. The steering is direct drive, but the steering link is very fl exible, and acts as a sort of servo saver. More advanced drivers may want to upgrade the link for more responsive steering on the rocks. The steering knuckles are from the XR10, and provide some extreme steering angles, but you will need to upgrade the dogbones to universals to take full advantage of the tight steering.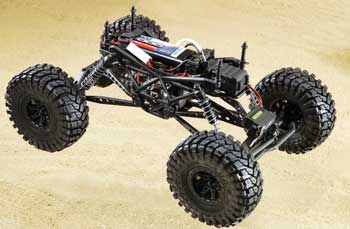 • The Deadbolt uses the same tried and proven three gear transmission as the original AX10. It feeds the power out to WB8 driveshafts which have metal CV type universals at either end to smooth out power delivery and articulation. The driveshafts mate up with the AR60 OCP axles borrowed from the Wraith. These axles are wider than the original AX10 axles for stability. The OCP stands for Off Center Pumpkin. The idea behind that is that if the pumpkin gets hung up on a rock, the car will tip to one side, allowing at least one wheel to make contact instead of just balancing in place. The pumpkins have removable covers which not only lend to the axle's super scale looks, but allows easy access for inspection, or in case you want to switch to the optional gear set to change the ratio at the axles, which allows you to underdrive or overdrive the front or rear end.
• The ESC was designed in conjunction with Castle Creations, and while it may look like a sidewinder brushless controller, it is a brushed controller that has been optimized for rock crawling. With smooth throttle control, drag brags, LiPo cutoff, and the ability to run up to 3S LiPo, after you've plugged it into a Castle Link to program the cutoff, it is all the speed control you will ever need. The radio is 2.4GHz, which is great so you don't have to worry about frequency conflicts. The receiver is a three channel unit, but I cannot fi nd any switches or controls on the radio for a third channel. That would have been nice for a winch, dig unit, or to remotely turn lights on or off.
• The stand out feature on the Deadbolt has got to be the body. For the most part, it looks like an old Bronco, with a little Scout influence in there. It is dovetailed on the ends like a full scale comp rig, and shares the same cool dovetailed roll age as the new G6 Jeep. I think it is awesome that Axial molded in a driver, as I get sick of otherwise scale rigs driving around with ghost drivers. As an added bonus three helmet options are included. The tires are licensed replicas of Maxxis Trepedors, and the wheels are licensed replicas of Raceline.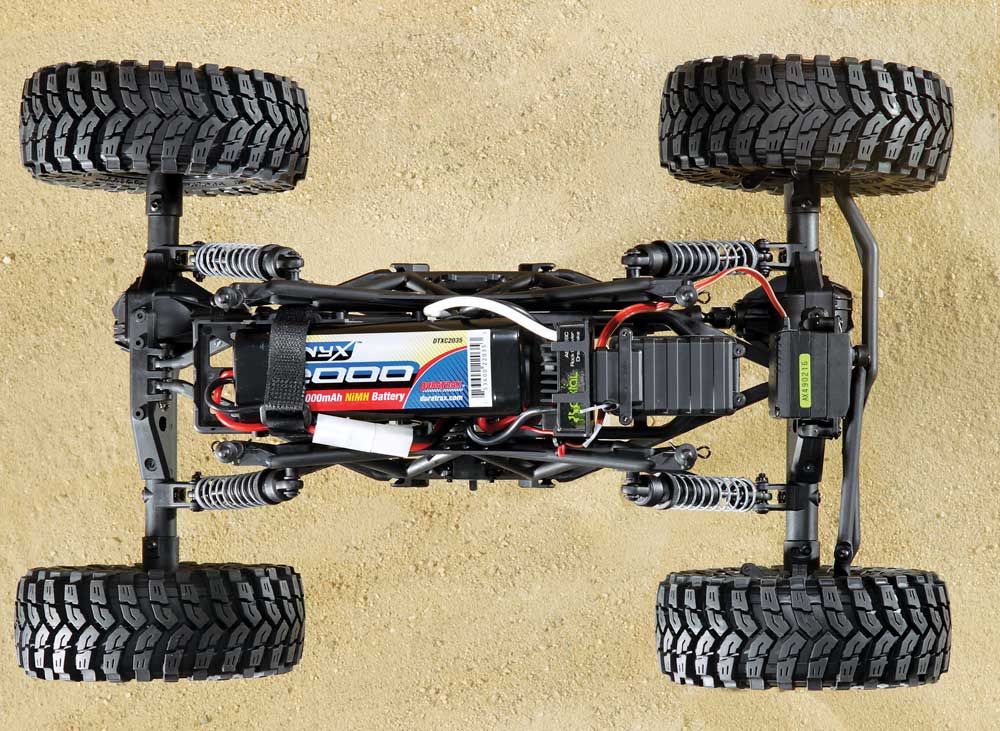 TOOLS AND ACCESSORIES INCLUDED
• 4-way wrench
• Long body mounts
• Chain link steering wheel
ITEMS NEEDED
• Battery
ITEMS USED
• Duratrax Onyx 2000 MAh. Realizing this vehicle is oriented toward fi rst time drivers I went with a budget pack. Many that are new to RC still prefer a safer NiMH pack, but to optimize its crawling abilities I recommend upgrading to a smaller lighter LiPo battery
HOP-UPS WE RECOMMEND
• AR60 Universal axle set, AX30780, $47. Allows you to take full advantage of the steering for maneuvering in tight areas
• Soft springs, AX30219, $6.50. These are a step up from the kit's super soft springs. Install in the rear to help with torque twist.
• 101mm machined aluminum links, AX30790, $40. Replaces the lower links for durability, and good looks.
• High clearance threaded aluminum link, AX30791, $15. Replaces upper links for durably and looks.

ON THE TRAIL
Whenever I get a new car I like to spend a little time with it, just staring at it while I squish and poke things. It wasn't long before I had bottle of paint and detail brush in my hands to detail the little skull dude. Then I cut out the clear section of the window decal so I could see him more clearly thought the windshield. Now that I had everything looking just right, it was time for testing. I plugged it in, turned it on, and then drove it right out the back door. The first test was the rock pile in my backyard that I set up for testing and tuning. There is a bit of a belly hanger to get on the pile. I soon realized that I had to drive a little harder and with less finesse with the faster motor and stock gearing. I backed up and hit the rocks with some speed to pop it up over the first rock. Once it was up on the rocks, it blasted right over the rest over the rocks. Then I was out the gate to find more adventure. As I entered the parking lot the next test was the curb check. I approached the curb at a forty-five degree angle, turned into the curb, got one tire up, and then floored it so it wouldn't get high centered on the curb. It shot into the air with the nose pointing at the sky and then dropped down on the other side of the curb on all fours. I nailed it and blasted across the parking lot; it's pretty fast for a rock crawler. Typical of a straight axle vehicle, I could see it exhibit quite a bit of torque twist. I usually set up my rear end stiffer, with a little extra preload in the right corner to compensate for this. Across the way was a bike path that was lined with huge boulders every fifty feet or so. I hit the first boulder I came across, and while the angle didn't seem too steep, there was a little ledge at the top that sent it into a backflip. Right back on its wheels, I approached the rock more carefully, lining up the left wheel in a rut, then I hooked the wheel around the ledge to pull it on top of the rock. The back side of the rock was a sheer drop, so I floored it to keep the nose up and it caught some air as it fl ew off the rock. The next rock barely poked out of the ground, so I hit it with some speed, and the Deadbolt stood straight up and balanced its tailgate on the tip of the rock as it spun around twice in a perfect pirouette. Where's the camera when that stuff happens?! I'll never do that again and I tried, a lot! Then I blasted off to the next set of rocks. It looked really cool as it bounced through the gravel. You do not want to turn too fast at speed or it will flip. Which I did, and it went tumbling down the hill. Good thing skull dude had the roll cage to protect his noggin. The next rock I encountered was kind of steep, and while the tires are fairly grippy considering they are designed more for scale looks and to be long-wearing, they did spin on the face. The important thing is that they did not send it into an uncontrollable bounce, and gradually increasing the throttle would give me slight forward momentum. Aft er about a dozen tries, I was about to give up on the rock when I finally got over it. Now that I knew it could be done, I had to keep practicing until I could do it consistently. My friends and I always say that when you set up your rig to be more capable, you just end up looking for bigger obstacles. The real fun of rock crawling is challenging yourself with the capabilities your vehicle does have.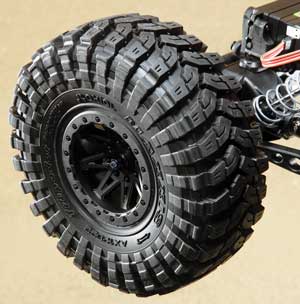 SPECS & TUNING OPTIONS
DIMENSIONS
LENGTH: 17.6 in. (448mm)
WIDTH: 11.3 in. (288mm)
WHEELBASE: 12.2 in. (310mm)
WEIGHT: 4.75lbs. (2.15kg)
BODY, WHEELS AND TIRES
BODY: Lexan w/open interior, and plastic roll cage
WHEELS: Raceline 10-spokes
WHEEL ADAPTER TYPE: 12mm hex
TIRES: Maxxis Trepedors
SUSPENSION
TYPE: Straight axle, 4-link
SHOCK POSITIONS: 3 on chassis
CAMBER: NA
ROLL: NA
WHEELBASE: Optional links
RIDE HEIGHT: Threaded shock bodies
MISC: Anti-squat via upper link mounts
STEERING
TYPE: Direct drive
TOE: NA
CHASSIS
TYPE: Molded tube frame
Material: Plastic
THICKNESS: Various
DRIVETRAIN
TYPE: 4WD
TRANSMISSION: 3-gear center-mounted
DIFFERENTIAL: Locked
CLUTCH TYPE: Adjustable slipper
GEAR RATIO: Optional pinion gears
BEARINGS: Full set of shielded

WRAP UP
To att ract newcomers to the scene, the local crawler club is reviving the shaft y class with an emphasis on fun. That sounds like a good opportunity for me to transition into trying to compete, and to be perfectly honest, my original intent for the Deadbolt when I saw it was to build it up into a comp crawler, and I thought the interior and roll cage would be good for a scaler project, but when I got a hold of it, I started to fall in love with its looks. Then aft er driving it, I quickly decided not to stray too far from the formula. While I still plan to make it a more capable crawler, I also want to enhance the scale aspect while making sure it is still a fast, fun rock basher. Whatever direction you want to take it is up to you, but I think you'll agree it is fun the way it is!
LINKS
Axial Racing axialracing.com, 949-600-8642
Duratrax duratrax.com, 217-398-8970