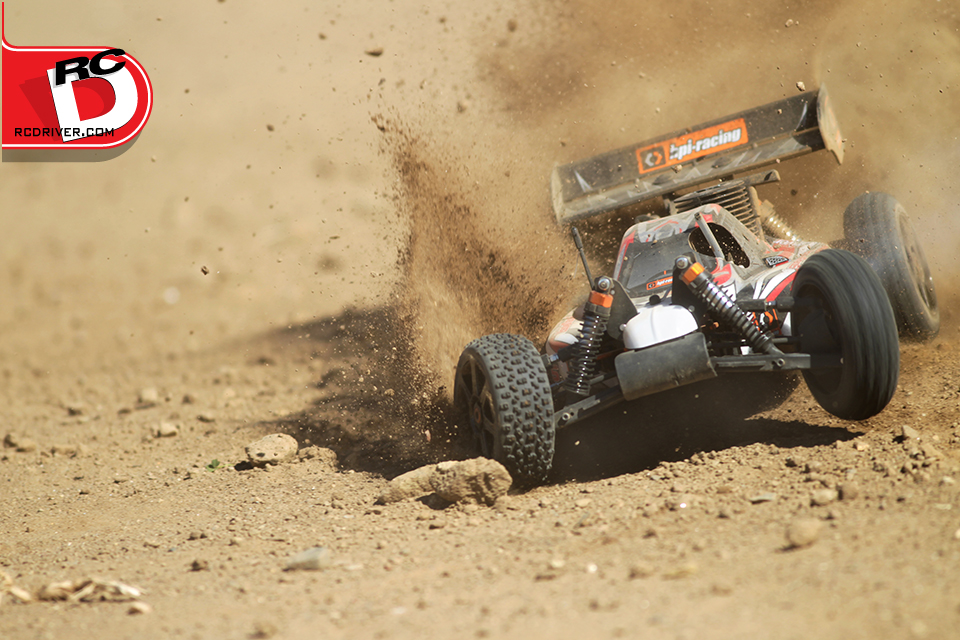 Most people think of 1/8 scale buggies as high performance race machines meant only for competition. The fact is, 1/8 buggies pack a lot of performance and a very strong package making them ideal for the backyard as well. HPI Racing realizes this and has produced a buggy in RTR form that will be at home on the track as well as tearing up your local bash area. The trick is to find the proper mix of on track performance and ease of use fun, for anyone that wants to wheel one of these amazing buggies. HPI has done just that with the introduction of the HPI Trophy 3.5 buggy.
AT A GLANCE
WHO MAKES IT: HPI Racing
WHO IT'S FOR: Off road racers
HOW MUCH: $389.00 (est street price)
BUILD TYPE: RTR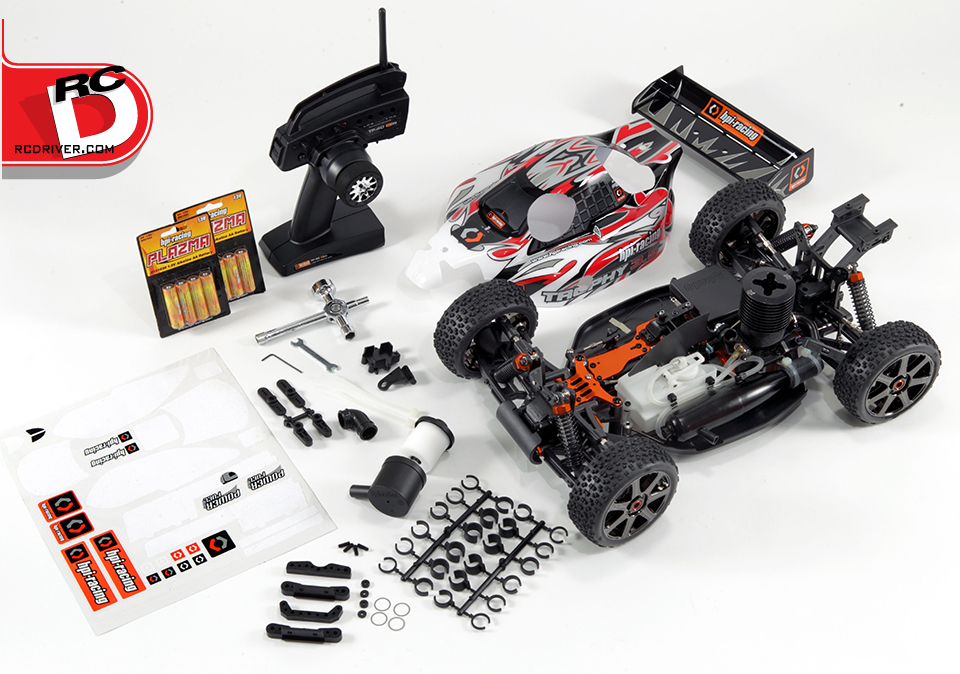 PROS & CONS
+ Fit and finish is very good
+ Good quality aluminum and composite materials
+ Based on proven suspension design
+ Engine is easy to tune and runs amazing
+ 2.4 Ghz radio standard
+ Extremely durable
– I would like to see big bore shocks standard
– Servos work fine but are lacking slightly in torque
Authors Opinion: This buggy would make an excellent basher buggy and can also be used to get a new driver into 1/8 scale racing. It is very durable and will bounce back after the roughest of driving accidents. While most people buying this car will likely thrash it around the neighborhood the suspension is very good and makes the car look like a stellar performer on the track as well.
Star rating (1-5) = 4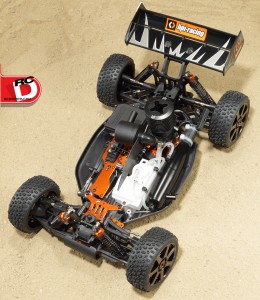 FACTS
– The car is your typical 1/8 scale buggy design with 3 gear differentials that can be filled with different diff oils to change the handling of the buggy. This drive train design has also proven to be near built proof over many years.
– The suspension on the Trophy 3.5 has been handed down from a previous race buggy and it still works remarkably well. All the suspension components are molded with great fit and finish  and the geometry works on the track as good as any buggy out there.
– The Trophy 3.5 comes in Ready to Run trim and includes a 2.4Ghz radio system that has a decent amount of adjustments for a buggy in this price range. It is a great value included with the buggy that is sure to fit the bill for bashers and new buggy owners.
– Controlling the bumps and jumps along the way are long oil filled shock absorbers at every corner. While most modern race buggies have gone to big bore shocks the Trophy 3.5 comes with the long time standard 12mm units. They are made of aluminum and feel very plush and ride height needs to be adjusted by using clip on spacers.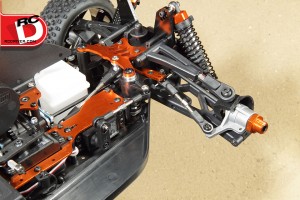 – One of the truly standout features on this buggy is the 3.5 buggy engine that comes with it. It is a pull start engine so there is no need to buy a starter box to get you going but one can be used if desired. The reason this engine is such a standout is that it is easy to tune the two needle carb and it holds its settings really well. The engine also makes plenty of power to propels the car up to top speed very quickly.
– The buggy includes a wealth of tuning options that will help you get it setup weather you are bashing it in an open lot or putting down some laps on the track. HPI even includes extra toe blocks to give even more options than what are on the car as it comes from the box.
– There are aluminum parts found all over this buggy. The chassis, shock towers, steering rack, radio tray just to name a few. HPI did not skimp on the buggy and replace these items with cheaper plastic. instead they included the aluminum pieces to keep performance and durability high.
ITEMS NEEDED
– Glow ignitor
– Nitro Fuel
– AA batteries for transmitter and receiver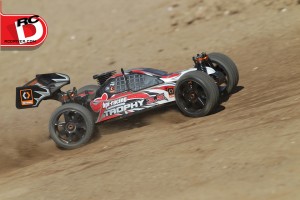 ON THE TRACK
When I first showed up to test out the HPI Racing Trophy 3.5 buggy I was greeted with a nice surprise. The first thing I noticed was a very well built vehicle that looked much more like a race buggy than your typical "drive around and have fun" buggy. The fact is, if not for a pre-printed body, and a pull start engine you could easily mistake the Trophy 3.5 for a full on race buggy.
After sitting around watching Greg test some other vehicles, while I went trough some tanks of break in runs, I was more than eager to get the buggy tuned up and out on the track.
The first thing that needs to be mentioned was just how user friendly this buggy was. The build was spot on and did not need any adjustments of disassembly so that thread lock could be applied where it should. The Trophy 3.5 already had that all done right from the box, a good quality build. The engine in the 3.5 is the shining star however. Only two or three pulls of the starter brought the engine to life and only a few tweaks of the needles on the card had the buggy running spot on. I quickly made some slower laps so that Walter could snap the required photos  and then it was time to let it rip. The buggy tore off the line quickly and kept accelerating to a very good top speed. The suspension of the Trophy 3.5 seemed to be spot on. With its long suspension arms and plush shocks the buggy appeared to simply float across the track surface without ever getting thrown around by imperfections in the track surface. Steering seemed a bit slow and the buggy wanted to go wide on the tighter corners but this was really the result of the steering servo that is included. The servo works just fine and does its job good but it gets taxed a bit when a buggy this fast and heavy is trying to round a corner at very high speeds. There is no need to be alarmed though, the servo is more than capable and holds up well. I would only change it if I was taking this buggy racing against some serious competition. Out in the back lot, we started to throw the buggy around on a surface that resembled an old building lot much where people would take monster trucks like the savage to bash them around. I really started to see the fun side of 1/8 scale as they make excellent basher vehicles. We sped the Trophy across very rough surface, jumped it of large hills and smooth rocks. Blasting a buggy like this around for about 7 tanks of fuel without ever shutting it off I could quickly see just how much fun they are to bask around with. The engine never missed a beat and purred right up until I shut it off to make sure the receiver batteries would not dye on me. Overall, I would say that the Trophy 3.5 is a bashers dream. Fast, reliable, and tons of fun are things that come to mind when I think of this new HPI buggy.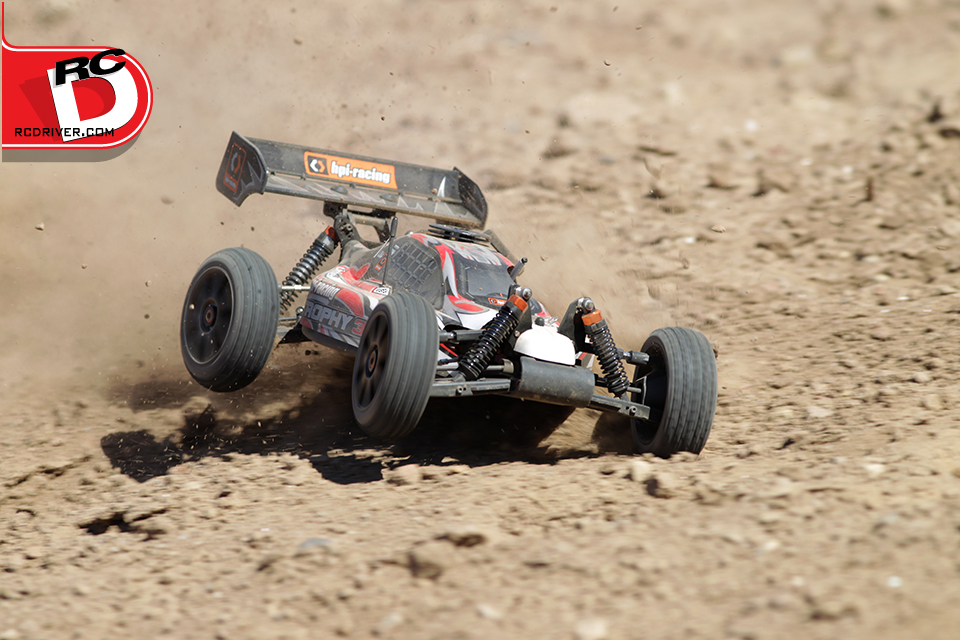 THE LAST WORD
The HPI Trophy 3.5 is a jack of all trades. While its roots come from a 1/8 scale racing buggy it is equally capable tearing up your neighborhood or favorite play area. WIth quality components and a powerful 3.5 engine that just wont quit, this buggy will fit the bill for whatever type of driving you throw at it. Quality, durability, and performance are all wrapped into this fun to run HPI Racing buggy.
SPECS & TUNING OPTIONS
Dimensions
Length: 518mm
Width: 300mm
Height: 180mm
Body, wheels and tires
Body used: Stock RTR printed body
Wheels used: stock 7 spoke black
Wheel adapter type: 17mm hex
Tires used: Stock tires
Suspension
Type: 4-wheel independent
Shock positions: Arm – 2, Front Tower – 6, Rear Tower – 8
Camber: Adjustable turnbuckles
Roll: Adjustable position on tower and hubs
Wheelbase: Adjustable with spacers
Ride height: Spacer on shocks
Steering
Type: Dual bell crank with adjustable Ackermann
Toe: Adjustable turnbuckle front – 3 different suspension mounts for rear
Chassis
Type: Flat pan with angled sides
Material: aluminum
Thickness: 3.0mm
Drivetrain
Type: 4WD
Transmission: three differentials
Differential: fluid filled gear differentials
Gear ratio: Optional clutch bells
Bearings: Full metal shielded set
LINKS
HPI Racing