The Great Outdoors is Calling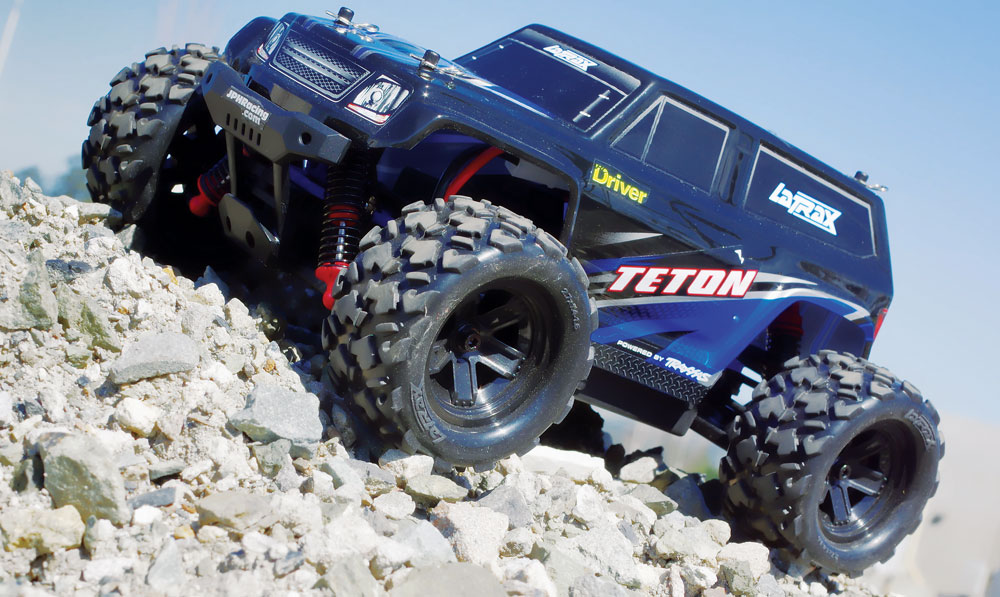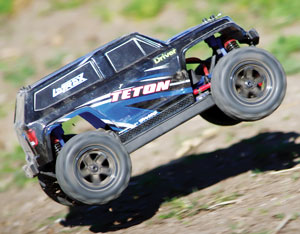 Though the name LaTrax may, to some, sound a bit French, LaTrax is in fact an American company that is powered by another very well-known US-based company, Traxxas. The selected name for their new LaTrax 1/18-scale Teton monster truck thus pays homage to the diversity of adventure that one can experience when behind the wheel in the great outdoors (and has nothing to do with the definitions of any French words). The Teton bears more than a passing resemblance to its larger cousin, the 1/10-scale Traxxas Telluride, and is available in the same four colors of ProGraphix-adorned bodies. At roughly half the cost and size of the popular Telluride, how does the LaTrax Teton compare?
AT A GLANCE
WHO MAKES IT: LaTrax
WHO IT'S FOR: Beginners
PART NUMBER: 76054
HOW MUCH: $149.99
BUILD TYPE: RTR
PROS
• All-weather running gear allows you to drive over the river and through the woods
• Three different driving profiles are selectable with the push of a button on the ESC
• Lifetime electronics warranty offers $15.00 flat rate repair of all electronic components in the kit
• Four different accent colors of the ProGraphix-produced Teton body are available
• The 370-size brushed motor gives this little monster truck big teeth
• Satisfyingly long run durations of 10-12 minutes
• Metal ring and pinion gears in the differentials and an aluminum driveshaft make for a strong drivetrain
CONS
• Both rear tires popped off of their wheels after a pro longed session of spinning, in-place burnouts
• Slow recharge times using the included charger
REVIEWER'S OPINION
I have slowly been building a nice little collection of 1/18-scale minis lately. Personally, I love their minimal storage requirements and grab-and-go convenience. LaTrax covered the skies with their Alias quadcopter and the pavement with their 1/18-scale Rally car. Their latest release is a vehicle that can traverse just about everything else remaining. The Teton is made for the great outdoors, no matter the weather or terrain.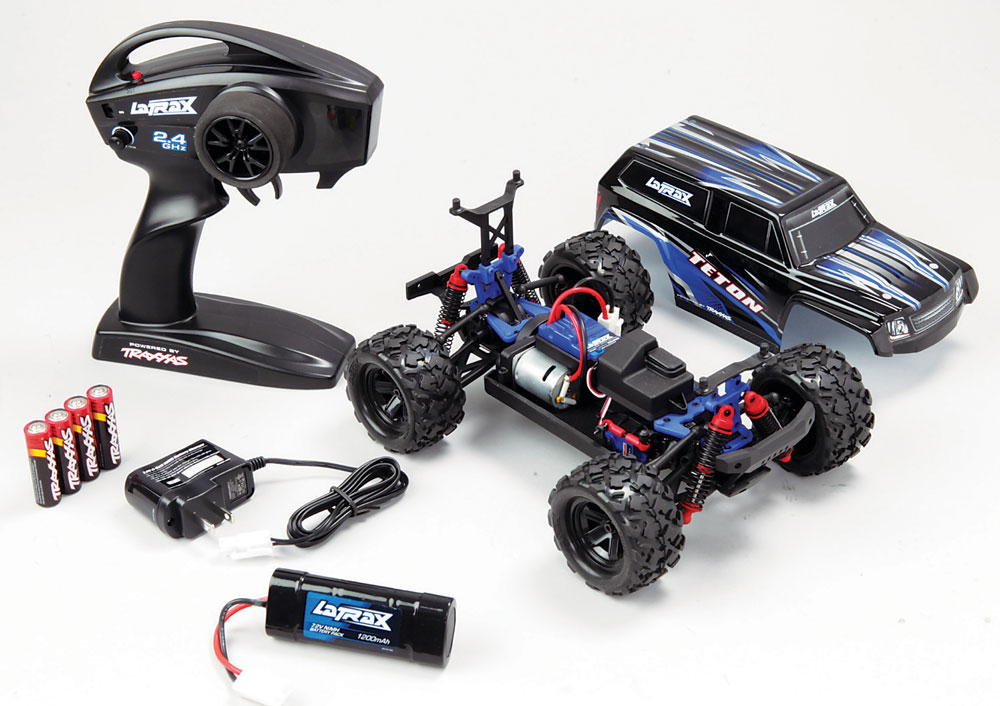 FACTS
• LaTrax uses a tub-style chassis as the core of the Teton. The microsized three-channel receiver and ESC are mounted on the upper chassis plate using double-sided tape and fasteners. The up-swept front bumper features a notably steep rake. This allows it to absorb impacts, and at the same time allows the aggressively treaded off-road tires to contact and conquer obstacles that would otherwise stop the Teton in its tracks. The six-cell battery is held in place with a removable retainer that locks in place with a single body clip. Swapping out to a two-cell LiPo is possible, provided it fits within the dimensions of the battery compartment.
• One might assume that a Ready-to-Run truck in this price range might cut corners and component costs by using friction-style shocks but LaTrax did better. The Teton comes standard with long-throw, oil-dampened coil over shocks. All four shocks are identical, minimizing the number of different suspension components. Suspension geometry is tunable, thanks to multiple shock mounting locations on both the shock towers and arms. The suspension can be upgraded to an even higher level with a set of optional GTR hard-anodized aluminum body shocks, but the stock shocks out of the box do a very good job of soaking up the rigors of the road.
• The steering servo, rated at 32 oz.-in. of torque, is waterproof and connects to the front end of the truck using adjustable, pivot ball-equipped linkages. A servo saver, integrated into the steering linkage, protects it mechanically, while o-ring construction protects it environmentally and seals out moisture, dust and dirt. Though this tiny truck darts about with a surprising amount of energy, I had no problem keeping it aimed exactly where I wanted it to go. The standard size, hobby-grade LaTrax 2.4GHz pistol grip radio helps make precise and accurate steering inputs possible.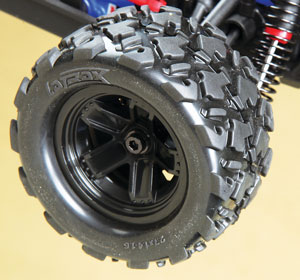 • There is a lot to like about the Teton's 4WD drivetrain. To start with, multiple ball bearings are used to help keep things turning smoothly and freely. LaTrax outfits the front and rear differentials with metal ring and pinion gears, and uses a ten-tooth metal pinion gear on the motor's output shaft. The spur and pinion gears are fully enclosed to keep dirt and debris out. Power is routed to the twin diffs via a centerline-mounted steel pin-equipped aluminum driveshaft that is 5mm in diameter. An optional anodized blue driveshaft with a one-way bearing is also available from LaTrax, as are a set of four aluminum driveshafts.
• Don't be too quick to brush this truck off because it is powered by a brushed motor. The 28T 370-size can motor gives this wee truck a big dose of little man attitude. Add in the fact that the ESC, receiver and steering servo are designed to handle all weather conditions and you have a small scale vehicle with a major "I can do anything" ego. The ability to select three different driving modes on the ESC is also a notable feature. The beginner mode lets you pinch the power output by 50 percent in both forward and reverse, perfect for helping younger drivers acclimate to the Teton. The in-truck electronics are securely sealed against the weather using foam gasketing.
• Four different color schemes are available, which sets the stage for friendly racing sessions with four of your pals. The brightly-colored SUV body perched high atop the blackout-style wheels and aggressive tread tires mimics the overall look of the larger Traxxas Telluride. Body height is adjustable on the body posts but the Teton comes out of the box configured for maximum clearance. The ProGraphix-applied scheme features realistic-looking headlights, grill, tail lights and faux diamond plate panels below the door sills. Working artists may prefer to customize their ride by going with the optional clear body set, also available from LaTrax.
TOOLS & ACCESSORIES INCLUDED
• Traxxas 350mAh six-cell NiMH AC charger
• Four "AA" batteries for transmitter
ITEMS NEEDED
• Traxxas EZ Peak 5 NiCad/NiMH battery charger
HOP-UPS WE RECOMMEND
• Series 1 Power Cell 1200mAh7.2V NiMH battery, #2925A. Because a hotter battery is sure to give this little truck even more zip.
• Blue aluminum wheel nut washers, #7668. These bright blue wheel nuts should stand out when spun onto the centers of the five-spoke blackout wheels. A little bling is always a good thing!
• A better, faster battery charger. We have been using the Traxxas EZ Peak 5 NiCad/NiMH charger (#2937X) and it trims the time to recharge the Teton's battery to less than 30 minutes.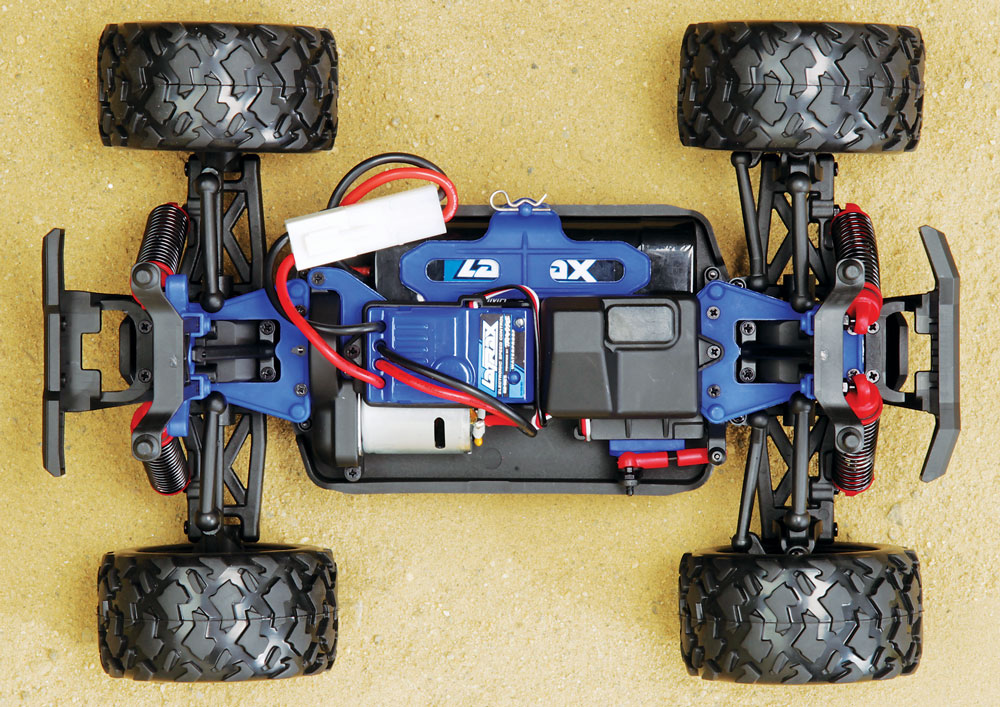 ON THE TRACK
The trim adjustment for the throttle is conspicuously absent but any necessary tweaks to its functionality are made by performing an ESC calibration. The black and white manual included in the box is but an abbreviated, multi-lingual version of the full owner's manual, which is available online in a PDF format. The complete English manual is 16 pages in length and in full color. It is a must read, as it provides driving tips, radio gear LED error codes, maintenance tips, tips for increasing run times, etc. It even hints that the ESC is 2S LiPo-compatible.
We first ran our Teton indoors on a polished concrete shop floor. We found out rather quickly that we needed much more space if we hoped to run it at wide open throttle. This little monster has spunk. Mashing the gas pedal to the floor and cranking the wheel hard in one direction turned the Teton into a whirling dervish, whether in forward or reverse. The brushed 370 motor provides ample power and will break the tires loose at will on smoother surfaces. Confining this truck to indoor operation only would be like erecting a pup tent in your living room; it is purpose-bred for the outdoors. Opening the large overhead door in the back of the shop, we released the Teton out into the wild. Though a smaller scale vehicle, the Teton covers ground at a pretty good clip. We were surprised to see that it was fully capable of working its way up and over seemingly insurmountable obstacles, thanks to its up-swept front bumper. Ease it up to a curb, goose the gas as the front tires contact the vertical face and if your technique is true, they will grab it, grip it and propel the Teton up and over.
The most fun to be had was when the Teton was turned loose in the dirt. This little truck really knows how to kick up its heels. We took it to a local track and ran laps and also hit several different parks over the course of a weekend. Time after time, we were ready to go rescue it from some precarious position but a little patience with the throttle and steering would see it find a way out. The waterproof receiver, ESC and servo mean that foul weather fun is endorsed and encouraged by LaTrax, although it is worth remembering that some mechanical components may not be quite as inherently weatherproof as the electronics are. We especially like that the Teton possesses three different driving modes, selectable via a push-button on the ESC. The 50 percent reduction in speed output offered by the training mode was a great way to introduce my young daughter to the Teton. One protracted session of in-place, spinning burnouts in the dirt caused both rear tires to come off of the beads on the wheels. I theorize that the glue may have debonded due to excessive heat build-up.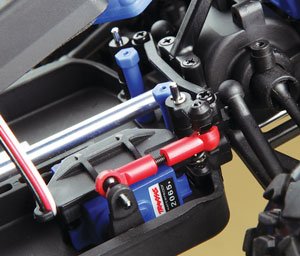 SPECS & TUNING OPTIONS
DIMENSIONS
LENGTH: 10.16 in. (258mm)
WIDTH: 4.17 in. (106mm)
WHEELBASE: 6.44 in. (163.5mm)
WEIGHT: 19.2 lbs. (540g)
BODY, WHEELS AND TIRES
BODY: Pre-painted and cut monster truck
WHEELS: Five-spoke blackout style
WHEEL ADAPTER TYPE: 12mm hex
TIRES: Teton off-road tread
SUSPENSION
TYPE: 4-wheel independent
SHOCK POSITIONS: (F) 3-tower, 2-arm, (R) 3-tower, 2-arm
CAMBER: Fixed length rods
ROLL: Fixed
WHEELBASE: Fixed
RIDE HEIGHT: Pre-load clips on the shocks
STEERING
TYPE: Dual bellcrank
TOE: Fixed
CHASSIS
TYPE: Tub
MATERIAL: Molded composite nylon
monocoque
THICKNESS: 2.0mm
DRIVETRAIN
TYPE: 4WD
TRANSMISSION: Aluminum shaft driven
DIFFERENTIALS: Hardened steel bevel ring and pinion
GEAR RATIO: 2.5:1
BEARINGS: Full set of shielded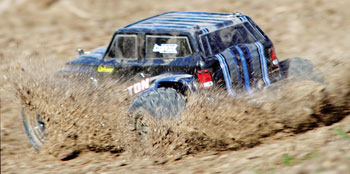 WRAP UP
LaTrax currently lists relatively few optional upgrade components for the Teton, but this is mainly because they are already including most of the good stuff right out of the box. Sealed bearings, waterproof running gear and an abundance of metal components all make this mini truck a major value. Though the Teton is technically a mini monster truck, its punchy performance using a mere brushed 370 motor is mighty impressive. And we enjoyed typical run durations of ten minutes and longer. Selectable modes of operation on the ESC let you dial the performance back for younger drivers with the press of a button. The LaTrax Lifetime Electronics Warranty is a nice insurance policy in that it covers repair of any electronic component at a flat rate cost of $15.00. The abundance of metal components in the drivetrain brings the immediately tangible benefits of extreme dependability and durability, but could they also be a harbinger of brushless upgrade niceties to come?
LINKS
LaTrax latrax.com, 888-872-9927
Words: Jon R. Barnes
Photos: Jon R. Barnes and Robb Wilson