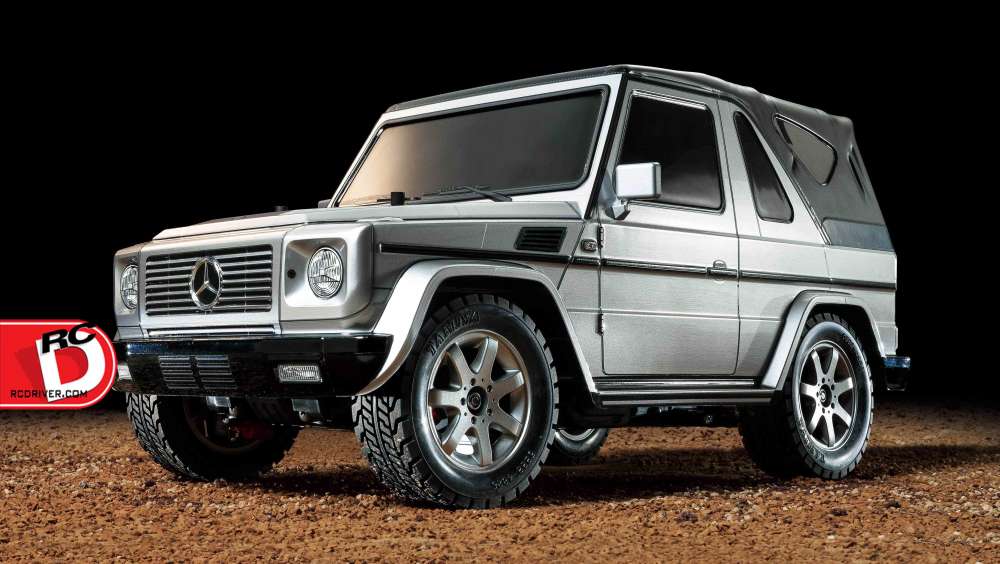 The Mercedes Benz G320 Cabrio was a G Class series vehicle that was sold between 1997 and 2001. While many G Series cars were produced, this version featured a soft convertible top and was based on a short wheelbase version of the chassis. The Tamiya radio control replica is featured on the 4WD MF-01X chassis.
About the MF-01X:
Power is transmitted from the rear mounted motor to the front wheels via a propeller shaft that runs down the side of the MF- 01X. Gearboxes are integrated into the monocoque for a sturdy and easy-to-assemble structure.
The MF-01X has a three-section make-up; changing the central spacer section enables short
(210mm), middle (225mm), and long (239mm) wheelbases. The Mercedes-Benz G 320 uses the long wheelbase configuration.
Specifications:
·         1/10 scale R/C model assembly kit. Length: 385mm, width: 178mm, height: 175mm.
·         The G 320 Cabrio body is expertly captured in lightweight, durable polycarbonate.
·         Side mirrors are recreated using separately molded plastic parts.
·         The 4WD MF-01X chassis has a rear mounted motor, and uses a prop shaft to transmit power to the front wheels. It features a robust, easy to maintain monocoque frame. It is at home on road and flat dirt surfaces.
·         This model uses the L wheelbase (239mm). The chassis can be set up in S (210mm) and M (225mm) wheelbases using separately-sold propeller shafts.
·         4-wheel double wishbone suspension provides a smoothly-cushioned drive.
·         A range of option parts are available to hop up the MF-01X chassis, including lightweight, rigid aluminum propeller shafts.
·         Includes a Tamiya TBLE-02S ESC and Torque Tuned motor. ESC features brushless motor mode for easy expandability.
·         Requires 2-channel radio, 7.2 volt battery & charger and PS Polycarbonate paint to complete.