Versatility is my middle name!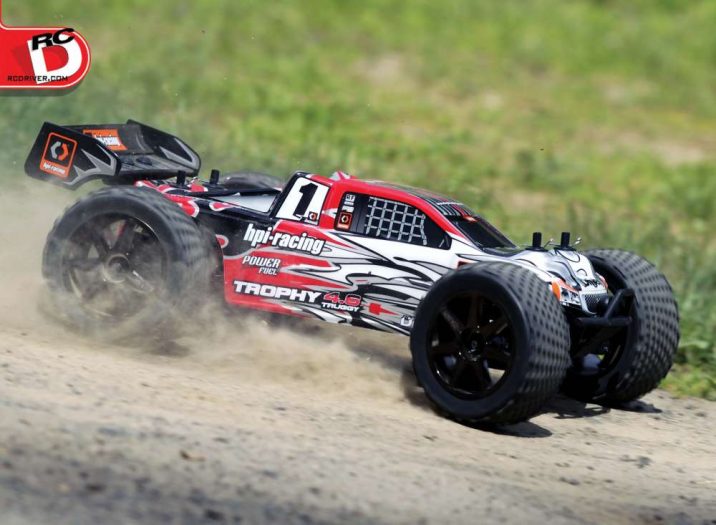 Words: Mark Ronge
Photos: Walter Sidas
From RC Driver Issue: 134
The HPI Trophy Truggy has been around for a while now, and each revision makes this tough off-roader better than the last. With the nitro version (an electric Flux is also available) many improvements to the electronics have been made, along with many other features like waterproofing all around. The tried and true Nitro Star 4.6 powers this beast, giving it plenty of low-end grunt for tackling any obstacle. Since it's an HPI you know it is tougher than anything else out there, but how does the rest of the truck stack up to the competition?
AT A GLANCE
WHO MAKES IT: HPI
WHO IT'S FOR: Intermediate drivers
PART NUMBER: 107014
HOW MUCH: $439.98
BUILD TYPE: RTR
PROS
• Thick, high grade aluminum chassis
• THPI Nitro Star 4.6 has plenty of power
• TWaterproof electronics are great for less than ideal conditions
• TFully adjustable for club racing
• TWaterproof electronics
• TAble to handle any type of terrain and nail massive air with ease
CONS
• Small locknut to hold wheels
REVIEWER'S OPINION
I have driven and raced all types of high end and introductory truggies before, and still am amazed at how versatile and fun they can be in everyday situations. The HPI Trophy Truggy 4.6 is no exception, it can go anywhere a monster truck can and even outperform one in most categories. With the updated waterproof electronics, the new Trophy Truggy is a safe bet for anyone looking to get into 1/8-scale RC and even makes a great first nitro truck as well. It can even be tuned for sportsman club racing after a few minor tweaks since the truggy has just as much adjustability as high end racing machines. Either way it is hard to find any flaws with this truck, and it is a clear winner for most drivers out there.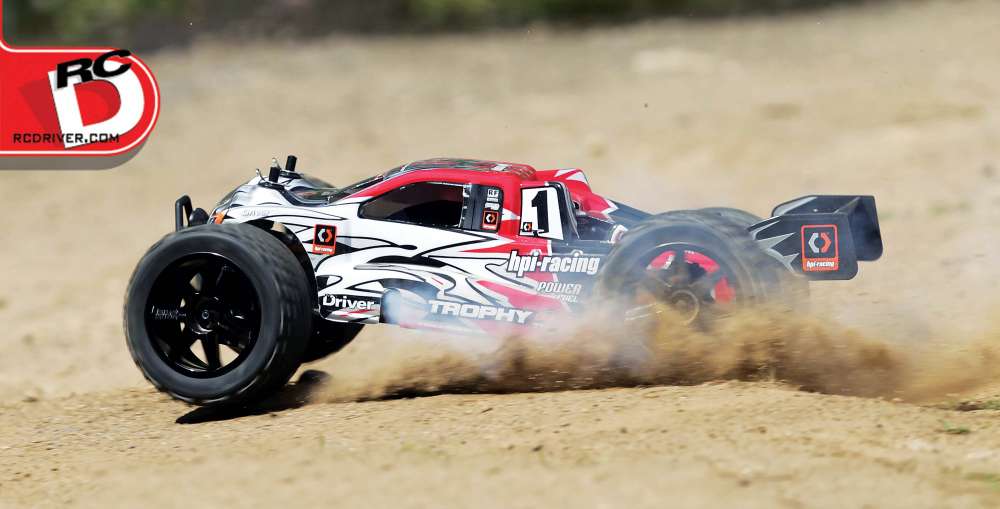 TOOLS AND ACCESSORIES INCLUDED
• Plazma alkaline batteries for radio gear
• DVD containing tutorials and other useful tips
• Turnbuckle wrench
• 1.5mm Allen key
ITEMS NEEDED
• Fuel
• Fuel Bottle
• Glow plug igniter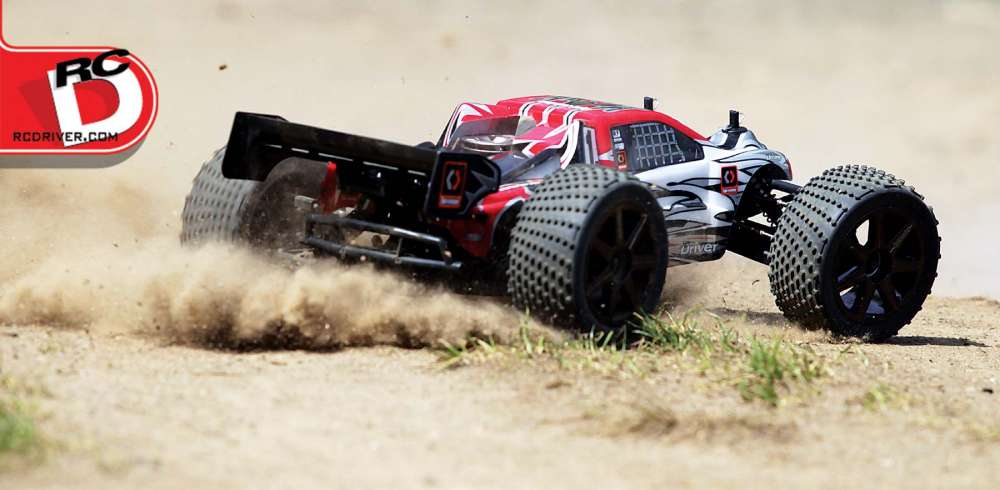 ITEMS USED
• O'Donnell Speed Blend 30%
HOP-UPS WE RECOMMEND
• 6.7MM HEX WHEEL ADAPTER TROPHY, #101792, $5.99, This anodized aluminum upgrade will convert the Trophy Truggy to use a standard 17mm nut to hold the wheels on the truck. It also has the added benefit of slightly widening the vehicle, adding stability and improving handling characteristics.
FEATURE BREAKDOWN
• Ever since the old nitro Savage, HPI has built some of the most durable trucks on the market, and the Trophy Truggy lives up to this heritage. You can expect a thick, 4mm 6061 grade aluminum chassis with slight bends on the sides for added durability and to reduce flex. Every component in the truggy is mounted as low as possible for a racing-like stance, superior handling and reduced tip- overs when bashing. Due to the extra thick chassis, HPI was able to have a narrow chassis which allows for tighter handling characteristics and sharper turning response when out on the track. There is plenty of bracing all around the truck with the same 6061 aluminum throughout, and is even anodized in the slick HPI orange color to add some bling.
• The shocks contain orange anodized aluminum caps and a dust boot to protect the shaft from dirt and mud. Don't get me wrong, the shocks are really nice, but they are the standard threaded big bore shocks we see on today's race models. On the flipside, this is what you would expect at this price point and they are built with durability in mind. The shocks have multiple mounting positions so the truck can easily be tuned for landing big air or with race track performance in mind. All other standard race truggy tuning options are adjustable (camber, etc.) via thick steel turnbuckles, making the trophy truggy the perfect introduction to club racing. There are even sway bars to keep the suspension settled during hard cornering.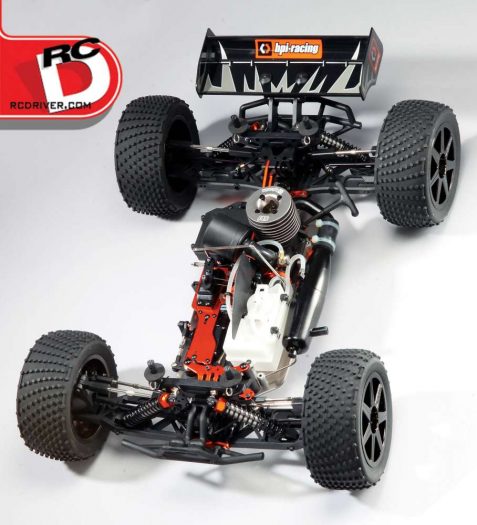 • The Trophy Truggy uses a conventional dual bellcrank steering design with adjustable servo saver rates as found in most truggy race vehicles. The included steering servo is waterproof and puts out around 90 ounces of torque. It is enough for bashing and light club racing, but if you end up getting serious about racing, optional higher torque servos would be your best bet. The servo is mounted in the lay-down position to further aid in lowering the CG of the truck. All steering links are adjustable, allowing for toe in/out setting to be changed via steel turnbuckles. The turnbuckles are connected to metal steering knuckles for added durability.
• The heart of the Trophy Truggy is the HPI Nitro Star F4.6 engine (.28 size). I found this engine to be the perfect match for this type of vehicle because it has tons of low end torque and a great top end, too. It is equipped with a pull starter but the chassis has slots to fit a starter box if racing. Like most truggies, the HPI is a 4WD shaft setup with three differentials (front and rear containing four bevel type gears). Each can be tuned for the desired handling characteristics but the out of the box setup is great for messing around. The differentials power dogbones for the front and rear of the vehicle which connect to 17mm anodized hex adapters. The included wheels have a cool black chrome finish that looks just awesome with the pre-painted body. HPI includes a set of their Shredder Block tires, which is an all purpose off-road tire that will work well for just about everything (racers will need a proper racing set down the line, however). Dual brakes are a steel drilled design powered by the same type of waterproof servo used in steering duty.
• One of the selling points in this refresh of the HPI truggy is that all of the electronics are protected from water (or waterproof). While you cannot run nitro engines under water, this will make certain conditions easier to run in (snow bashing FTW!). The air filter even resists sucking in water particles (which would kill an engine in no time) with a specially designed filter cover. As mentioned earlier all servos are waterproof and the radio gear is sealed in a waterproof container. Speaking of radio gear, the truggy has been equipped with a 2.4GHz system with basic trim functions. HPI always does a great job with instructions (if not the best). They even include a DVD which has videos on how to operate and maintain your vehicle. While nitros can be tricky to get into, I remember watching the HPI tuning videos back in the day and learning a lot from them.
ON THE TRACK
STEERING
The one downfall in my opinion of most truggies is their large turning radius due to their extra wide stance (although it's nothing like a monster truck if you have never driven a truggy). The HPI Trophy Truggy does suffer from this same issue, but rotates extremely well under power due to the torque of the Nitro Star 4.6. When grip is abundant (such as on grass or a wet track), the Trophy Truggy does understeer and you have to let off the throttle to allow the truck to rotate cleanly. However, after adding some slight toe-out to the front, the vehicle wants to turn even more and starts to feel more like a racer. When under power the truck seems pretty nimble and I was able to avoid any obstacle with ease. In extremely loose conditions (like gravel or dry dirt), plan on using the throttle to do most of the steering, this car loves to drift in the corners and the HPI Shredder tires have a great balance of grip while still being ready for some fun spinning the tires.
ACCELERATION/BRAKING
The Nitro Star 4.6 treated me very well. It was one of the most easily tuned RTR engines I have driven in a while and it seemed to idle forever, even during the break-in process. After a few tanks I was ready to tune for max speed and really give the powerplant a run for its money. At full throttle the engine is extremely impressive, offering an excess of low end torque and a pretty linear power band right up to a respectable top end. Like any truggy, it is definitely geared more for acceleration versus speed. Brakes were fantastic thanks to the drilled steel discs and I did not make any adjustments to them, out of the box the setting was great. For racing I would set up the braking so the rear tires handle more of the braking to help with the understeer in grippy situations.
HANDLING/JUMPING
Out of the box, the HPI Trophy Truggy has a conservative setup more geared for the bashing mindset. The suspension is plush to soak up jumps
and the stock camber setup seems to be set around a neutral zero degrees and there is some front toe-in dialed in the setup. This definitely performed well when I tested the truck in a backyard setting, but when it comes down to loose dirt I wanted to emulate more of a race setup. I recommend setting some negative camber and maybe even some thicker shock oil to really carve those corners. The stock ride height is spot on and I will not be changing this setting. Going on stock setting alone, the Trophy Truggy is super stable and really lays flat in the corners.
When it comes to jumping the truggy, the HPI handles everything you can throw at it and more. It is like a monster truck on steroids, landing larger and longer jumps with ease and ready to line up the next one in an instant. Thanks to the extra long travel on the shocks, the truggy can even be raised to a monster truck-like ground clearance if you plan on putting the truck through some serious abuse. In-air adjustments are a breeze due to the large wheel and tire combo, I was able to pitch the nose up and down very predictably using throttle inputs. Since most users will be taking the Trophy Truggy off of similar jumps, I can absolutely give this truck two thumbs up in this category.
DURABILITY
You can tell by looking at the Trophy Truggy that the vehicle can really handle everything you can throw at it. During my jumping session, I definitely screwed up a bunch of landings and I have absolutely nothing to show for it other than a few scuffs on the aluminum chassis. In fact, after cleaning up the truck, it can almost pass as a brand new vehicle which really is a testament to its build quality and durability. I don't see myself breaking much on this truck at all (if ever) and do not see any glaring weak points anywhere. Keep up with basic maintenance and this truggy will last forever.
SPECS AND TUNING OPTIONS
DIMENSIONS
LENGTH: 22.83 in. (580mm)
WIDTH: 15.95 in. (405mm)
WHEELBASE: 14.37 in. (365mm)
WEIGHT: 10.2 lbs. (4.62 kg)
BODY, WHEELS AND TIRES
BODY: Pre-painted and cut truggy
WHEELS: 7 spoke black chrome
WHEEL ADAPTER TYPE: 17mm hex
TIRES: HPI Shredder tires
SUSPENSION
TYPE: 4-wheel independent
SHOCK POSITIONS: (F) 4-tower, 2-arm, (R) 2-tower, 2-arm
CAMBER: Adjustable turnbuckles
ROLL: Adjustable ball heights
WHEELBASE: Non-adjustable
RIDE HEIGHT: Pre-load clips on the shocks
STEERING
TYPE: Dual bellcrank
TOE: Adjustable turnbuckles
CHASSIS
TYPE: Flat with slight angles on sides
MATERIAL: 6061 grade aluminum
THICKNESS: 4mm
DRIVETRAIN
TYPE: 4WD
TRANSMISSION: Shaft driven
DIFFERENTIAL: Bevel type, 4 gears
GEAR RATIO: Clutch bell 15T, Spur Gear 50T
BEARINGS: Full set of shielded
CLUTCH TYPE: 2 shoe
RATING TALLY
Opinion: 8
Performance – Acceleration: 8
Performance – Steering: 5
Performance – Handling: 7
Performance – Durability: 10
Feature Breakdown: 7
Overall Value: 8
WRAP UP
The HPI Trophy Truggy is a great introduction to the world of 1/8-scale truggies. The engine is rock solid and super easy to tune (and idles forever). Due to the amount of adjustability, you can take this truck from your backyard to club racing by just making a few tuning changes. Handling was ultra predictable and the truggy class lends itself to beginning racers. Not only is the truck great in the handling department, it was as durable as they get, making the Trophy Truggy just as good at home bashing as it is anywhere else, even rivaling the jumping power and strength of monster trucks.
LINKS
HPI Racing hpiracing.com, (949) 753-1099
O'Donnell Racing odonnellracing.com, (217) 398-8970