Keeping Classes for the Masses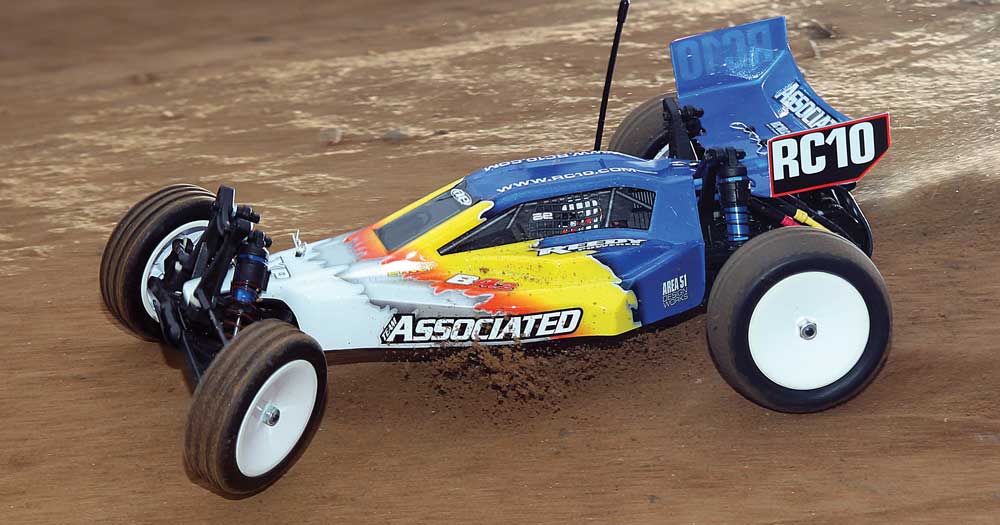 Words: Matt Maziarz
Photos: Walter Sidas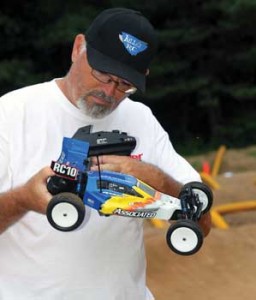 The fine folks over at Team Associated are no strangers to success and the latest ready-to-run incarnation of the RC10 buggy looks to keep the streak alive and well. New features such as waterproof electronics and hex drives for the wheels offer up a double dose of competitive goodies and modern day compatibility in this sleek new package. Two hundred and fifty bucks for a brushless, 2.4GHz ride with little else to buy other than a battery and charger means AE has eyes to keep 2WD Mod Buggies in every backyard and as strong as any other race class…if not stronger!
AT A GLANCE
WHO MAKES IT: Team Associated
WHO IT'S FOR: Rookie racers or buggy beatniks
PART NUMBER: 9042
HOW MUCH: $249.99
BUILD TYPE: RTR
PROS
• Waterproof electronics
• Brushless motor and ESC
• Bulletproof gear diff
• New XP 2.4GHz transmitter
• Steeped in decades of racing heritage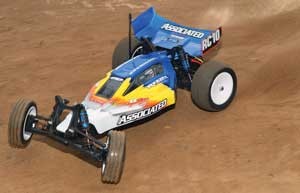 AUTHOR'S OPINION
2WD Mod Buggy is alive and well these days. While some like to think that it's the new trend of heavy, metal chassis beasts that conjure thoughts of buggies past and the days before timing systems, Associated prefers to stay the course, stay with what works and stay with what wins. It might look similar to a B4.1, but it's got some key features that are welcome in this day of vehicles stretching the max lines of the class. The new XP 2.4GHz radio system includes some nice new features that'll be sure to help out some new drivers, while the live front axles and front and rear hex drives will equate to quicker and easier tire changes courtesy of the world of hexes. The new changes are sure to make this already dialed platform a joy to drive. Someone get me a LiPo…Now!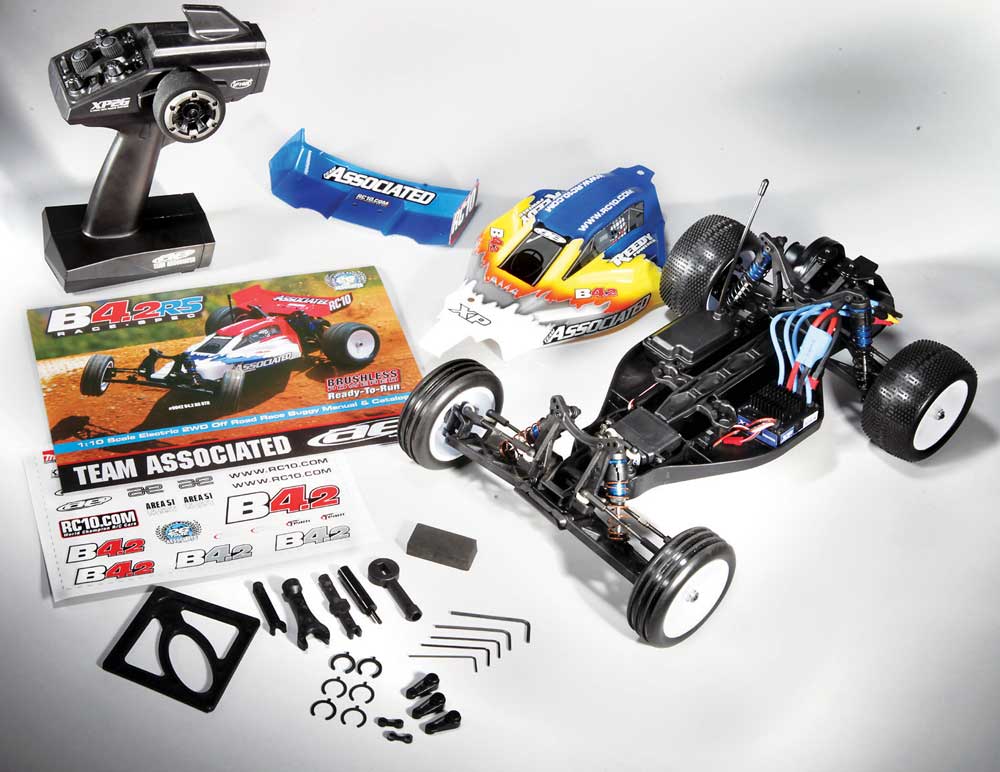 FACTS
• Associated gives the buyer pretty much everything they need, minus a battery and charger. The buggy is designed to take a 6-cell NiMH or most 2S LiPo packs. Our tests were conducted using the Reedy Wolfpack 2S 3300mAh 35C 7.4V pack and with stock gearing, the buggy was plenty quick for stock trim. Wheelie runs on the pavement right outta the box? Sure…a guy's gotta break in those slipper pads somehow!
• Factory Team compatibility. Practically every part on this RTR chassis can be upgraded to the full Factory Team specs, with the exception of a direct replacement Factory Team Ball Differential, but that's easily remedied with a few more parts or the ball diff made for gearbox transmissions, part #9853. Aside from that, every bit of shiny titanium and alloy goodness will bolt right on. Let us not forget the multitude of aftermarket parts that are available for this model as well as the B4 and B4.1…many of which will bolt right on as well.
• Waterproof electronics, an all-metal differential, beefy new metal gear servo and a tightly wrapped buggy shell all mean that playtime or track time is always an option…no matter what the weather might be doing. Seriously though, whether you're into slashing parking lot puddles, if you prefer those early-morning dew-laden runs through the grass or happen across the occasional puddle at your local track, the B4.2RS RTR will keep chugging and keep the smiles rolling as long as you've always got a fresh pack charged!
• History. As in, ask any 30 to 50-something-year-old what his first RC car was and chances are, he'll say "RC10." There's just no denying the abilities of this car and the design heritage after which this latest version has been formed. The national and world titles alone speak volumes, never mind the pervasive and addictive subculture that AE and this vehicle, from its inception to present day, have instilled in the mainlines of RC the world over.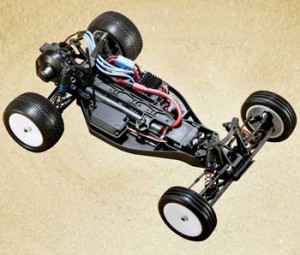 TOOLS & ACCESSORIES INCLUDED
• Shock pre-load spacers
• Wheel wrenches
• Servo saver and turnbuckle wrenches
ITEMS NEEDED
• 6 "AA"s
• 6 cell NiMH or 2Ss LiPo with Deans
• Appropriate charger
ITEMS USED
• Reedy Part #731 3300mAh 7.4V 35C LiPo
BEHIND THE WHEEL
STEERING: Neutral
If there's one thing that the AE 2WD vehicles have always been known for, it is the ability and predictability inherent to their steering designs. Straight out of the box, the dual rate was a bit high for my tastes, but after a quick twist of the knob, the buggy was stable and consistent through all of the paces at the local clay off-road track. A bit of loosening on the slipper and a bit of toe-in up front gave me just the amount of on-power and low speed stability that I was looking for. Adjustments for camber, toe-in and Ackermann can be made right out of the box and one can also purchase separate steering blocks with varying degrees of caster.
ACCELERATION: Excellent
The Reedy BL series of ESCs and motors might not be smooth when stacked up against the world's hottest sensored systems, but holy smokes does it have some get up and go! Factory-set slipper plus dry pavement equals buggy on its back. Easing into the throttle to get a feel for the full speed of the setup had the buggy dancing along at quite a respectable speed and even had me giggling a bit. On the track the Reedy 3300Kv motor proved more than worthy when given a proper approach and a good, long lead up even on the largest of jumps. I'd say this setup should be more than enough power for anyone looking to get into RC or buggies in general.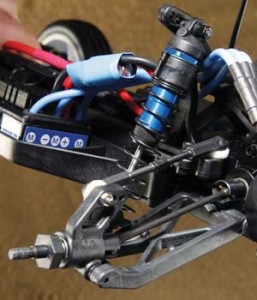 BRAKING: Very Good
As I mentioned before, the SC500-BL ESC isn't the smoothest player on the block and this is most readily apparent in the braking. Having the travel of the "low" throttle (brakes and reverse) set at full made the B4.2 feel as though it had a three-step reverse ESC, kind of an all or nothing feel. A few clicks down on the throttle low end limiter had the brakes feeling much more manageable…and I didn't even have to read the manual to do any programming on the ESC. Score for the XP transmitter
!
SUSPENSION: Excellent
Decades of design and development, backed by years on the podium and backyard-tested throughout the world, all lead to a suspension design that is forgiving, yet responsive in this latest version of the RC10. The V2 alloy shocks might not be threaded, but they are more than up to the task of keeping the B4.2 planted no matter what it's tossed into. The quick response of the front brown springs soaked up whatever ruts lay in its path while the black springs in the rear kept the power down without missing a beat. If the stock trim doesn't fit the bill for your stomping grounds, AE offers a full line-up of shock oils and spring sets to tune for any surface.
JUMPING: Excellent
If there's one place in the world that the RC10B4.2 is at home, it's in the air. On most jumps, the flight was straight and true with very little throttle input. The larger jumps required a bit more work with the throttle and brakes, but again, the buggy flew great, allowing me to place the landings however I needed to. Even off-kilter take offs due to traffic and/or ill-advised approaches left the B4.2 no worse for the wear. On the one to five occasions where I got a little overzealous with the air time and suffered a few flat bottom landings, the chassis did the slap that we all know so well, but it wasn't anything a few shock spacers and/or better driving wouldn't rectify.
DURABILITY: Excellent
2WD buggies are not exactly among what one might call durable. Especially not when one might consider the stout nature of SCTs and the pure brute force and rigidity of 1/8-scale buggies, but the B4.2 is most assuredly no slouch in the durability department. Cartwheels, barrel rolls, sideways landings, pipe landings, the occasional brush with a stone or two and whatever other punishment my lack of driving could dole out in a 3-pack session left our test buggy in need of a bath, but without a single part broken. Now I just have to figure out how the ESC generates its own force field.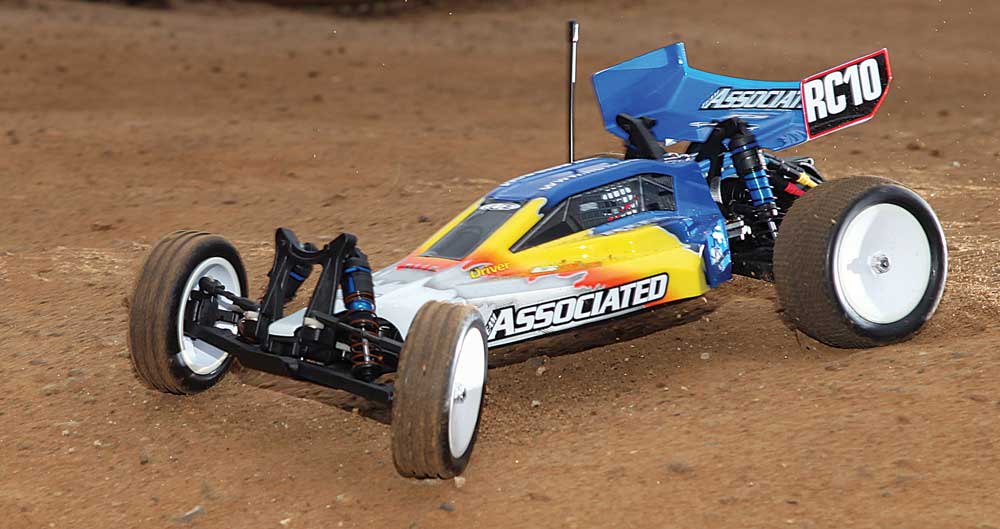 SPECS & TUNING OPTIONS
DIMENSIONS
LENGTH: 14.8 in. (377mm)
WIDTH: 9.8 in. (250mm)
WHEELBASE: 10.7 in. (273mm)
WEIGHT: 3.4lbs (1530g), running weight will vary depending on battery
BODY, WHEELS AND TIRES
BODY: Pre-painted
WHEELS: White Dish
WHEEL ADAPTER TYPE: 12mm hex
TIRES: Pin Spike rear/rib front
SUSPENSION
TYPE: 4-wheel independent suspension
SHOCK POSITIONS: 3 on the tower, 2 on the arm (Rear), 3 on the tower, 2 on the arm (Front)
CAMBER: Adjustable turnbuckles
ROLL: Adjustable with ball stud spacers
WHEELBASE: Adjustabsle front and rear with spacers
RIDE HEIGHT: Shock limiters/spacers
STEERING
TYPE: Dual post bell-crank
TOE: Adjustable turnbuckles
CHASSIS
TYPE: Molded composite tub
MATERIAL: Composite plastic
THICKNESS: NA
DRIVETRAIN
TYPE: 2WD
TRANSMISSION: 3-gear transmission
DIFFERENTIAL: Gear differential
CLUTCH TYPE: Adjustable slipper
GEAR RATIO: 2.6:1
BEARINGS: Full rubber shielded

WRAP UP
Plain and simple…the RC10B4.2 rocks! The 2WD buggy is where it all started way back in the 80s in some dark, dank basement on Edinger and the B4.2 looks to proudly carry on the legacy. This latest release from Associated and the on-point refinements made to it look to keep them planted firmly in the mix for top buggy in the world. Get a buggy because it flies better than an SCT. Get a buggy because it's a heck of a lot more durable than you think. Get a buggy because it looks awesome and therefore people will think you are awesome for driving one. Get a buggy because if you learn to drive a 2WD buggy, you'll be able to drive almost anything. Get an RC10B4.2 RS RTR.
LINKS
Team Associated teamassociated.com, 949-544-7500