Do Work Driver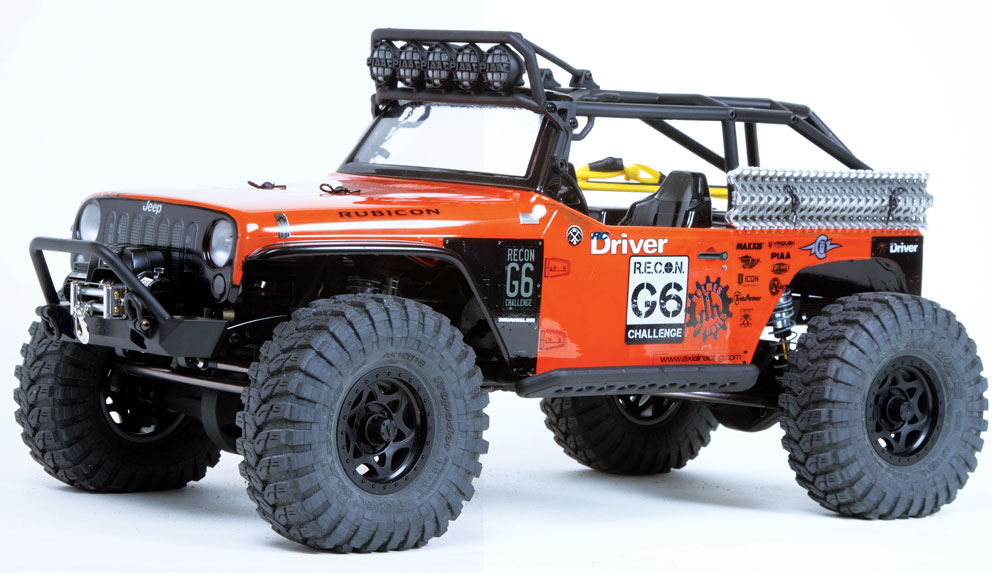 Words: Ty Giebel
Photos: Ty Giebel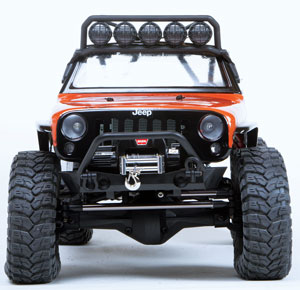 Since 2007, Axial has been a staple of the crawling community and events around the world. But over the last couple of years, radio control rock crawling's focus has shifted away from strictly performance-based vehicles to those with scale appeal. This scale appeal has been Axial's focus, bombarding the market with vehicles that have officially licensed, full-size manufacturer support and scale looks to drool over, but most importantly, durability. Axial now has the G6 Jeep Wrangler, the newest in its lineup, with an aim of performance and scale in one package. Axial paired with the G6 name and Brian Parker to bring about a vehicle that can handle the wilds of your backyard or the rolling rocks of Moab, Utah.
AT A GLANCE
WHO MAKES IT: Axial
WHO IT'S FOR: Scalers and G6'ers
PART NO.: AX90034
HOW MUCH: $299.99
BUILD TYPE: Kit
PROS
• Great parts support
• Great looks
• Proven suspension geometry
• Grippy tires
• Metal links
• Metal shocks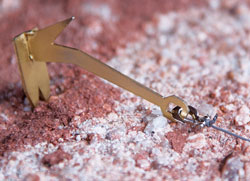 CONS
• No beadlocks
REVIEWER'S OPINION
Over the years, I have had many Axial SCX10s in all their incarnations and this one is my favorite. The aggressive style to the body lends itself well to performance, while the roll cage, light bar and upgraded shocks allow this rig to not only take a beating, but tackle terrain day and night.
FACTS
• The chassis is the same old SCX10 chassis that has been used for years. Having said that, it's hard to improve on perfection and that's just what this ladder frame chassis is. It is comprised of two steel frame rails with plastic cross braces and a skid plate that hold it together. The steel of the frame is a C channel, allowing it to be light but very rigid.
• The suspension of the G6 has been improved upon from previous SCX10 platforms. Instead of a three-link in the front, Axial has used the four-link mount in both the front and rear. The four-link system makes this solid platform even more predictable on the rocks.
• The steering is the same tie rod and drag link with the servo mounted on the axle. But no qualms from me, as this is the same system I continue to run on all my crawlers. This system allows the maximum amount of torque from the servo to turn the wheels and get the tires where you want to go.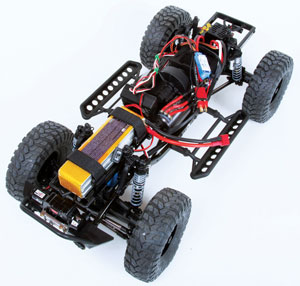 • Again the drivetrain uses the same axles and transmission that were originally put on the AX10 so many years ago. This drivetrain is a staple of the crawling community, going in everything from hardcore competition crawlers to scale rigs like this. The transmission uses three gears with a slipper clutch to keep the power under control. The axles use a ring and pinion with a locker that the axle shafts slide in to keep slop and constant four-wheel engagement on the rocks.
• There are a few finishing touches that need to be done to get this Jeep in top shape. The Lexan body needs to be cut out, painted and holes drilled for the cage to mount to.The cage is a simple piece to assemble with screws holding it all together. After the body is painted and the cage attached, it's time for stickers, lots of stickers. What competition Jeep would be complete without all our sponsors we dream of having one day?
TOOLS AND ACCESSORIES INCLUDED
• 4-way wrench
ITEMS NEEDED
• ESC
• Servo
• Battery
• Receiver/transmitter
• BEC
• Winch
• Lights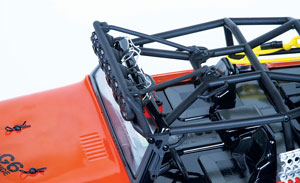 ITEMS USED
• Futaba bls172sv servo (FUTBLS172SV)
Holy power, Batman! The cream of the crop when it comes to making the wheels point exactly where you want them. How about the specs? This is a brushless servo that provides 514 ounces of torque at 7.4 volts with a transit speed of 0.11 of a second. What does that equate to? Tons of rock ripping power and incredibly fast speed!
• Holmes Trailmaster BL 540 3100Kv motor (HH-TRM-BL-540-3100)
This 540 can 3100Kv motor roughly translates to a 13.5-turn brushed motor. But don't let that fool you, this motor is able to crawl like a 35-turn brushed motor, allowing a huge range of driving that is maintenance-free. The high-end control of this motor is superb, but the low end is even better, and programming drag brake into this is extremely effective, allowing this motor to hold the truck in place on any terrain.
• Castle Creations Mamba Max Pro(CSEMMBMAXPRO)
The Mamba Max Pro is the perfect pairing for the Trailmaster motor. The programmability allows the motor to be precisely set to your personal tastes while still handling any battery you could dream of to put in your crawler.
• RC4WD 1/10 Warn 9.5cti winch (RC4Z-S1079)
At last a winch that does everything I could want! This Warn winch can handle rigorous hard use and still be directly plugged into a 3-cell LiPo battery. The 12 volts coursing through the veins of this winch wake it up, allowing the speed to be fast enough to get you up to anything at the perfect pace.
ADDITIONAL ITEMS USED
• Axial NVS- Night Vision System light kit (AX24251)
• RC4WD Warn wireless Remote/Receiver Winch controller set (Z-S1092)
• Crawl Space Terra Bridges (TCSTBV2-001)
• Ty's Tow Rope (TTRYL013)
• Eagle Claw of Destiny (TCSECOD-001)
• Great Planes lead weights (GPMQ4485) (x2)
• Castle Creations 10A BEC (CSEO95-0022-00)
• Flight Power LiPo Pro50 3S 11.1v 3600mAh 50C (LXAJGY)
• Futaba R2106GF 6CH FHSS receiver (FUTL7605)
• Futaba 4PL Transmitter
HOP-UPS WE RECOMMEND
• Axial metal knuckles (AX30496). Great part to increase durability in the steering system.
• Axial Metal C hubs (AX30495). Coupled with the knuckles, these add to the durability of the front end and the steering system.
GETTING THE G6 READY
The climbing of the SXC10 has been superb in the past and this platform is no different. But with this kit, I went the extra step and made the climbing capabilities G6-ready! With Great Planes lead weights in the front wheels, the front bias allows the G6 Jeep to climb with the best of them. But there is more to G6 then just climbing. A winch is mandatory when it comes to conquering the tough terrain put in front of you. For this there was only one option, the RC4WD Warn 9.5cti winch with wireless controller. This winch operates straight from the 3-cell LiPo battery powering the crawler. To help this winch grab on to the rock is the Eagle Claw of Destiny; yeah it's a funny name, but it grabs to the smallest piece of rock to help this rig go where no crawler has gone before. Climbing and winching are just the start of the challenges that await at a G6 and endurance is a primary focus, for this a big battery and a maintenance-free motor is the best option. For the motor, Holmes Hobbies cooked up a treat with the new sensored Trailmaster Brushless 3100Kv motor. This motor has the power to jump and skip across all types of terrain while control is fine enough to creep through the trickiest of rock sections.

To help the power last is a 3600mAh 50C 3-cell LiPo battery from Flight Power. This battery packs the punch to get the Trailmaster motor moving. Helping keep the control and power in check is a Castle Creations Mamba Max Pro, the perfect pairing for the sensored motor and the 3-cell LiPo. The computer programming of this ESC allows it to be set for drag brake, throttle curves, battery voltages and tons of other options to help tune the power output. But wait, there is still more. G6 events occur in all types of conditions, be it night, day, dry or wet. With the provided light bar it was easy enough to wire in the Axial NVS light system to make this Jeep capable of taming the wilds when light is at a minimum. Five lights were attached to the roll bar to pair with the headlights in the front of the body, allowing an exceptional amount of light to pour from the front of the Jeep and keeping all those hidden obstacles easily within view.
ON THE ROCKS
Once this kit was assembled and outfitted with all the goodies that get it ready for a proper G6 test run, it was time to hit the trail and see just what she was capable of. Winding up a narrow single-track hiking trail through some thick brush and eventually onto a rock face was an easy task for the G6 Jeep Wrangler. The loose dirt was a simple task with the copious amounts of power the HH Trailmaster motor provided. A simple "blip" of the throttle allowed the G6 to rush up the trail while leaving a cloud of dust in its wake. The brush that lay ahead can hang up a radio control vehicle, often times leaving it tangled around the axles, but some quick thinking and precise driving allowed the G6 to maneuver through and power onto the next challenge that awaited. The first rocky climb was nothing too spectacular and the Jeep handled it without flinching, grabbing firmly onto the grippy rock surface and steadily climbing toward the sky. On top of this mild challenge was a new challenge, something that was unclimbable, but for a Jeep with a winch it is merely another obstacle to tame. I lined up at the bottom of the rock wall eager to try out the RC4WD Warn 9.5cti winch. I strung out the cable using the Warn Wireless winch controller, attached my Eagle Claw of Destiny atop the rock face and began to reel in the line and I slowly eased onto the throttle of the Jeep. Keeping the line tight, the winch pulled the Jeep up the sheer rock wall, keeping it firmly attached to the wall as it began to crest the top. The Jeep rolled over the steepest part of the wall and began to move under its own power once again.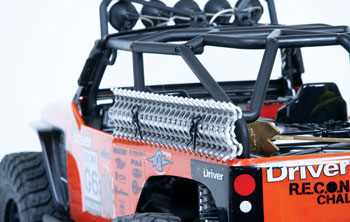 Once on top of the wall there was only one place to go, down, but luckily the backside of this rock was drivable under the four-wheel drive of the SCX10 platform. Using the drag break of the Mamba Max Pro ESC and Trailmaster motor was a simple task of letting the electronics do the driving, allowing the Jeep to slowly work its way down the mellow descent. Moving along with the G6 test run were many more obstacles, from using the Terra Bridges to bridge rocky crevices to wandering into a cave and putting the NVS light system to proper use. But as light faded and the temperature began to drop, it was time for me to get off the mountain and head back to the warmth of my car. I looped around to the original trail I was on and followed it back down to the parking lot where the battery was still providing ample power and the electronics were nice and cool after their taxing drive, taming the mountain I had left behind.
SPECS AND TUNING OPTIONS
DIMENSIONS
LENGTH: 18.1 in. (460mm)
WIDTH: 8.8 in. (225mm)
WHEELBASE: 12 in. (305mm)
WEIGHT: 3.59 lbs. (1.63kg) (no electronics)
GROUND CLEARANCE: 2.7 in. (68mm)
BODY, WHEELS AND TIRES
BODY: Clear Lexan
WHEELS: Plastic non-beadlock
WHEEL ADAPTER TYPE: 12mm hex
TIRES: Maxxis Trepador
SUSPENSION
TYPE: Solid axle
SHOCK POSITIONS: Three on shock towers, one adjustment on frame
CAMBER: NA
ROLL: NA
WHEELBASE: NA
RIDE HEIGHT: Adjustable pre-load on shocks
STEERING
TYPE: Drag link and tie rod
TOE: NA
CHASSIS
TYPE: C-channel ladder frame
MATERIAL: Steel
THICKNESS: NA
DRIVETRAIN
TYPE: 4WD locked
TRANSMISSION: 3-gear center mounted
DIFFERENTIAL: Fixed
CLUTCH TYPE: Adjustable slipper
GEAR RATIO: Optional pinion gears
BEARINGS: Full set of shielded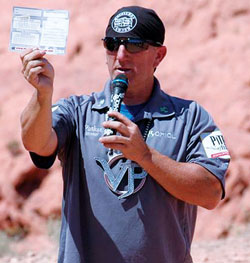 BRIAN PARKER—INSIDE THE G6
From the minute I saw this Jeep I knew I had to talk to Brian Parker, the founder of the G6 events. Here is what he had to say about not only the new Axial G6 Jeep Wrangler, but just what G6 is.
TY GIEBEL- Why did you start G6/what brought it about?
BRIAN PARKER- I started the RECON G6 Scale Adventure Events because after driving my first scaler, I wanted to compete with one and the only events out there were more similar to traditional RC Rock Crawling Competitions and I felt that a scale vehicle needed something more; driver and machine vs. nature, rather than driver vs. driver. The other reason for what brought the RECON G6 about was a deep-rooted passion for adventure. I have been a 1:1 wheeler since 1995 and really enjoyed facing the challenges that the trails brought. The RECON G6 brings adventure, challenge and camaraderie to scale driving.
TG- What is the G6 life style?
BP- The "G6" stands for something different to each G6'er. To me, the G6 stands for a "Lifestyle." The G6 has helped drivers through the passing of loved ones. It has rekindled marriages and even sparked romance.
TG- What makes up a G6 event?
BP- The most incredible participants and sponsors on the planet! When participants, I call "Drivers" begin their first RECON G6, they become G6'ers and are part of a worldwide family known as the RECON G6 Family. G6'ers make the RECON G6 events what they are; adventurous, challenging, and most importantly, fun. Fun for the family. Fun for groups of friends. Fun for the solo thrill seeker. The RECON G6 is your adventure. What will your adventure be? Come get your scale adventure fix in a RECON G6 and find out.
TG- Are there any special tasks associated with a G6 that you don't see anywhere else?
BP- Yes. How special? Well, that depends on if you are performing them or watching them (LOL). For example, the RECON G6, "Rippin' Lips" event in Colorado had a casting challenge. G6'ers had to cast a lure with a fishing pole at sponsor's banners for a unknown time bonus. The RECON G6 is a unique RC event where drivers are asked to put down their controller and perform "Driver Challenges." Driver/Driving Challenges have included hop-scotch, drive a kite, target shooting, playing air instruments, or dancing as their spirit animal. I don't know of any other genre of RC that features driving challenges and driver challenges.
TG- Where do these ideas come from?
BP- I am not sure which personality of mine is the creative one (LOL). The ideas really come from everywhere. Personal experiences, fellow G6'ers, halfway through a tilapia fish taco with kale chips, but all the ideas embrace the spirit of fun.
TG- How many RECON G6 do you put on a year?
BP- I average around 20 per year. The RECON G6 just celebrated its third Birthday Bash G6 last December. 2014 will be the same. Axial Racing, axialracing.com, is the title sponsor this year for the RECON G6 Adventure Series and we have 12 Axial RECON G6 Adventure Series events scheduled across America. You can see that schedule here, recong6.com/2014-events.html. Other sponsors for that series include RPP Hobbies, rpphobby.com/, Gear Head RC, gearheadrc. com/, Pit Bull Tires, pbxrc.com/, Fast Eddy Bearings, fasteddybearings.com/, Pull Pal, pullpalrc.com/, and KlingOn RC, klingonrc. com/. I am always looking to add sponsors that share the same great passion for RC scale adventure that I do.
The RECON G6 is a new genre of RC. The support of sponsors came after the G6 became the lifestyle of so many RC enthusiasts across the world. A lot of people don't know that. I have a passion for fun and I love driving RC cars, boats and helicopters. I have only flown paper and balsa wood airplanes (LOL). When I first started the RECON G6 events, there were no sponsors. It's the passion, adventure, challenges, and fun that drivers experience. Those reasons are why most participants love the RECON G6. The reward is finishing. The mantra of a RECON G6 is just that, "Finishing a RECON G6 is like winning a RECON G6."
Sponsors occasionally send "Finishing Prizes" but G6'ers have come to expect the unexpected at a truly unique RC event when it comes to a RECON G6. After all, it is the best scale adventure event series on the planet!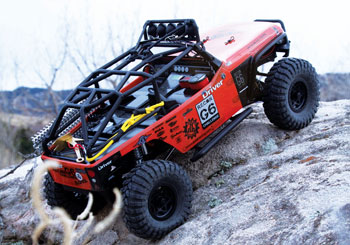 TG- How many clubs have experienced a RECON G6 event?
BP- Wow Ty, A LOT! I wish I could remember all the clubs that have represented and come to challenge themselves in a RECON G6. In fact, several clubs have been created by G6'ers that met during a RECON G6.
TG- What's with your shoes?
BP- LOL! Vibram Fivefingers have changed my life. I have never had this much fun wearing shoes in my life. They took a minute to get use to and washing them is a must (the only thing worse than knee-pad sweat is Fivefinger funk!), but the benefits of wearing barefoot-designed shoes have given me a new lease on health. I experience no more lower back pain nor do my knees and ankles swell. There have been quite a few G6'ers that have started wearing them. It was my long-time friend and fellow G6'er Eric O'Brien who convinced me to try them. I have been wearing them now for approximately two years.
TG- How did the partnership with Axial and the RECON G6 come about?
BP- Axial has sponsored my RC competition events since 2007. So they knew that I have a huge sense for fun, family events. Axial visionary Rodney Wills attended his first RECON G6 and was hooked. Axial VP Jeff Johns and the whole Axial gang, OG Brad "Bender" Dumont, Brandon Coonce, and Randall Davis to name a few, all live an outdoor lifestyle. The RECON G6 is just an extension of all of our lifestyles. It really was a no-brainer for Axial Racing, a subsidiary company of Hobbico Inc.
TG- Did you have any design influence in the Axial Jeep Wrangler G6 and what do you think about it?
BP- Awestruck! Humbled! Fan! Speechless! (which is rare for me) LOL. You know Ty, I am an old-school BMX Freestyler. Being nine feet out above a coping, you don't really think about whose bike your riding. Truth be told, you're hoping to pull the trick and not hang up on the coping in front of several hundred show-goers. But I equate the new Wrangler G6 to that of having a bike named after you. Honestly, it hasn't really sunk in yet.
Yes, I had some input in the design. Some was used, some wasn't. I really thought that having satellite radio was important. Sometimes we don't have the best of service at RECON G6 locations. The dovetail design really complements this SCX10 version and really sets it apart from its siblings. That may or may not have been my doing, but it's cool! The Wrangler G6 was a team effort and the spirit of the RECON G6 and listening to G6'ers over the last year and half, and I think comes through the first time you drive this rig. The one compliment that I hear the most from drivers about the Wrangler G6 is that it is the most fun and capable SCX10 that they have ever driven. The SCX10 line-up shares the same proven platform. Each one has some unique features, but the Wrangler G6 just seems to marinate the history of the legendary Axial SCX10 and the phenomenon known as the RECON G6 perfectly, resulting in a driving performance worthy of a five star rating.

WRAP UP
What can be said about the Axial G6 Jeep Wrangler that Brian or I haven't already said? Plenty! I could sing the praises of this vehicle all day and not be out of breath. When I received the four-door Jeep Wrangler from Axial I thought it couldn't get any better, but Axial has continued to improve on what I consider the best crawler platform that has ever come out. But as I commonly am, I was wrong. The G6 has improved once again on this tried and true platform. From the light bar to the wild boar driveshafts, this rig is the whole package. If you are new to crawling, thinking about it or a seasoned veteran this is the rig for you. It's tough as nails and has the looks to get everyone's heads turning and asking where to buy one.
LINKS
Axial axialracing.com, 877-642-9425
Castle Creations castlecreations.com, 913-390-6939
Flight Power flightpowerusa.com, 888-598-8037
Futaba futaba-rc.com, 256-461-9399
Great Planes greatplanes.com, 217-389-8970
Holmes Hobbies holmeshobbies.com, 573-289-6747
RC4WD rc4wd.com
The Crawl Space Thecrawlspaceco-com.webs.com