3 Editors – 3 HPI Mini Trophy Projects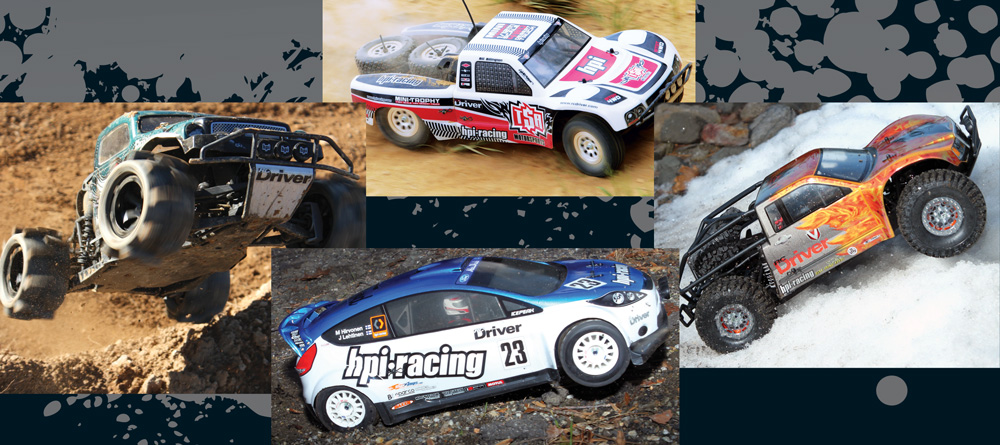 In the October 2010 issue of RC Driver, we reviewed HPI's TSA Mini Trophy Truck, a 1/12-scale truck that caused quite a stir with its realistic body panels, cage and suspension. This truck was based on the real TSA Motorsports truck and, quite frankly, HPI hit the nail on the head in reproduction. The Mini-Trophy features a durable 4WD drivetrain with sealed transmissions, enclosed chassis and cool caged interior complete with a driver and navigator figure. HPI even gave the Mini-Trophy a functional 4-link rear suspension!
Being the RC dorks and guys in general, a few of us couldn't help, but geek out about our 'versions' of this truck and what we would do if we were to build a project Trophy truck. So, this little RC Driver Editor Build Off was created, taking three HPI TSA Mini-Trophy trucks and creating three no-holdsbarred custom rides. Check them out.
David's Project: FOFF Rig
Formula Off-Road Transformation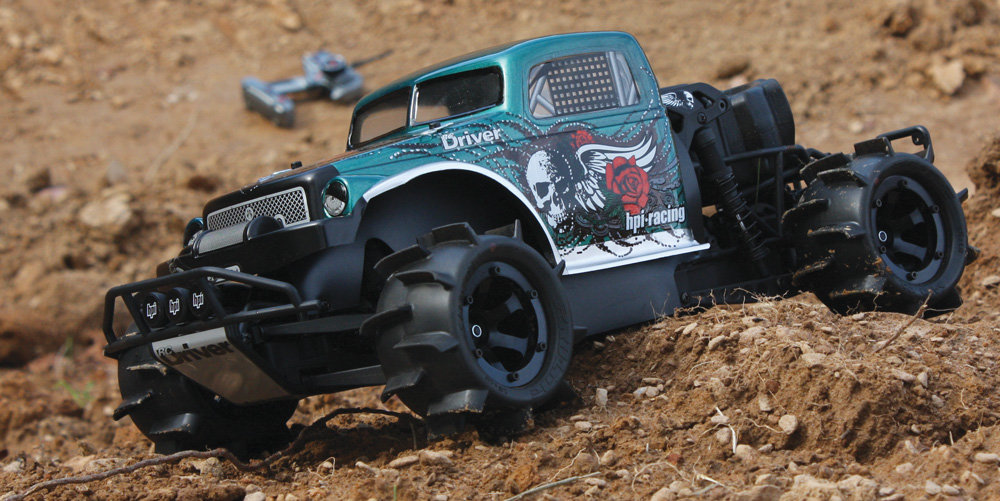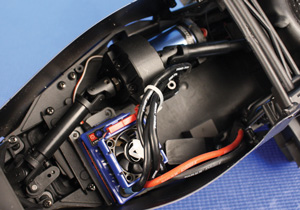 THE BUILD
I knew from the start that I wanted to transform my Mini Trophy into a Formula Off-road (FOFF) vehicle and so I jumped onto YouTube for inspiration. As cool as the cage is on the Mini, I knew it had to go…well some of it. The rear shocks are mounted to the cage so I had to leave most of the rear of the cage in place. At this point I wasn't sure of the exact body, but I decided I wanted the rear exposed to highlight the cage. There are two spare faux tires mounted to the hatch that opens to access the battery compartment. I eliminated the rear spare tire mount and both tires. A single Panther Paddle tire mounted to a RPM Revolver wheel serves as the new spare. This is not an exact match to the Pro-Line Sand Paw tires and Golden Horizons' aluminum beadlock wheels I will use for the truck, but it is close enough.
ELECTRONICS
The brushed stock motor and ESC was retired and replaced with a Traxxas Velineon brushless system. The 2S to 3S motor/ESC combo would provide the torque and speed needed to dig the paddles into the hillside. Mounting the ESC was a little tricky since it wouldn't fit in the stock spot, so I ended up using a chassis support from an ECX Torment. A Venom 3300, 2S LiPo battery pack brings the fuel.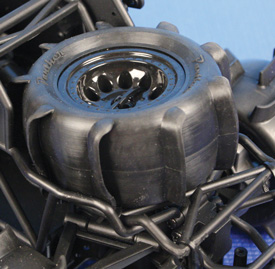 BODY & MORE
I discovered the perfect body during a search through my shelf of Lexan shells—the cab section from an Axial B-17 Betty truck body. The scale was perfect and it leaves the rear cage exposed. I painted it metallic green with silver bumpers and running boards and a black front bumper. Then I applied xxx main Racing external Skull and Rose graphics and integrated them to eliminate the "I just put stickers on it" look. Using a Parma pen and a silver Sharpie marker, I stippled a vine-like image to tie all the decals together. This was an easy solution and turned out well. To mount the body, I was able to use zip ties at the rear to attach it to the cage's cross member and up front I used a rear body mount from a Traxxas Stampede.
PERFORMANCE
A fully charged LiPo, a fresh construction site and sunshine make for a great maiden voyage. The bulldozers were kind enough to leave me with many piles of dirt that could easily be scaled down versions of the same hills that full-size FOFF trucks compete on. I wasted no time blasting up the first hill that was covered in loose dirt. All four wheels sprung to life, kicking up a huge roost that flung dirt all over me when I was about 12 feet behind the truck's starting point. The paddle tires dug in and attacked the hill without blinking. The Low CG truck has a wide footprint, thanks to the GH offset beadlocks, which helped it remain stable. The chassis rides close to the ground so any immobile clumps of dirt or rocks slowed the truck or sent it on its lid. On the flat dirt areas, the Mini tracked straight and true at full speed and the wheels stayed planted when cornering hard. This was all fine and dandy, but I was having more fun on the hills. I spent the remainder of the afternoon sending the truck up and down every hill and launching it off the tops for a little flight time. Big air was fun, but the landings felt like the truck would explode from the entire chassis slamming into the dirt. It did not, however—it just kept going back for more. And so did I.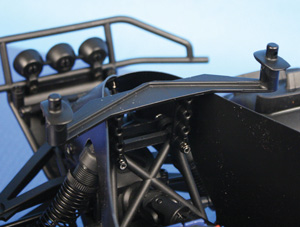 PARTS LIST
AXIAL
• B-17 Betty truck body—AX4007
HPI
• Mini Trophy truck—103034
GOLDEN HORIZONS
• Black aluminum beadlock wheels—4079
PANTHER
• Paddle 2.2 inch truck tires—T470F
PRO-LINE
• Sand Paw 2.2 inch rear tires—1052-01
RPM
• Revolver 2.2 inch wheels—82052
TRAXXAS
• Velineon VXL 3S brushless system—TRA3350X
• Stampede body mount—3614
VENOM
• 2S 7.4V 3300mAh 25C hard case LiPo battery pack—1556
XXX-MAIN RACING
• Skull & roses decals— S033
LINKS
Axial axialracing.com, 949-600-8642
HPI Racing hpiracing.com, 949-753-1099
Golden Horizons ghhobby.com, 604-331-2526
Panther Products Inc. pantherteam.com, 866-700-8473
Pro-Line prolineracing.com, 909-849-9781
RPM rpmrcproducts.com, 909-393-0366
Traxxas traxxas.com, 888-872-9927
Venom venom-group.com, 800-705-0620
xxx main Racing xxxmain.com, 877-744-6793
Greg's Project: Cruisin' Trail Truck
Blazin' Over Rocks and Through Mud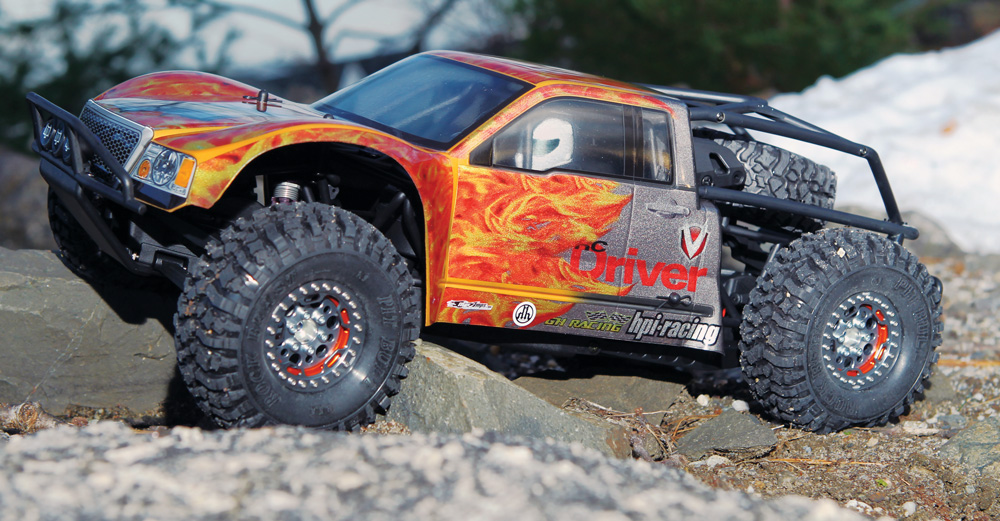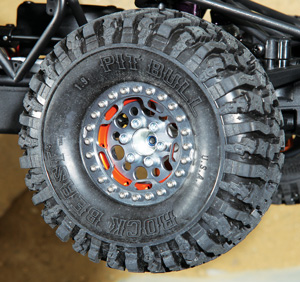 THE BUILD
HPI's Mini Trophy truck has several features that would add up to a good trail machine like large skid bumper, soft suspension and cool roll cage, but withits working diffs, soft steering setup and low stance, it didn't scream, "Take me over the rocks"…till I got a hold of it. This truck has to crawl over rock and through mud and other nasty elements so the drivetrain needed beefing up and a lock-down. First I pulled the diffs out, installed HPI's hardened ring gear and heavy-duty outdrives and then I locked the diffs with Racers Edge Diff Lock Putty. All of the driveshafts were swapped out with HPI's optional universals for better durability. Finally I locked down the slipper and swapped out the plastic wheel hexes for HPI aluminum units. Next I had to take care of the servo saver steering system. Since there wasn't a way to eliminate the saver, I pressed a steel ring over it to lock it down. I also used an aluminum GH servo horn and installed Du-Bro ball ends on HPI titanium tie-rods for the steering. Moving on to the suspension, I swapped out all of the knuckles for GH Racing machined aluminum knuckles and went with HPI aluminum shocks for plush damping.
ELECTRONICS
I turned to off-road electronics master Holmes Hobbies to provide the motor system for my truck. In went a TorqueMaster ESC and 30-turn brushed motor. Powering the system is a MaxAmps.com LiPo battery and a Futaba 4PL radio handles the signals.
BODY & MORE
HPI offers a Ford body for the Mini-Trophy and it fits the look of a trail truck better than the stock body with multiple cooling vents. So I used the cab section and mated an Axial rear Honcho assembly to it with some creative cutting and mounting. For body graphics, I sent the cab off to Michelle at Krawler Konceptz for some wild metallic flame and tear internal graphics. For wheels, Vanquish Racing is the authority on realistic beadlock wheels and I picked out an OMF set that I wrapped Pit Bull Rock Beast 1.9's on.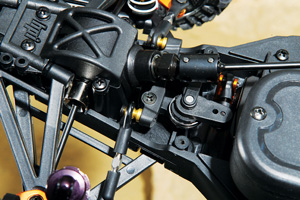 PERFORMANCE
When I built this rig, I knew it would have some limits on its trail use compared to other trail trucks available. So I stuck with navigating walking trails in a local park. There, my Mini-Trail truck had no problems speeding over roots, crawling up mild rock ledges and through rutted terrain. The most fun I had was blasting the truck through a small stream that crossed the walking path. The stream was shallow with small rocks to navigate around and muddy sections. The chassis area did fill up with muck and water, but thanks to the waterproof electronic selection, the truck forged on.
PARTS LIST
Axial
• Roll cage bed—AX80046
GH Racing
• Aluminum Upright Set—5452
• Aluminum Servo Horn 25T—5492
Holmes Hobbies
• TorqueMaster BR-XL—HH-TMBRxl
• TrailMaster Pro 540—HH-TRM-PRO-27
HPI
• Mini Trophy truck—103034
• Front Threaded Shock Set—103395
• Rear Threaded Shock Set—103410
• Universal Joint Set—105216
• Rear DCJ Join Shaft Set—105222
• Front DCJ Joint Shaft Set—105223
• Aluminum Hex Hub Set—105470
• Heavy Duty Diff Joint—86312
• Heavy Duty Final Gear—86336
• Titanium Turnbuckle set—93465
• Waterproof receiver box—106960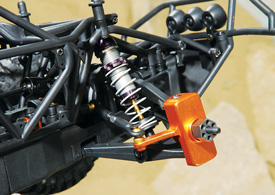 Krawler Konceptz
• Custom internal body graphics—Call
MaxAmps.com
• 2-Cell Waterproof 5450mAh LiPo Battery
Pit Bull Tires
• Rock Beast Scale 1.9 Tires—PB9003NK
Vanquish
• OMF Rings—258684072
• Front Ring—1258686587
• Clamp Ring—vps05252
• Outlaw rear ring—1258688007
• Hex Hubs—725
• Screw Kit—vps05000
LINKS
Axial Racing axialracing.com, 949-600-8642
GH Racing ghhobby.com, 604-331-2526
Holmes Hobbies holmeshobbies.com
HPI Racing hpiracing.com, 949-753-1099
Krawler Konceptz krawlerkonceptz.com
MaxAmps maxamps.com, 888-654-4450
Pit Bull Tires pitbulltires.com, 314-621-8954
Vanquish Products vanquishproducts.com, 916-334-4899
Paul's Project: Rally Time
On and Off-Road Domination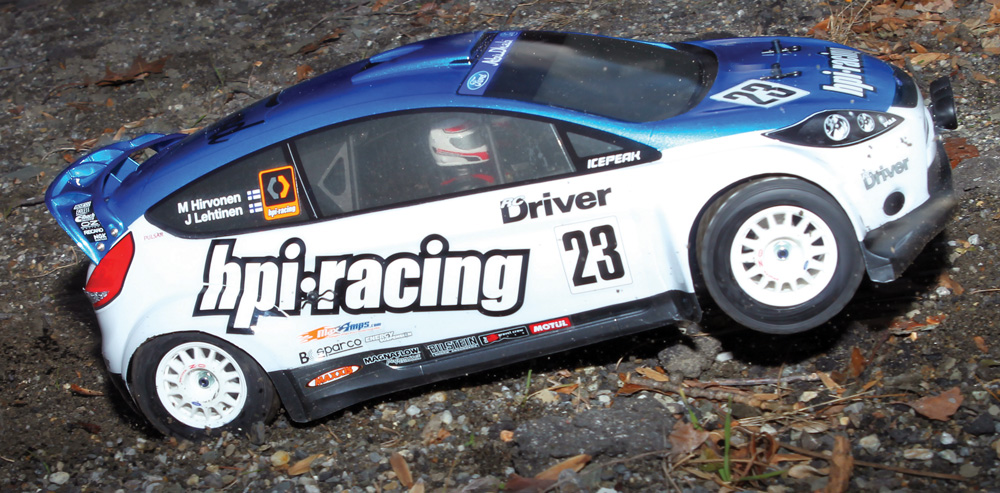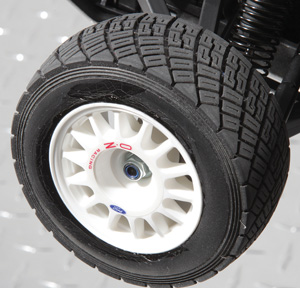 THE BUILD
nce I removed the body panels and wheels and tires from the HPI Mini-Trophy truck, I was immediately inspired to transform my desert truck into a rally car. The full roll cage along with cockpit and two driver figures, just like what you would find in a full-size rally car, was what did it. I started off by removing the spare tires, their mount and both bumpers. This left the skid plates intact which was good. Not only do they protect the chassis when off-roading, but they also retain the hingepins for the lower suspension arms and were the perfect length to also support the front and rear of the HPI Ford Fiesta rally body. I lucked out with mounting the body and was able to use the stock side body mounts from the Mini Trophy and up front I used spare body posts from an old Tamiya kit that were simply bolted onto the chassis. Shock travel was limited by adding a short length of thick rubber tubing onto each shock shaft and this would help keep the tires from slamming into the body. Metal washers were installed between the hex hubs and wheels to push the wheels further out from the chassis and this lined them up with the body.
ELECTRONICS
The stock brushed motor and speed control had to go in favor of a more powerful and efficient brushless motor system like the HPI Flux Vapor speedo and Flux Warp motor. The motor had to be oriented so the wire tabs would clear the rear driveshaft and the roll cage. To mount the speed control flat, I had to remove a portion of the center chassis brace and its wires had to be zip tied to the chassis to keep them clear of moving parts. A MaxAmps 2S 5450mAh 7.4V LiPo battery pack was used to fuel my creation.
BODY & MORE
HPI's great-looking Ford Fiesta RS WRC Abu Dhabi WRT rally body was key to this transformation. I mounted the body before painting it so that I could get the wheel wells in the correct location, mark the body post holes and check to make sure there was no interference. I sprayed a race-inspired paint scheme onto the body using nothing but Tamiya rattle cans and detailed it with stickers. The bucket lights from the stock front bumper were screwed onto the body and helped improve my projects scale appearance.
PERFORMANCE
I was very happy with the finished product and could not wait to take my newly created rally car for a spin. A parking lot with adjacent dirt and crushed stone areas became the test ground. On-road, my rally car performed perfectly. The Flux brushless motor system is almost overkill for this car and caused it to be ballistic. Power slides, drifting and straight line speed were awesome. Off-road gave the project rally a bit of an issue because of the low bumper on the body would get hung up on the uneven off-road surfaces. This was remedied by cutting a portion of the front bumper off the body. While I was at it, I added some body protection where the bumpers make contact with the body and around the wheel wells by using some old stickers. This conversion was easy-to-do and left me with a great looking and performing rally car that looks nothing like the HPI Mini-Trophy desert truck it started as.
PARTS LIST
HPI
• Mini Trophy truck—103034
• Flux Vapor brushless ESC—106627
• Flux Warp 5700Kv brushless motor—100419
• 2011 Ford Fiesta RS WRC Abu Dhabi WRT body—107401
• WR8 Rally off-road wheels—107881
• WR8 Rally off-road tires—107870
MaxAmps.com
• 2S 5450mAh 7.4V LiPo battery pack
TAMIYA
• Spray paint for polycarbonate
White PS1—86001
Silver PS12—86012
Metallic Blue PS16—86016
Gun Metal PS23—86023
• Masking tape 40mm—87063
• Masking tape 6mm—87030
LINKS
HPI hpiracing.com, 949-753-1099
MaxAmps maxamps.com, 888-654-4450
Tamiya tamiyausa.com, 949-362-6852