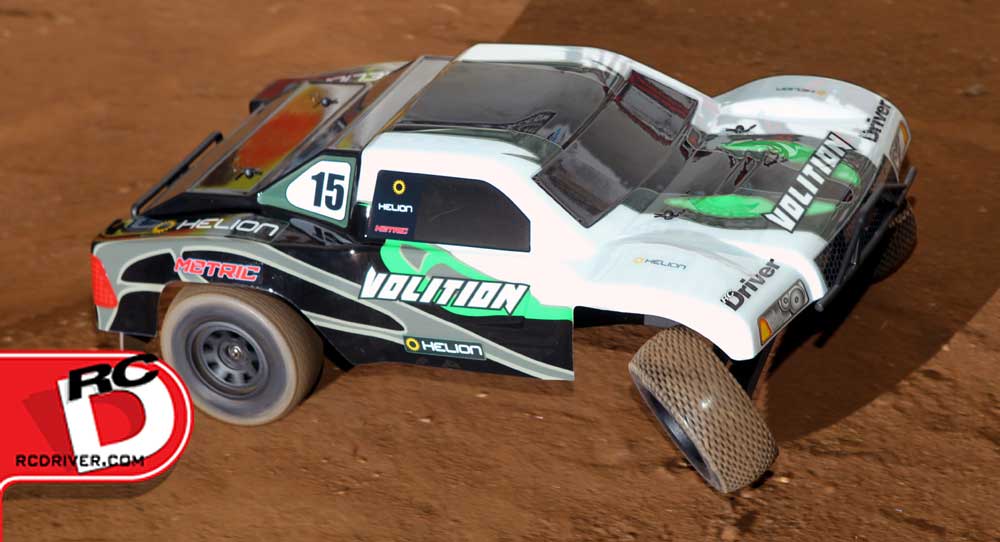 G
etting into RC can be tough; I mean look at all the vehicle types and power systems you have to sift through in order to get behind the wheel. Then after narrowing down choices, what brand do you choose? Helion is a company that makes getting into RC easy and does so without emptying your wallet, so naturally you're going to want to spend extra time checking out their offerings. Helion markets their new
Volition 10SC
as a bash vehicle, but the features it brings to the table are screaming for track time in the hands of novice racers. Full ball bearings, a three channel radio with dual rates and end point adjustments and a high powered 8.4V battery with T-plug are beckoning potential racers. These features are drawing them easily within reach of their first race, but more importantly they can successfully spend countless hours with the Volition tearing up the back yard!
AT A GLANCE
WHO MAKES IT: Helion
WHO IT'S FOR: Beginners to Intermediate
HOW FAST: 30mph
PART NUMBER: HLNA0400
HOW MUCH: $219.99
BUILD TYPE: RTR
PROS & CONS
+ Waterproof and LiPo ready ESC included
+ Racing style pin-type tires out of the box
+ Full metal gear transmission with ball bearings
+ Good all-around base set-up makes it easy to drive
– Standard bore shocks; large bore would be better
– Fixed camber and toe links
AUTHOR'S OPINION
Go to any track right now and you'll probably find that 2wd SCT is among the most, if not the most popular class at any given facility. Add to that, the fact that more and more short course vehicles are finding their way into backyards across the globe and you've got a pretty sure bet of being able to race and bash if you go with a 2wd SCT. Helion looks to further strengthen the SCT numbers with the release of their latest truck, the Volition.  It is aimed specifically at bashers, who might be looking to try their hand at organized racing. Features such as a trimmed-down chassis, an adjustable servo saver and pin-style tires all hint at this truck's track specific intentions. Some might scoff at the idea of a brushed motor in a race vehicle, but let's face it, novices on the track don't always need the hottest motor or a thousand dollar race chassis.
STAR RATING (1-5) = 4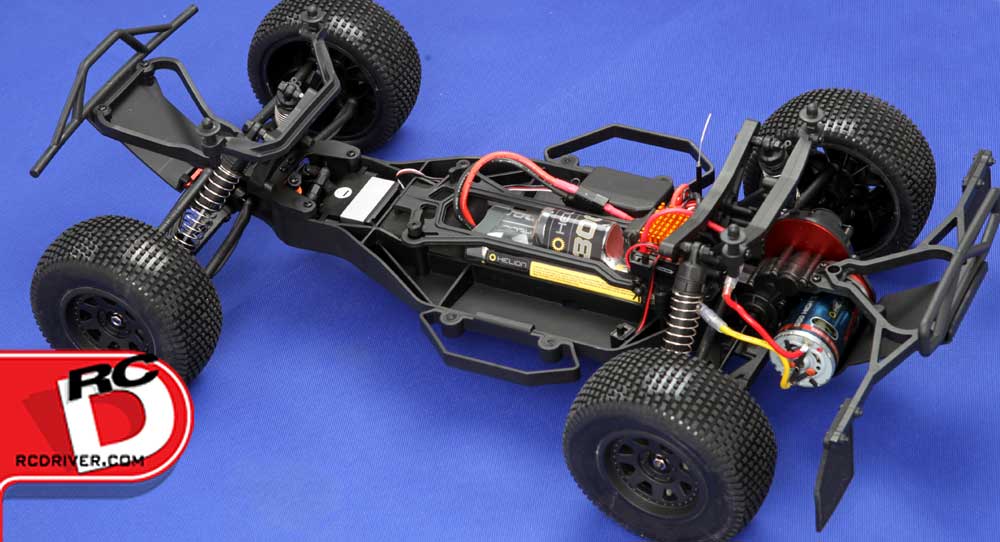 FACTS
• The all metal gear transmission is sure to stand up to a hefty dose of abuse at the hands of beginners and is also sure to keep novice racers on course, without having to sacrifice run time to maintenance. The drive system features metal dogbones and outdrives with 12mm plastic stub axle adapters to transfer the power to the rear wheels.
• The electronics package is quite stout for such a modestly priced machine. The Metric ESC is fully capable of handling LiPo batteries and the HRS 3.1 2.4GHz radio system is three channel allowing for the use of a direct powered transponder as well as packing features such as dual rates and endpoint adjustments. The 6Kg steering servo keeps the Volition pointed wherever you need it to go. Did I mention the fact that all of the on-board electronics are fully waterproof?
• The tire and wheel package on the Volition is more than the standard all terrain treads found on most comparably priced machines. Large lugged spikes with foam inserts are begging for loose, loamy surfaces like those found in most backyards.
• The fixed camber and toe links do not offer the ability for adjustments, but there are multiple mounting holes for each. The adjustable oil-filled shocks are long travel and are sure to keep the power on the ground when tackling rough, rutted surfaces. Long suspension arms on the truck seem very solid, but I know a few corner pipes that will challenge them on our test track.
• The composite tub chassis is well laid out and braced appropriately. There is a radio box on the right side of the chassis and plenty of space on the left if you want to relocate the ESC. Plastic nerf bars on the sides brace the body and keep the unwanted competition out of the inner bay. Further limiting the down time, the Volition features a tool-less battery strap for quick pack changes whether on the track or in the yard.
TOOLS & ACCESSORIES INCLUDED
1 Amp wall charger and basic tool kit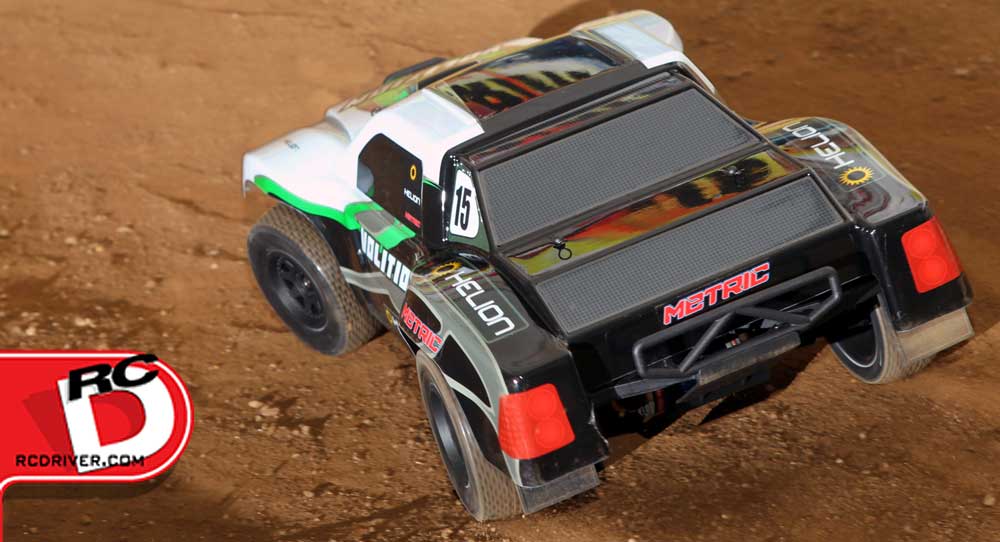 OUT TO PLAY
STEERING Understeer Neutral Oversteer
The included 6kg steering servo coupled with the weight of the NiMH battery produced strong, predictable steering response. The Volition tended to oversteer a bit on high traction surfaces such as winter beaten sod, while it pushed slightly on the looser surfaces found on the gravel/dirt parking lot. After a few minutes of run time, I was comfortable with the truck and knew exactly how much input to give it depending on which surface I was on. The large lugs on the tires also lend themselves well to the steering response.
ACCELERATION Poor Fair Good Very Good Excellent
Being so used to the world of brushless power-plants running on LiPo cells, I did not expect the Volition to feed my need for speed, but boy was I wrong. While it will not wheelie on high traction surfaces, I was pleasantly surprised at just how fast the little truck actually is given the fact that it is powered by a brushed motor with NiMH cells. The 30+ MPH speed that Helion advertised is no myth as the truck has more than enough speed to satisfy even the most power hungry first time basher or racer. It was also nice to see that when reverse was engaged, the truck will only top out at half the speed of its forward capabilities. No one needs to go light speed in reverse as it usually leads to damage.
BRAKING Poor Fair Good Very Good Excellent
On a race course, drivers generally do not need or use 100% brakes in their race vehicles. In such an application, the Volition's brakes are more than sufficient to drop the nose for mid-air attitude adjustments, but bashers might desire slightly more stopping power. Let's face it, when beating your truck in the back yard, there are generally more obstacles than you'd find on a proper race course. It would have been nice to see a little more stopping power from the truck to accommodate for some all to desired power slides.
SUSPENSION Poor Fair Good Very Good Excellent
Soft supple suspension (say that three times fast) response is a nice attribute for a truck that may hit the track. But that same suspension set-up also works well on this truck when its used for parking lot and yard bashing. The soft springs and lighter oil really soak up the bumps and ruts quite nicely, keeping the Volition pointed where you want it to go. The most fun I had with the truck was bombing across the outfield of a baseball field watching the suspension work overtime to keep the chassis level.
JUMPING Poor Fair Good Very Good Excellent
The stock plastic shocks seemed a bit under-damped upon initial inspection and it definitely showed this in the big air attempts at the BMX track. Landing on all four corners from higher altitudes often resulted in the chassis slapping the ground. Luckily the truck doesn't dart out of shape causing the driver to overwork the radio trying to regain control.
DURABILITY Poor Fair Good Very Good Excellent
Our test bed was the local ball fields, complete with grass, dirt infields, a few left-over piles of snow and a gravel parking lot. Athletic fields are not usually my first choice, but the spring maintenance had yet to begin so I was not worried about the truck causing any damage to the surfaces. With a fully charged pack, I tossed everything I had at this SCT and it happily obliged and even asked for more. Sending the truck skywards early and often over any snow piles as well as the pitcher's mound sent the Volition cart-wheeling gymnast style more times than not … without sticking the landings. Amazingly, it absorbed all my abuse and came back for more, showing no signs of damage. The fast speed of the truck had me worried that I wouldn't be able to finish a whole battery pack without any quick fixes that might present themselves. Again, I was wrong. This truck takes a licking and keeps on ticking. Whether the landings came up a bit short, on the truck's side or even flat on its back, they posed no threat to the Volition. Even considering that the temps were cold, the truck showed no ill-effects in the damage department. If you want a truck to beat on or are worried about a novice having to perform maintenance on the regular, fear not, the Volition will take any and all of the abuse you can throw at it.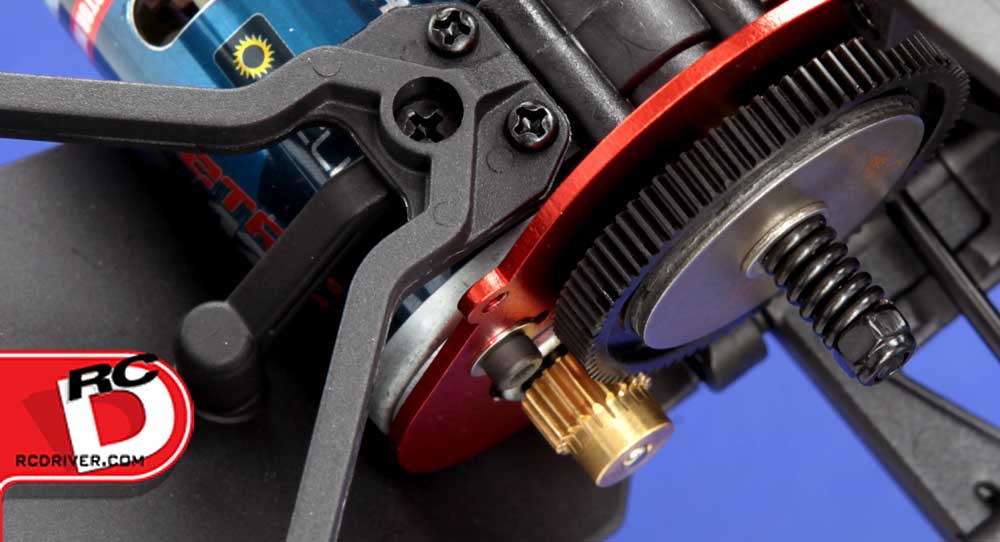 SPECS AND TUNING OPTIONS
Dimensions
Length: 21.45 in. (545mm)
Width: 11.65 in. (296mm)
Wheelbase: 13.03 in. (331mm)
Weight: 4.9lbs. (2240g)
Body, tires and wheels
Body: Pre-painted and cut lexan
Wheels: Black 8-Spoke
Drive Type: 12mm Hex
Tires: Rubber spike with foam inserts
Suspension
Type: 4-wheel independent
Shock positions: Front – 4 Top, 2 Bottom Rear – 5 Top, 2 Bottom
Camber: Fixed links with multiple mounting points
Roll: Fixed
Wheelbase: Fixed
Ride Height: Adjustable via pre-load spacers on shocks
Steering
Type: Dual bellcrank
Toe: Fixed
Chassis
Type: Bath-tub
Material: Composite plastic
Drivetrain
Type: 2WD
Transmission: All metal gear
Gear Ratio: 1 : 2.62
Bearings: Included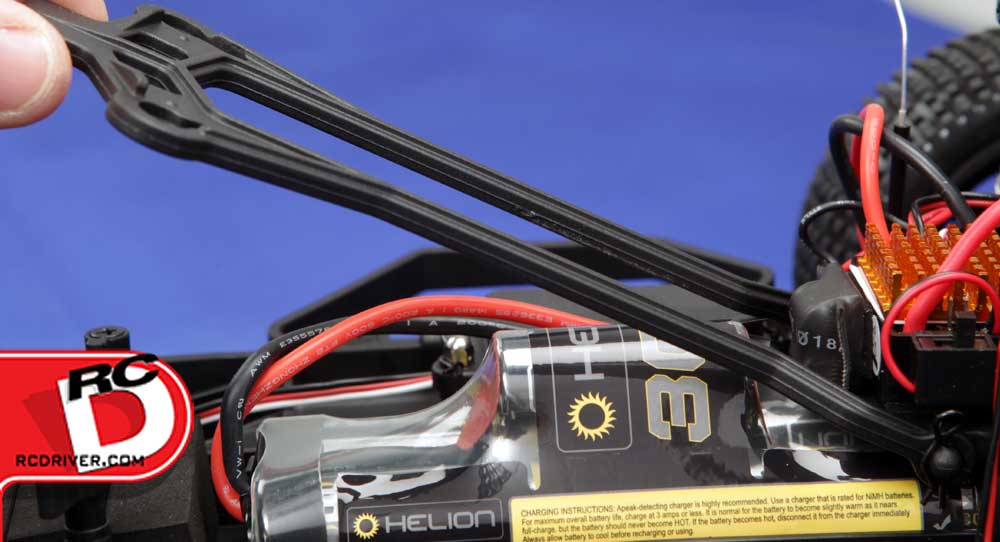 THE LAST WORD
The world of short course trucks is, by far, the most pervasive in the RC industry today. There are enough offerings out there to make any perspective buyer's head spin when considering a new or first truck. Those who ultimately decide upon the Helion Volition will not be disappointed. The truck is fast, handles great and is tough as nails. Whether you've got eyes for a backyard basher or even a first time track truck, this SCT will serve you well and keep you running when most others are down for maintenance or repairs … and it'll do it with high speeds and nimble handling.
LINKS
Helion RC
Hobbytown
Words: Matt Maziarz Photos: Walter Sidas