Get loud n sideways!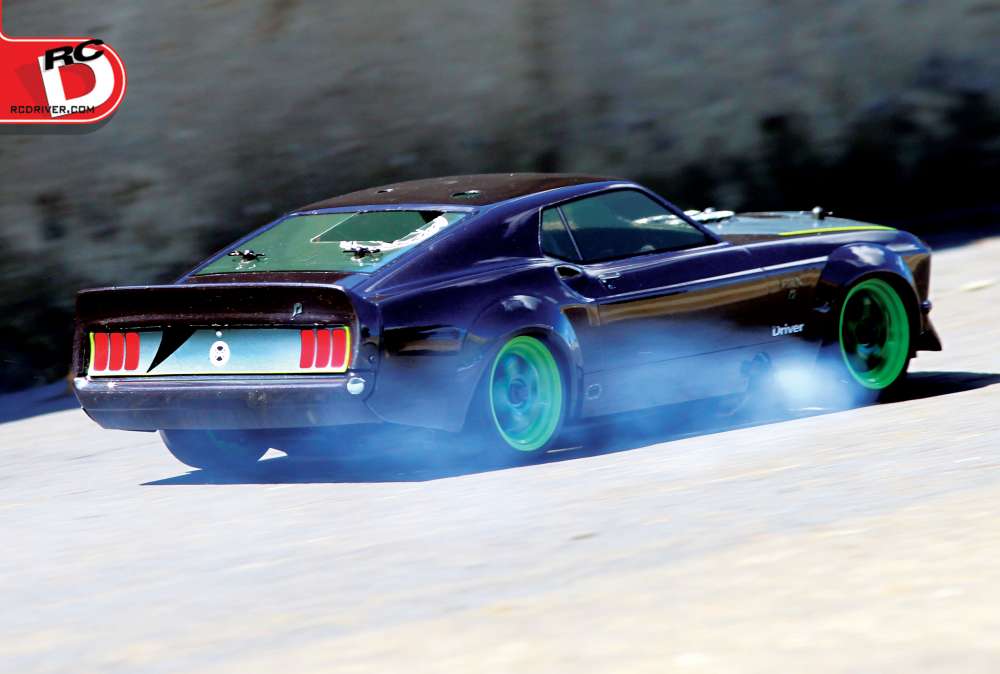 Words: Mark Rounge
Photos: Walter Sidas
From RC Driver Issue: 133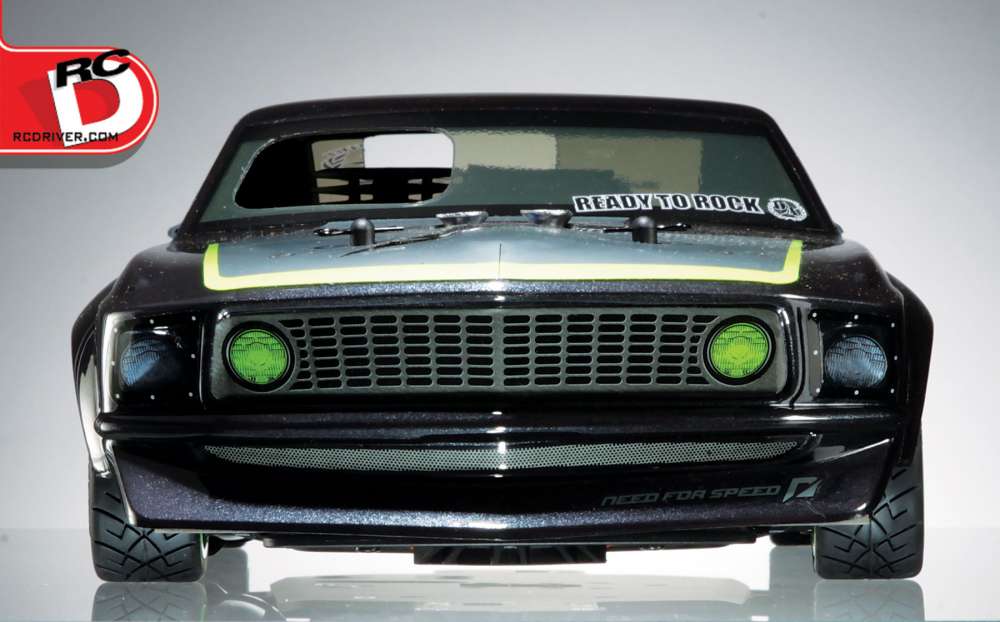 If you aren't up to date with the drifting world, Vaughn Gittin Jr. is one of the most exciting and recognizable competitors in the sport, winning multiple awards and putting on some of the best performances out there. Vaughn Gittin Jr. team up with the Need for Speed crew to create the Mustang RTR-X, a super bad 1969 Mustang replica built for modern day smoke shows. This car has some character, with a modern Ford 5.0 liter powerplant and many redesigned suspension features that give the car an edge against the competition. HPI has its work cut out for them in their attempt to recreate an RC version of this one-of-a-kind car. They sure gave it their best shot with the awesome nitro RS4 3 evo+ chassis mated with a powerful Nitro Star T3.0 engine and an awesome replica body shell in this RTR package. Check it out if you are looking for some high-revving, sideways action!
AT A GLANCE
WHO MAKES IT: HPI
WHO IT'S FOR: Intermediate to advanced drivers
PART NUMBER: 112619
HOW MUCH: $329.97
BUILD TYPE: RTR
PROS
• Killer body shell modeled after Vaughn Gittin Jr.'s 1969 Mustang RTR
• Insane acceleration and top end speed
• Durable aluminum chassis
• Unique removable radio box for easy cleaning
• Shaft drive resists pebbles and sand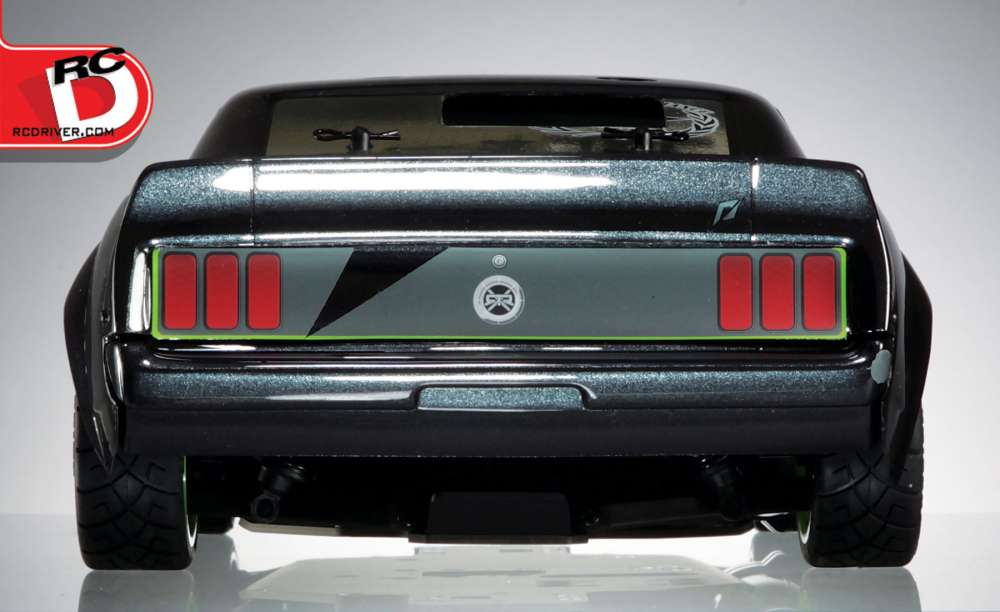 CONS
• Plastic links limit suspension tuning options
REVIEWER'S OPINION
RS4 chassis REVIEWER'S OPINION The HPI is a great introduction to the world of high-performance on-road vehicles. The two-speed transmission and engine combo is blindingly fast, and it never gets tiring ripping high-speed runs and drifting as well. There is something satisfying about drifting in a nitro on-road vehicle and you almost get the feeling that Vaughn Gittin Jr. must feel during his practice sessions. While there is some room for improvement on the RS4 chassis, it makes the perfect on-road bashing platform and the only long-term expense I see are all the replacement tires you will need after shredding them in your drift sessions.
TOOLS AND ACCESSORIES INCLUDED
• 4-way wrench
• L wrenches
• Turnbuckle tool
ITEMS USED
• O'Donnell Speed Blend 30%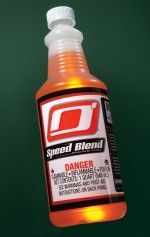 ITEMS NEEDED
• Nitro Car Fuel
• Fuel Bottle
• Glow Plug Igniter

HOP-UPS WE RECOMMEND
• Fiber brake disk, A844, $13.95, The stock plastic brake disc does an adequate job of stopping the RS4 down, but over continued use it may heat up and fade. This fiber option will prevent this from happening.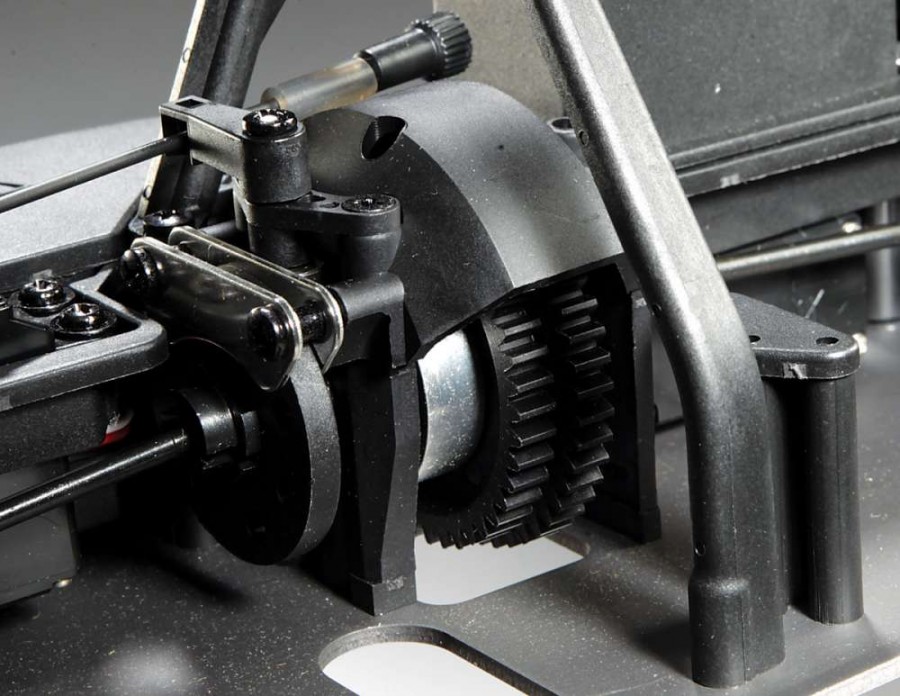 • Titanium turnbuckle set, 72223, $35.99, This turnbuckle set will allow the user to set camber and toe angles, further improving the handling of this Mustang RTR-X replica.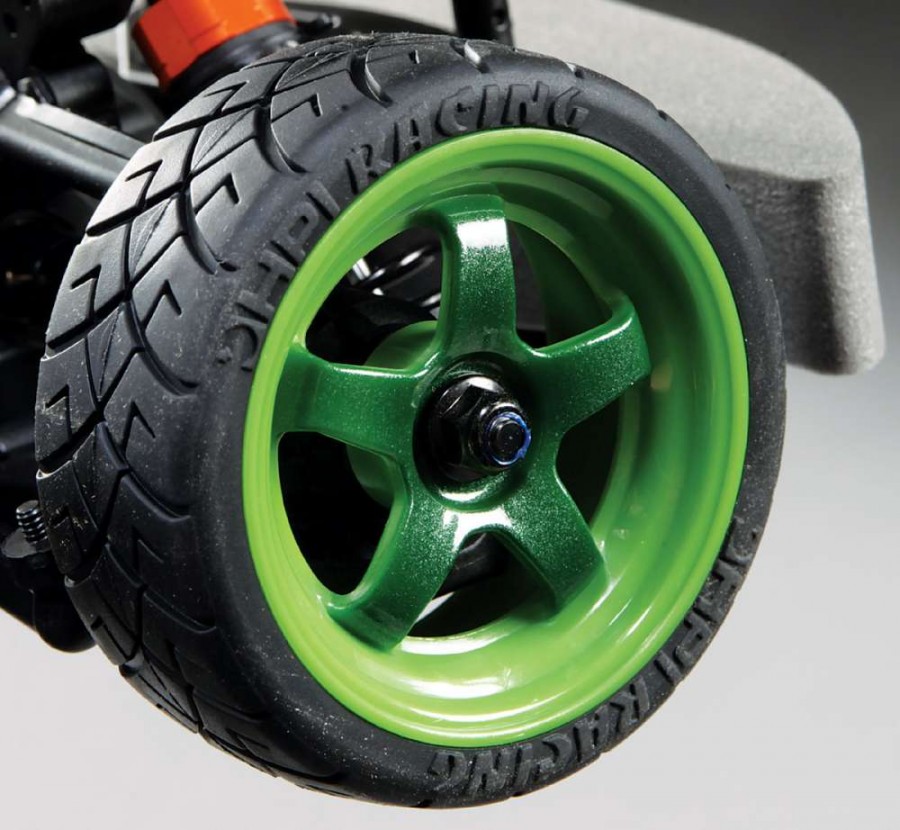 FEATURE BREAKDOWN
The HPI Nitro RS4 3 evo+ chassis is a fantastic, durable on-road chassis built to take the abuse of everyday driving. While it isn't an all-out racer (It can be modded to be one, though!), it offers plenty of features that higher end vehicle share as well. The chassis is built from 2.5mm thick aluminum that does not flex much and took all the abuse I could throw at it during my test sessions. Everything is mounted fairly low to keep the center of gravity down and handling nice and tight. One interesting feature is the radio box can be easily removed with some body clips, providing easier access for cleaning the chassis and basic maintenance. A starter box can be used on this model due to the cutout exposing the flywheel.
This version of HPI's RS4 chassis features standard independent suspension all around with fixed camber links. I wish turnbuckles were standard in this kit since it is such a high performance vehicle, but they can be purchased as a hop-up. All four shocks are oil filled, with orange anodized aluminum caps and uses pre-load spacers to adjust the ride height. I really think HPI nailed the stance of the car perfectly, the Mustang body and chassis of the RC car sits low and looks just as menacing as the real thing. The way the wheels tuck into the wheel wells looks sick! The plastic shock towers offer a few mounting points for some adjustability of the shocks' action. In typical HPI fashion, the lower A-arms are super beefy and look like they can withstand heavy abuse.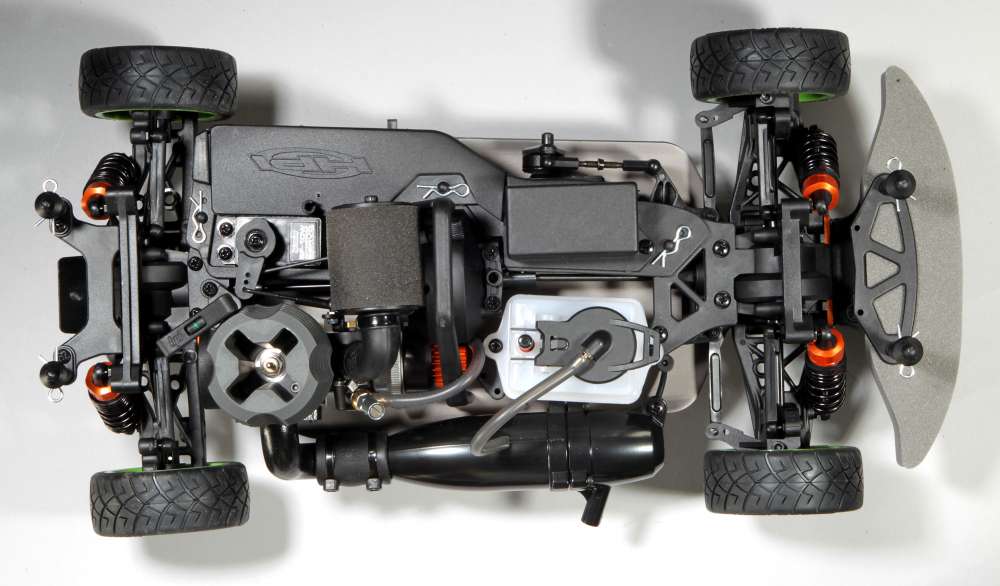 The vehicle is equipped with a standard dual bellcrank steering setup. The servo saver is integrated in the servo horn with a plastic clip. In my testing the servo saver is fantastic, since the wheels are so light you cannot see any slop when turning the wheels and it protected the servo from all bumps and hits. The HPI SF-10W is waterproof and offers 0.18sec at 6V speed rating and 36.10 oz./in. of torque. The only downside to the steering setup are all the plastic fixed links, so toe angles cannot be set using the factory components. The stock setup has a degree or two of toe-in which is what I would begin with anyway, so it's not a deal breaker by any means. There is one turnbuckle off of the servo, so mechanical trim can be adjusted if needed.
Although Vaughn Gittin Jr.'s Mustang is rear wheel drive, the only way to put down the massive power of the HPI Nitro Star T3.0 engine is with an all-wheel drive setup. Since the Mustang will most likely be driven on a variety of on-road surfaces, the strong shaft driven system that the RS4 3 Evo+ chassis offers is much more desirable than other belt drive setups (in which dirt and pebbles may end your day early). The previously mentioned pull-start equipped Nitro Star engine is a beast, putting out an advertised 2.2 horsepower through the powertrain. The RS4 chassis has a two-speed automatic transmission which really propels the car to ridiculous speeds in no time. Dogbones connect the front and rear gear differentials to the wheel adapters. The wheels looks fantastic with the dual green spoked design just like the real Mustang RTR-X and the HPI X-pattern tires have an aggressive look as well. Slowing down is just as important as going fast and the RS4 chassis has an adjustable braking system with a thick plastic- material brake disc operated by another HPI waterproof SF-10W servo.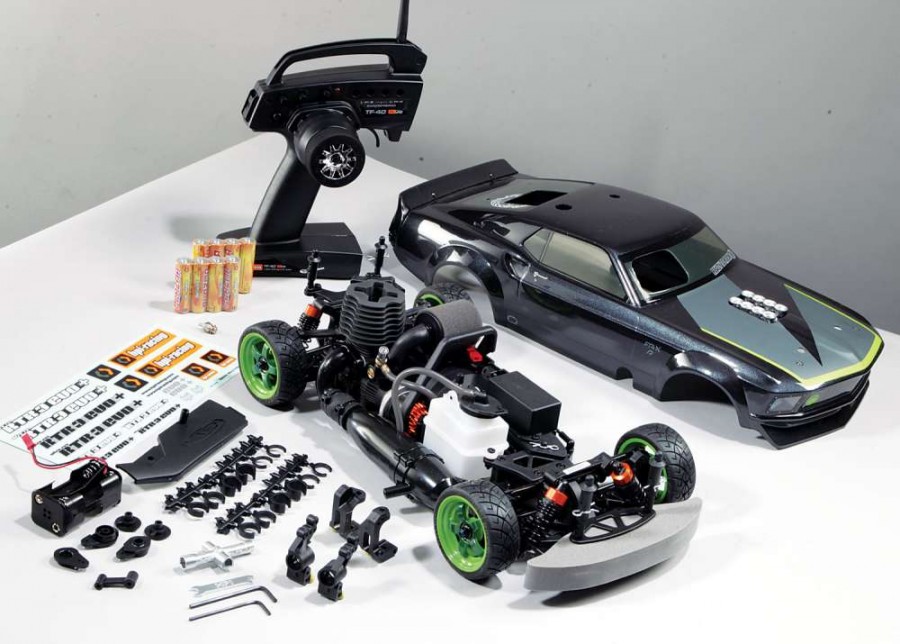 The star of the show here is the Mustang RTR-X replica body shell and HPI really nailed this one. The exposed intake manifold is accurately modeled and really stands out with the dark metallic black paint scheme. The green accents match the wheels perfectly and the rear bolted on spoiler looks just like the real thing. There are even light buckets to add your own LED system if you prefer. Since this is an RTR, virtually everything you need is included to get you up and running, right down to the "AA" batteries for the radio gear. The Mustang includes a basic 2.4GHz radio that was flawless in my testing and offers some basic trim and end point adjustments.
ON THE Track
The HPI RS4 chassis is the perfect on-road "bashing" vehicle, with a forgiving shaft drive and extra beefy components. I figured that this version would most likely see all sorts of unprepped surfaces, so I went out to my sandy, bumpy street to see if this car can handle the rough stuff.
After you break in the Nitro Star T3.0 engine, it generally starts with a few tugs on the pull-starter. It did take me a few minutes to fine tune the idle to a proper level since this engine does seem a little more sensitive to stalling out than other, larger displacement motors. After I tuned the engine for all out performance, I made the mistake of pulling the throttle trigger all the way down and was punished with one of the most violent 360-degree spinouts I have ever experienced in an RC vehicle. Now that I had established that the Mustang is probably as brutal as the real thing, I started easing into the power and was rewarded with a proper and stable launch. I became more and more comfortable with the power and lightweight chassis combo and started finding the sweet spots when I could and could not go full throttle. When I started nailing the launches perfectly I was able to see how absolutely crazy this car really is.
I definitely think HPI's advertised top speed of 52 mph is right on the dot, if not conservative. I could hardly keep the car in my sights and look far enough ahead to avoid any obstacles once I hit second gear in the automatic transmission. The engine screams and never missed a beat when in the upper limit of its 32,000 maximum RPM. Even if speed runs aren't your thing, you can't help but burn a few tanks of fuel maxing out this thing. Even though the car only weighs a hair over four pounds it can travel over 50 mph, making the stopping power very important. Even though the brake disc is plastic, I was very impressed with the braking power of the RS4 and did not experience much degradation throughout a typical tank of high speed stops. I suppose if I was out on a race track the disc can heat up (in which case
HPI offers a Fiber upgrade), but for average use the stock setup is good enough.
Even though Mustangs rule in straight line speed competitions, Vaughn Gittin Jr.'s Mustang RTR-X is
set up for tire-shredding drifting and it was time to see how well I could get the RS4 sideways. Obviously power is not an issue here, it becomes a matter of control and how the engine can communicate with the HPI X-pattern tires. I found the high revving capability of the 3.0cc engine lent itself quite well to semi-controlled drifts. I say semi-controlled because nitro inherently is difficult to drive due to a peaky powerband. The excess torque, thanks to the low gear of the two-speed transmission, helped overcome this obstacle. The challenge was to not spin out completely and get that dynamic powerslide through the corners, and after some heavy wheel-time this is possible. From a performance standpoint the car did have some understeer when the tires had grip but let's be honest, how often will you not be trying to drive like Vaughn Gittin Jr. himself?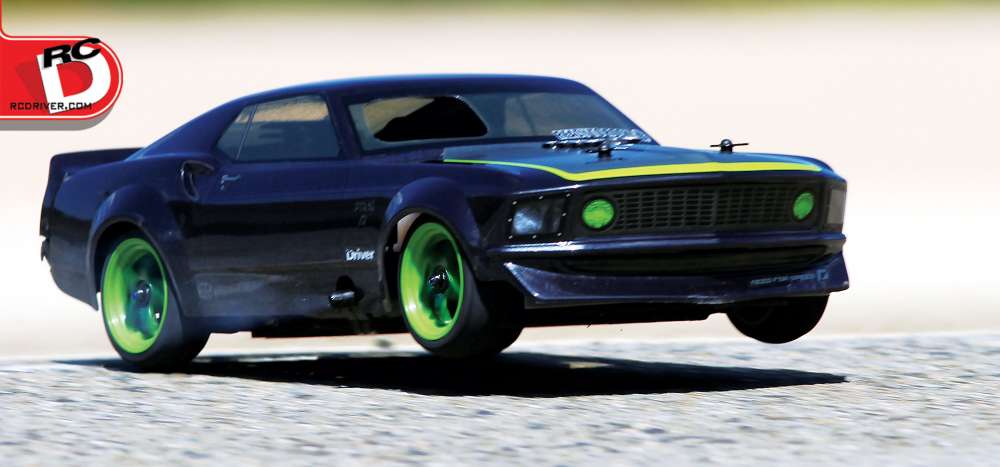 Durability is a valid concern on a vehicle that travels this fast, and thankfully HPI is one of the best companies on the market in this category. My main testing grounds did have some patches of sand and spinouts were plenty during my testing. Also it seems like curbs have some special magnetic field that draws RC vehicles into them when traveling over speeds of 50mph and I confirmed this with a few knocks of my own. After my testing I thoroughly inspected the RS4 for any signs of wear or damage. I did notice that the tires were beginning to become unglued, most likely form my attempts to mimic Vaughn Gittin Jr.'s driving style. Also, the pinion gears on the clutch bell did have a few nicks from all the sand, but the spur gears showed no signed of wear. Other than a few scratches on the chassis, the Mustang is in new condition and I can guess that no major breakages will occur anytime soon after all the abuse it has been through already.
SPECS AND TUNING OPTIONS
DIMENSIONS
LENGTH: 17.32 in. (440mm)
WIDTH: 7.87 in. (200mm)
WHEELBASE: 4.72-in. (120mm)
WEIGHT: 4.2 lbs. (1.9 kg)
BODY, WHEELS AND TIRES
BODY: Pre-painted and cut 1969 Mustang RTR-X replica
WHEELS: Work Meister S1 Wheels
WHEEL ADAPTER TYPE: 12mm hex
TIRES: HPI X-pattern radial tire 26mm D
SUSPENSION
TYPE: 4-wheel independent
SHOCK POSITIONS: (F) 2-tower, 2-arm, (R) 2-tower, 2-arm
CAMBER: Fixed
ROLL: N/A
WHEELBASE: Fixed
RIDE HEIGHT: Pre-load clips on the shocks
STEERING
TYPE: Dual bellcrank TOE: Fixed
CHASSIS
TYPE: Flat MATERIAL: Aluminum THICKNESS: 2.5mm
DRIVETRAIN
TYPE: 4WD
TRANSMISSION: 2 speed DIFFERENTIAL: Front and rear gear differential
GEAR RATIO: 18 and 22 tooth pinion, 43 and 47 tooth spur
BEARINGS: Full set of shielded CLUTCH TYPE: 2 shoe clutch
RATING TALLY
Opinion: 7
Performance – Acceleration: 10
Performance – Steering: 7
Performance – Handling: 7
Performance – Durability: 9
Feature Breakdown: 8
Overall Value: 6
WRAP UP
The HPI RS4 3 evo+ absolutely captures the high octane thrills that Vaughn Gittin Jr. provides to fans day in and day out. The performance is absolutely ridiculous and don't be surprised if your heart rate doubles after a tank of gas! Even though I have driven faster, more race-orientated vehicles, none of them capture the pure fun that this Mustang RTR-X replica provides. Nailing the drifts in this nitro will put a grin on anyone's face and really capture the essence of what our hobby is all about, having fun. Not to mention the Mustang RTR-X body and wheel combo even looks incredible on the shelf, just like a hard shelled plastic model.
LINKS
HPI Racing, hpiracing.com, (949) 753-1099
O'Donnell Racing, odonnellracing.com, (217) 398-8970