Simplicity Rules!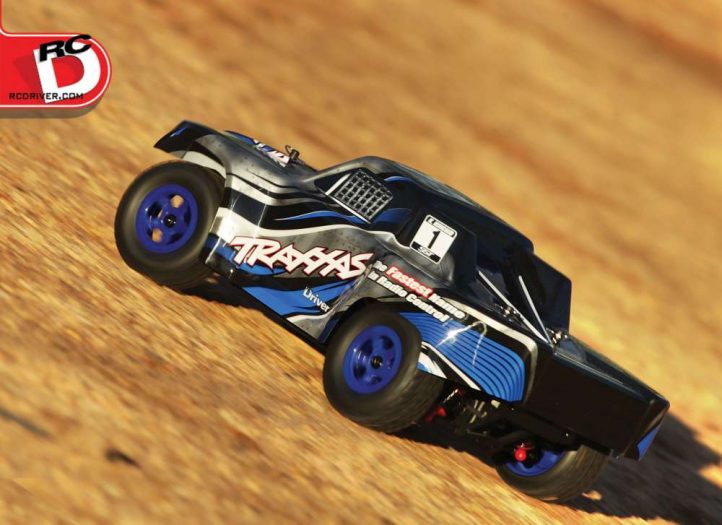 By David Baker
From RC Driver Issue: 135
After Traxxas introduced the LaTrax line of surface vehicles with the Rally we all knew other vehicles would follow. There are now three 1/18-scale entry-level LaTrax RTRs to choose from: The Rally, the Teton MT and now the SST to take care of the stadium truck/short course fans. This truck, as with previous releases, is aimed at the beginner to introduce them to the hobby-grade world of RC at a price point that is a bit easier to manage. By going with the widely popular short course style of body it has the potential to get the attention of experienced racers as well. It may be labeled with the LaTrax logo but you can take comfort knowing that the pros at Traxxas are behind the production of the entire line.

AT A GLANCE
WHO MAKES IT: LaTrax/Traxxas
WHO IT'S FOR: Beginner
VEHICLE TYPE: 1/18-scale 4WD brushed stadium truck
HOW MUCH: $160
BUILD TYPE: RTR
PROS
• Compact and travel-worthy
• Waterproof
• Solid Traxxas Construction
• Good top speed for an entry-level car
CONS
• Non-TRX battery connector
• Charger needs access to a real car's power outlet.
• Phillips head screws
REVIEWER'S OPINION
With the ability to go off- road the SST is a versatile little performer. The small size makes it convenient to use anywhere. Its performance will hook any young newcomer and has the potential to send them on a lifelong journey through the RC hobby.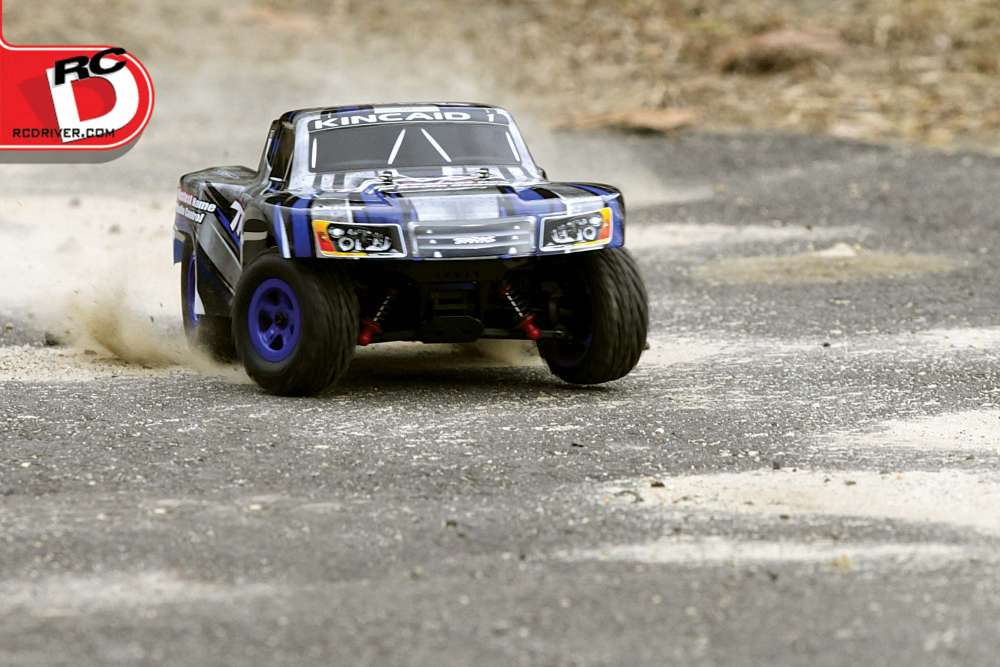 ITEMS NEEDED
• A wall charger would be a big help.
HOP-UPS WE RECOMMEND
• Traxxas Bearing KiT, 7541X ($15)
Plastic bushings are merely placeholders until bearings can be purchased. When you eliminate the friction caused by bushings things spin more freely, causing everything to run more efficiently. This can increase speed and runtime.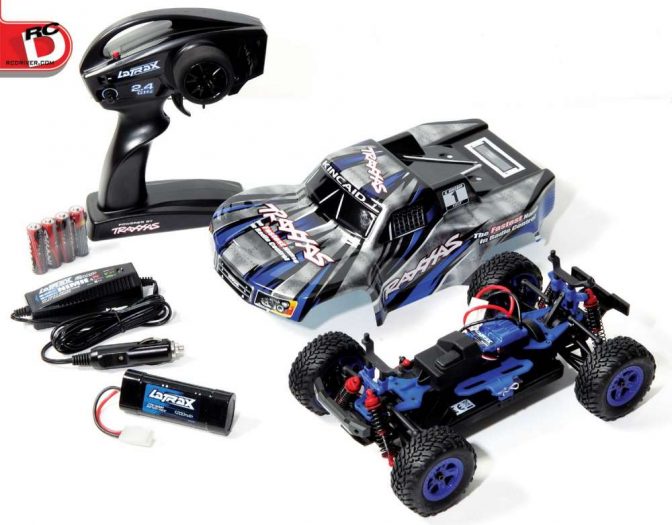 FEATURE BREAKDOWN
Waterproof! The electronics in the SST have no problem with wet conditions. You don't want to submerge the thing but now you don't have to worry about wet grass or water on the roads.
As is usual in in all Traxxas electric vehicles you can program the speed control in one of three modes – Sport, Race and Training. This is a tremendous learning tool for first-time hobbyists.
The full time 4WD setup uses a shaft down the center to take power to the front and rear gear differentials.
Efficient universal driveshafts take the power to the wheels. These are plastic, for cost-saving reasons I assume.
The plastic shocks are sealed and oil-filled. This is something you don't see on many vehicles of this scale but it makes a huge difference in handling, in spite of the truck's small size.
All linkages, including camber and steering/toe, are fixed lengths and made of plastic. Camber can be adjusted slightly by re-positioning the ball on the knuckle.
Tires and wheels will look extremely familiar to you if you've seen the 1/10-scale Slash. The wheels are a 5-spoke style with a beadlock appearance.
A tub style chassis is made from a composite plastic. Very little space is wasted. The 370-size motor and micro servo take up one side while the other has a snug spot for the included 6-cell, 1200mAh NiMH battery pack.
A top plate running down the center of the chassis provides mounting for the watertight receiver box and the speed control.
The front and rear bumpers are very stout yet flexible for handling hard hits.
A 2.4GHz radio system is included. The transmitter has no visible antenna to be damaged by an inexperienced driver. The 2-channel system also features a low battery indicator, steering trim controls and servo reversing. The servo reversing will only come in handy if you install this system in a vehicle with a different setup.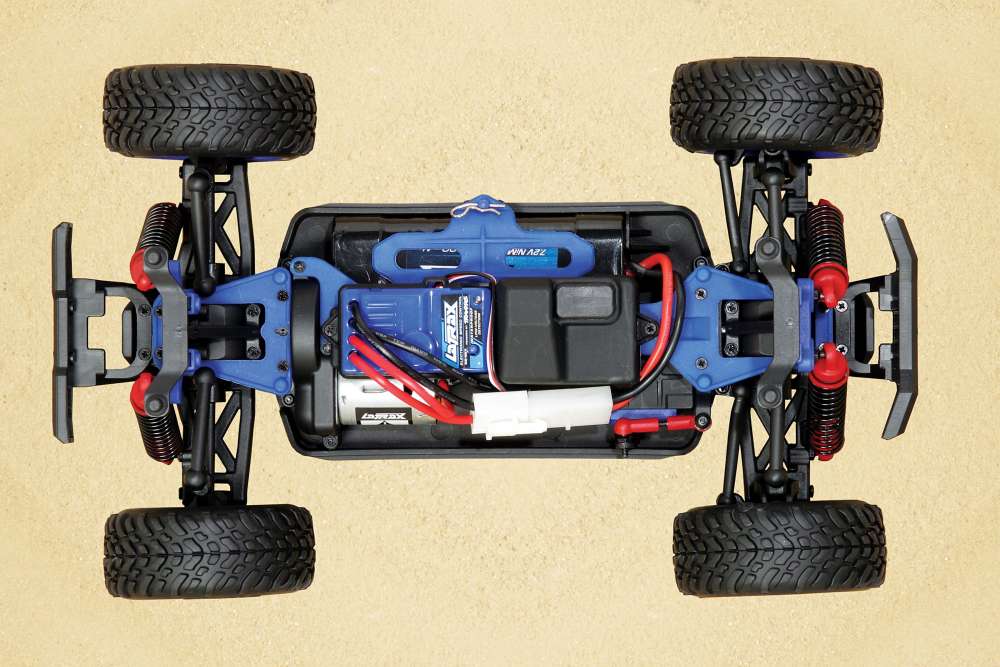 ON THE TRACK
After charging the included 1200mAh 6-cell NiMH batteries I bench-tested the truck to make sure everything did what it was asked to do. My long, paved driveway was the first surface for testing. Acceleration wasn't taking any rubber off the tires but it reached its top speed quickly, nonetheless. Passes up and down the driveway demonstrated the truck's ability to stay planted during hard 180-degree turns. The rear end would slide and start to spin out until I eased off the throttle briefly. After just a couple of passes I had complete control, keeping it close to full throt- tle up and back. The tires got along well with my driveway's untreated surface. I could drift with a bit of throttle control if I wanted to.
In the grass the truck would keep moving if I hit it fast from the hard surface. Once stopped, however, it took a couple of seconds of easy throttle application to get it going again. The small tires keep the grass from being an optimum place to run. As you might expect, the dirt is where you could really see the performance and handling. A large smooth dirt area in my backyard was still moist from recent rain. It turned out to be the perfect surface for the small short course tires. I could stay on the throttle throughout the entire battery pack if I wanted to. I placed some skateboard ramps on the playing field to see how the truck liked to jump. Turns out it likes it pretty well! The first time I hit the ramp I stayed on the trigger to see how it reacted. As expected the front came up a good bit. Every jump after that I simply let off the throttle at the top of the ramp and it sailed perfectly level and landed on all fours. The small truck weighs very little and the inclusion of oil-filled shocks makes it so the landing is stable with no bottoming out. The handling was fantastic, especially for such a little vehicle. I was even pleased with the speed and acceleration. On these merits I believe the SST Keegan Kincaid Edition is a near perfect first hobby grade RC vehicle.
Now on to the only real issue I have with the SST. This Ready-To-Run truck comes with a DC charger that requires you to ask to borrow the car keys to charge the battery. This wasn't a prob- lem for me as I have plenty of decent chargers. But if this is a first RC for a young kid and it was purchased because it's "Ready to Run, Fully Assembled, Batteries Included" the last thing you want to do is shell out more cash for a charger. I would at least liked to have seen it come with the wall charger that used to be included in previous Traxxas kits.
SPECS AND TUNING OPTIONS
DIMENSIONS
LENGTH: 12.16 in. (309mm)
LENGTH: 12.2 in. (310mm)
WIDTH: 6.8 in. (174mm)
HEIGHT: 4.61 in. (117mm)
WEIGHT WITH BATTERY: 26.06 oz. (739g)
WHEELBASE: 6.44 in. (163.5mm)
GROUND CLEARANCE: 0.59 in. (15mm)
BODY: ProGraphix, Trimmed, Painted, Stadium/Short Course
TIRES: SST grippy, soft compound, aggressive tread pattern
WHEELS: Five spoke, 1.38 in. (35mm) outer diameter
SUSPENSION
TYPE: 4-wheel independent
SHOCK POSITIONS: (F/R) 3-tower, 2-arm
CAMBER: Two positions on the knuckle.
STEERING
TYPE: Dual bell crank
TOE: Fixed
CHASSIS
TYPE: Molded Composite Tub
DRIVETRAIN
TYPE: 4WD Shaft
DIFFERENTIAL: Gear diff
BEARINGS: Plastic bushings
WRAP UP
As a lifetime hobbyist I am always grateful for any product that is going to get this hobby into the hands of new people. The LaTrax SST is one such product that will help to get the younger audience hooked. It's not the cheapest entry-level truck but with the Traxxas support that comes with all their products you will get your money's worth.
LINKS
LaTrax/Traxxas latrax.com