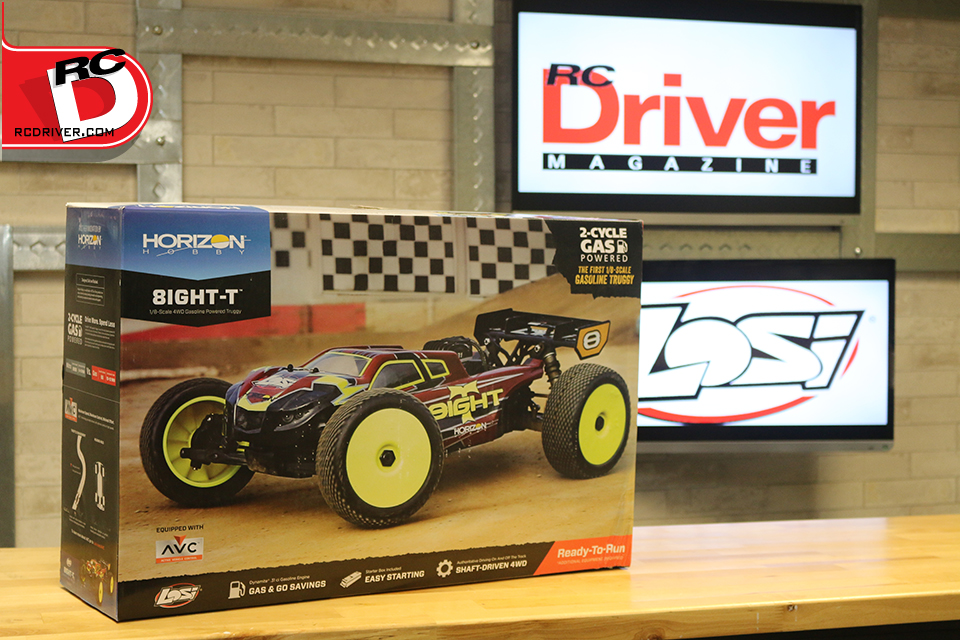 It's finally here and on the Reveal Table at the RC Driver offices; Losi's 8IGHT-T 1/8 Scale 4WD GASOLINE Truggy! The buzz about this vehicle has been crazy seeing as it marks the first mass-produced, gas-powered 1/8 scale racing vehicle in history. When we found out that both the 8IGHT and 8IGHT-T gassers were at the front desk, it was like a heard of buffalo rushing down the hallway to grab the boxes. Thankfully there were only 2 buffalo (Greg and I) and 2 cars, so we picked which version we wanted and headed back to the Reveal Table.
FACTS
Manufacturer: Losi
Distributed By: Horizon Hobby
Product: 8IGHT-T RTR 1/8 4WD Gas Truggy with AVC
Class: 1/8 Truggy
Power system: Gasoline Engine
Kit type: RTR
What's in the box: Assembled truck engine and electronics installed, 2-channel radio, LiPo battery, 4 "AA" batteries, misc tools, 2-stroke mix oil, painted body and manual.
Needed to complete: LiPo Charger, gas can and pump gas
Who it's for: Intermediate to advanced truck enthusiasts
Part Number: LOS04001
Price: $879.99
INITIAL IMPRESSIONS
Since both vehicles are primarily the same, we decided to reveal the 8IGHT-T Gas Truggy. Once out of the box, we yanked the body off and gave it a good, close look. The main things that seem to grab your eye as not being 'normal' are the slightly larger engine head, coil-kept ignition wire, ignition module and monster gas cap. Other than these three things, the 8IGHT-T is basically the nitro version in disquise.
So let's talk about the new items really quick.
Losi has stuffed a sizeable .31ci Dynamite gasoline engine into the 8IGHT-T gasser. This engine provides some stump-pulling torque and has the added benefit of getting better gas mileage than it's nitro counterpart. While we haven't had it out just yet on the track, we'll certainly keep you posted if those claims are true.
Say goodbye to glow ignitors; there's a new ignition system in town and plugged and ready to start. Nestled between the engine and the receiver battery box is a pretty silver box that houses the onboard ignition system. A substantial, braided 'coil' wire runs from the box to the top of the engine. This wire is protected from rollovers by a molded cap. This looks different, but certainly gives the 8IGHT-T an 'all-business' look.
The final major item is the fuel tank. If you're like me, you probably think this tank looks puny in this truck, but it is actually the same size as in the nitro versions; 150cc. The cap is what throws you off, but is required for two reasons. One, Losi doesn't want you refilling this truggy (or buggy) with actual gasoline while the engine is running. The other reason is that you'll most likely be refilling this truck from an actual gas can instead of a fuel gun as gasoline can damage the seals on most refill guns.
Losi has outfitted the 8IGHT-T Gas with a Spektrum DX2E 2.4GHz radio system complete with AVC. Also included is a starter box, Spektrum LiPo receiver pack, 2-cycle oil and some various tools.
WRAP UP
Now that I've outlined the basics, I can't wait to get this truck out on the dirt. The graphics are stellar, it's equipped with great servos (steering, S6100 – throttle, S601H) and looks tough as nails. Keep an eye out for the review in the pages of RC Driver complete with a detailed rundown and lots of pretty pictures.
LINKS
Losi, losi.com