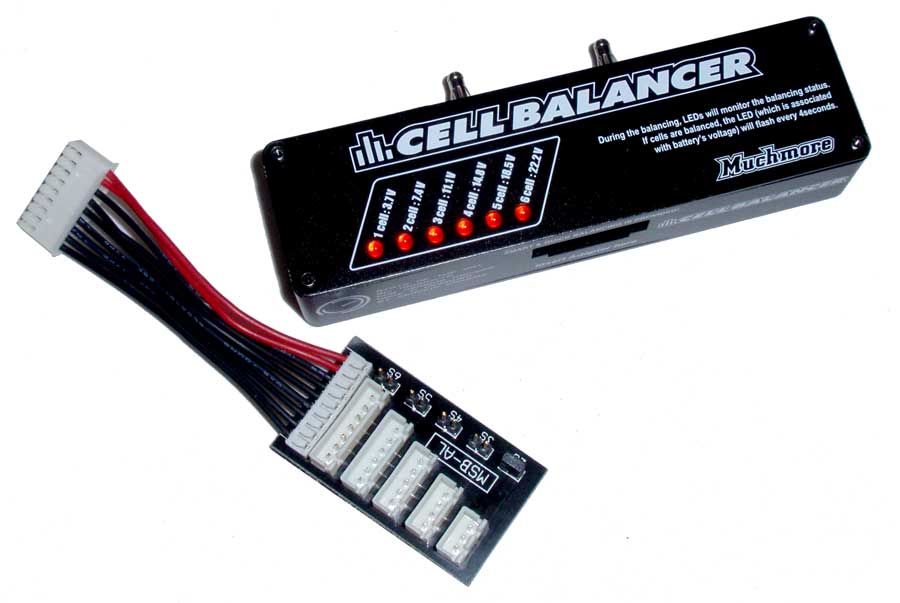 As everyone knows (or SHOULD know), it is important to balance your LiPo packs while charging them. Failure to do this can ruin a LiPo pack or, even worse, have it go up in flames on your kitchen table (I should know – I have pictures). Aside from that, there are some added benefits to balancing your LiPo packs. In addition to keeping the packs safe, healthy in good condition for a longer period of time, balanced LiPos typically provide higher total voltage, meaning more power to the motor system.
MuchMore has introduced their LiPo Cell Balancer, a groovy little box that is designed to balance 2-6S LiPo packs. This little box keeps the voltages of all the cells within a 20mV (.02V) of each other at all times. Blinky LED lights on the top of the case visually cue you in to the fact that your LiPo is indeed in correct balance throughout the charge, and includes a balance board.
The LED's not only give you a heads up on the condition of the charge, but also let you know when you've done something wrong. For instance, if two or more of the LED's are flashing, you've hooked something up wrong and the balancer will prevent the charge cycle from continuing.
This Cell Balancer can be using in conjunction with a charger or as a stand-alone discharger. By itself, the Cell Balancer will apply a small discharge current to gently balance the voltages of the cells of the LiPo pack.
LiPo safety is important, and if you want to safely extract every ounce of power from your cells then the MuchMore Cell Balancer will definitely help you do that. At a low cost of about $40, that a cheap price to stay safe.
Part #: MRSBL
Price: $39.99
Link: www.muchmoreusa.com