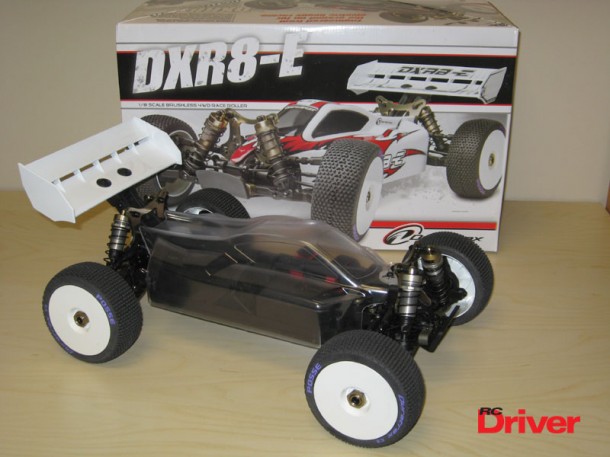 Duratrax is on a new mission! Look what shows up the one day we take off, the new Duratrax DXR8-E 1/8 Brushless 4WD Race Roller buggy. Duratrax is currently undergoing a big identity and product change and so far we really like their hard efforts. A release in the electric 1/8 market is a smart choice as it has appeal to a broad range of RC enthusiasts looking for off-road power and performance. Let's take a closer look at some of its features in our: RCD Bench Test.
AT A GLANCE
WHO MAKES IT: Duratrax
WHAT IS IT: DXR8-E 1/8 Brushless Buggy
HOW MUCH: $350
PART NUMBER: DTXC0078
FINISH TIME: Approx- 45min- 1hr
WHO IS IT FOR: Intermediate to Advanced
ITEMS NEEDED: Radio System with high torque steering servo, ESC, Motor, Battery and Paint
PROS & CONS
+ Excellent factory assembly
+ Large bore aluminum oil filled shocks
+ Soft racing Duratrax Posse tires included
+ Aluminum A and D pivot blocks with adjustable inserts
+ Universal arms on all four corners
+ Great price point
– Plastic motor mount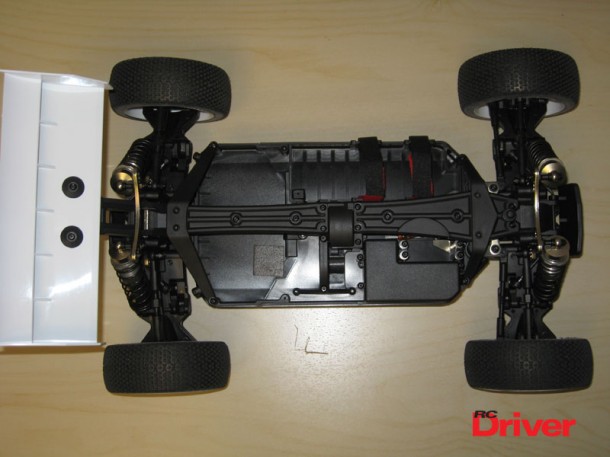 FACTS
The DXR8-E is a ground up new machine for Duratrax and it may rank among one of their best releases ever in our eyes! Duratrax identified that e-buggies have a good following and rather than retrofit some old platform they had sitting on a back shelf somewhere, built up this new buggy on a fresh sheet of paper. DTX defined key components and elements that drivers would demand as standard features and did it all a great price of $350. This machine appears to have what it takes to satisfy the needs of the backyard racer all the way to experienced drivers who want to compete in organized racing.
SUSPENSION– We quickly noticed in the suspension department that the suspension arms appear the same front and rear but there is a difference being that the left and right arm are unique to the sides. The front knuckles are a popular king-pin style and the rear hubs support a large inner bearing for the axles universal to sit inside; just like the front. The aluminum towers are 3mm thick which may be a potential weak point. But we're sure this buggy will get aftermarket support if you don't think 3mm of plate aluminum will hold up to your driving style. The aluminum shocks have 4mm shafts and the lower eyelet is keyed to the spring perch so it doesn't spin and twist the shock boots while adjusting preload. Swaybars come standard too and the DTX team took it one step further by supporting the bar with bearings on the diff cases rather than pinching them with set-screws and potentially binding travel. The suspension feels very plush, smooth shock action, no squeaks or click from bindng materials, no crazy camber gain, no harsh bump steer. Looks like Duratrax set this buggy up spot on!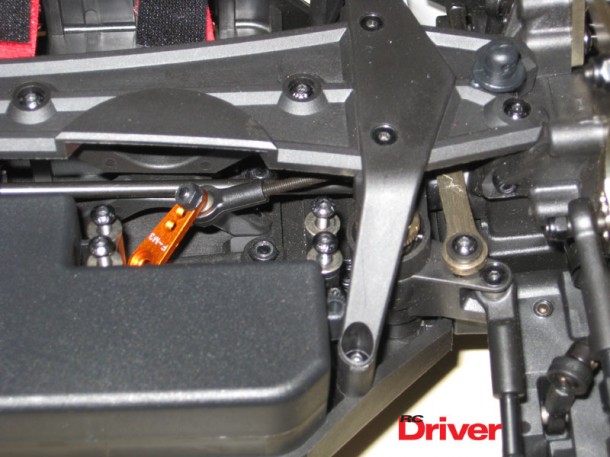 CHASSIS– A multi-piece chassis system makes up the backbone of the buggy. The nose plate, the area that takes a lot of abuse during jump landings is 3mm thick with kick-up and keys into the main composite plastic chassis. A rear section bolts on separately and a multi-piece top deck ties everything together to make up a rigid platform. There's lots of bracing, the arch in the front, the spanning arch in the rear and X-bracing in the center. We gave the buggy a little torsional twist in our hands and there is a little bit of flex, enough to aid with rear traction, yet the chassis should be strong enough to take a beating. The only area where we had a double take was the plastic loops for the battery straps; we'll have to see if they hold up in testing. And finally the receiver box; if you want to store your receiver, a pack of gum, some spare change and a marble, you can fit it all inside the large box!
DRIVETRAIN– In the drivetrain department, you'll find triple diffs, dogbone center driveshafts, and captured steel universal driveshafts front and rear sending power to aluminum drive hexes. The motor plate is a unique triple plate that bolts to the motor with an index notch to mate up to an indexing tab on the mount to help in perfectly aligning the gear-mesh. It's a pretty cool feature on the buggy, but the motor clamp/ plate is all composite plastic. This is the one area we deemed a Con up above. Knowing that a heavy motor will be bolted to this plate and it will be taking abuse from impacts after a 14.8volt battery and brushless combo send this thing flying though the air and the potential for rough landings, we're scared to see plastic used here. Hopefully some hard testing will prove us wrong as the motor will stay put and the gear teeth remain unharmed.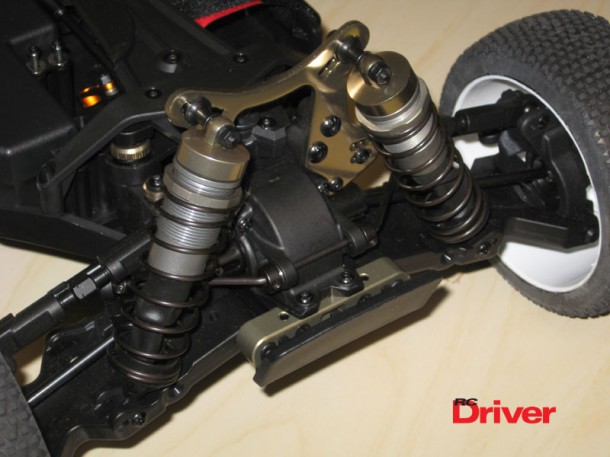 STEERING– A dual bellcrank steering set-up with spring loaded servo saver tucks in nicely on the front of the buggy. DTX includes an aluminum drag link and even an aluminum Futaba steering servo horn! All of the tie-rods on the buggy are adjustable and rightly so as this is race roller, not a bumper buggy.
BODY & WING– Finally the body; a killer sleek, low, cab forward design with three mounting points, one in the front and two on each side of the lower back pods. A cool double deck wing bolts to an adjustable wing mount and Duratrax finally came up with a killer decal set to dress up the body.
THE LAST WORD
On the bench the Duratrax DXR8-E buggy looks very impressive, lots of aluminum goodies, an impressive mult-piece chassis design that keys together, nice hex-head hardware, great tires; it has a lot going for it. We show a little concern for the motor mount, but again, this is a bench test; actual testing on the track may prove its built sound. To find out the rest of our thoughts and details on this machine and the track testing you'll have to pick up our May 2012 issue of RC Driver. Now we're going to get outside and see how this racer does on the track!
Link: www.duratrax.com