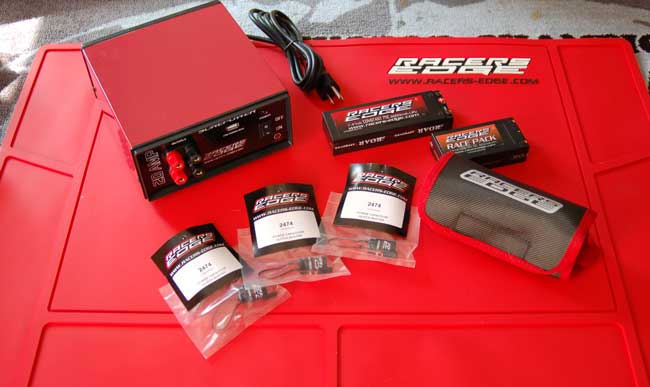 Nothing brightens up a day more than Vince the UPS guy stopping his truck right in front of the house. In fact, he stops here so often that my dog, Bailey, recognizes the sound of his truck and is at the door long before he makes it to our street.
Just this past week Vince stopped by and dropped off a rather large package. It was Racers Edge and included a bunch of cool goodies for me to review and test. In this box was (in no particular order):
• The Double Buggy RaceCase Hauler Bag in Team Associated Blue Trim
• The Double Buggy RaceCase Hauler Bag in Racers Edge Red Trim With Two Drawers
• Pro Molded Rubber Pit Mat
• Li-Pouch Safe Charging Box
• Power Capacitor Glitch Buster
• 20A Power Supply
• 4000mAh High Performance Shorty LiPo Pack
• 6000mAh High Performance LiPo Pack
So ya, it was a pretty big box! I already have the pit mat on my work station, the power supply feeding my chargers and the RaceCase's built and ready to stuff full of RC stuff. Plus, there's always a need to include a battery into a project or build so those will definitely come in handy.
Keep an eye out for a review of these products in a future issue of RC Driver Magazine!